Tackling Mexico's national dish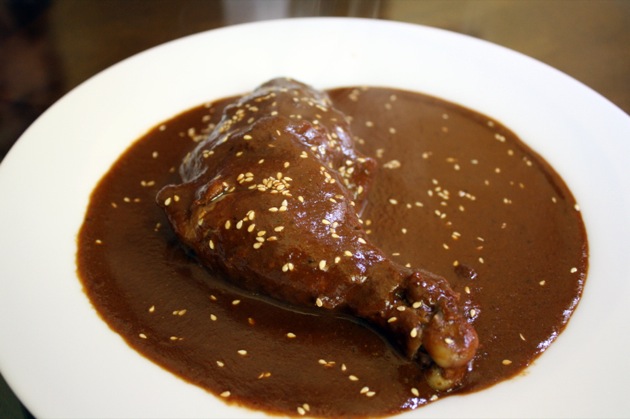 You can shave truffles over a dish and call it special, but it's not; it's just expensive.
- Rick Bayless
I've been a fan of Rick Bayless since this blog started over four years ago, but it wasn't until he blurted out the above statement during the Top Chef Masters finale last year that I really figured out why. I already knew that I loved so many Mexican dishes because they balanced fat with acid, and layered spices, vegetables, and chiles in a really dynamic way. But I never connected the dots that all the meals I made used some seriously cheap and humble ingredients. It's true from the tamales to carnitas . Neither of these required much cash, and yet I'd rather have an expertly made version of either of those dishes over a steak any day.
That divide behind price and dish is never more apparent than in Mexican cuisine's most inspiring transformation: mole. It's one of the most incredibly complex and involved recipes that I've ever made, and it's considered--if Bayless has anything to say--as the national dish of Mexico. Yet, it wasn't until a few months ago that I got into the dish at all. Most of my experience with the mole had been with an overly sweet chocolate sauce, which was fine for a few bites, but then became cloying and heavy at the end.
But I had a mole at Sol De Mexico in Chicago that completely changed my mind. The sauce was rich and fragrant, thick but not heavy. It was one of those sauces where you knew that a lot of ingredients were involved, and yet you couldn't even begin to place which ones. From the moment that I bit in, I knew I needed to challenge myself to making the most difficult recipe in Mexican cuisine. I just needed a way in.
At first, I flipped open Bayless's Authentic Mexican and went straight for the mole poblano with turkey, a massive undertaking that would have required a whole turkey and a few dozen guests to eat. I balked. Instead I went for this recipe, a rich red mole that was simply served with a chicken. It's an easier mole dish, and a great place to start, but I would hardly call it easy.
But like the best Mexican food, the most expensive ingredient here is the whole chicken, which I got from Whole Foods for $7. Unlike cassoulet , it's not an old peasant dish that is actually really expensive to make today. It's refined and complex, one that combines the best ingredients and techniques from Mexican and Spanish cuisines, and makes something totally unique. And honestly, besides the time involved, it's still remarkably cheap to make at home.
The real key to great mole is the time and care given to each ingredient. The vegetables, nuts, spices, and chiles are all treated with the care and kindness that would make the fussiest French chef proud. Ingredients are roasted, toasted, ground, cooked in lard, soaked, blended, or sautéed over high heat. Then they are all blended up in a perfect proportion, cooked again, and then served with a meat.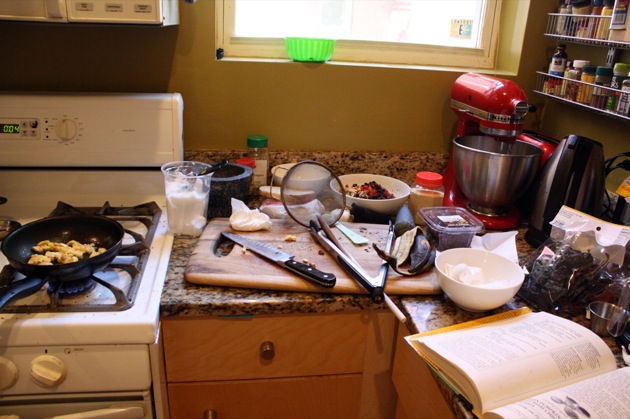 It's a pain to make. As you can see from the steps below, it isn't easy or quick. It took me four furious hours of work, and I left my kitchen in utter disarray. But I couldn't deny the magic of taking so many cheap ingredients and transforming them into a sauce that was sweet, bitter, soothing, rounded, sharp, and just spicy enough to leave that warm glow on your tongue after each bite.
What else did you expect from Bayless?
Rich Red Mole with Chicken
1/2 15-ounce can tomatoes, well drained and chopped
4 ounces tomatillos, husked rinsed, and chopped
3/4 ounce Mexican chocolate, chopped
1/2 teaspoon dried oregano
1/4 teaspoon dried thyme
1 bay leaf
8 black peppercorns
3 whole cloves
1 inch cinnamon stick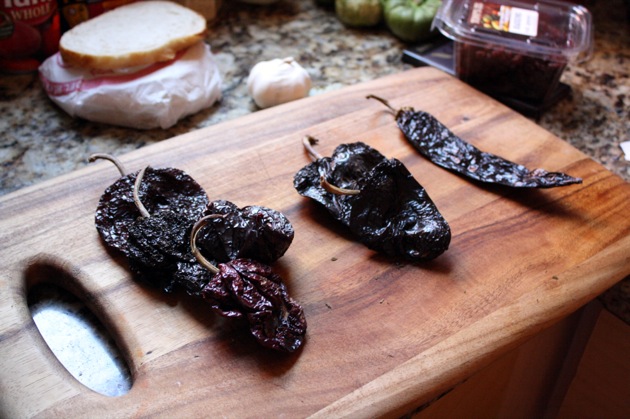 4 medium ancho chiles, stemmed and seeded
2 medium mulato chiles, stemmed and seeded

1 medium pasilla chile, stemmed and seeded

1 1/2 tablespoons sesame seeds, plus more for the finished dish
6 tablespoons or so of lard
2 tablespoons unskinned peanuts
2 tablespoons raisins
1/4 medium onion, thickly sliced
1 garlic clove, peeled
1/3 small ripe plantain, skin discarded, peeled and diced
1/2 corn tortilla, stale

1 slice white bread, stale or dried out

1 chicken, quartered
5 cups chicken broth
1 teaspoon salt
1 tablespoon sugar
"As with any recipe calling for twenty-six different ingredients, half the battle is won by getting yourself properly set up." Very true.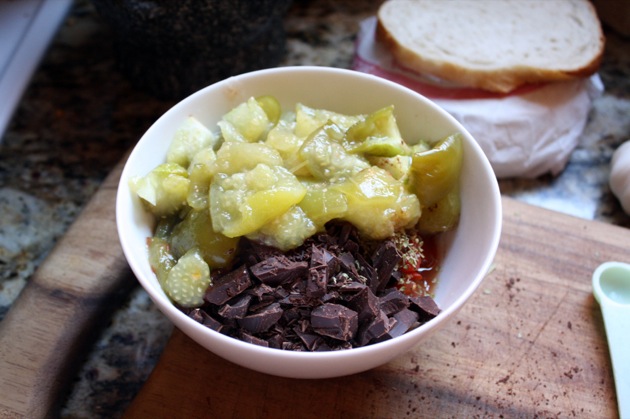 Mix together the tomato, tomatillos, chocolate, oregano, and thyme in a large bowl. Grind the bay leaf, black pepper corns, cloves, and cinnamon in a spice grinder or mortar and pestle. Add the spices to the large bowl.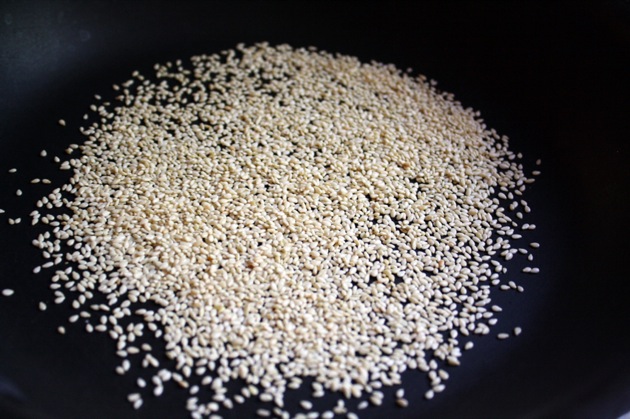 Set a nonstick skillet over medium heat. Toast the sesame seeds, stirring occasionally until lightly browned. Set aside in a large bowl.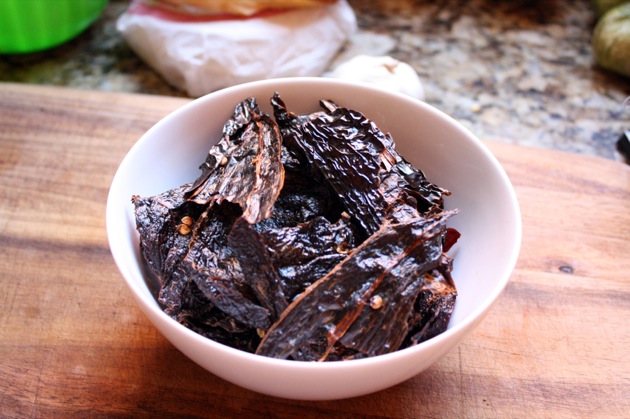 Tear the chiles into 1-inch pieces. Add two tablespoons of the lard to the skillet.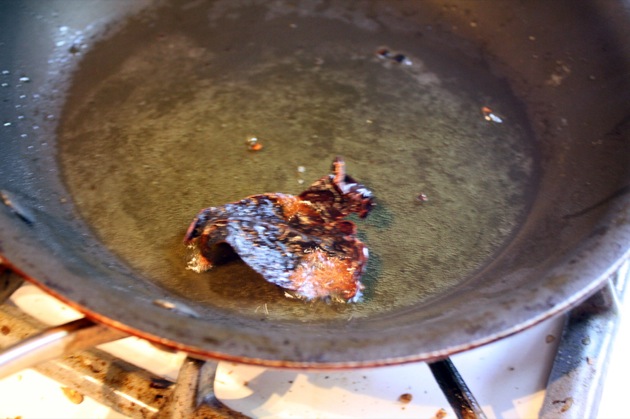 With the heat still on medium, add a couple of the chiles and cook for just a few seconds on each side. Pick the up the pieces with tongs, and let some of the oil drip off before transferring to a medium sized bowl. Repeat process with the rest of the chiles.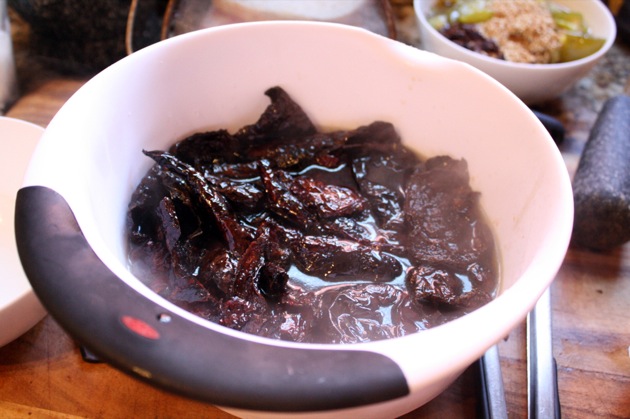 Cover the chiles with enough boiling water to cover, and then set a small plate or bowl on top to keep them submerged. Let them soak for at least an hour.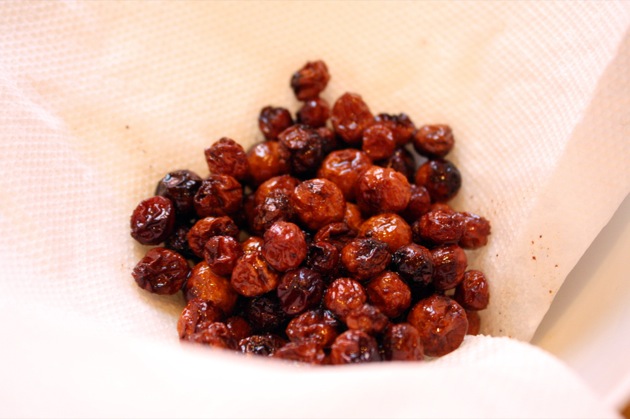 There should be some lard in the skillet still. If not, add a tablespoon of lard. When hot, add the peanuts and cook, stirring often, until they turn a light brown. Remove, drain, and then add to the large bowl with the sesame seeds. Add the raisins to the skillet and cook, stirring often, until they literally puff up. Remove, let drain, and then add to the large bowl.
Add another tablespoon of lard to the skillet and add the onions and garlic. Cook for about 8 to 9 minutes, stirring occasionally, until the onion is browned. Remove, press out some of the oil, and then add to the large bowl.
Add the plantains to the skillet and cook for 4 to 5 minutes, stirring often, until they are lightly browned.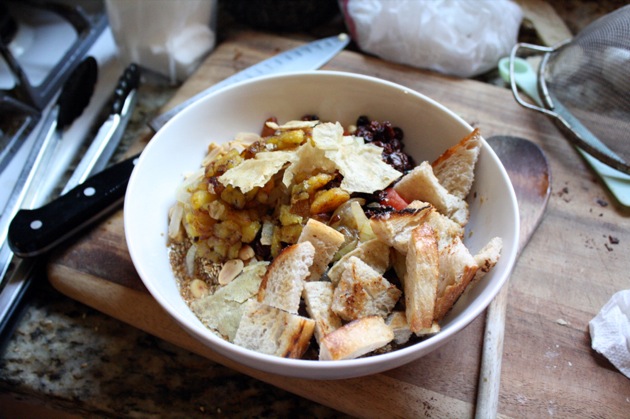 Add the rest of the lard to the skillet. When hot, fry the tortilla until browned. Remove, drain, and then set in the large bowl. Fry the bread until browned. Tear it up and add it to the large bowl.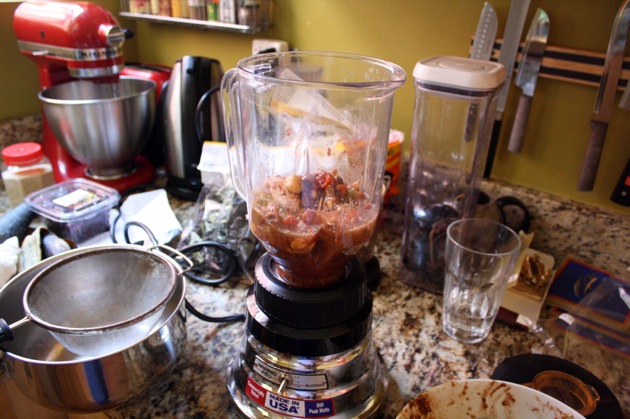 Scoop about half of the mixture in the large bow into a blender. Add 1/2 cup of broth, and then blend until very smooth.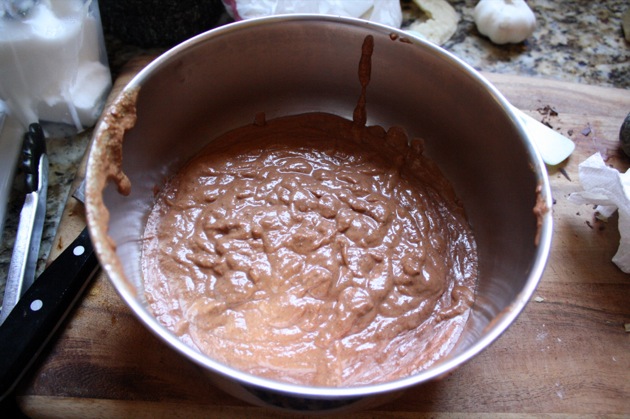 Strain the mixture through a sieve into another bowl. Repeat the process with the other half of the mixture.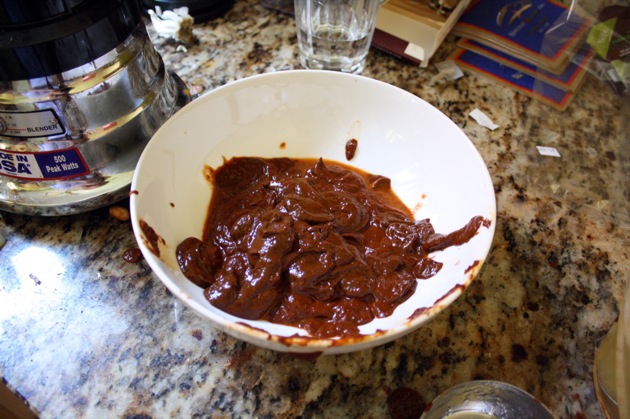 After the hour, drain the water off the chiles. Puree the chiles in two batches with a 1/4 cup of broth with each. Strain each batch into another bowl.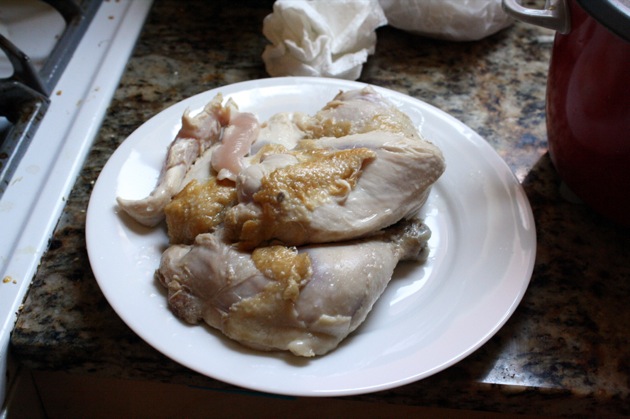 Add a heaping tablespoon of lard to a dutch oven set over medium-high heat. Brown the chicken pieces for 3 minutes on each set. Remove the chicken, and set aside on a plate.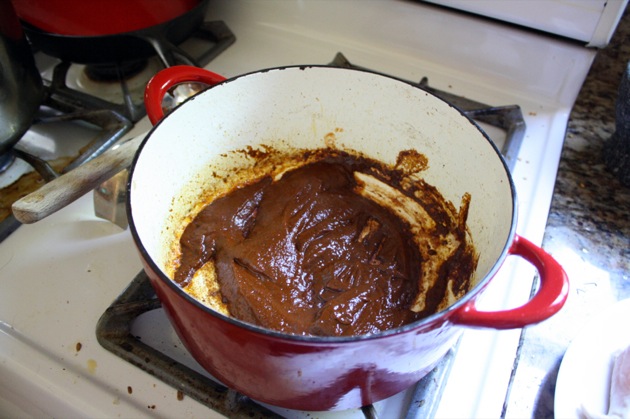 Still over medium-high heat, pour the chile puree into the pot.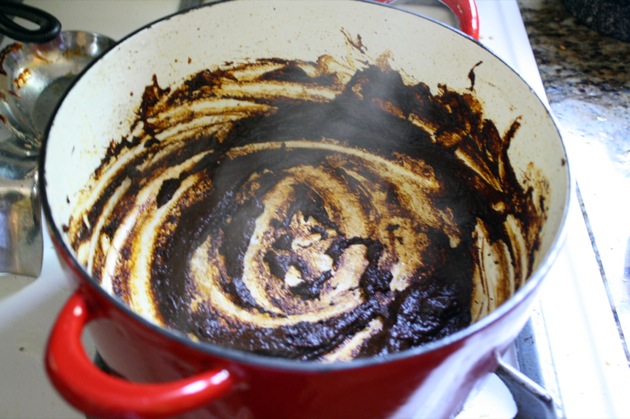 Stir often, and cook until it thick and dark, about 5 minutes.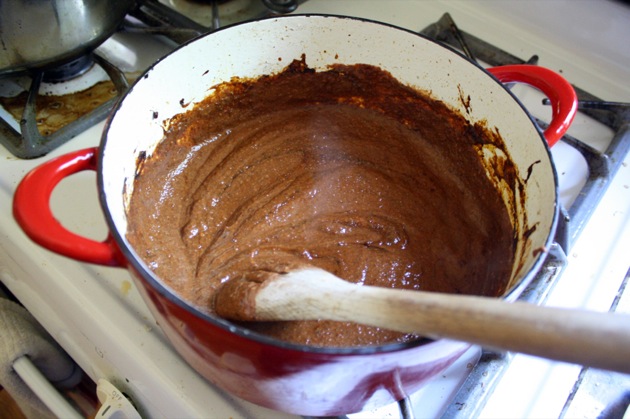 Add the other puree to the pot, cook for another 5 minutes stirring often, until the mixture is very thick.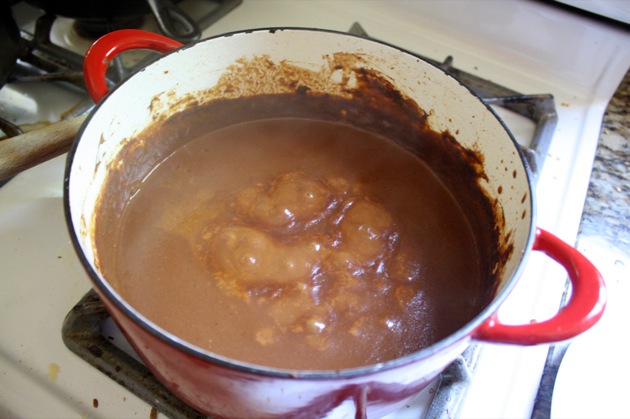 Stir in 2 1/2 cups of the chicken broth. Reduce heat to medium-low, partially cover the pot, and let cook for 45 minutes. Stir occasionally. Season the sauce with the salt and sugar if the sauce needs it. If you're using canned chicken broth it might already be salty enough.
Turn the heat to medium. Add the leg pieces and cook for 10 minutes. Then add the breasts and cook for 14 more minutes.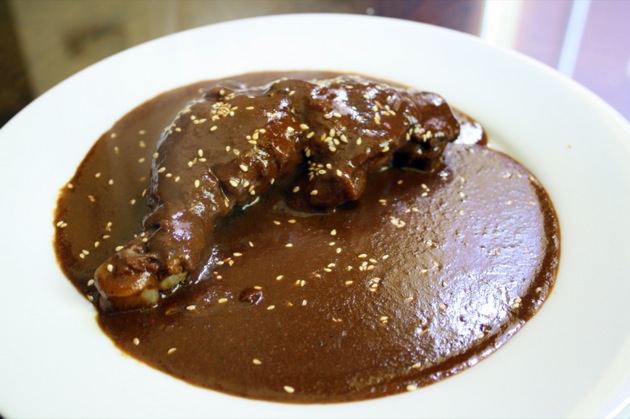 Serve the chicken pieces with ample amounts of the sauce and a sprinkling of sesame seeds.
Food,
Main Course,
Chef,
Chicago,
Chicken,
Chicken,
Chicken,
Chocolate,
Cooking,
Cuisine,
Food and drink,
Home,
Kerala cuisine,
Mexican,
Mexican,
Mole,
Mole,
Monkeygland sauce,
Rick Bayess,
Rick Bayless,
Sauces,
Top Chef Masters