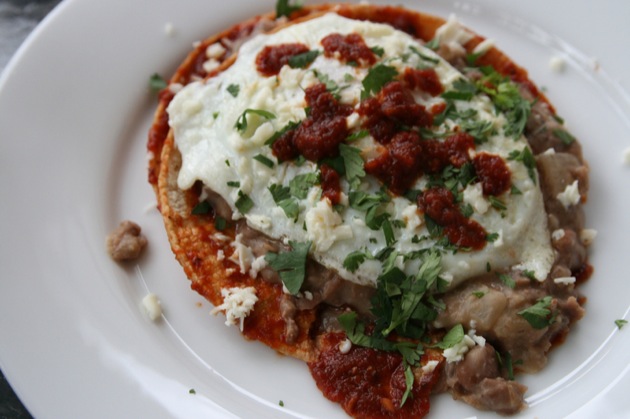 This whole site was started when we were fresh from college and cooking together recklessly.   Since our lives have changed--moving in with girlfriends, marriage , and new cities (and boroughs )--we don't always get to indulge in those old times.  But with Blake in Chicago visiting this past week, it was like we were back at York Avenue in that tiny little apartment .  From absurdly fatty hamburgers to restaurants in Chicago (post on those to come), we were indulging, and that's the polite way to say it.  Pounds were gained, let's put it that way.
The one common theme that used to run through whatever we were cooking in the early days--no matter how elaborate or complex--was that was that dinner would take a long time to prepare, primarily because we were clueless and always had three or four comparable recipes open at the same time.  So it was rather pleasant to look at the clock this past week while cooking enchiladas, see it was 11 p.m., and realize we still had awhile to go before our stomachs would be full.
My wife Abby, being a darling, had realized we weren't going to feed her.  She had eaten some four hours earlier and was just about ready to go to sleep.
But we were wide awake and ready.  Our sauce was bubbling and reducing.  We were going to have enchiladas, and those are worth staying up for.
It's not clear exactly where the idea came from.  My most recent exposure to enchiladas was at Tamalii , the sister restaurant to Maize .  They were unlike any enchiladas I had ever had, in that they weren't greasy or overly cheesy.  Instead, they were light, spicy and fresh.  Blake has been eating enchiladas with friends Matt and Dave, who used to cook them every Sunday for friends in the New Mexico style (more on that later), but haven't hosted one in awhile.  They cook their own enchilada sauce from scratch using fresh and dried chilis mailed from the southwest.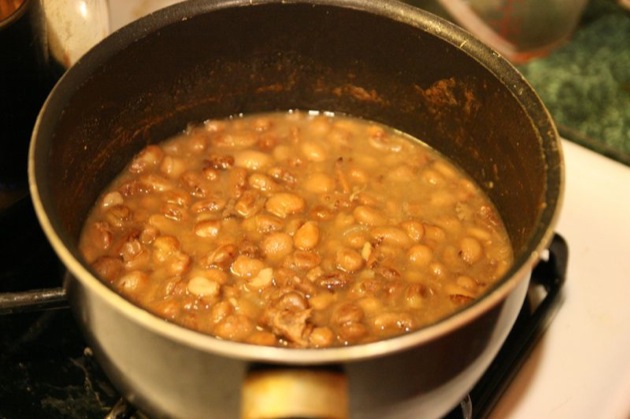 We were still recovering from a hamburger coma , induced by a particularly fatty patty , so we decided to go with a relatively vegetarian preparation.  We'd made a batch of beans the day before, and even though they had loads of chicken bones mixed in when I made them, creating a sort of leftover bean and chicken broth, there was no actual meat in them now.  We felt better about this more healthy protein approach.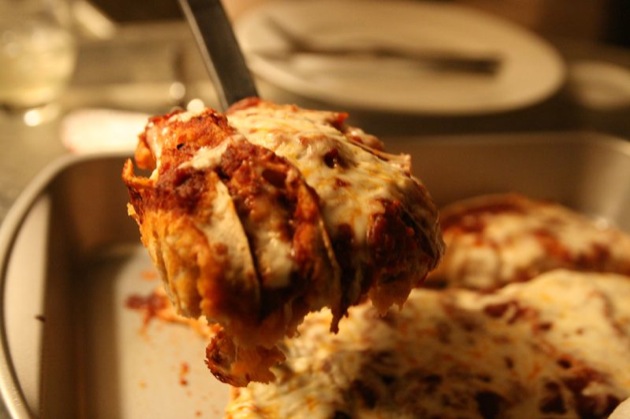 The tortillas came from a local Mexican market, still warm, and Blake kept exclaiming that they smelled so much like corn it was like ears were boiling on the stove.
Chile Colorado sauce is the name for a basic red chile used for enchiladas.  The sauce was a long affair pulled from countless sources and made from what we could find on hand.  When we first constructed the enchiladas, we warmed the tortillas, filled them with a couple spoonfuls and beans, some oaxaca cheese, and laid them as tacos side by side in a baking dish.  We then loaded on the sauce, sprinkled everything with cheese, and baked until the cheese had melted.  When we went to serve and eat it, the corn tortillas disintegrated.
The enchiladas were decent, if a little bit of a mess. Since we didn't have much idea what we were doing, the whole thing ended up looking much like lasagna, with the corn tortillas replacing lasagna noodles and enchilada sauce replacing the tomato.  Not in itself a bad thing, but not quite the ethereal experience four hours of work should lead to.
But that sauce, that glorious red sauce.  It was unbelievable.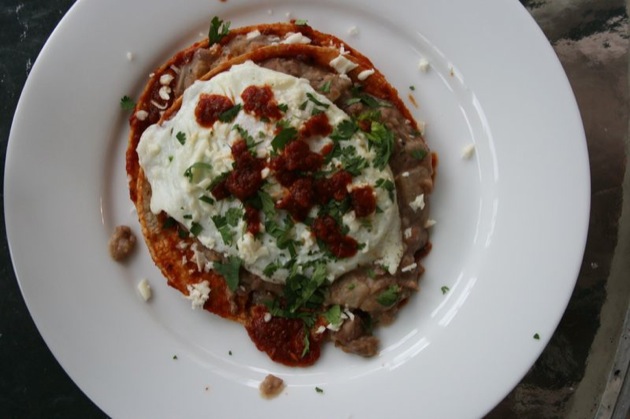 The next morning we used a lighter hand, quickly searing the tortillas in a little oil, coating them in the sauce, slathering them in beans, and placing a fried egg on top, more in the style of New Mexico enchiladas. We topped that with some of the red sauce, a little Mexican crema, and a handful of cilantro. We were blown away by what it did for this quick meal.  A later breakfast after the tortillas had gone stale was simply beans, sauce, crema, and a poached egg.  The melting yolk covered everything like a sauce.
On our final day, we used the enchilada sauce as the base for a quick chili, adding ground beef and the last of the beans.  The taste of this chili destroyed many of the other much longer-simmered versions we've made.
Colorado enchilada sauce is clearly a versatile sauce, one that can enhance nearly everything it touches.
So what is it?  This sauce isn't quite like the rich, gravy-like red sauce of Tex-Mex cuisine.  It's chunky and more pungent, yet light and spicy. We took much of recipe from Tigers and Strawberries , who has a very extensive post on enchiladas, then tweaked it from there.  At some point along the way we lost touch with an authentic preparation, but we were quite happy with how it turned out.
"Stock"
1 quart bean cooking water
1/2 pound tomatoes
Instead of using beef stock as the base as called for in Tiger and Strawberries--we were staying away from animals, remember--we used some of the liquid from a batch of beans I had recently made.  Seemed to work well enough.  This recipe also called for fire-roasted tomatoes in a can, but we decided to "fire roast" our own.  We peeled and seeded 28 ounces of canned whole tomatoes, and then cut them in half.  Then we stuck them under the broiler for a few minutes on each side until they had began to blacken.  Then we placed them in a large pot and poured in the bean water.  We brought this to a simmer and got to work on the chilies.
Enchiladas Colorado
2 ancho chilies
2 New Mexico chilies
2 canned chipotles en adobo sauce
1 teaspoon whole cumin seeds
1 teaspoon ground coriander
1/4 teaspoon black peppercorns
1/2 medium onion
2 cloves garlic
1 red bell pepper
A trip to the local Mexican market--which has a wall of dried chilies--led us to procure 2 ancho chilies and 2 New Mexico chilies, which were toasted in a skillet over medium heat until they were very fragrant, about 2-3 minutes. Then placed in a large bowl of water, weighed them down with a bowl, and let alone for 30 minutes.
Meanwhile, we roasted the bell pepper under the broiler, much like we had with the tomato.  Once it was blacked all over, we tossed it in a bowl covered in a plaste and let it steam for 15 minutes.  Then we peeled the skin off and removed the skin and seeds and cut it up into pieces.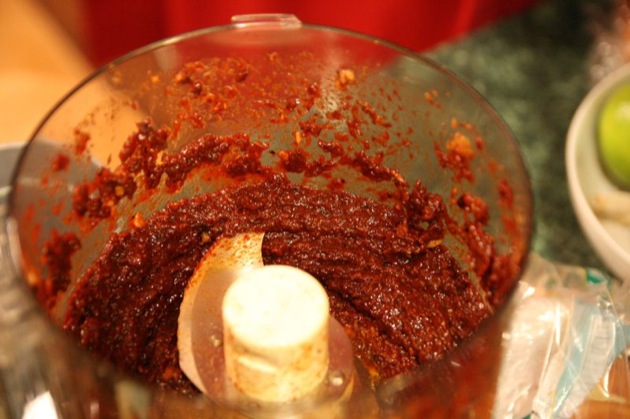 When the dried peppers were done soaking, we tossed everything else in a food processor and ground that to paste, including a couple canned chipotles in adobo sauce.
Then we slowly added that to the pot of bean-roasted tomato stock.  It clumped up at first, so we had to vigorously whisk it.  Once everything was incorporated, we brought the mixture to a boil, then reduced it to a simmer and let it reduce by half, which took about 30 minutes.  (You may noticed some red chilies in there, too.  We tasted it halfway and decided to add a little more heat.  We just removed them when the mixture had reduced.)
The sauce keeps well in the fridge for a few days.  It should be all gone by then.
Beans,
Beans,
Black Beans,
Cheese,
Chilis,
Chipotles,
Corn Tortillas,
Eggs,
Eggs,
Enchiladas,
Mexican,
Tortillas