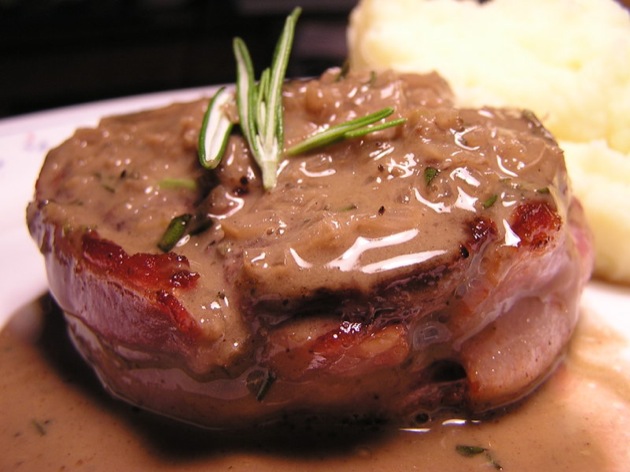 Every weekend I quickly scan Fairway's specials to see what deal I'll get off with this week.  This time, I thought it was a joke, because I saw this sucker staring back at me .   Filet Mignon for $5.99, which is a minor miracle on par with shooting stars and finding a real pastrami sandwich.  Considering this cut regularly fetches prices that stumble towards the $20 mark, something had to be wrong.  This is the leanest, tenderest cut of meat available and suddenly, for no reason I can completely understand, it's in my price range.
Instead of basking in the possibilities, I froze.  $5.99 skirt steak immediately set off fajita fireworks , but really, when was the last time you had filet mignon?  I searched my soul and realized I probably hadn't touched the stuff for three years because when it's not $20 a pound at the store it's upwards of $30 or above at a restaurant, and my parents raised a proper boy who never orders the most expensive thing on the menu.   Where do I start?
At first I wanted only the finest things for this finest of cuts, but I couldn't quite justify a $30 bottle of red Burgundy on meat that I paid under $5 on.  I'd have to figure out some economical way to give this meat what it needed.  As well, unlike rib-eye or Sirloin, where macho men cry if you put anything more than a little salt and pepper on each side, filet mignon needs a little love and care.  And in this case, that love is whiskey, and that care is bacon.
Perhaps prosciutto would be a tad more elegant, but I wasn't going to spend more on the wrapping pork than I was on the beef, so things got tricky fast.  Same thing with the sauce.  Nearly every recipe pleaded for some red wine, and not just the competent stuff.  This is time for the big guns, your Burgundies, Northern Rhones and anything else that costs a whole hell of a lot.
But by god I had bought the steak for cheap and I wasn't going to doll it up.  So I had some whiskey left over from a party.  And it worked.  I'd still say the proper partner for filet mignon is red wine, but when a deal from heaven falls in your lap, too, whiskey will work perfectly well.
In the end, it was a little too good to be true.  It turned out that the special was only for the whole filet, which teaches me to actually read the small print.  But the small fillets were only $8.99 a pound, and since you don't necessarily feast off this stuff, two steaks cost exactly $4.32.
Filet Mignon with Whiskey Sauce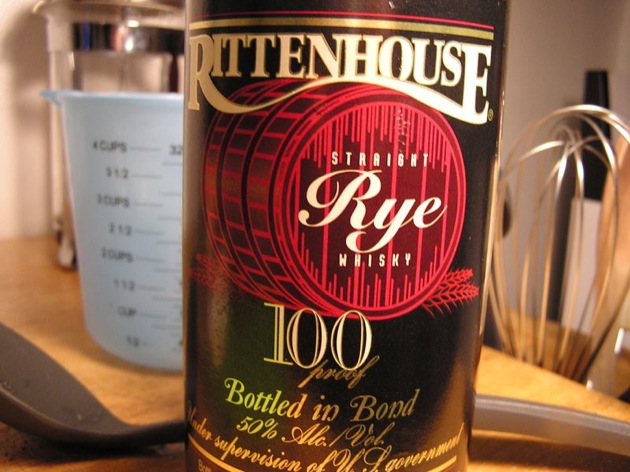 Serves 2
1 1/2 tablespoons of canola oil
2 filet mignons
2 strips of bacon
1/4 cup of whiskey
1/2 shallot, minced
1 teaspoon fresh chopped rosemary
1 tablespoon of heavy cream
1/4 cup of beef stock
1/4 teaspoon Dijon mustard
2 teaspoons Worcestershire sauce
1/2 tablespoon butter
pinch of black pepper
kitchen twine
Adapted from Food Network .
Preheat oven to 375 degrees.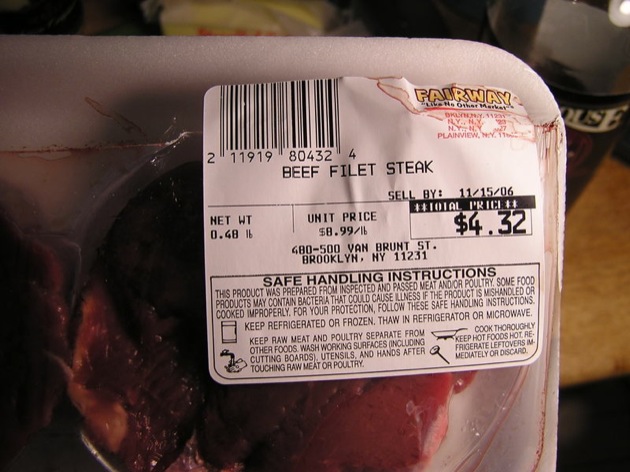 Pat the steaks dry then season with salt and pepper on both sides.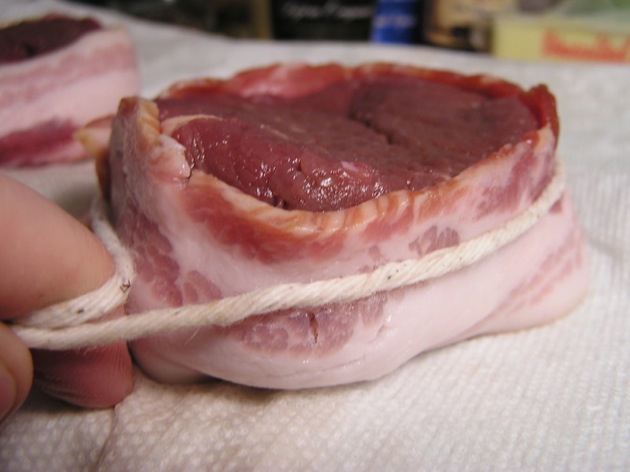 Wrap a slice of bacon around each filet and secure with the kitchen string, aka, thread of any kind.  I just knotted it like a shoe lace, but what do I know about such things.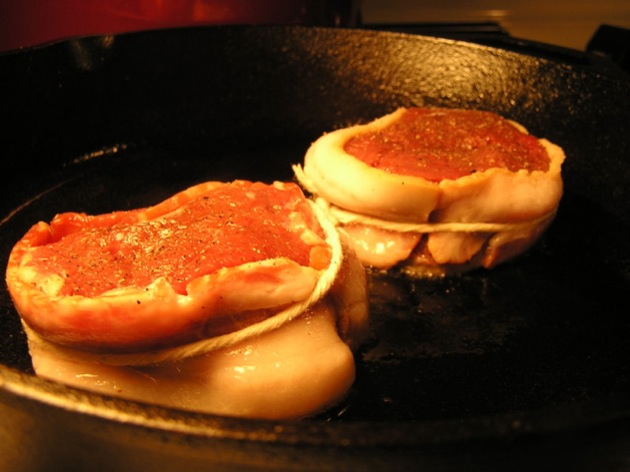 This is a perfect time to use that iron skillet, which I love so dearly.  Preheat it over high heat for a couple minutes.  Then pour in the oil and then the steaks.  Cook without touching it for three minutes.  That will give it the nice sear.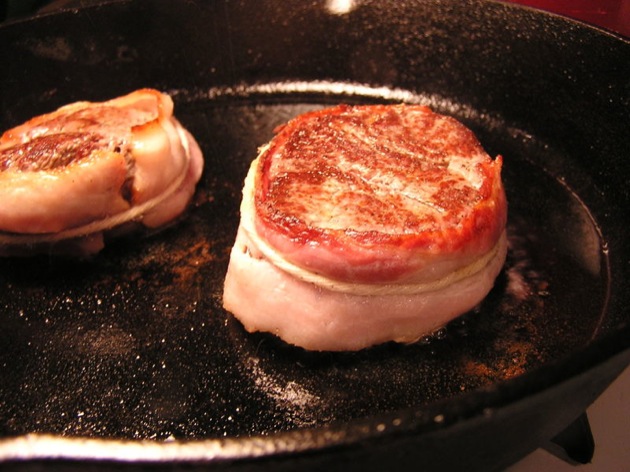 Then flip the steaks and move the skillet into preheated oven for between 10-13.  Keep it in longer if you want your steaks medium or well done.  After the time, take the pan out out, remove the steaks to a platter (plate), and place the skillet on a burner over medium high heat.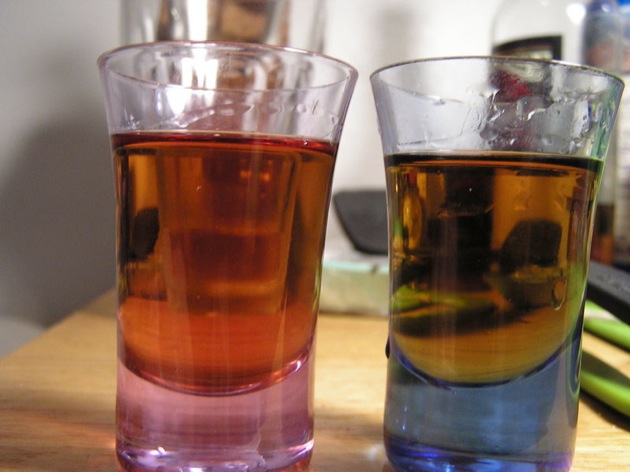 Deglaze with 1/4 cup of whiskey, or as we all should know, roughly two shots.
The recipe talked wildly about flames that would sprout once the whiskey touched the pan, but I didn't experience such things.  I'm not that lucky.  Anyway, once the whiskey has been poured in, add the shallots and rosemary and cook until reduced by half.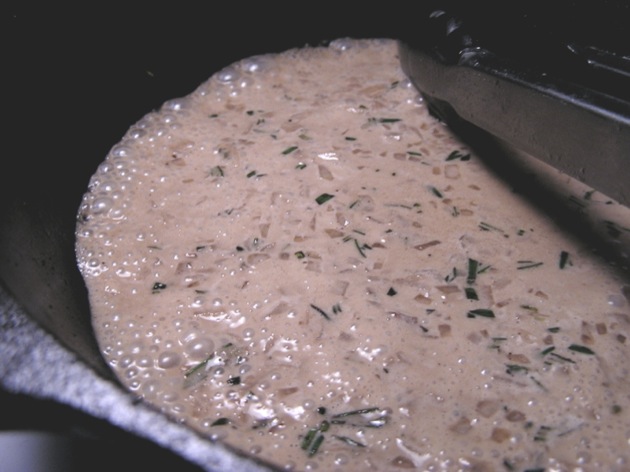 Then add the heavy cream, mustard, Worcestershire sauce, and the stock.  Then reduce this by half.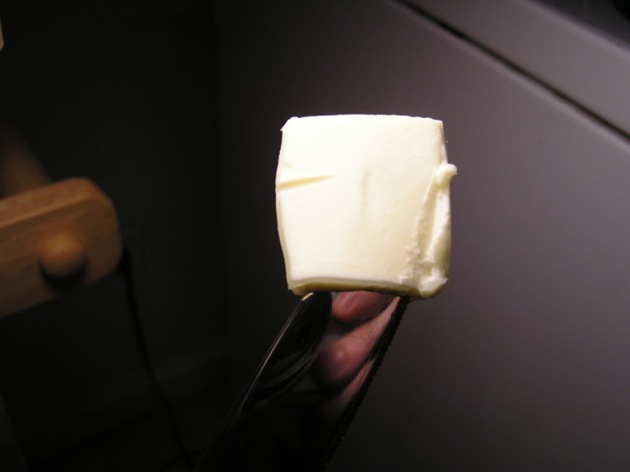 When done, turn off the heat and add the butter and stir until everything is nice and thick and combined.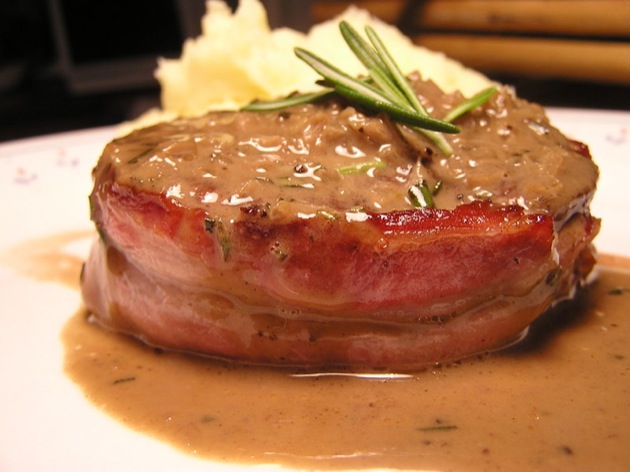 Remove the string from the beef, plate, and pour the sauce on top.  Side with some lovely mashed potatoes and enjoy.
Bacon,
Beef,
Beef,
Filet Mignon,
Heavy Cream,
Pork,
Steak,
Whiskey