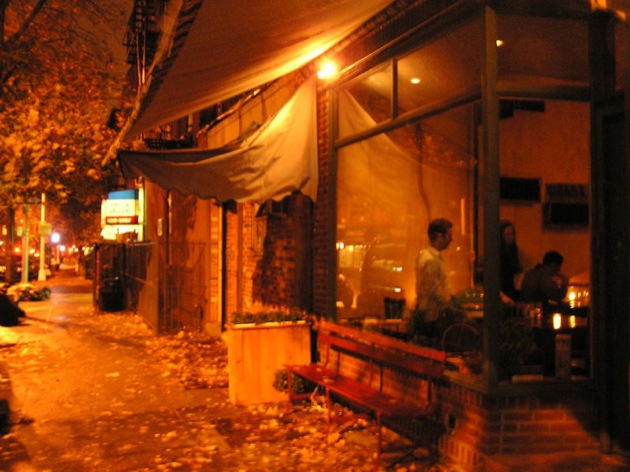 Mark Iacono, chef and owner of Lucali's, began making pizza publicly 4 weeks ago.  "I didn't even tell my family that I was opening this place," he claims.  When he pulled the brown paper down off the windows on Day 1, he was hoping a few neighbors might be curious, and he'd have a few weeks of experimenting and tinkering with the pizza formula before he officially opened.
Literally 30 minutes after the brown paper came down, he had customers, lots of enthusiasm, and no restaurant name.  He's been scrambling and hurrying to make pizza ever since--an infamous post on Chowhound on October 13th started a flurry of responses, including comparisons to legendary pizzerias like Di Fara's in Midwood, Brooklyn--a religiously esteemed pizzeria if there ever was one.  The crowds haven't let up and don't appear destined to anytime soon.
"It's getting really frustrating," Mark said.  "Now, all I have time to do is go to the market and run back to make pies.  I have other parts of the menu I want to develop.  I need a break."  At this point, the menu looks pretty simple.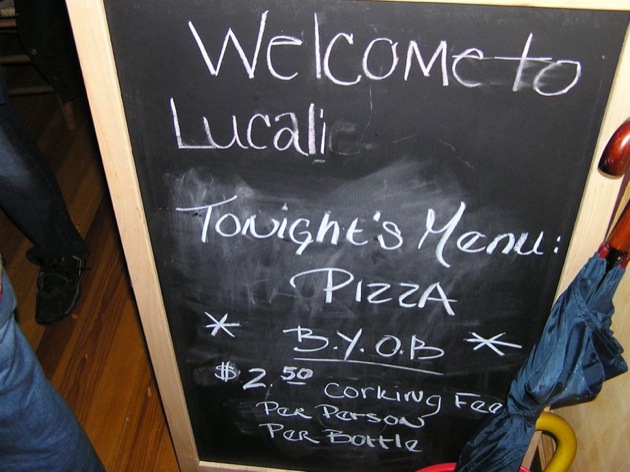 We've been to all five boroughs endlessly searching for great pizza, traveled far and wide and wrote obsessively about what could be the perfect food, and we will say this without hesitation: tonight we tasted some of the best pizza to be found in this city.  But unlike all of those unbelievable pizza experiences throughout New York, this new pizza darling is exactly two blocks from both of our Carroll Gardens apartments.  In fact, we've had to work quite hard to maintain our usual finely-honed intellectual detachment, to remind ourselves that we like this pizza a lot for what it is--not because Di Fara's seems to have suddenly up and moved to our block.
So we thought it'd be nice to stop in and see how the local establishment was doing.
Armed with a bottle of German bubbly (we're not exactly sure why, but we'd definitely venture that spritzy, carbonated wines go great with pizza --Lucali is BYOB, at least for the time being), five of us arrived just as they opened at 6:15 and promptly ordered two pies, one plain and one with peperoni for fun.  Nick had been there earlier in the week, but after finishing a bottle of wine while waiting for the pizza, he could only spout out euphoric adjectives with no real detail, and his memory was fuzzy.  Some real, hard-boiled investigation was needed.
The first pizza came out about fifteen minutes after we ordered, the second twenty minutes after that (we ordered a third, topped with half olives, half mushroom, and fresh basil throughout, after we'd torn through the first one and eagerly awaited the second).
People in the know will notice obvious similarities to Di Fara's .  It's Mark's favorite pizzeria, and the fresh mozzarella/slightly sweet tomato sauce on top, ladled on then spread, finished after cooking with grated Grana cheese and olive oil, is suggestive of Dom's technique.  But we found the dough thinner, less meaty and substantial than Di Fara's, more like the paper-thin Patsy's in Manhattan at 117th in Spanish Harlem.  There is also a little of Tottono's playful balance of crust and cheese and the signature blackness and a nicely charred bottom.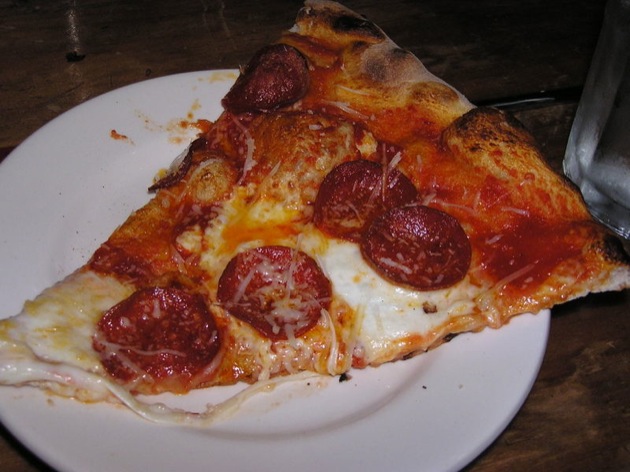 The pepperoni pie was even better.  An orgasmic trance floated over Nick's face, as Blake attempted to steal another slice off the tray.   The pepperoni comes from Esposito, the local pork store on Court Street, and it's some phenomenal stuff.  Its spicy and salty kick adds just another dimension to an already layered pizza experience.  The only quibble were the olives and mushrooms on our third pie, which both tasted canned and uninspired.  Another gripe: why do we have to pay for fresh basil on the pie as a topping?  Seems like this should be part of the plain version, too.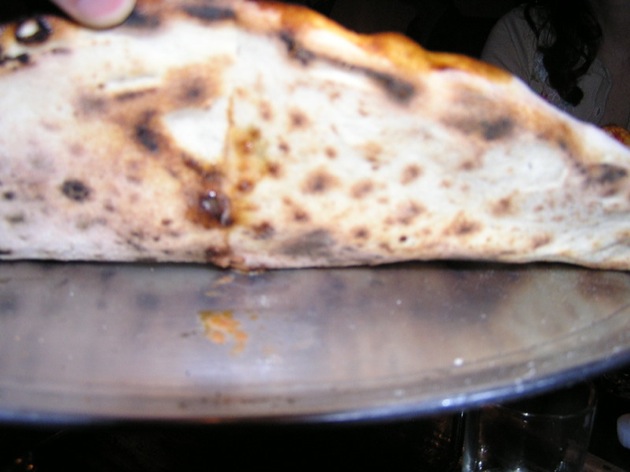 Afterward, Blake went up and talked to Mark, who did his very best to pay attention while running around making pizza in a makeshift counter space, training his staff at the same time.  When he got a pie into the oven and took a breath, he looked around. "Yeah, this is kind of a slow night," he mentioned before digging around for a hunk of mozzarella to slice onto the next batch of waiting dough.  A scan of the restaurant revealed every table full and more people milling around the door, waiting for their pies to go.
It's going to get worse.  On a Sunday night it was packed.  Last Thursday when Nick arrived at 8:45 the wait for the pizza was 45 minutes.  This was one day after they had gotten a phone number, which the waitress wrote on a paper napkin because they don't have any business cards.  The chalk board on the wall still warns of an official "grand opening," and the chalk board on the door shows where an "e" was erased from the name--either the staff don't know how to spell the restaurant they work in, or Mark is still changing his mind.
But he seems settled now: when he found out these pictures were going up on the Internet, he first groaned, bemoaning the possibility of more publicity, more customers.  Then he said "Please, spell the name right.  Everybody keeps getting it wrong ."  Not that you could blame anyone for misspelling anything or getting the facts off: it seems like nobody, including Mark, who grew up in the neighborhood, knows quite what is going on on this quiet little street in Carroll Gardens, in what used to be an old candy store.  Most people are just trying to catch up.
And for now, the word-of-mouth hype is remarkable to watch.  This is a restaurant seen pre-advertising, pre-New York Times coverage, just trying its best to cope with a group of people who want nothing more than some real pizza in their neighborhood.  It doesn't help that that real pizza is served in a gorgeously low-lit room, and wooden tables recall some quaint Italian restaurant in the village--not some fluorescent-lit, flour-dusted joint.
Mark has only been doing this for four weeks, while his hero Dom DeMarco has been making his for  around 40 years.  He's still learning to take advantage of the brick oven, which he got from the now-defunct Leonardo's on Court and 1st Place.  It's scary to think that Mark's pies could get better.  But as an eating experience, it's going to be hard for Lucali's to better what it offers right now:  An intimate, gorgeous setting for friends to share some perfect food.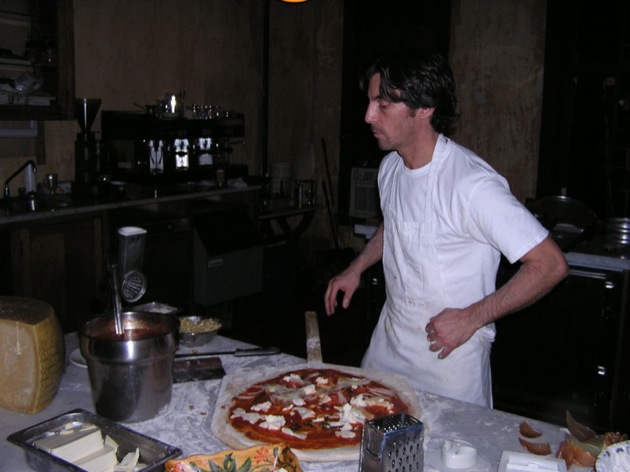 Brooklyn,
New York,
Pizza,
Pizza,
Restaurants,
Restaurants