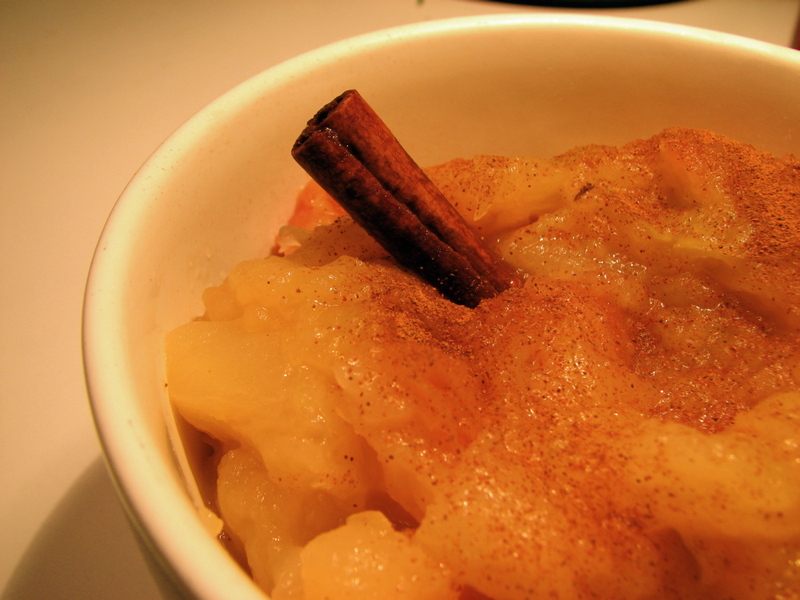 I've been eating apples constantly this season, unable to help myself every time I saunter by the Union Square market (which is every morning, lunch hour, and evening on Monday, Wednesday, and Friday).  For once in my life, I may actually be approaching the appropriate serving suggestion for daily fruits and vegetables. I love breaking through the crisp, taut skin with my teeth, the spray of juice onto my tongue, the bittersweet, balanced taste that doesn't get tiresome or cloying or make my tongue annoyed. And they're so cheap it borders on ridiculous.  I suppose the fleshy insides don't offer much in the calories department, so you'd probably have to eat 30 apples a day to have enough energy.  But the vitamins are indisputable (eat your skins). Sometimes, when I've bought too many apples that I know what to do with, they start getting soft.  The slightest softness in an apple is a dealbreaker, suggestive of a mealy interior--forget it, I'll buy another.  But it turns out that these apples are not a foregone conclusion; they have a purpose in the universe, which is called Applesauce.  We're not talking about the arenaceous, homogenous puree you had to feed your baby brother while making airplane sounds, and it's not the junk in a plastic container, covered with the peel-off foil top, that you tried to barter and swap for a Snack Pack, you future tycoon, you.  This is a skin-on, ridiculously easy, flavorful concoction that you can eat for breakfast, dessert, or anywhere in between. Below is the simplest recipe possible.  Many others suggest enriching with lemon zest or butter, and use honey, cloves, and other spicy-sweet frills.  Feel free to improvise or peel the apples.  Now, you're justified in buying the big bulk bag, since you don't have to eat them all (but do make a valiant effort).  Have fun lugging it home. Basic Applesauce
Bag of Apples (4-6)
4 T (or to taste) sugar, try also brown sugar or honey
1/4 cup water (or even better, use apple cider)
cinnamon stick or generous shakes of ground cinnamon
cloves, lemon zest, butter, pinch of salt (all optional)
Core and chop the apples into relatively uniform pieces, put into a large skillet or saucepan, add water, and heat over medium.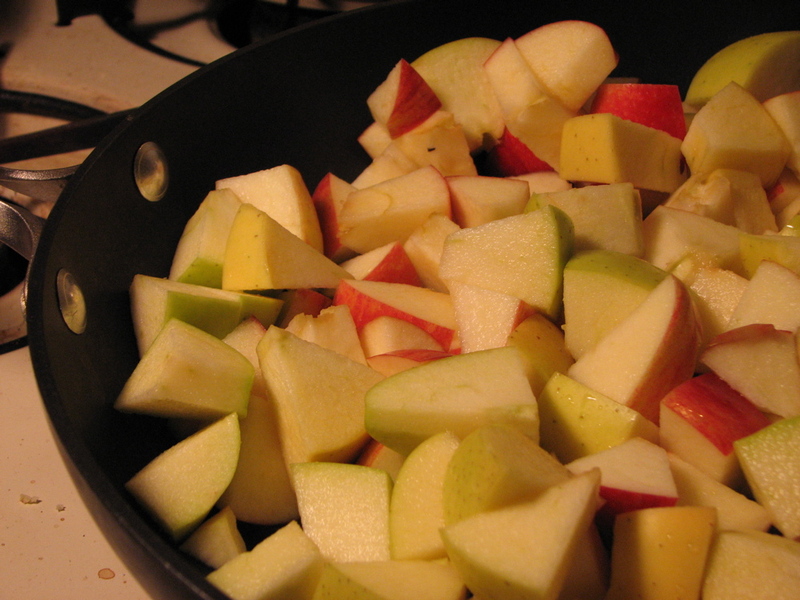 Once the water has boiled, turn it down to a simmer and add sugar, spices, and lemon zest if using.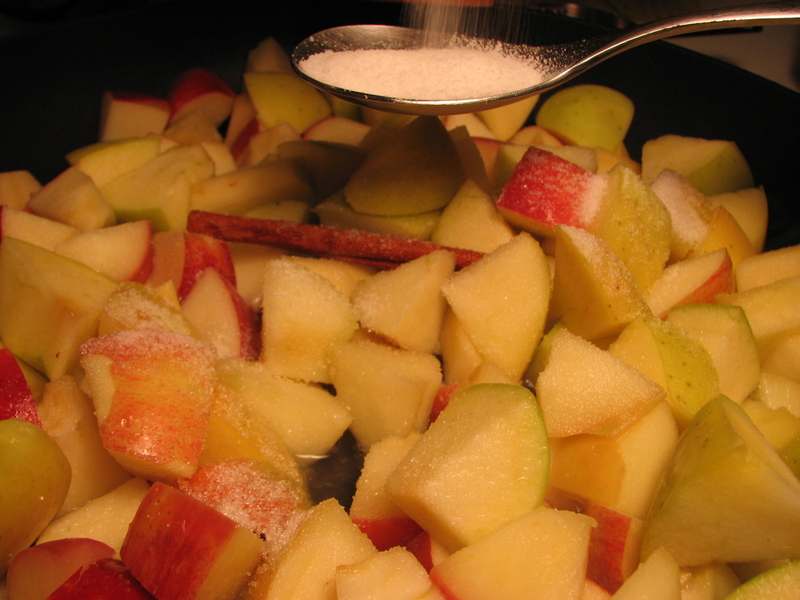 Simmer covered for 20 minutes or so, until the apples are softened and falling apart.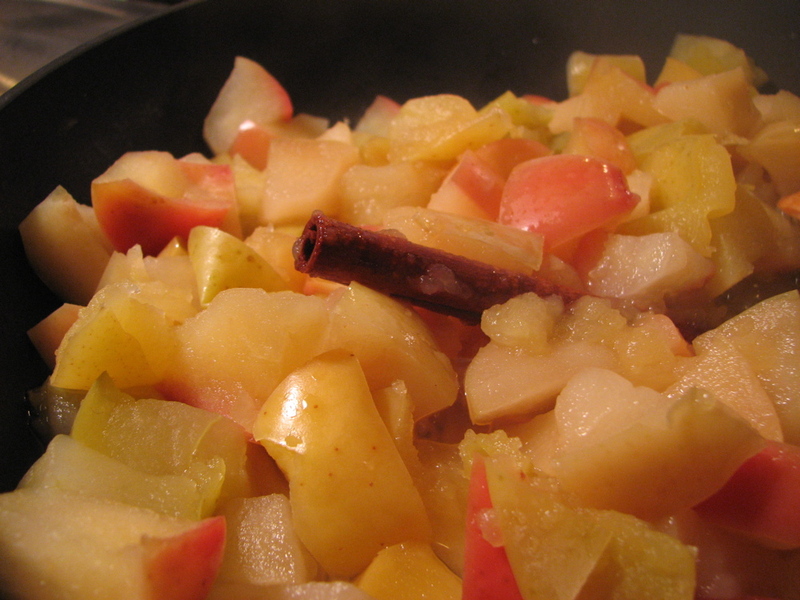 Mash up with a potato masher or wooden spoon, and add the butter to enrich if desired, and pinch of salt if using.  You can also use a blender if you like it smoother.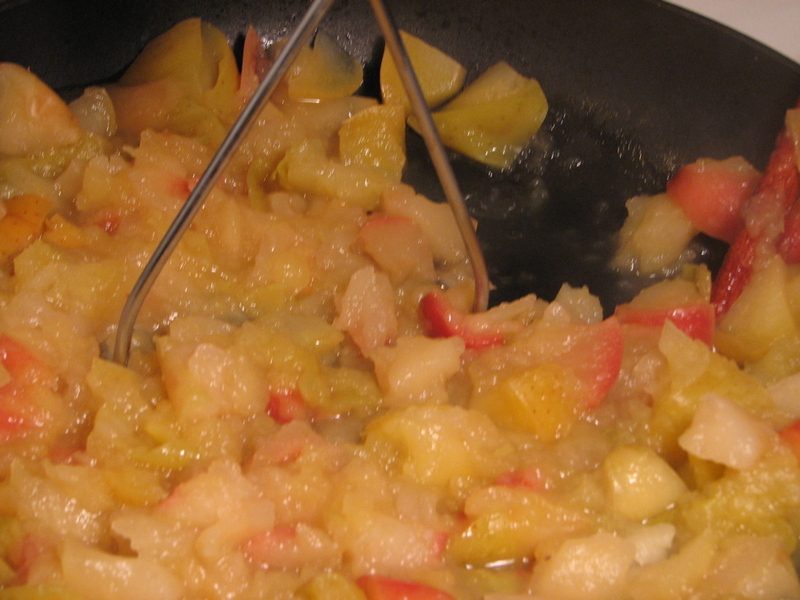 Serve with a dusting of cinnamon and more sugar if you'd like.  The used cinnamon stick is a nice aesthetic touch.
Apples,
Applesauce,
Fruit,
Fruit