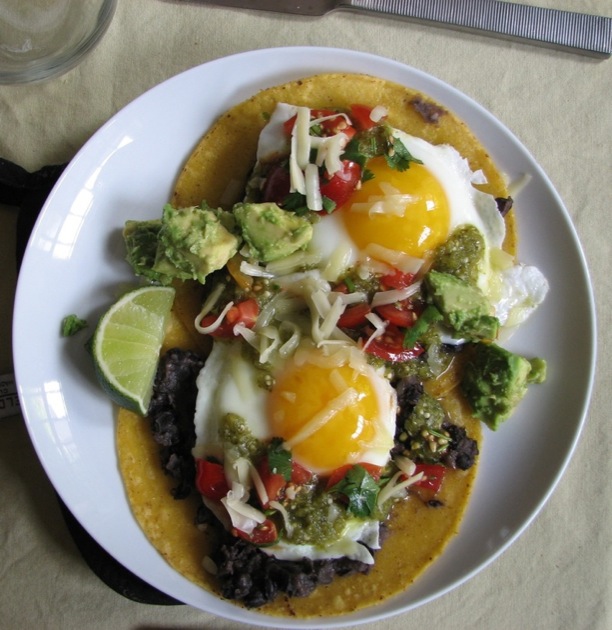 This weekend for brunch we made some huevos rancheros from start to finish.
The day before, we cooked a pound of the inimitable Rancho Gordo midnight black bean according to the instructions given by Rick Bayless : in a dutch oven, cook them with about 8 cups of water, two tablespoons of lard (or bacon drippings, or vegetable oil) and a chopped onion--bring to a boil, then simmer as low as possible until tender, salting in the last fifteen minutes only.  To refrito them, we cooked onions in a skillet until golden, added garlic until softened, then mashed the beans into a rough paste.
The tortillas were corn, fried briefly in a little vegetable oil until pliant and just beginning to crisp.
The eggs came from the Fort Greene farmer's market and were from Araucana chickens , who lay eggs with shells ranging from blueish gray to greenish olive that, some say, have a superior flavor.  We fried them without flipping in a non-stick skillet, covered to build up enough heat to barely set the whites on top.
The sauce was a jalapeño and 4 cloves of garlic minced in a food processor, followed by 8 husked, rinsed, and quartered tomatillos and a large handful of cilantro.  It was moved to a saucepan to thicken over medium heat, then combined with a cup of chicken stock and reduced until sweet and rich.
A package of heirloom cherry tomatoes was chopped roughly, spiced with half a minced jalapeño, then glossed with a glug of olive oil.
An avocado needed only to be halved, pitted, and sliced into rough chunks.
Monterey Jack cheese was sprinkled on everything.
And of course, the whole affair was showered in juice from the incomparable lime .
If you're in the mood for Mexican, here are a few favorite posts from our archives.
Baja Fish Tacos
Refried Bean Tacos with Chorizo
Mexican Grilled Chicken
Beans,
Black Beans,
cinco de mayo,
Eggs,
Eggs,
Mexican,
Salsa