A little holiday help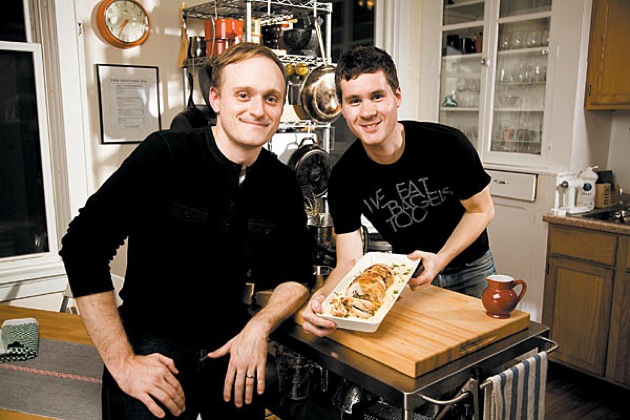 We're signing off for the week, ready to see family, drink some of our homemade hard apple cider , and fatten ourselves on turkey.  We hope you're off to do the same!  But before you do, please direct your attention to this week's Time Out Chicago , were you will discover a cheesy picture of your humble correspondents (above).
A month ago we met up with the dashing food folks over at Time Out to have a little dinner party of recipes from Gourmet magazine, in remembrance, and then they asked us to contribute recipes for their blogger's Thanksgiving feature.  We were delighted.
You'll find us in the magazine with a recipe for a rolled turkey breast filled with sage and cranberry sausage--guarranteed to be juicy and delicious--along with fellow Chicago bloggers Natalie Slater of bakeanddestroy.net and Dana Joy Altman of realfoodrehab.blogspot.com .  We took care of the rest of the bird, too, confiting the legs for a roasted root vegetable salad and making stock for gravy--those recipes and others are available online.  Our goal for the whole meal was to pair it with hard apple cider, which we submit as the ideal drink for Thanksgiving.  We've managed to include cider as much as possible in the menu.
Have a lovely thanksgiving, everyone. And thanks to Time Out for inviting us to contribute!
Food,
Main Course,
American,
Apple cider,
Chicago,
Cider,
Cranberry,
Domestic turkey,
food,
Food and drink,
Fruit,
Hard Cider,
Thanksgiving,
Thanksgiving,
Thanksgiving,
Time Out,
Turkey,
Turkey