Throw away those bottle salad dressings.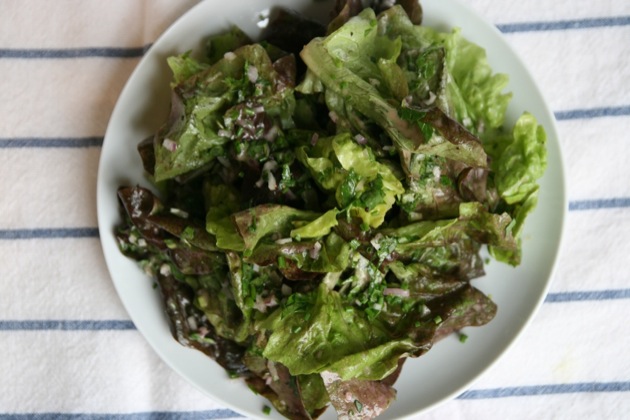 I've been thinking about salad a lot lately, which is strange, because how inspiring can a salad really be? The salads I grew up with were made of lettuce with a bunch of chopped vegetables--carrots, mushrooms, peppers, whatever--doused with a dressing from the fridge door. Everyone put their favorite dressing on, and that worked pretty well. It was the typical "your-choice-of-dressing" side salad, and it was just a way to sneak in some vegetables next to the main event.
But in a French bistro setting, a salad is carefully balanced, based around a good vinaigrette and an opportunity for greatness. There is nothing more required than fresh lettuce and a perfect sauce.  Elin and I splurged on a meal at Thomas Keller's restaurant Bouchon this summer when we were in California, and we both ordered the bibb lettuce salad, which is tossed with minced fresh herbs and shallots and the house vinaigrette. The lettuce was rich and glistening, tart and refreshing, and the dressing clung to the leaves with this almost milky quality to it. This humble salad is among the dishes we most vividly remember from that fantastic meal. Can you imagine, dreaming about a salad?
A vinaigrette essentially means a combination of fat, acid, and salt--usually oil and vinegar standing in for fat and acid--vigorously mixed so that they emulsify into one. Mustard is a common addition because it aids in the emulsion process, gives the dressing a creamy quality, and tastes great. Made correctly, a vinaigrette wakes up your tongue and feels round in the mouth. It is rich yet bright. As Thomas Keller's Bouchon cookbook notes, "you might even call it the perfect sauce."
Hold on a minute. The " perfect sauce "? Not hollandaise or mayonnaise or beurre noisette? There are people who devote their lives to sauce--sauciers--who are often considered the most talented cooks in the kitchen, the person Michael Ruhlman calls "the magician and sorcerer" in his book Elements of Cooking . Could it be that the perfect expression of their art lies in a salad dressing?
When we got home, I dug up my Bouchon cookbook and found the recipe, and have been making the recipe for vinaigrette since. It's quickly become a staple in my fridge. What I love about it is its room for invention: the base recipe is just oil, vinegar, and Dijon mustard, which is actually mixed in a blender so that it turns into an incredibly creamy concoction that looks like a sauce. Using the blender chops up all the fat particles so that they bond with the vinegar particles (which is basically what an emulsion is, defying the traditionally wary oil-and-water relationship), but does it so thoroughly that it stays as an emulsion for weeks in the fridge. Because there is nothing else in the recipe that could spoil--herbs, garlic, lemon juice, etc.--you literally can keep it for weeks and use it as you go. Then you can simply spoon it out and mix it with whatever seasonings you like on the spot.
Bottled salad dressings may be one of the worst deals in the grocery store. They tend to be overly processed, gummy, expensive, and a fraction as tasty as what can be made easily at home with a few pantry ingredients. I learned early on when I started cooking that olive oil, red wine vinegar, a clove a garlic, a sprinkle of basil, and a touch of Dijon mustard blew every bottled "Italian" dressing out of the water. From there, you can just improvise: a sprinkle of grated Parmesan instead of the mustard became a favorite, sort of a riff on Caesar, especially with mushrooms. For a real Caesar, add an egg yolk, and some minced anchovy, minus the basil. A good salad is built from good vinaigrette, bottom line, which was a revelation to me.
Making this recipe results in a creamy sauce that lives without degrading for a couple weeks in the fridge. Instant salad dressing, conveniently available when you need it. Isn't that the appeal of the bottled stuff?
Basic Vinaigrette
1/4 cup Dijon mustard
1/2 cup red wine vinegar
1 1/2 cups canola oil
This makes a large amount of vinaigrette (about 2 1/2 cups), but it keeps. The process is foolproof: combine the mustard and vinegar in a blender and blend at medium for 15 seconds to combine. With the blender going, add in 1/2 cup of the oil in a slow stream, making sure not to add it too quickly to keep the vinaigrette creamy. It should now have developed a wonderful emulsion.
Next, transfer it to a bowl and whisk in the remaining oil, which should be absorbed easily now that the emulsion is started. It can now be refrigerated for up to 2 weeks.
Bibb Lettuce Salad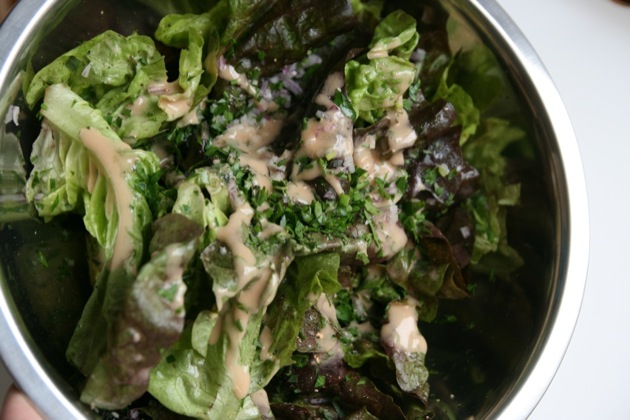 -serves 4-
Adapted from Bouchon
1/2 cup Basic vinaigrette
4 heads Bibb lettuce, or enough lettuce for 4 of another type such as red leaf
2 tablespoons minced shallots
2 tablespoons minced chives
1/4 cup parsley leaves
1/4 cup tarragon leaves
1/4 cup chervil leaves (tough to find, optional)
1 tablespoon lemon juice
salt and pepper to taste
If using bibb lettuce, carefully core each head and loosen the leaves from each other but keep the structure of the head intact, which will be reassembled on the plate. Or, gently tear the leaves of another lettuce into bite-sized pieces. Plunge the lettuce in cold water to clean it, then gently spin in a salad spinner until very dry.
Transfer the lettuce to a large mixing bowl and season with salt and freshly ground black pepper. Scatter the herbs and shallot and drizzle the vinaigrette and lemon juice over everything. Toss it gently by hand to dress, and serve.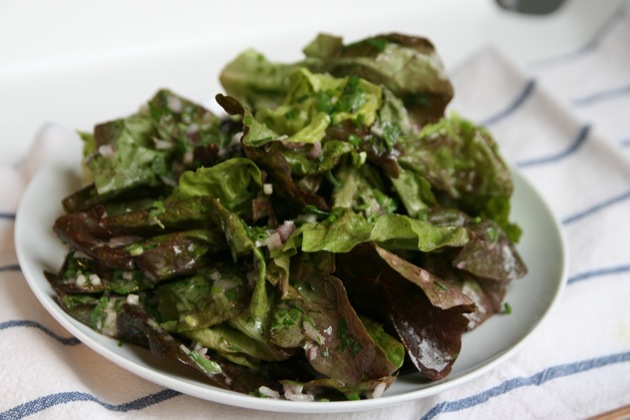 Food,
Vegetarian,
Salad,
California,
Condiments,
Food and drink,
French,
French dressing,
Italian dressing,
magician,
Mayonnaise,
Michael Ruhlman,
Michael Ruhlman,
Mustard,
oil,
restaurant Bouchon,
Salad,
Salad dressings,
Sauce,
Sauce,
Social Issues,
Structure,
Technique,
Thomas Keller,
Thomas Keller,
Vinaigrette,
Vinaigrette