Ginger, Lemon, Sugar, Yeast...and 24 hours.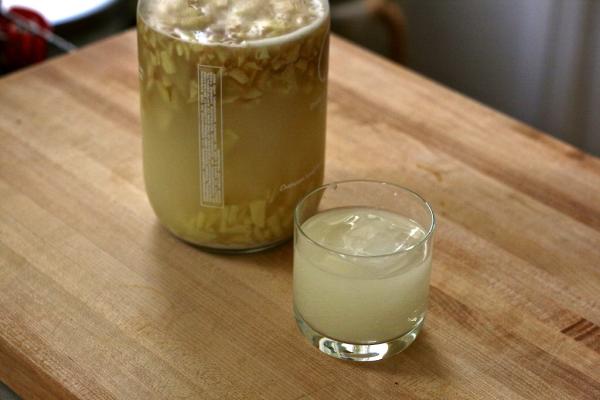 File this one under projects that seem a lot harder than they actually are.
A week or two ago, my wife tore out a couple pages in the New York Times Style magazine about a shop in Melbourne, Australia that combines style, bespoke fashion, and great food under one roof called Captains of Industry ( here it is as an interactive online feature ).  Besides all the cool ideas and wavelengths that must bounce around in that shop, they apparently have delicious ginger beer.  And they offer an informal recipe in the spread: take ginger, cut it up, add some lemon juice and sugar, toss in hot water and yeast, and give it 24 hours.  Not that they had time or space to give any true exact quantities or anything.  But hey, that's the fun of fermentation and kitchen experimentation.
Well, it actually is that easy to make ginger beer, and I made a batch recently which was fizzy, super ginger-y and dry, and fantastic over ice.  Ginger beer is essentially ginger ale but with a much sharper, more upfront ginger taste, and it's far less sweet.  It isn't alcoholic, but because of its more assertive flavor it holds up beautifully in cocktails.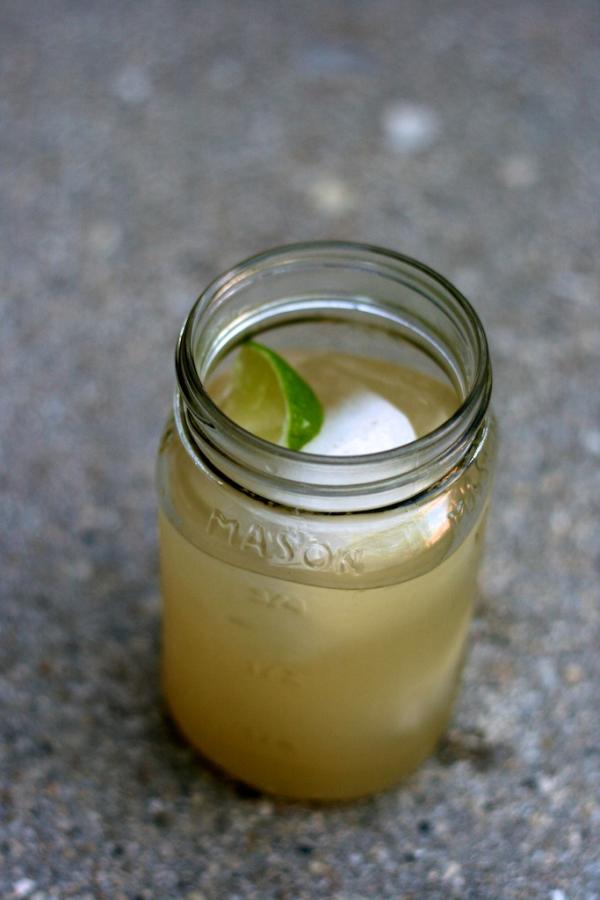 Indeed, I was most happy to see if fulfilling its true destiny in a Dark 'n' Stormy cocktail, mixed with dark rum and a little lime juice to taste.  The sweet undertones of the rum soften the spicy ginger to great effect—and when summer finally comes around for good in Chicago and it's sweltering again, the heat is made a little bit more bearable with one of these in your hand.
Homemade Ginger Beer
1/2 pound fresh ginger, roughly chopped
2 quarts boiling hot water
2 cups sugar
juice of two lemons
1 teaspoon champagne or other yeast
A couple tips for making ginger beer: first, don't do like I did and stuff all the ginger into the jug you'll be storing it in. Obviously, once it's done fermenting I needed to separate the ginger from the liquid or it would get spicier and spicier, and so I had a real time getting all the solids out of the bottle.  Instead, let it steep in a large bowl or pitcher, then pour it into a jug and add the yeast
Also, the kind of yeast you use matters when it comes to flavor.  Champagne yeast is cheap and pretty good for this purpose -- check for a local brewing shop or order online.  That said, it'll work with regular bread yeast and it will still taste pretty good.
After making this batch, I found many recipes that opt to grate fresh ginger and simmer it with sugar and water in a pan, then use the resulting syrup mixed with more water and sugar and yeast to create the ginger beer.  This does seem like a good solution, though the ginger-y taste might be less upfront (which could be a good thing or bad thing, depending on your perspective).  Anyone want to weigh in on that method?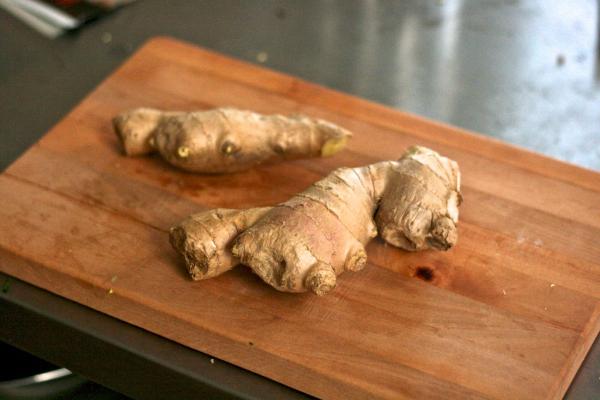 Chop the ginger (no need to peel) and add to a large pitcher.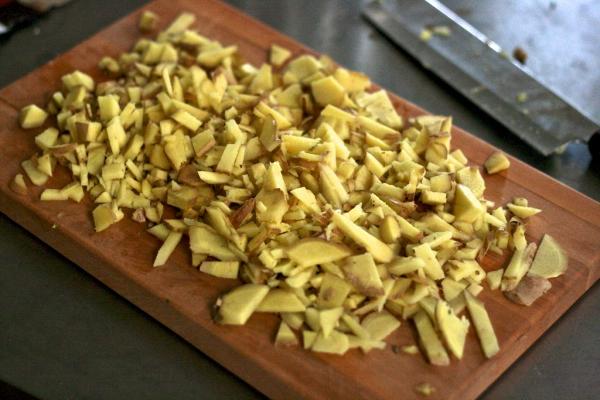 Cover with sugar and lemon juice and add the boiling water.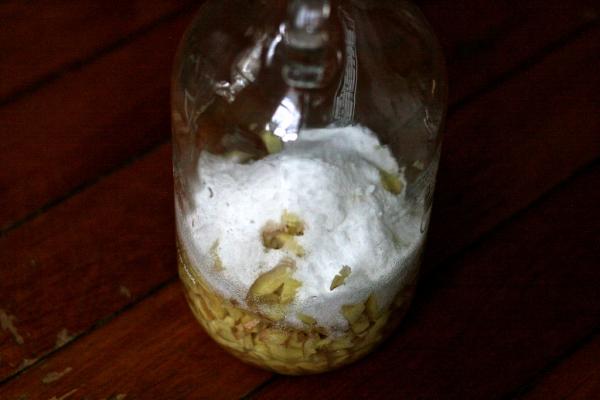 Stir well and allow to sit as the water temperature cools.  When the water feels just lukewarm to touch, add the yeast and cover the pitcher (plastic wrap would work well).  Allow to sit at room temperature for 24 hours or so.
Pour the mixture through a strainer, cheesecloth, or a clean kitchen towel into a sealable jug (leftover beer growlers work particularly well).  Taste the mixture and add more sugar if desired (adding more sugar will also give the yeast still living in the beer something to eat, which will carbonate the drink if you seal it).  If you want carbonation, let it sit out for another day, then refrigerate to keep it from fermenting further.  Every few days, open the cap to release gas buildup, or it might burst in your fridge -- though it's unlikely.
Dark 'n' Stormy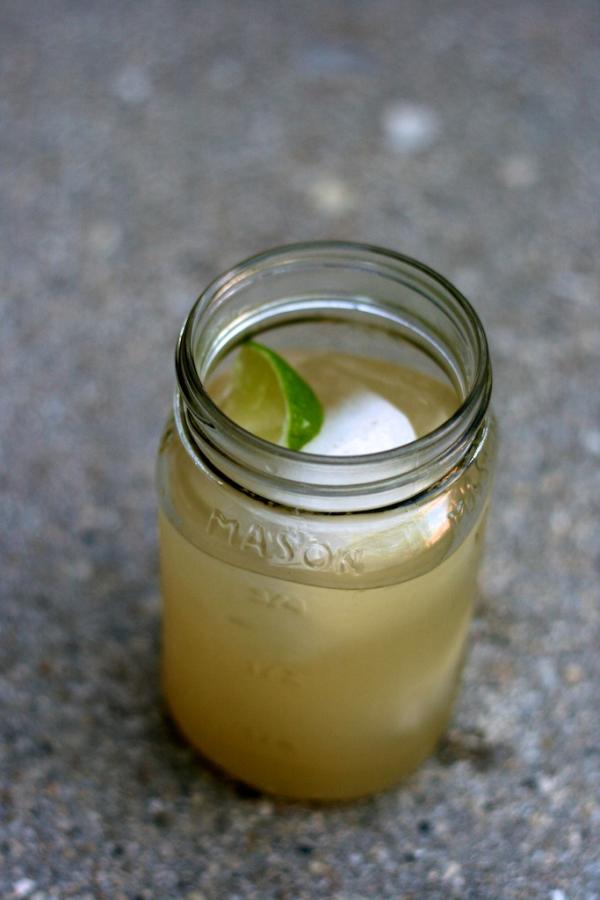 2 ounces dark rum
3 ounces ginger beer
lime juice to taste (try 1/2 ounce)
simple syrup to taste
In a tall glass, stir together rum, ginger beer, and lime juice (though citrus cocktails are often shaken, you don't want to shake this one because of the bubbles in the ginger beer). Add plenty of ice.  Because this ginger beer is pretty upfront, you may want to add simple syrup to soften it out a little bit -- just mix half water and half sugar and shake until dissolved, then add to taste.  Though if you use a good full-flavored dark rum (Gosling's is the standard-bearer), it may not be necessary.
Drinks,
Alcoholic beverage,
ale,
Australia,
Beer,
Biology,
Brewing,
Chicago,
Cocktails,
Dark 'N' Stormy,
dark and stormy,
Fermentation,
food,
Food and drink,
Ginger,
ginger,
Ginger ale,
Ginger Beer,
ginger beer,
Melbourne,
pitcher,
Rum,
Rum,
Rum,
The New York Times,
Yeast,
Yeast