Nick finally takes a look back at the chili of his youth.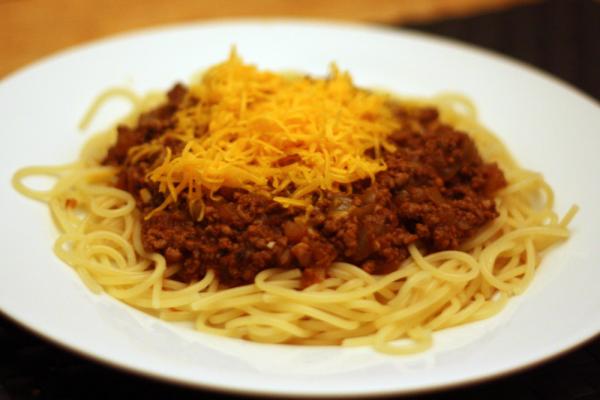 Cockaigne: an imaginary land of great luxury and ease.
—Merriam-Webster Dictionary

"Cockaigne was the name of the family home...Any time there's a recipe with this in the title, it means it's an old family favorite."
— 'Joy Of Cooking': 75 Years Young, CBS
When the words "imaginary land of great luxury" and "chili" collide, usually that means we're set for some hyperbolic description of Texas chili, which many people consider the only "authentic" version there is. At least, it sounds like something I'd write — because I have indeed explored authentic Texas chili in detail . But I have something to admit: I grew up with spaghetti in my chili . Red kidney beans bobbed in the red liquid, and cheddar cheese and oyster crackers were mandatory toppings. Less than an hour-and-a-half from Cincinnati, my hometown fell under inevitable regional influence, and it somehow made sense to me growing up.
Of course, once I sampled fiery and robust Texas chili — with its mesmerizing mix of dried chilis and chunks of beef — I cursed, wrote long screeds, and generally tried to disavow that I ever had anything to do with the Midwestern version.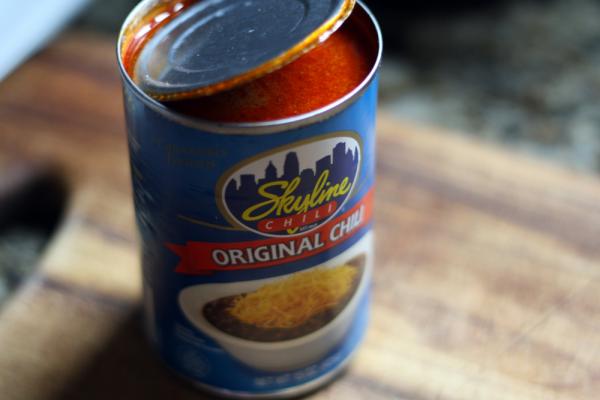 Except, I couldn't. I'd give into a plate of 5-way from time to time at Skyline Chili (hopefully you know the terminology by now ), and my mom actually mailed the company's slightly less terrific canned version to me when I studied abroad. Eventually, I accepted the idea that Cincinnati chili may be inferior to the Texas variety, but it still satisfied a deep craving. When I made chili, I made this ; when I wanted to reminisce in some nostalgia for home, I opened a can of Skyline Chili.
Unfortunately, the cans don't exactly make a great case for the dish, as they feature pasty ground beef with a slightly bland spice blend. It's fine on a hot dog. I always knew that those plates I indulged in at actual locations of Skyline Chili were better.
I didn't find any luck searching in any of the usual places; instead, I went straight for my busted copy of _ The Joy of Cooking . When you're in search of truly authentic recipes,  go straight to the source with the most knowledge of the particular region: The Joy of Cooking _ may not be my first choice for authentic Thai or Mexican cuisine, but if you have some kind of hankering for a Midwest classic — especially one from Cincinnati — then this is the book.
From the very beginning, I knew I had struck gold:
There are hundreds of so-called original recipes for John Kiradjieff's Cincinnati Chili that he served for the first time in Cincinnati's first chili parlor, The Empress. We particularly like this version of our hometown obsession, and we can guarantee without question that it is not one of myth.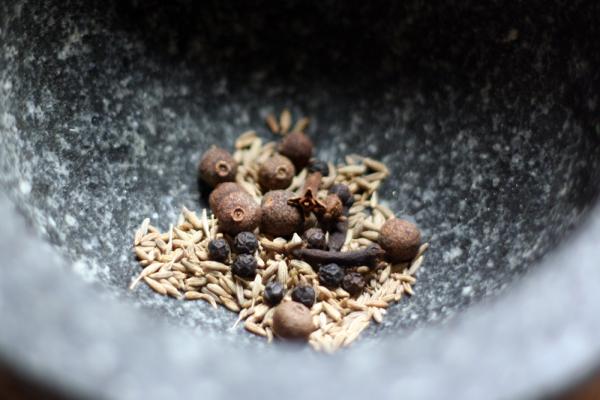 Titled "Cincinnati Chili Cockaigne," it bears almost no resemblance to Texas chili. First off, there is no chili powder to speak of — only ground cayenne pepper making an appearance. Secondly, it features a whole range of spices and flavors — including black pepper, allspice, cloves, cinnamon, cumin, and chocolate — which have far more in common with picadillo and other ground beef mixtures than some stew. It is "chili" only by association. In fact, the idea of using this as a topping for pasta starts to make a lot of sense.
The only issue I had with The Joy of Cooking recipe was that it required one to cook it a day in advance. The ground beef is simmered in water along with all the other ingredients, meaning all the fat stays in. If you transfer the chili to a container and let rest in the fridge, the fat eventually rises to the top, and you can scoop it off with a spoon. It's not difficult, but does take time. But Cook's Illustrated came up with an interesting way around the problem: the beef is simmered in water for 30 seconds and then drained in a colander. This removes most of the fat, and allows you to make the recipe in one day without waiting overnight.
As soon as I separated the dish from its supposed Texas brethren, I was able to see that Cincinnati chili was totally unique, and madly delicious. As the quote from the top attests, the editors of The Joy of Cooking considered it to be one of the best recipes in the whole book.
I can confirm that they are right.
Cincinnati Chili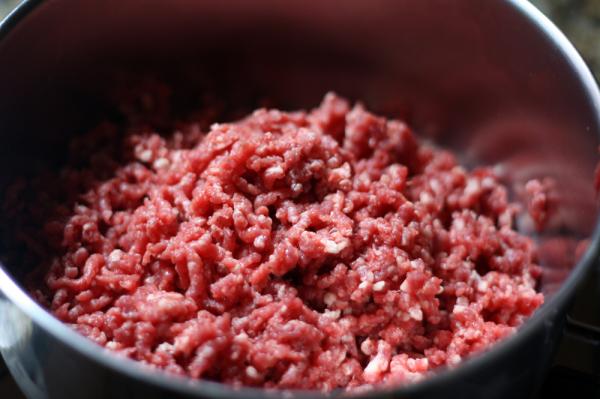 2 pounds chuck
1 tablespoon canola oil
2 medium onions, finely chopped
6 garlic cloves, minced
one 15-ounce can tomato sauce
1 quart water
2 tablespoons cider vinegar
1 tablespoon Worcestershire sauce
10 black peppercorns
8 whole allspice
8 whole cloves
1 large bay leaf
2 teaspoons salt
2 teaspoons ground cinnamon
1 ½ teaspoons ground cayenne pepper
1 teaspoon ground cumin
½ ounce unsweetened chocolate, grated
1 pound dried spaghetti
grated cheddar cheese
chopped onion
¼ cup canned red kidney beans
oyster crackers
hot sauce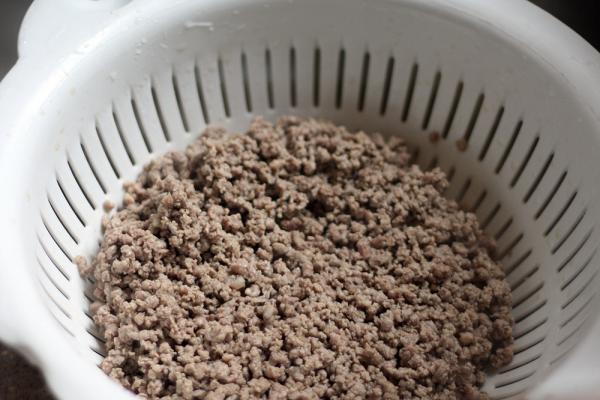 Pour 2 quarts of water into a large pot and bring to boil over high heat. Add the ground beef, set the timer for 30 seconds, and stir constantly. You want to separate the meat into individual strands. As soon as the timer goes off, turn off the heat, and drain the meat in a colander.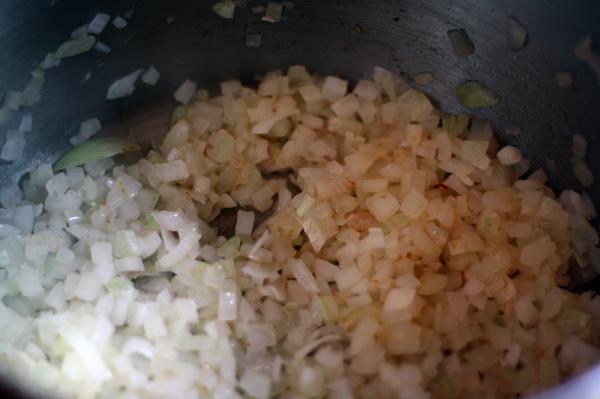 Rinse out the pot, and add the oil. Turn heat to medium, and when shimmering, add the onions. Cook until the onions are lightly browned, and then add the garlic. Cook until very fragrant, about 30 seconds.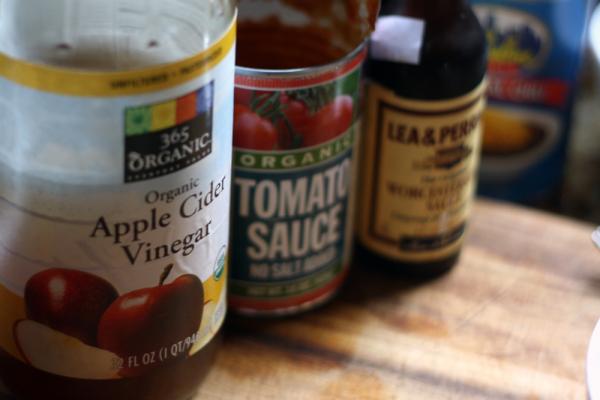 Add the tomato sauce, water, cider vinegar, and Worcestershire sauce. Bring to a simmer.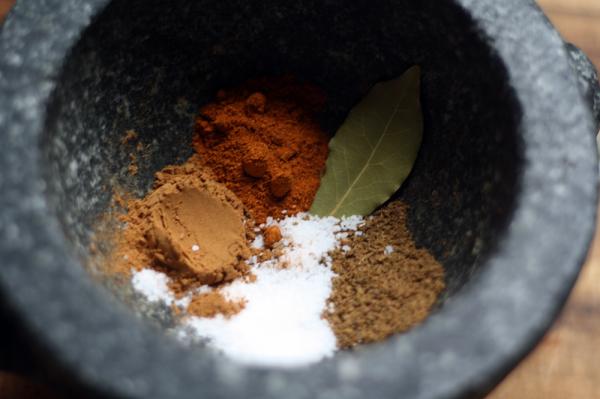 Grind the black peppercorns, allspice, and cloves. Add them to the pot along with the bay leaf, salt, cinnamon, cayenne pepper, cumin, chocolate, and the ground beef. Stir well, turn the heat to high, and bring to a boil. Then reduce heat to maintain a simmer.
Cook for 1 ½ to 2 hours, or until thick and delicious.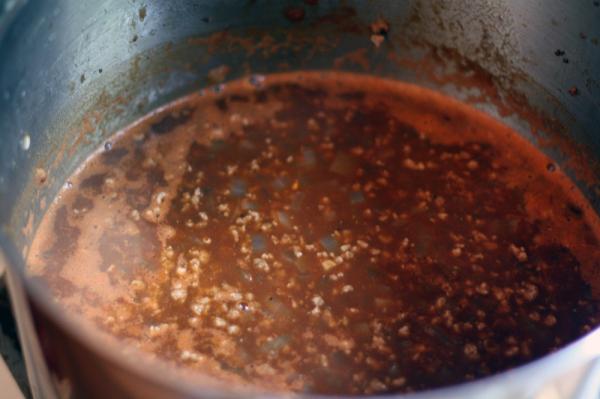 Serve with cooked spaghetti for 2-Way
Add cheddar cheese for 3-Way
Add chopped onions for 4-Way
Add red kidney beans for 5-Way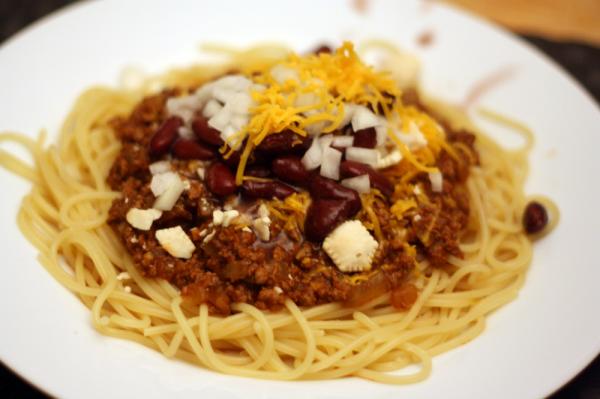 Also, oyster crackers and hot sauce are kind of mandatory.
Food,
American,
Beef,
CBS,
Chili,
Chili pepper,
Cincinnati,
Cincinnati chili,
Cincinnati Chili,
Cuisine,
Cuisine of the Southwestern United States,
Cuisine of the Western United States,
Food and drink,
Geography of the United States,
Hot sauce,
Joy Of Cooking,
Joy of Cooking,
New Mexican cuisine,
Noodles,
Sauce,
Skyline Chili,
Spices,
Texas