A Chicago Backyard and Many Happy People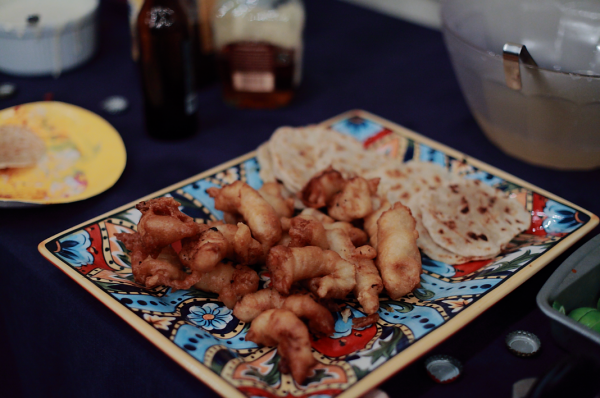 Mexican food is made for parties. The construction of tortillas, fillings, salsas, and toppings; the spicy, rich flavors; and above all, the fact that it tastes so darn good. This was our guiding principle on a recent Saturday when, with the help of a handful of talented friends, we threw a Baja Fish Taco party under warm string lights in a Chicago backyard.
We were celebrating one of the early recipes published on this blog for beer-battered strips of fish served with spicy "white sauce" and shredded crunchy red cabbage. The Baja fish taco is a wondrous thing, and, done properly, earns a spot in my book amongst top 5 foods in the world. When I was in Baja last month to film behind-the-scenes footage for the latest season of Mexico--One Plate at a Time, I rekindled my love of the fish taco.
And I thought: more people should know about this thing.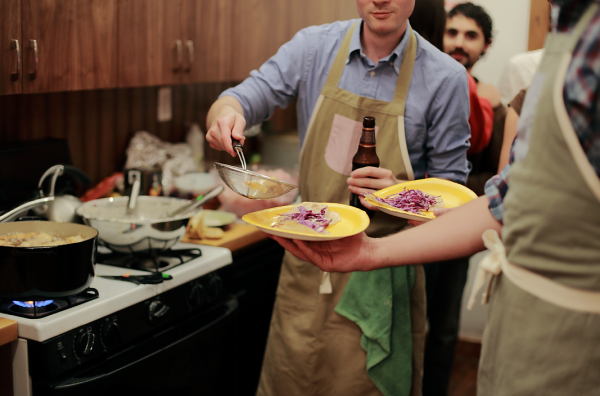 Through sheer luck, the recipe Nick and I made back in 2006 was one of the best things we'd eaten, much less cooked ourselves. I remember distinctly visiting 4 Manhattan grocery stores after work before I could find lard (which are essential to good flour tortillas), and rolling them out with Corona bottles from the beer we'd drunk and used for the batter. We had no deep-frying thermometer or ventilation, or much confidence that things would work out. But the gods smiled upon us, and the tacos were good (even if we did spend the next three hours cleaning the kitchen).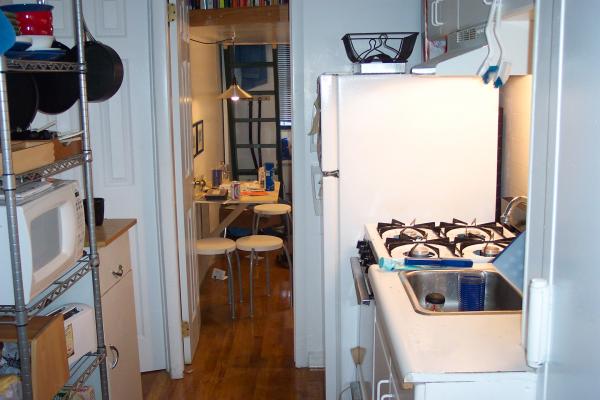 The Paupered Chef Kitchen, circa 2006
For the party, I recruited and invited every talented friend I knew in Chicago. Tristan Coulter gave us two of his beautiful handcrafted aprons made by his company, Winter Session ; they're fashioned out of recycled chinos, the craftsmanship is top-notch, and they are available for order and purchase in Chicago (pictured below).
We secured fish from Whole Foods, which was offering line-caught "Pacific Rockfish" fillets on special,  simple to cut into strips.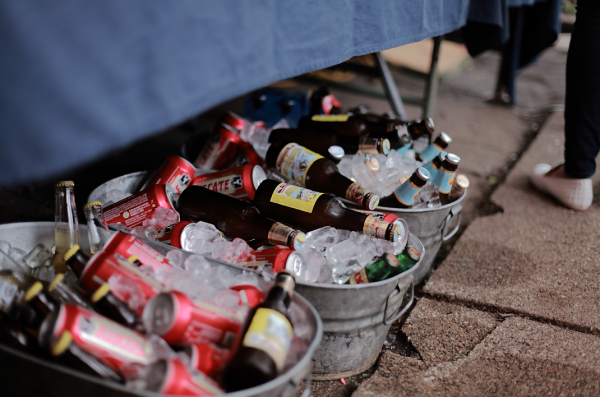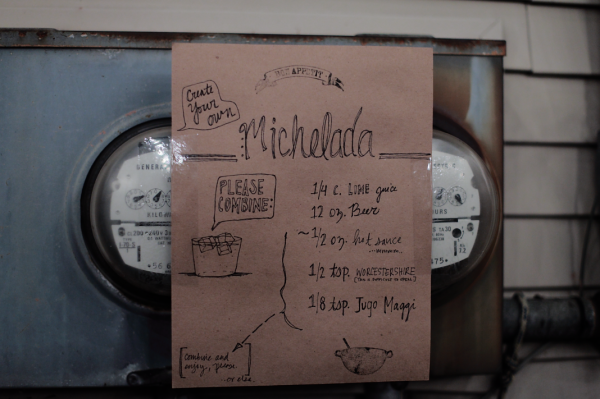 We stocked three tubs with beer, gave instructions for making micheladas, and mixed up a huge batch of margaritas.  Our secret ingredient was the triple sec, a brand called Gran Torres which I learned about writing a piece on margaritas for Time Out Chicago. For the price, it packs a bright orange flavor and a hint of complexity. Here's the recipe we used...for 39.6 servings, scaled down from the jug of tequila.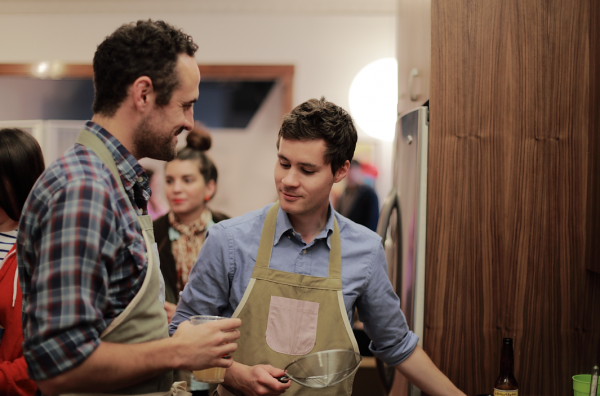 Max Wastler (above, left) of All Plaidout lent his energy, musical knowledge, margarita-mixing skills, general sense of style, and, at the last minute, a pinata.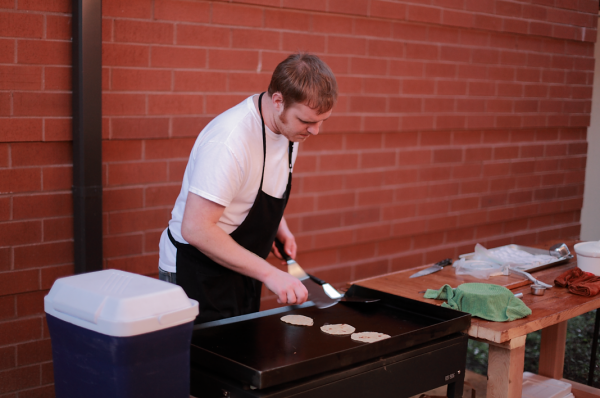 Joe Roy stepped in with his envy-inducing gas-powered griddle to help me mix up the tortillas dough and nobly cook fresh tortillas all evening long, missing only a cigarette to complete his short-order cook's persona.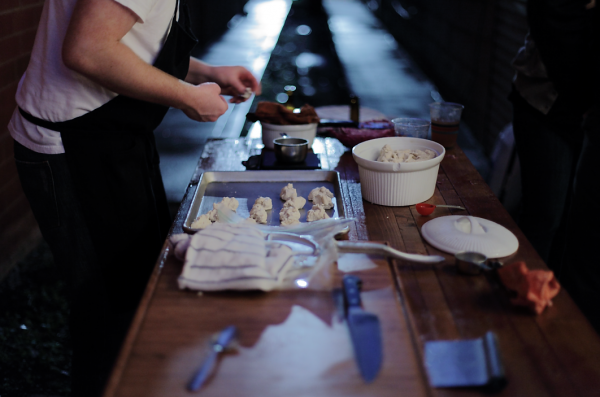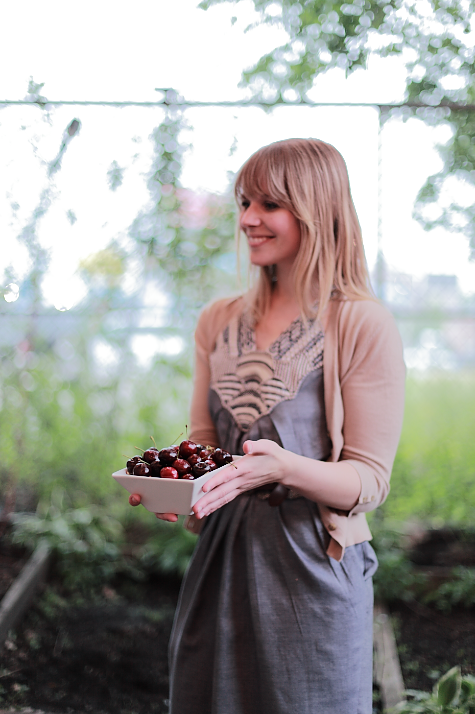 Heather Pieske and David Baker graciously hosted us in their backyard, and passed out cherries.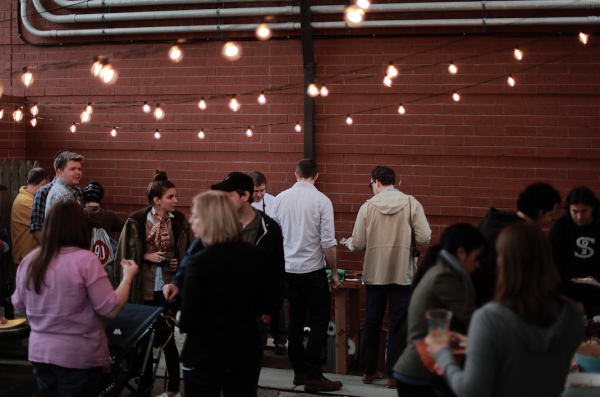 And Ryan Plett of You Have Broken the Internet shot all of the photographs you see here.
It is this bringing of people together, and cooking for them, that truly makes me happy.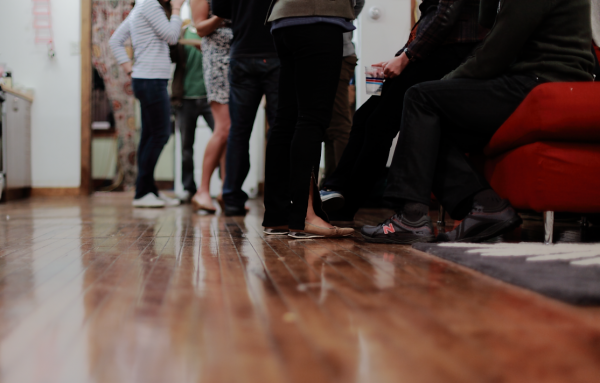 Maybe some of it is selfish. Cooking great food makes you look like a hero, even when it's easy. But the pleasure of cooking the food is equal or greater to the pleasure of eating it, and it certainly is more lasting; in some Freudian way, cooking reaffirms my sense of manhood, as a provider, and in this case, a facilitator of pleasure.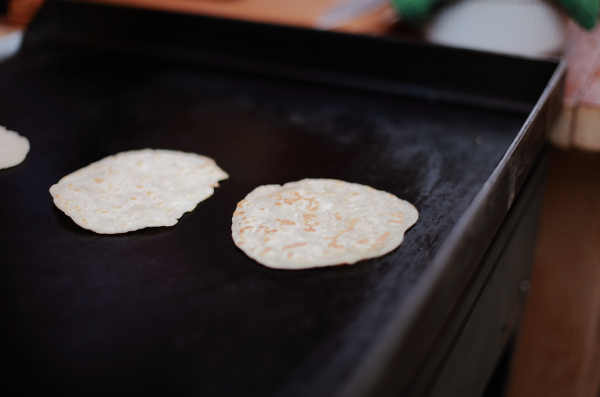 But as Max put it on his blog All Plaidout, there is another, more noble thing going on: worlds colliding as friends of friends of friends became friends. Every cliche in the book comes to mind, but the simplest one is what I'll choose: food brings people together. It makes them forget about what happened that day, and makes the temptation to worry about the future seem silly.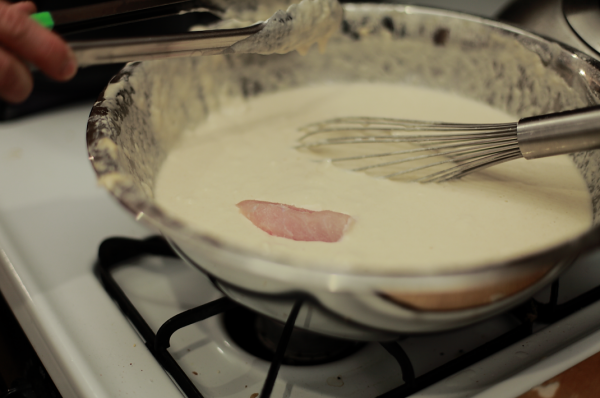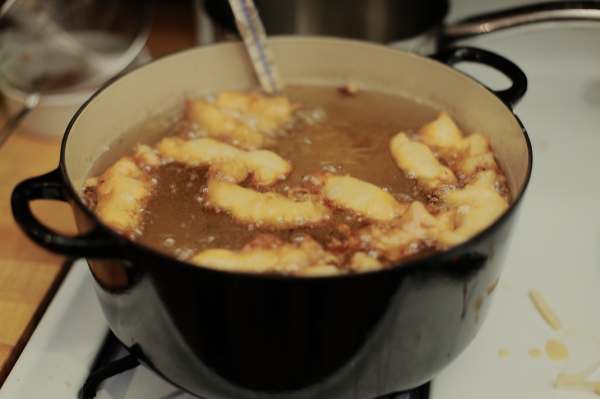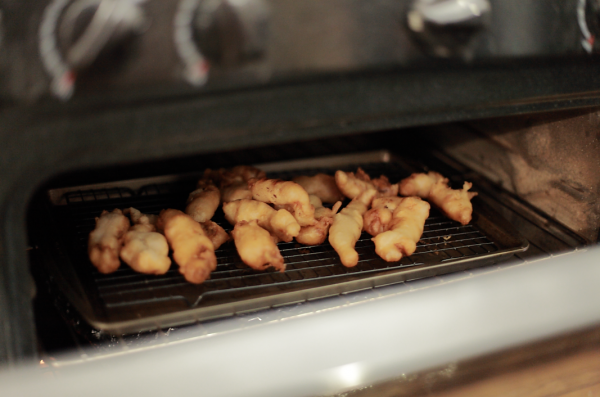 There is only this moment: the golden, crispy fish battered in flour and beer, the crunch of cabbage, the warm, pliable tortilla, and the spicy, creamy sauce, and most important of all, the people surrounding you enjoying it, too. Eating well reminds us of the pleasure of a moment, and surrounded by friends, the moment becomes one we may never forget.
If you haven't tried a true Baja Fish Taco, may I recommend that you do. You can follow the link to our original post , or, if you have an iPad, check out our app called Appetites , where you can cook this exact dish in an amazing step-by-step format along with us in the kitchen.
Long live summer and the Baja Fish Taco.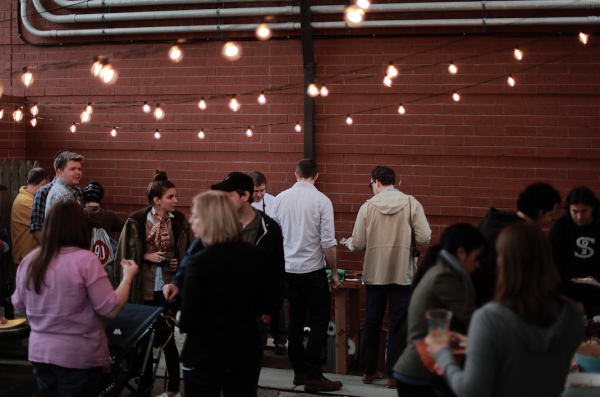 Food,
Dinner Party,
Appetizers,
Chef,
Chicago,
Corn tortilla,
Cuisine of the Western United States,
Flatbreads,
Flour tortilla,
food,
Food and drink,
Human Interest,
Max Wastler,
Mexican,
Mexican cuisine,
Seafood,
Taco,
Technology,
Tortilla,
Tristan Coulter