Cooking from Chicago's New Dose Market, Happening Again This Sunday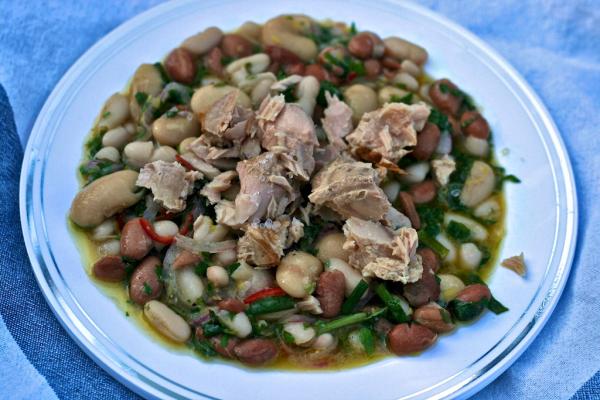 The Italian bean salad has been with me a long time, and for good reason.  I've made some variation of beans, herbs, and olive oil dozens of times over the past few years and I never get tired of it.  When it comes to the relationship between deliciousness and effort, this one gets it exactly right. It's about as easy as mixing the ingredients together and letting the flavors develop, then it's ready to bring to a picnic, served under some seared skirt steak, or crumbled with tuna. What matters is using great ingredients and letting them shine.
Above is one of the best bean salads I've ever made--bright and herby and made with two ingredients I found at Dose Market , Chicago's recently-launched "European-style" market for all things local, handmade, and artisanal. After a successful debut last month, Dose is again happening at the River East Art Center this Sunday from 10am-4pm.
Dose is, among other things, a place to secure some world-class items for your larder. Old Town Social charcuterie . Rare Tea Cellar teas. Hoosier Mama pies . Bittercube cocktail bitters. Check out the full list at DoseMarket.com .
All these beautiful people are not usually in one place at one time. And that's what really shines about the market: it's a chance to not only try lots of amazing products in one place, but also to talk to the producers and chefs behind them. Last month I got to talk charcuterie with Jared van Camp and geek out about aging room temperatures and bacterial curing cultures. It was really, really fun.
(For those of you who don't live in Chicago, feel free to skip ahead to the recipe.)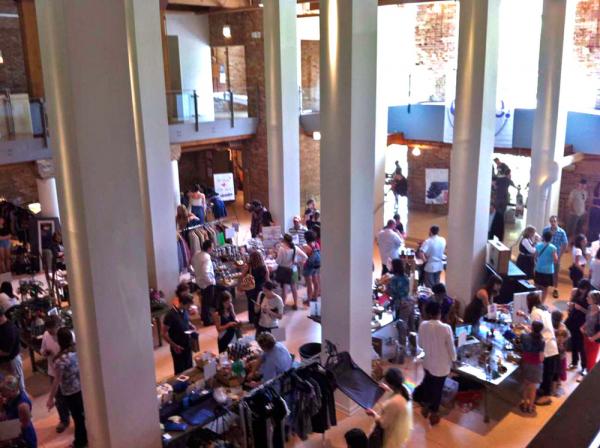 What made this salad special was two ingredients I bought at a company called Blis , which sells vinegars, maple syrups, and this amazing canned tuna. I bought a bottle of their sherry vinegar that's aged in barrels formerly housing maple syryp and aging bourbon before that.  Reuse and recycle has never been so delicious.
The tuna they sell is packed into the cans raw (meaning it only cooks once, during the canning process, rather than pre-steamed commercial varieties to assist peeling and deboning). All the natural juices and omega-3 fatty acids stay in the can. The result is richer and more flavorful.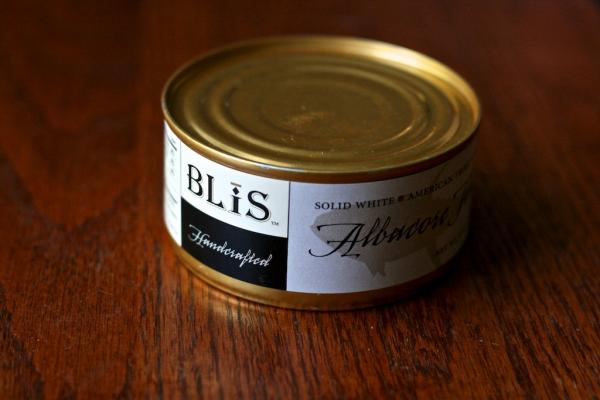 I used the sherry vinegar to punch up the acidity, and the tuna to top the salad.
Good ingredients leads to good food.
Consider this recipe a starting point -- it's a perfect blend of flavors, but feel free to leave out the chile and anchovy and add olives.  Or lose the parsley and mint and use fresh rosemary. Tough to go wrong.
Bean Salad with 'Loadsa' Herbs and Tuna
Serves 4-6
2 14-oz cans Italian beans, preferably a mix like cannelini, borlotti, etc.
1 red onion, peeled, cut in half through the root, and cut into thin slices
4 anchovy fillets, minced (optional, but they add superb flavor)
1 fresh red chile, seeded and minced
zest and juice of 1 lemon
2 tablespoons sherry vinegar, or another lemon's worth of juice
3 handfuls mixed herbs (parlsey, basil, mint, chives, etc.), chopped
Olive oil as needed
1 can high-quality tuna packed in olive oil
Any great-quality canned tuna would work here (imported varieties packed in olive oil) or even a piece of fresh tuna seared.
In a large bowl, combine the onion, anchovy, chile, lemon, and vinegar. Stir well to combine and allow to sit for a few minutes while the vinegar and lemon juice softens the bite of the onion.
Stir in the beans. Season to taste with salt and black pepper. Add enough olive oil to nicely coat the beans--the whole thing should look barely slicked with oil. Serve with the tuna crumbled on top.
==
Get thee to Dose and support a good thing. And have a cocktail before noon while you're at it: anyone who arrives before noon this sunday gets a free cocktail from Aviary . Free cocktails before noon...this is getting better by the minute.
Do Dose membership cards are $30 for six months' admission, available online.
Or, you can purchase $10 tickets at the door or $8 advance tickets online. Again, need I mention the free Aviary cocktail?
Food,
Main Course,
Art Center,
Bean salad,
Beans,
Beans,
Blis,
Chicago,
Condiments,
Dose Market,
French cuisine,
Herbs,
Italian,
Italian cuisine,
Maltese cuisine,
oil,
Old Town,
Old Town Social charcuterie,
Panzanella,
River East Art Center,
Salads,
Summertime,
Tea Cellar,
Tuna,
Vinegar