With a lot of help from Takashi's Noodles.

One sip of real ramen is enough. That's all I needed to permanently erase all those memories of those pathetic packaged noodles, which I greedily warmed up in the microwave during college. One sip. Done. It was also enough to make me question whether there was a better soup on the planet. Fragrant, rich, and soothing, it has no parallel in the Midwest cuisine I grew up on, and while other marvelous brothy soups my attract my attention from time to time (phở and pozole, mostly), ramen is the one I simply can't live without.
A perfect bowl of ramen, unlike, say, a perfect steak, isn't about coddling some cherished ingredient and letting it shine. No, it's about a meticulous and flawless combination of about 28 different ingredients into a whole more powerful and important than any of the individual components could ever hope to be. That also means that it helps to have a crazed passion for the stuff, as it will undoubtedly take two days to recreate at home. It is a pain. Luckily, my effort was rewarded with the single best bowl of ramen I've ever encountered.
What's in my favorite ramen? Of course, there must be ramen noodles, and they must be springy but not rubbery, able to be slurped and not fall apart. There also must be broth. It should be deep and dark, made from a combination of chicken broth and another base; together they should as David Chang so eloquently described, be "not quite too salty but almost." And there must be garnishes, which can include, but are in no way limited to, fish cake, bamboo shoots, sliced pork, hard boiled eggs, and nori.
None of these ingredients are expensive, or particularly difficult to use. There are just a lot of them, and for help, I turned to Takashi Yagihashi's Takshi's Noodles . His high end Bucktown restaurant morphs into a noodle bar for brunch on Sunday, and his version of shoyu ramen is quite possibly my favorite bowl of soup in the city. I figured that he'd be my best guide.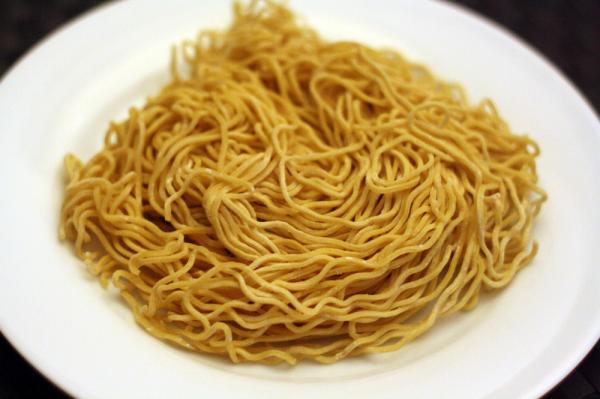 Last time I left you, I was searching in vain for the perfect ramen noodles. While I briefly flirted with the idea of making the noodles at home, I took the advice of many commenters and purchased some rather remarkable frozen ramen noodles from Super H Mart in Niles. It couldn't have been easier.
There is, however, no shortcut for the stock and the pork, two elements that really do take a couple of days to make, and yet are worth every single minute lavished on them. As I noticed a few weeks ago, the broth isn't simply dashi. That would have been too easy. Instead it is a combination of a chicken stock and a shoyu base. All told, 16 of the ingredients are used just to create the broth.
The same care and attention is also given to the toppings, especially the pork. It is slowly simmered in water, and is then transferred to its own decadent braising liquid spiked with soy sauce, star anise, cinnamon and ginger. I could have simply stopped at this step and eaten the pork by itself. But I stayed strong, and braved the rest of the recipe.
Again, it's best to think of this as a two day process, or you will possibly drive yourself insane. That said, once everything is prepped and ready to go, the actual construction of the soup takes minutes.
That's also why I'm recommending you make the entire batch of each sub recipe. You'll definitely make more broth, pork belly, and shoyu base than you'll need for the final four-person recipe. But since you're going to trouble of making ramen at home, you might as well make more than one batch. I just stuck all the extras in the fridge, and was able to quickly whip up batches of ramen for lunch for nearly a week. Plus, the stock and base can be frozen. But the pork is so good you'll probably finish it off later that night.
To help with the planning, I've broken the recipe down by day.
Takashi's Shoyu Ramen
Serves 4
Day 1
Make Ramen Chicken Stock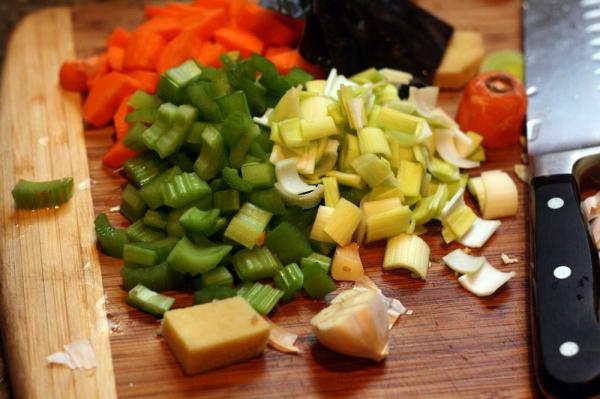 4 quarts water
4 pounds chicken bones
1 ¾ cups peeled and chopped carrots
1 ½ cup chopped celery
1 cup chopped leeks, white parts only
½ green cabbage
½ head garlic, halved horizontally
1-inch piece fresh ginger, smashed
one 10 x 4-inch piece kombu, wiped with a damp cloth
½ cup sake
Pour water into a large pot and add the chicken bones. Turn heat to high and bring to a simmer. While it is warming up, skim any impurities that rise to the surface with a spoon. Add carrots, celery, leek, cabbage, garlic, ginger, kombu, and sake. Reduce heat to low and simmer gently for two hours. Turn off the heat, and strain the liquid through a fine-mesh sieve.
Make Braised Pork Belly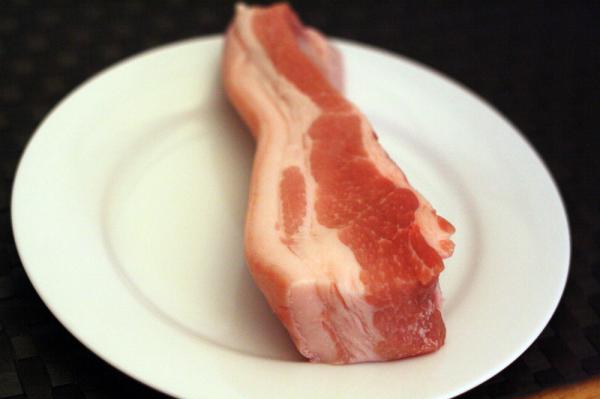 For the Pork Belly Simmer
½ tablespoon vegetable oil
9 ounces pork belly
4 cups cold water
½ cup sake
1-inch piece fresh ginger, peeled and smashed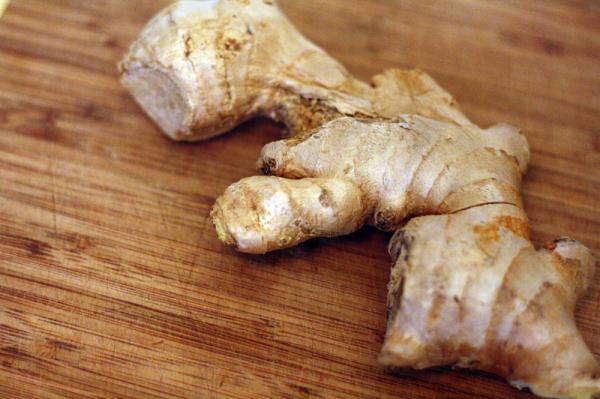 For the Pork Belly Braising Liquid (Step 2)
1 ½ cups cold water
1 cup Japanese soy sauce
¾ cup sugar
1 piece star anise
½ teaspoon whole black peppercorns
1 cinnamon stick
1-inch piece fresh ginger, peeled and smashed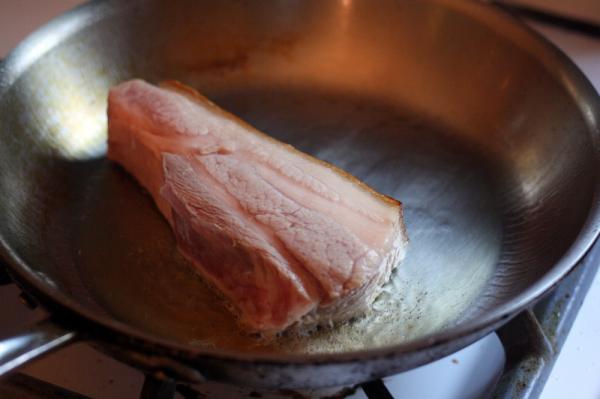 Start with the pork belly . Place a large skillet over high heat. Pour in the ½ tablespoon of vegetable oil. When it start to smoke, carefully add the pork belly fatty side down with a pair of tongs. Cook until golden brown, about two minutes.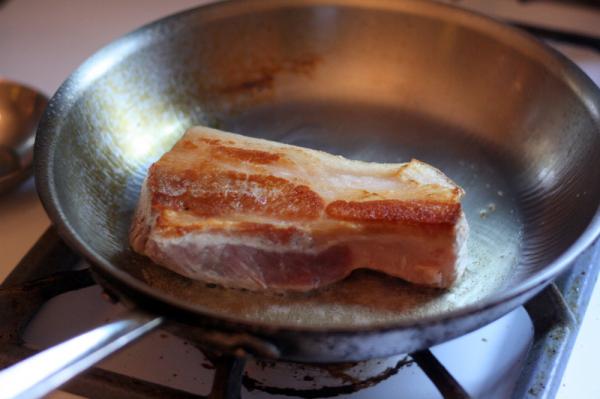 Repeat this process on all sides of the pork belly. Turn down heat if it starts to burn.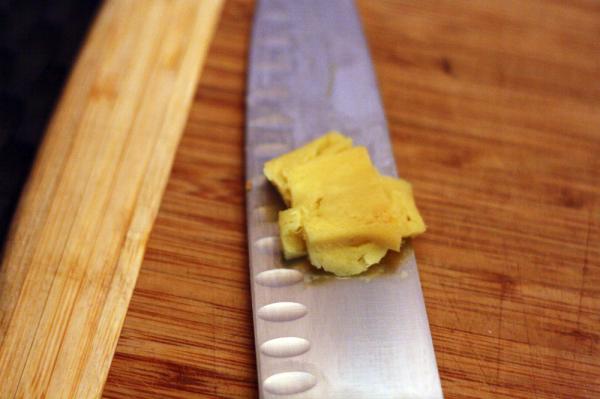 Place the seared pork belly in a large pot. Add the 4 cups of cold water, ½ cup sake, and 1-inch piece of smashed ginger. Turn heat to high and bring to a boil. Reduce heat to low, and simmer, uncovered, for 45 minutes.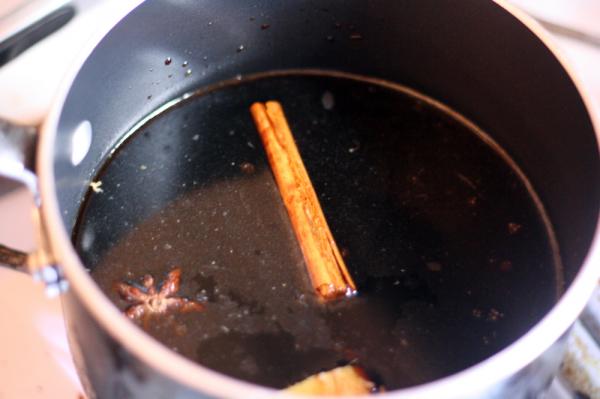 Meanwhile, combine all of the braising liquid ingredients in a 4-quart saucepan.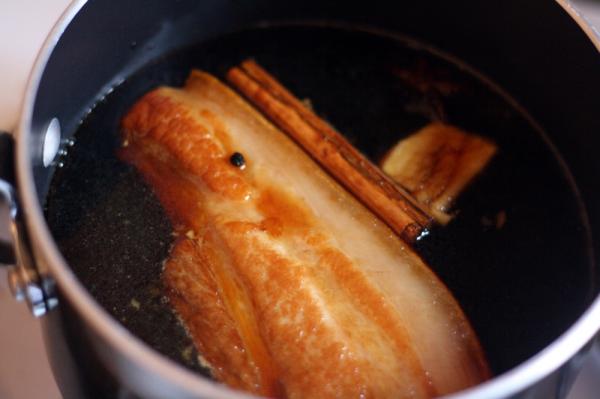 When pork belly is done, drain the liquid and discard the ginger. Then transfer the pork belly to the saucepan with the braising liquid. Turn the heat to high and bring this to a boil. Then reduce heat to low and simmer until the pork belly is very tender, about 1 ½ hours. When done, transfer pork and braising liquid to a container. Let cool on the counter, uncovered, and then cover and place in the fridge.
Day 2
Prep Ramen Ingredients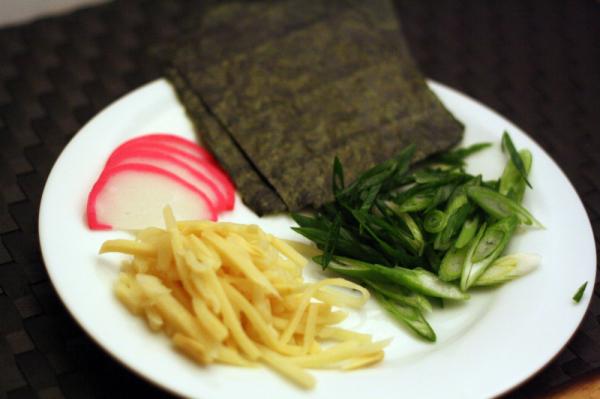 1/2 cup marinated bamboo shoots (available at most Japanese grocery stores)
8 thin slices fish cake (naruto)
1 scallion, both white and green parts, thinly sliced diagonally
1 sheet nori, sliced in quarters
Make Hard Boiled Eggs
2 eggs
1 tablespoon kosher salt
4 cups pork belly braising liquid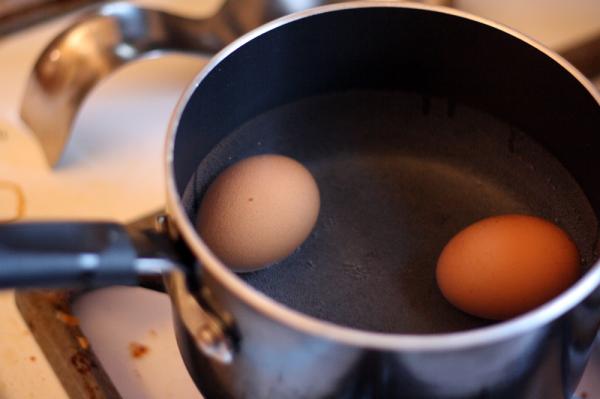 Place eggs in a small saucepan along with the salt. Add enough cold water to cover the eggs. Set heat to high and bring to a boil. Once it reaches a boil, cover pot, turn off heat, and set it aside for 12 minutes. Then drain eggs and immediatley rinse them under cold water.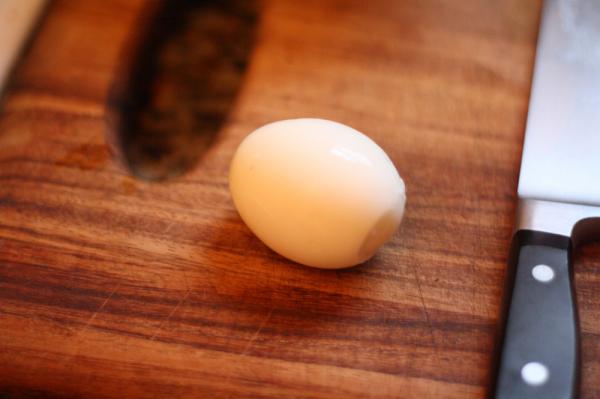 When cool enough to handle, peel the eggs and discard the shells.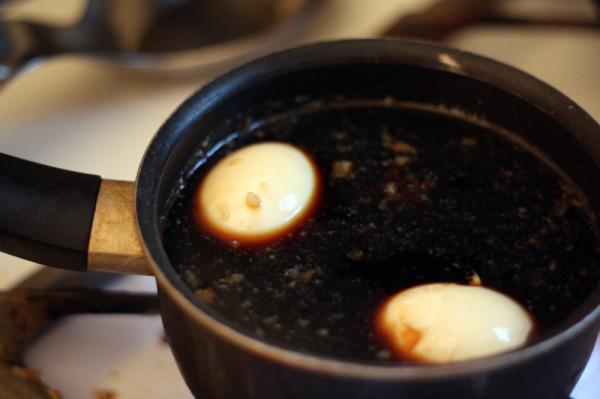 Rinse out the small saucepan, and then set back on the stove. Add the peeled eggs and the pork belly braising liquid. Turn the heat to high and bring to a boil. Then turn off the heat, and let the eggs hang out while you finish the rest of the recipe.
Make Shoyu Base (To be Combined With Chicken Stock, Above)
one 10 x 4-inch piece kombu, wiped with a damp cloth
1 ½ cups white soy sauce (shirojoyu)
2 cups water
1 tablespoon plus ½ teaspoon kosher salt
1 cup Japanese soy sauce
1 ½ cups dried bonito flakes (katsuobushi)
Place all ingredients in a medium-sized saucepan. Turn the heat to high and bring to a boil. The reduce heat to low, and simmer for 10 minutes. Strain this mixture through a fine-mesh sieve into a large bowl.
Make Ramen Broth
4 cups ramen chicken stock
1 ½ cups shoyu base
Combine both mixtures in a medium-sized saucepan. Turn the heat to high and bring to a boil. Reduce heat to very low and cover.
Warm Pork Belly, Cook Ramen Noodles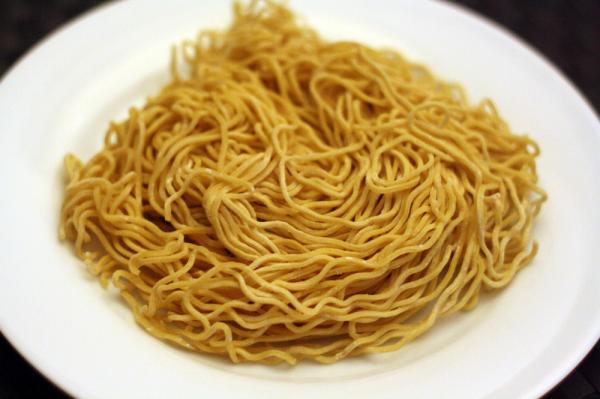 4 ounces braised pork belly, cut into ½-inch thick slices
four 7-ounce pieces frozen ramen noodles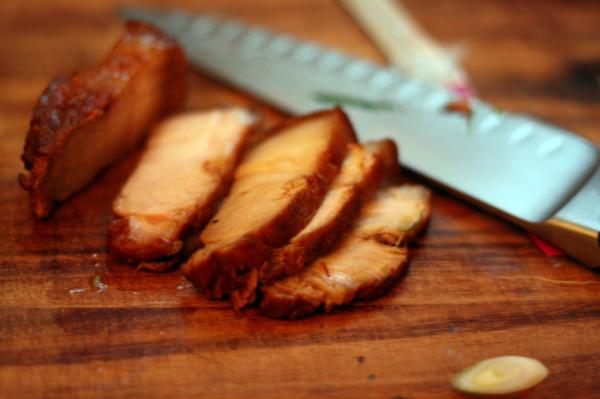 Fill a large pot halfway up with water and bring to a boil. Set a steamer basket inside. Obviously, you'll need to pour off some of the water if it comes up to the steamer basket. Reduce heat to medium, and the pork belly slices. Cover and cook until the pork is warm, about one minute. Set aside.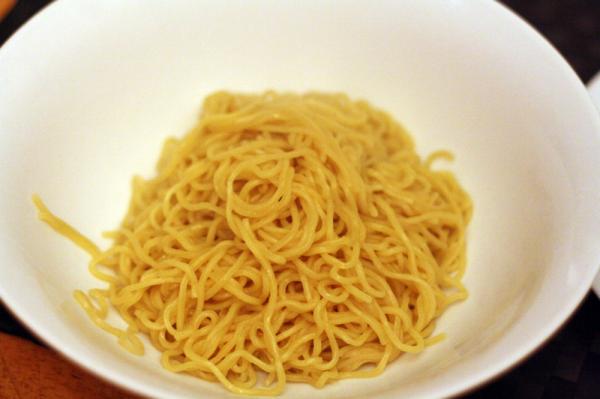 Turn the heat back up to high and bring water to a boil. Add noodles and cook according to the directions on the packaging. Drain and immediately divide noodles between four bowls.
Build Your Ramen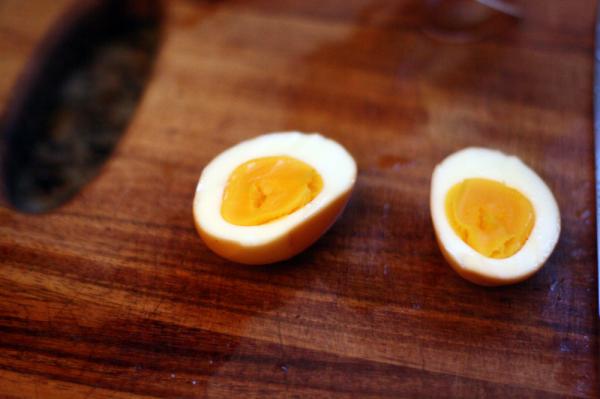 Remove the eggs from the pork belly braising liquid and slice each in half.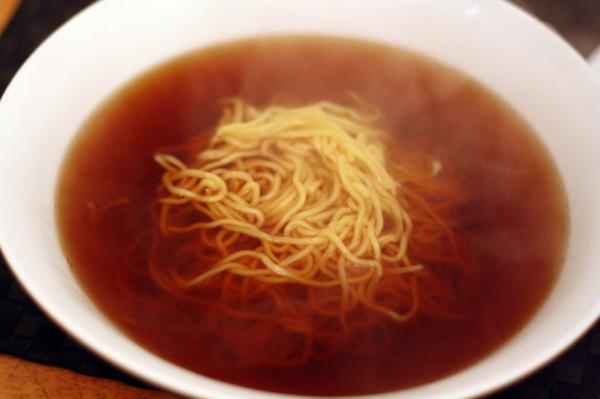 Ladle 2 ¼ cups ramen broth into each bowl. Time to garnish!

It's more photogenic to arrange these items in a circle on top of the noodes, but that's really up to you. Either way, garnish each bowl with half an egg and a quarter of the of the pork belly slices, bamboo shoots, fish cake slices, scallions, and nori. Serve.
Food,
Soup-Stew,
Barbecue,
Braising,
Bucktown,
Bucktown restaurant,
Cooking,
David Chang,
Food and drink,
Japanese,
microwave,
Noodle,
Noodles,
Noodles,
Ramen,
Soups,
Takashi Yagihashi