Other uses for the unloved spirit.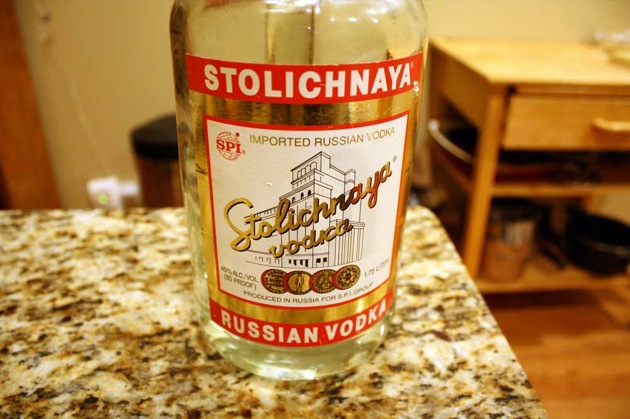 I have this large bottle of vodka and I don't know what to do with it. It was lugged over by a friend (Blake) during a party as some kind of gift for the festivities, but I could see through his evil plan. He was trying to pawn this half finished bottle off on me because he didn't want to drink it. Sure enough, while the whiskey and gin were manhandled during the party, stirred and shaken into all manner of cocktails, that bottle of vodka sat undisturbed on the counter. And that's where it sits today, since it's too cumbersome to fit in my liquor cabinet.
Obviously, drinking it is not an option. I like gin in my Martinis, and haven't had a Cosmo since 2005. Bloody Mary's are fine, but I'm not going to drink 35 of them, or whatever it will take to empty this bottle. I could just empty it down the drain, but then my inner college student mind screams, "Dude...what are you doing!" So what now?
I honestly took a shot to see if my hatred was just blind prejudice for a misunderstood liquor, before I gagged at the rubbing alcohol burn. While I adore Gin and love my Bourbon, I knew this bottle of vodka needed to be transformed or destroyed quickly. I don't have the patience to use it teaspoons for Vodka Sauces or pie crusts. It needs something dramatic and vengeful.
I'm thinking about an infusion. I know these were dirty words a few years ago when it seemed like every cocktail bar was making vodka infusions to try and hide their disgusting spirits. But I've got an interesting idea that I'm hoping will turn my neglected spirit it something really interesting.
My mind is on infusions thanks to Michael Nagrant , Chicago food writer extraordinaire who created Hungry Mag and has written for just about every other publication in Chicago. He proposed that I could make gin by infusing juniper berries in the vodka for a short amount of time.
I'm still playing around with other ideas, too. What about limoncello or homemade bitters? Anyone have a plan for when you end up with an unwanted bottle of vodka?
Drinks,
DIY,
Alcohol,
American,
Bloody Mary,
Chicago,
Cocktail,
Distillation,
Distilled beverages,
Drink,
food,
Gin,
Gin,
Infusion,
Martini,
Michael Nagrant,
Vodka,
Vodka,
Vodka,
writer