Getting a head start on the season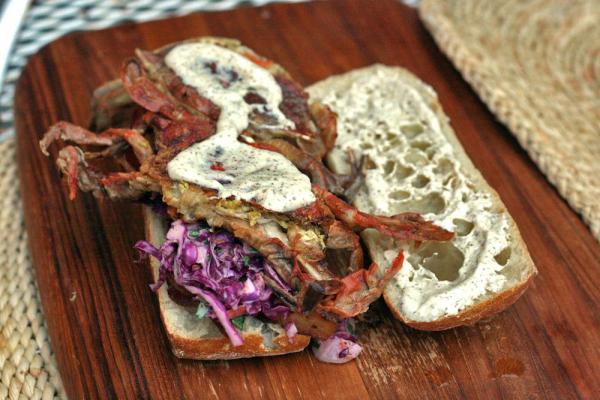 Soft shell crab season is here, generally considered to begin at some point in May.  So we here at The Paupered Chef decided it was time to take advantage.  Generally, the soft shell crab  is dusted with flour and fried up in a skillet, and I'm not sure there is a better way to prepare this crustacean than this recipe by David Lentz from Food & Wine magazine : stuffed into a crusty baguette with a lightly dressed cole slaw, thick-cut bacon, and a drizzle of grainy mustard mixed with creme fraiche. Who cares if the weather sucks?  Summer is officially here.
Blue crabs have made appearances on this site before , notably in a sloppy cook-up we embarked upon in a Brooklyn apartment a few years ago. The soft shell is just a traditional blue crab  just after molting, meaning that you can simply remove the inedibles and cook up the entire thing to be eaten whole.  It's not for the squeamish. This could be mostly due to the fact that this sandwich will appear to have grown legs (see below).  But they are mild and sweet if you don't mind the texture, and a grand American delicacy at that.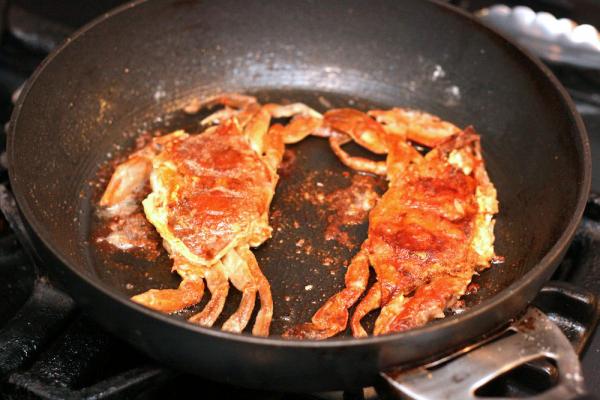 The recipe complements the sweet crab with a nice light, vinegary coleslaw and chewy, thick-cut bacon (in this case, Neuske's ).  I was also pretty smitten with the sauce (grainy mustard + creme fraiche), a lighter alternative to something mayonnaise-based.  In fact, it is exactly the same sauce I recently encountered in a Suzanne Goin recipe for asparagus with prosciutto, a recent colum on Serious Eats .  Wait a minute! David Lentz is married to Suzanne Goin.  You do the math.
Soft shell crabs are sold fresh, but that's not always easy to find; they keep for a couple days in the fridge so it's not required that they're fresh. To prepare them for cooking, you have to remove the lungs, the eyes, and the skirt, which takes all of ten seconds. This video from Chow.com pretty much covers it.
Soft Shell Crab Sandwiches with Bacon
1/2 cup red wine vinegar
2 teaspoons honey
1/2 small head green cabbage, cored and shredded
1/2 small red onion, thinly sliced lengthwise
1 small carrot, coarsely shredded
Salt and freshly ground black pepper
1/4 cup mayonnaise
3 tablespoons grainy mustard
2 tablespoons minced chives
2 tablespoons coarsely chopped flat-leaf parsley
1/8 teaspoon cayenne pepper
1 tablespoon crème fraîche
1 pound thickly sliced bacon
About 1/3 cup all-purpose flour, for dusting
8 medium soft-shell crabs, cleaned
1 long baguette, split lengthwise, or 2-3 shorter rolls
Lemon wedges, for serving
Makes enough for 10 people or so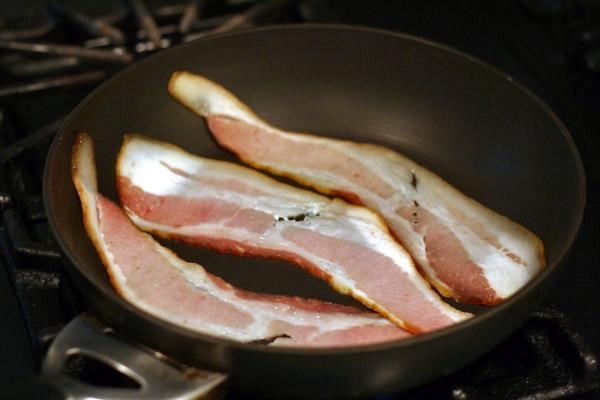 In a heavy skillet, cook the bacon over low heat for 20-25 minutes, turning ocassionally, until the fat has mostly rendered away and the slices are chewy and only just beginning to crisp.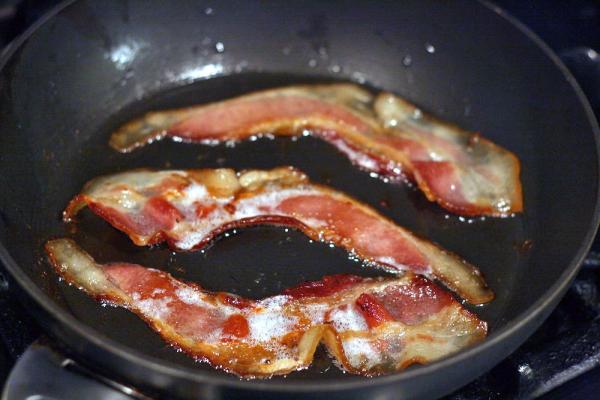 Drain on paper towels.  Leave the bacon fat in the skillet.
In the meantime, put the red wine vinegar in a small saucepan and reduce the volume of liquid by half. Add honey to the pot and stir to dissolve it into the vinegar. Combine cabbage, carrot, and red onion with red wine vinegar mixture in a large bowl.  Season with salt and pepper and allow to sit for at least 15 minutes.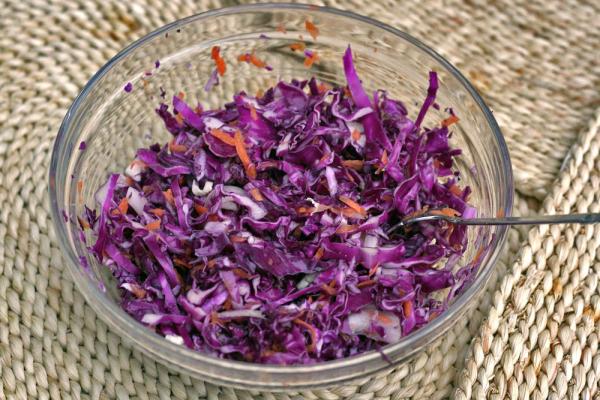 Then, add mayonnaise, half the mustard, chives, parsley, cayenne.
Combine the remaining mustard and creme fraiche in bowl.  (Alternatively, you can use sour cream thinned with a little milk to substitute for the creme fraiche, which is sometimes rather expensive.)  You're aiming for a mayonnaisse-like consistency.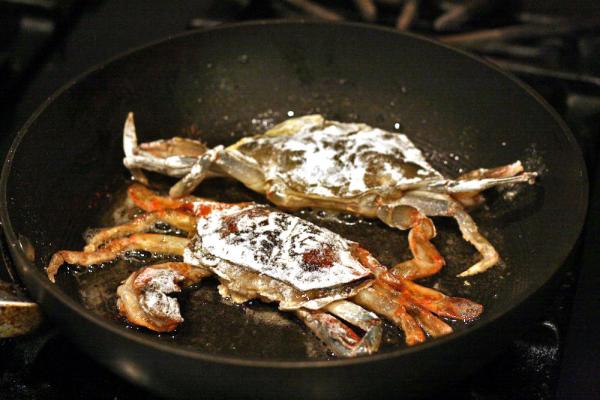 Dredge the crabs in the flour, shaking off the excess, and heat the bacon fat over medium heat until shimmering.  Add the crabs to the skillet and cook, turning once, until deep golden and red, about 5-6 minutes per side.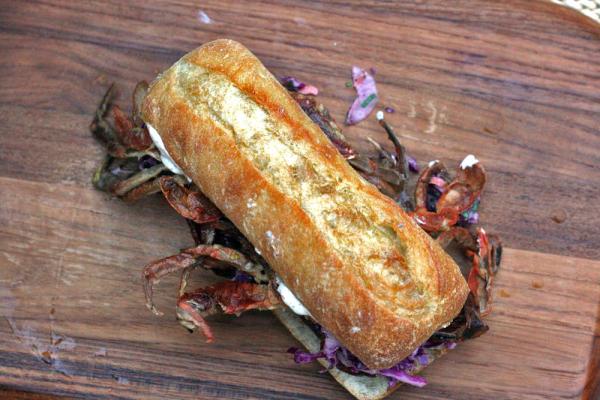 Split a warm baguette or other rolls. Spread the mustard mixture on one half and lay the bacon and coleslaw on the other.  Top with the hot crabs, dressing them with any leftover mustard/creme fraiche sauce.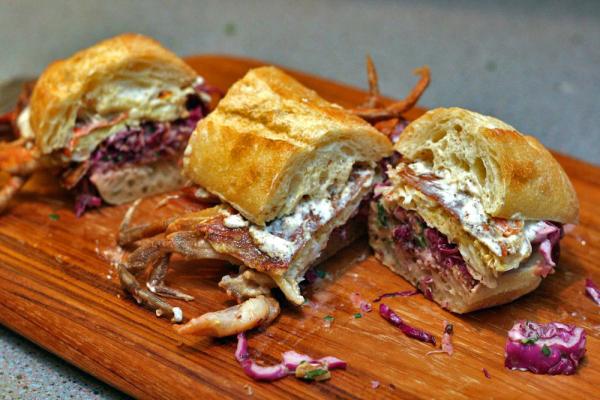 Cut into 10 pieces and serve immediately!
Food,
American,
Blue crab,
Chef,
Coleslaw,
Condiments,
Cuisine,
David Lentz,
Family Relation,
Food and drink,
Mayonnaise,
Mustard,
Person Relation,
Potato chip,
Sandwich,
Seafood,
Suzanne Goin