The spiciest way to grill your chicken.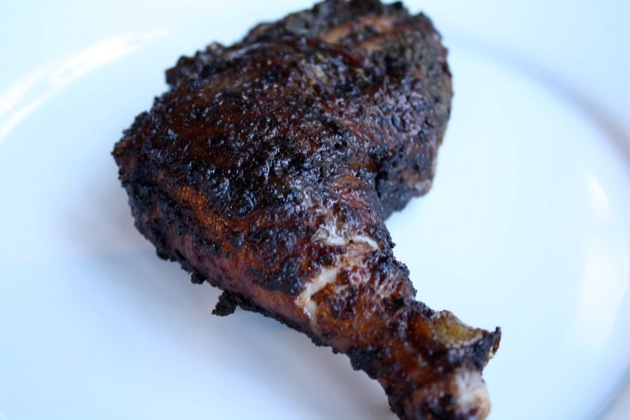 My first bite of jerk chicken, fresh from two hours of mingling with smoke, was everything I wanted it to be.  The rub of allspice berries and black peppercorns mixed with fresh ginger and thyme and created this incredible aroma --one that I couldn't help but adore.  I was completely happy and content until quickly, and without much warning, the spice hit.  A double dose of habanero cut through all of that complexity, ringing my lips with intense heat that unleashed the first of many small tears to drip down my face.  I took a drink of wine, which only seemed to ignite the pain even more.  I reached for a glass milk to squelch what I could, but it only delayed the onslaught.  Against what should have been better judgment, I dug back in for another bite.
I had been interested in jerk chicken ever since watching Anthony Bourdain on No Reservations eat some out on the nighttime streets of Jamaica.  These roadside stands cooked them in enormous old oil-drums that had been retrofitted into smokers.  The chickens were rubbed with a jerk spice mixture of allspice berries and scotch bonnets (a relative of the habanero), among many other things, that turned the flesh a deep, dark brown, just one shade away from black.  But when Boudain bite in, the flesh shone white and juicy.  I wanted some.
For help I used this New York Times article that explored the jerk chicken available around Brooklyn.  It was then that I found out what was in the spice rub.  The predominant ingredient was allspice, something I don't really use that much.  But it seemed to be absolutely crucial to the dish.  In fact, on the island of Jamaica they use the wood from the allspice tree to cook the meat.  Something, unfortunately, I wouldn't be able to use.  Oh well.  I used some nice and mild apple wood.   The rub also included black peppercorns, thyme, ginger, garlic, scallion, and brown sugar.  I could smell it already.
I also found this recipe from eGullet , and I loved how they traded the dried and ground spices for fresh ones.  They toasted whole allspice berries with black peppercorns and then ground them fresh.  What it honestly reminded me of was the care and patience that goes into a good barbecue rub.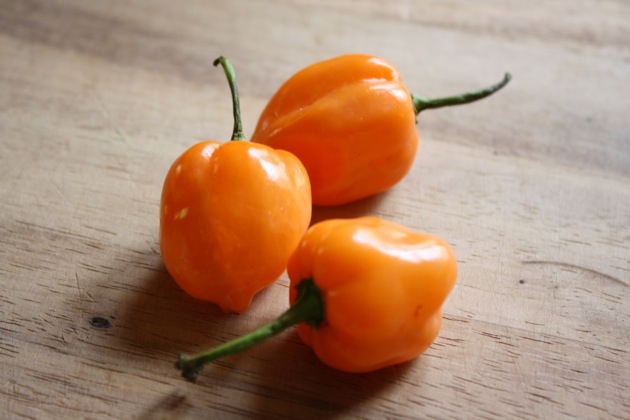 But its insane heat sets it apart.  Mixed in with all of these spices were two habaneros.  The spice of these is unlike that of, say, a whole bunch of blunt jalapenos.  Those are nothing.  One of these little orange guys can completely change the feeling of a dish, and two, well, is just crazy.  I thought about adding that third one, but I might not have lived through the experience had I gone through with it.  Surely, this is not a dish for those who don't really like spice, or who think jalapenos to be a tad risqué.  I shirk such thoughts.  Give me more.
The second thing I noticed was that again, like barbecue, jerk is not something that you can just pour onto chicken breasts and slap on a hot grill.  It takes a long marinade, and then a slow and low trip on the grill.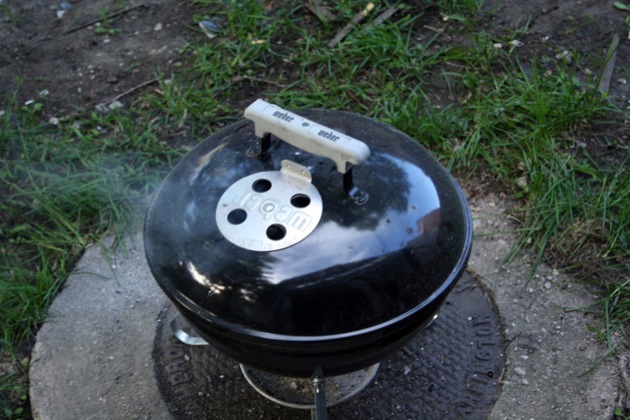 Unfortunately, I didn't have those big oil-drums for the process.  In fact, I didn't even have my sister's nice grill for help .  Nope, all I had was a little Weber grill that is great for cooking hot dogs, but not that ideal for trying to cook things indirectly on the grill for a long time.  The idea of maintaining a proper cooking temperature between 250 and 300 on a grill the size of a large dinner plate seemed like a disaster.
I have done it before.  About three years ago I cooked a pork shoulder on a little grill for well over 8 hours.  But it was sort of a disaster because I didn't have the proper equipment.  Mainly I was missing a chimney starter.  That meant that every time I wanted to change the charcoal I'd have to remove the meat, empty out the ashes, and then douse some new charcoal with a huge splash of lighter fluid.  The whole process took over 30 minutes.  Instead of acting like a wild man with the lighter fluid ( here's proof ), I decided to invest in a chimney smoker.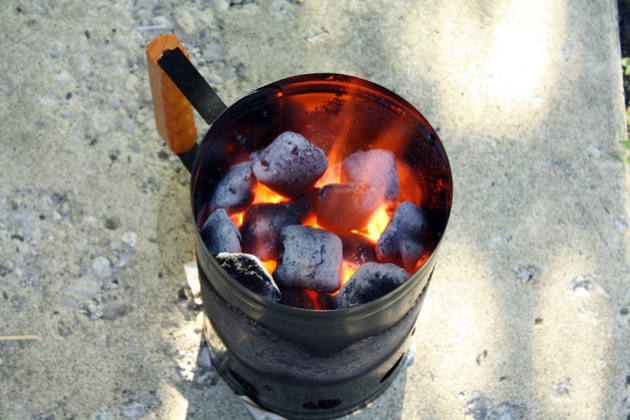 It makes the process of cooking on a charcoal grill a whole lot easier.  This $9 chimney starter does everything for me.  Wad a bunch of newspaper and stick in the bottom, and then mound the charcoal in the top.  Light the newspaper, and some 20 minutes later, without any effort, you have lit coals.  Nice.
Really, the hardest part is maintaining the temperature for 2 hours.  After about an hour I started a new batch of charcoal in the chimney starter.  This is where having a chimney starter really helps.  To increase the temperature all I had to do was add a few pieces.  If it was too hot I just removed a couple.  $9 has never saved me so much hassle.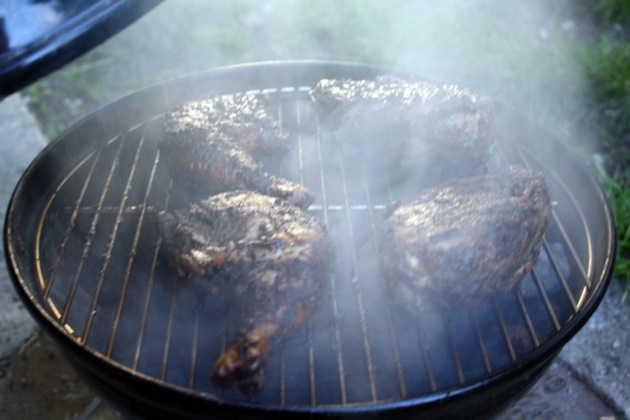 Otherwise it's pure smoking bliss.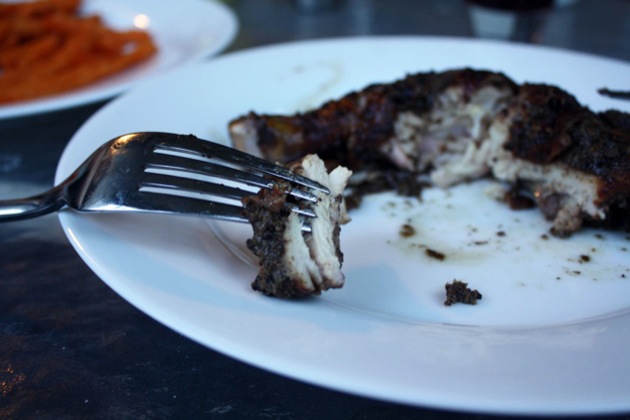 And the result?  This was easily some of the juiciest chicken I've ever had.  It was bathed in the aromatic rub, and spiked with habanero.  To be honest, I probably used too much of the latter.  It was spicy, which I liked, but was probably just a little too spicy.  Next time I'd probably cop out and use just one habanero.  A squeeze of lime helped, and it honestly tasted better the next day straight out of the fridge.
Jerk Chicken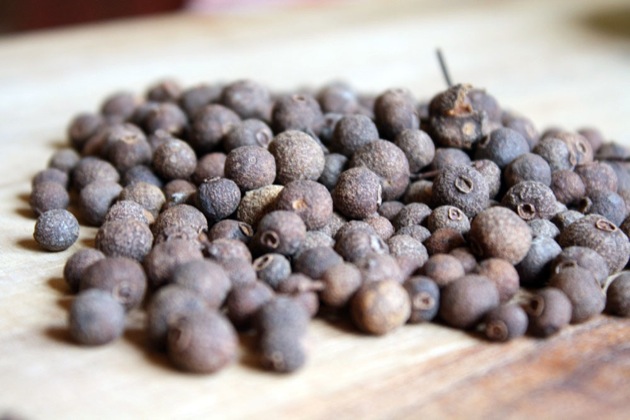 1/4 cup whole allspice berries
2 tablespoons black peppercorns
2 bay leaves
1 small onion, peeled and chopped
1 bunch of scallions, chopped
6 cloves garlic
1-2 habanero chilies, stemmed and seeded (1 for normal people, 2 for crazy folks)
1/4 cup fresh thyme
2 tablespoons fresh ginger, grated
2 teaspoons salt
2 tablespoons cider vinegar
2 tablespoons soy sauce
2 tablespoons brown sugar
1/4 cup vegetable oil
1 chicken
2-3 limes
ketchup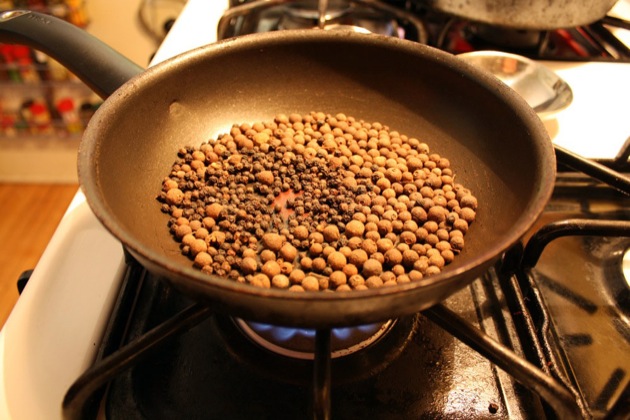 Toss the allspice berries and black peppercorns into a skillet over medium-high heat.  Toast for a minute or so, until fragrant.  Transfer to a food processor or blender along with the bay leaves.  Process until they become a powder.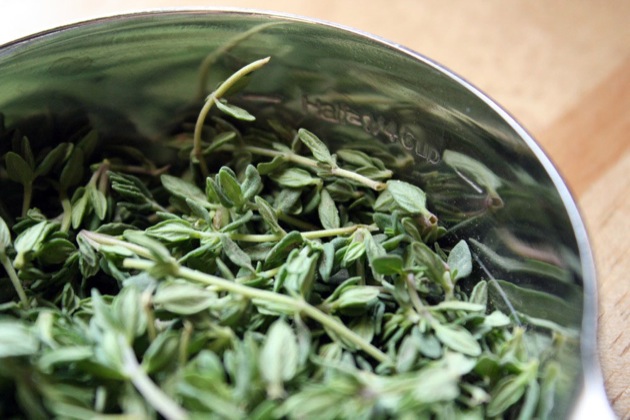 Add the onion, scallions, garlic, habaneros, thyme, ginger, salt, cider vinegar, soy sauce, brown sugar, and vegetable oil.  Process until it is a smooth paste.  Divide the sauce into two portions.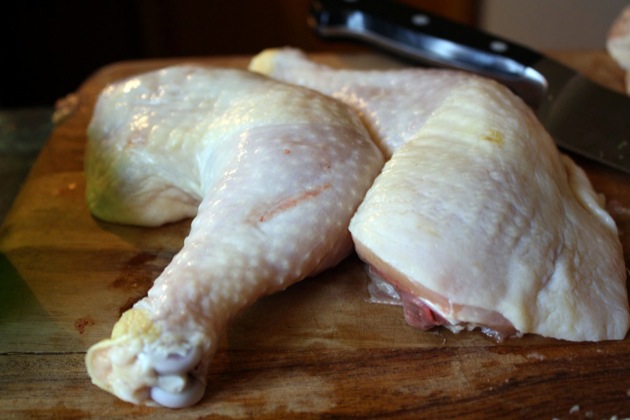 Cut the chicken into 4 pieces, removing the backbone and wings (save those for a stock if you're into that sort of a thing).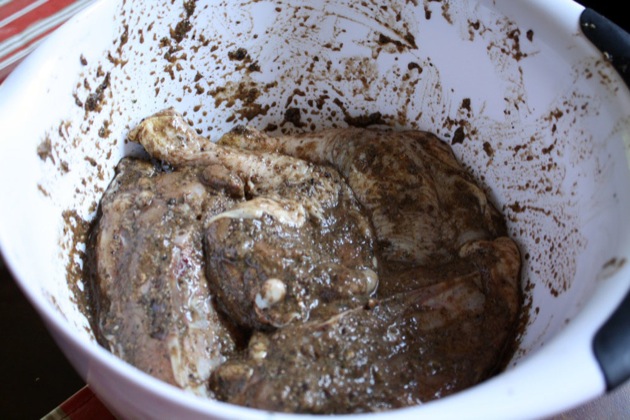 Place the breasts and legs into a large bowl.  Coat both sides and under the skin with the marinade.  Cover with plastic wrap and then stash in the fridge and let marinate for 12-24 hours.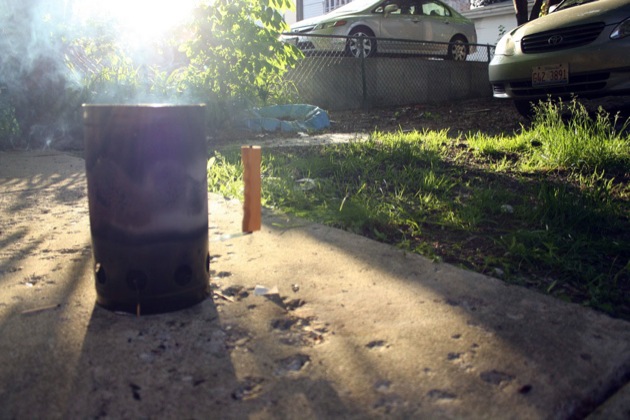 When you're ready, prep the grill.  This is all very unscientific.  Just light a whole bunch of charcaol in a chimney starter.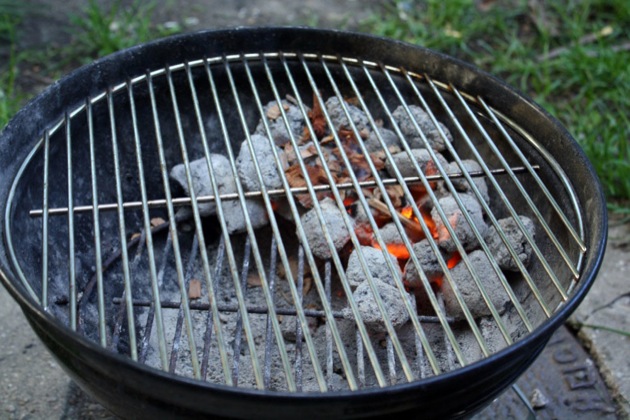 When white and ashed over, dump half of the charcoal into the grill and move it all over to one side.  Cover, wait a few mintues, and then check the temperature.  You want the temperature to hover between 250 and 300 degrees.  If it's too hot, just remove some charcoal.  Too low?  Just add some more of the lit charcoal.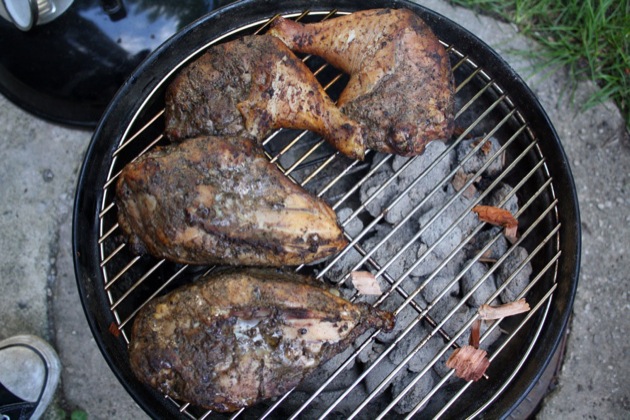 Add a handful of wood chips that have been soaking for 20 minutes in water.  Then add the chicken.  They will take around 2 hours, so around the 1 hour mark light another batch of charcoal to have ready.  Mine took exactly 2 hours.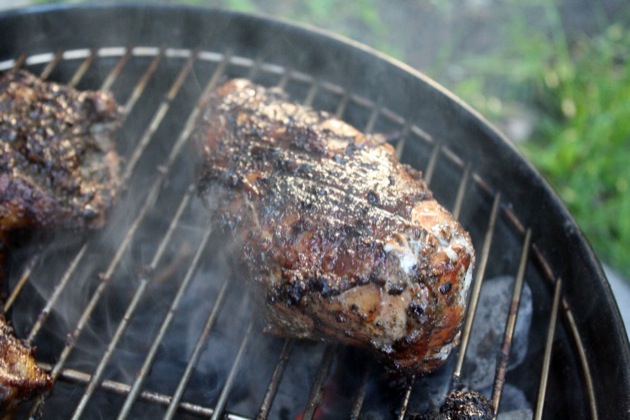 Move the pieces around occasionally to ensure even cooking.  Check the temperature of the chicken with a thermometer after about 45 minutes, and then every 15 minutes after that.  You want something between 160 and 170.
Meanwhile, take the other half of the marinade and mix in about 3 tablespoons of ketchup.  The ketchup should help balance the aggressive spice.  Add more if it is not right.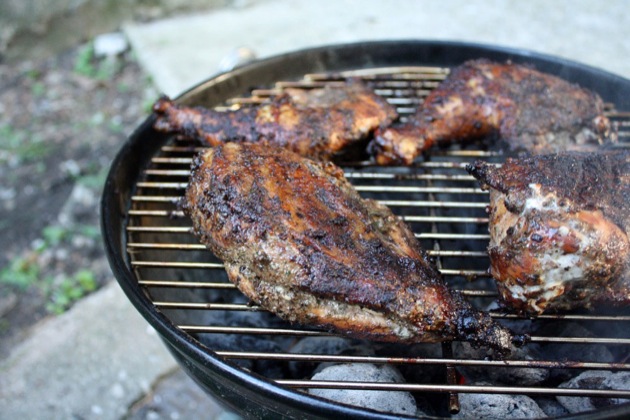 Serve the chicken with the barbecue sauce and some limes.  A glass of milk would be handy, too.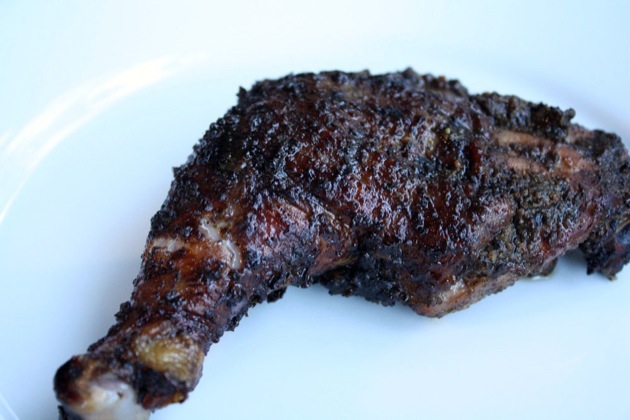 Food,
Main Course,
Grilling,
Allspice,
Allspice,
American cuisine,
Anthony Bourdain,
Barbecue,
Barbecue,
Caribbean,
Caribbean cuisine,
Chicken,
Chicken,
Chimney starter,
Cooking,
Food and drink,
Grill,
Habanero,
Jamaican jerk spice,
Jerk,
New York Times,
New York Times,
oil,
Smoking,
Spice rub,
Spices,
Street food