Nick's tour of the South's barbecue capital.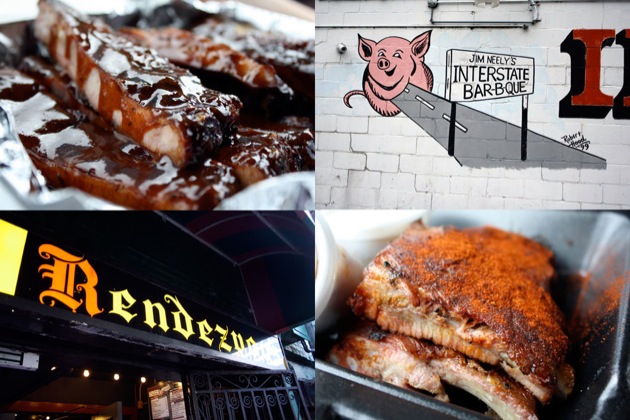 Memphis has insanely good ribs, some so mouthwatering and juicy that they make most of the barbecue I've ever eaten fall of their bones in shame.  The rub is better, the smoke more lingering, and the sauce more lip-smacklingly suited to the cause.  What cause?  Sublime barbecue.  I wanted to see how good it could be.  Which isn't to say that everything went perfectly or that every bite left me in awe.  Over the Memorial weekend I made the long drive from Chicago to visit four of the most vaunted barbecue haunts in Memphis and I left with certain opinions --I certainly liked some more than others-- but not many declarations besides the one above.
Why ribs?  Around the time I moved to Chicago last year I sampled some ribs that opened my eyes to this culinary artform.  These were meaty, laden with smoke, and so much more inspiring than the barbecue I had eaten before, which tended to be greasy, droopy, sweet, and cloying.  It made me wonder: If these places in Chicago were this good then what would the barbecue taste like down in Memphis?  Could it possibly get even better?
For the past few months my goal was to locate the best barbecue joints in Memphis.  But finding any sort of consensus turned out to be a nightmare.  After consulting numerous blogs, asking people on Twitter , and obsessing about it to no end, I finally halted the process.  I picked up Mike Mill's Peace, Love, & Barbecue , and decided to visit the four "shrines of barbecue" that he listed in Memphis.  They may not be the best in the city at that particular moment, but they were the originals, the ones that have constantly pulled crowds for years.
That list included Cozy Corner , Rendezvous , Interstate Barbecue , and Corky's .  That's a lot of barbecue to eat in what amounted to 40 hours in a city.  But it's the kind of mission I can get into.  Sure, I drove by Graceland and drank a Big Ass Beer on Beale Street, but I had a more important mission.  This was my barbecue culinary education and I was going to take it seriously.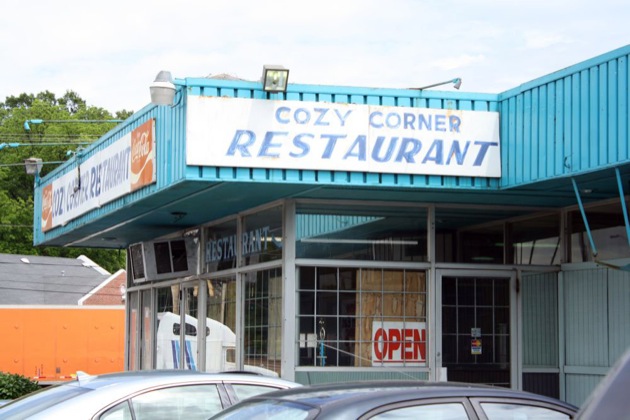 We rolled into Memphis in the late afternoon last Friday and before anything else, hit up Cozy Corner.  It's the perfect example of the humble barbecue shack. It sits on a regular street, just north of downtown, has one small smoker, and probably hasn't been renovated in years.  Inside was a group of people waiting for orders and they looked a little agitated.  The ribs weren't ready.  We'd have to wait until the smoking was done.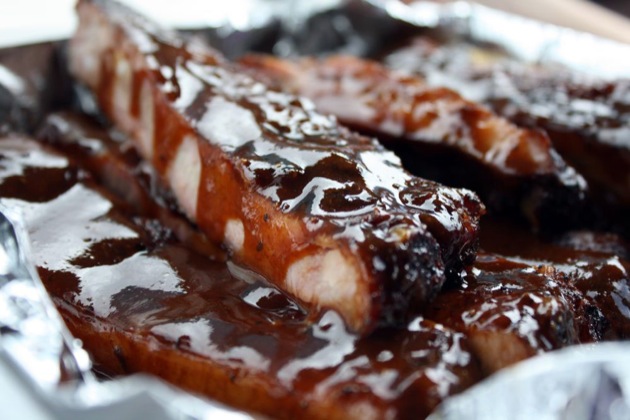 They came some 15 minutes later, fresh out of the smoker and covered in hot barbecue sauce.  I wasn't quite ready for the first bite.  The ribs were juicy and laced with smoke in a way I've never experienced before.  The sauce was slightly spicy, but not obtrusive.  Everything came back to the rib, which was meaty in a way I've never had a rib be before.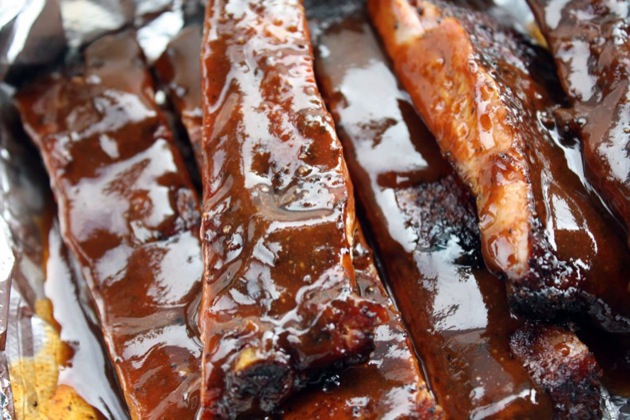 It all added up to the best rib I'd ever eaten, and one of the most delicious things I've ever encountered.  That this is on the side of the road in some city is beyond me.  As we drove off, I could feel the smoke in my nostrils, and I'm not sure if it ever left.  For better or worse, all the barbecue I ate after that first bite was tinged with knowledge of Cozy Corner.  It honestly never got better.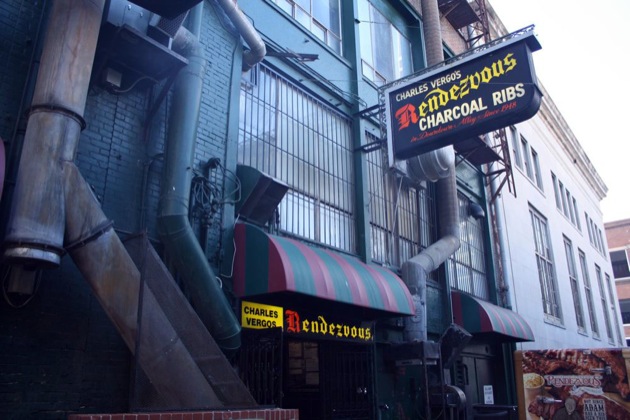 Rendezvous came closest.  Of the four places I visited, it is perhaps the most famous of the bunch.  The most obvious reason is that it is right downtown, a block north of the famous Peabody Hotel ( it's all about ducks, people ), and an easy walk from Beale Street, it's the defacto vistors dinner in the city.  The concierge at my hotel got all sassy when I asked her about the place, "Never heard of it," she smirked.  Before saying "You'll need a reservation, but they don't take them."
With that advice we went early, only about two hours after Cozy Corner.  Rendezvous is located down an alley, and I could see the smoke conveniently billowing out the exhaust pipe right by entrance.  If I needed another reason to visit, they'd blown another one right in my face.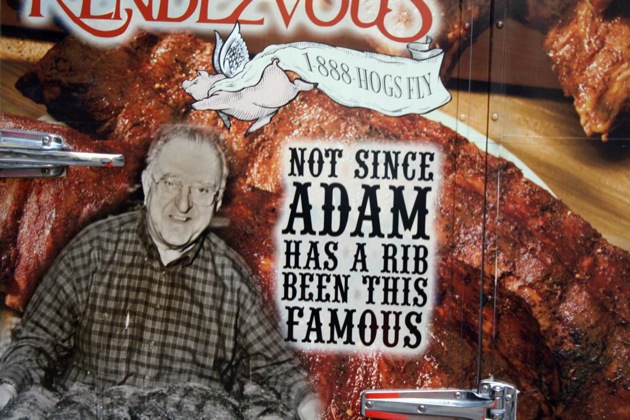 The second reason Rendezvous is so famous is that they apparently originated the dry barbecue rib, which has become synonymous with the city even if every rack of ribs isn't dry. Click here if you need a little regional barbecue education .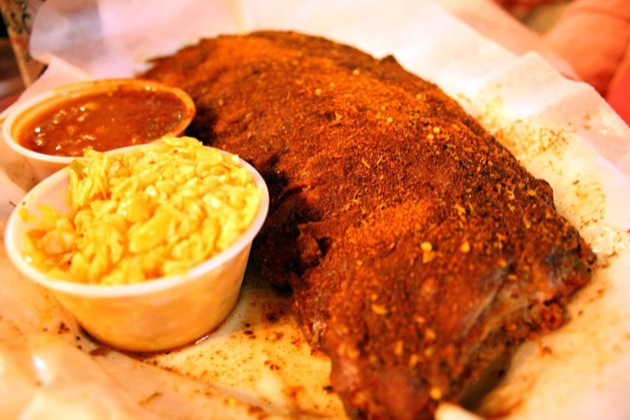 Instead of bathing the ribs in barbecue sauce while still in the smoker, they get an extra sprinkling of a dry rub of spices.  They can be eaten as is, or with a little barbecue sauce added at the table.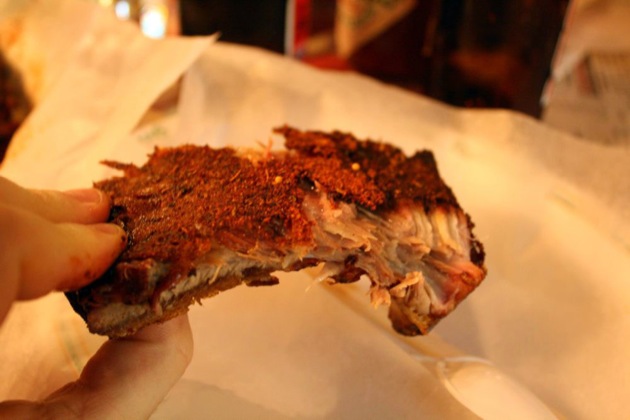 The dry rub helps create what's called in barbecue speak as "bark" that coats the rib much like bark on a tree.  It gets crispy and crusty and is utterly delicious.  The meat on these was drier than Cozy Corner's, and didn't have haunting smoke aroma.  They were cooked more quickly over charcoal.  But I couldn't get over the dry rub, which had an incredible array of spices which I enhanced with a small douse of hot barbecue sauce.  They were so different than Cozy Corner's that it's kind of wrong to try and compare them.  It's not like one was way better than the other. All I knew, was that I had eaten at two places and both had destroyed my opinions of barbecue.  It is honestly better down here.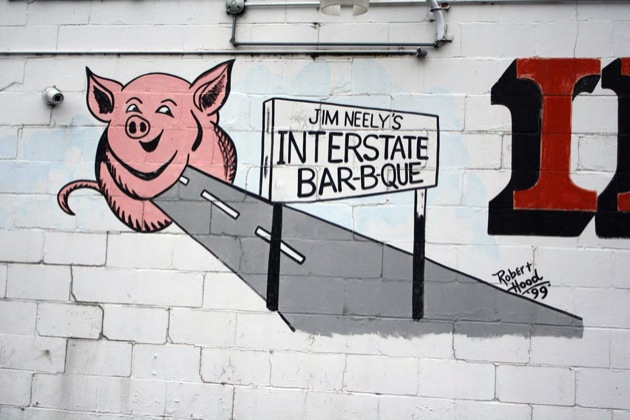 I visited Interstate Barbecue for lunch the next day, and it was here that I encountered my first disappointment.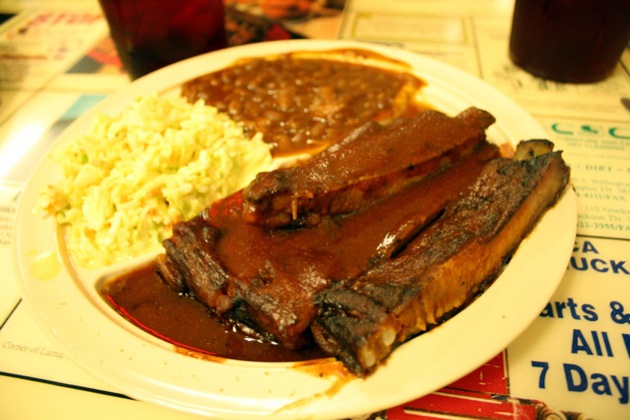 The ribs were small, gray, and fell right off the bone when I bit in ( a barbecue no-no ).  The sauce was thin, heavy on tomato, bland, and lacquered with grease.  The meat had essentially no smoke flavor.  It was especially hard to take because everything else we ordered was utterly delicious.  My sides of beans and coleslaw were top notch.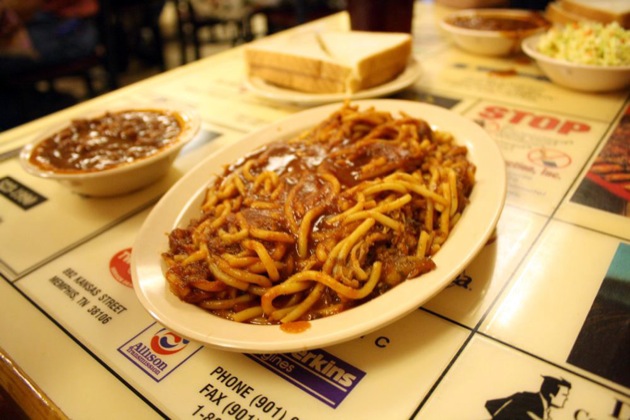 Even the barbecue spaghetti (which Interstate is famous for) that my wife ordered somehow miraculously worked.  I know.  It looks like a mess of mushy noodles and way too much sauce.  Italy would not approve.  But it was spicy and littered with little hunks of cripsy pork shoulder.  I loved it.  Hell, Interestate even had the best sweet tea of the weekend.
Perhaps I ordered the wrong thing.  Maybe their pork sandwiches are better or I just got a bad rack of ribs.  It's hard to know.  There is always a problem with judging a place after one visit.  I'm still glad I visited. Even though I was won over by nearly every other aspect of the meal, I couldn't help but feel a little let down.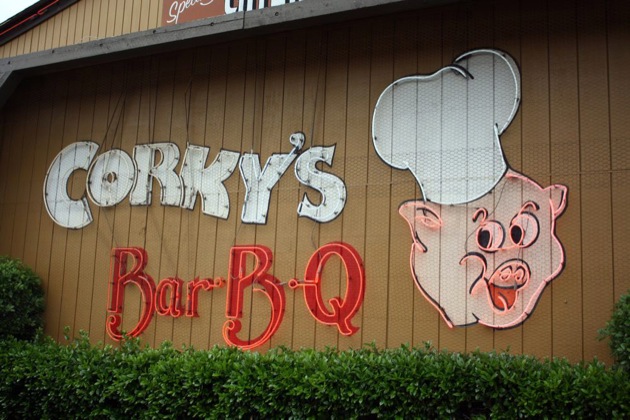 I ended up with Corky's because I could get ribs at 10:30 A.M. on a Sunday morning. In the drive thru, no less.  This would be my forth barbecue place in about 40 hours.
Though Corky's is one of Mike Mill's barbeuce shrines of Memphis, it's also easily the most maligned on message boards. Part of the issue stems from Corky's massive mailing business . Becuase Memphis is the hub of Fed-Ex, they got into the business of cooking the ribs, packing them up, and then mailing them out to all over the country. Though the prices are ludicously high, it's a business that has flourished. And many people online have declared that the quality has dipped as a result. I wondered whether I should just go back to Cozy Corner, but figured I should give it a chance.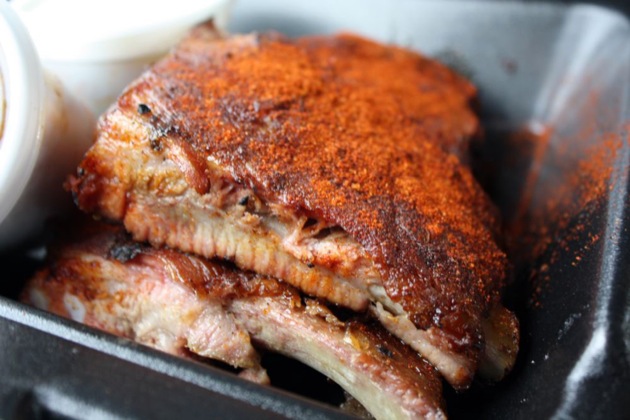 And thank goodness I did.  I got the dry ribs, and was greeted to this.  A speckled half rack of dry ribs that were haunted with Hickory smoke and a layer of dry rub.  To be honest, they weren't perfect. They were a tad to close to "fall off the bone", but the flavor was there.  I devoured these in the back seat as my wife and father-in-law sat up front.  I'm not sure it is possible to feel happier than to have a container of this barbecue sitting on your lap as you jet out of Memphis.  The rub coated my fingers, and the sauce dripped on my shirt.  I licked my fingers like they were the second course.  I wanted more.
Travel,
American cuisine,
Barbecue,
Barbecue,
Barbecue in the United States,
Chicago,
Cooking,
Food and drink,
Meat,
Memphis,
Memphis,
Memphis,
Memphis, Tennessee,
Mike Mill,
Mike Mills,
Peace Love & Barbecue,
Pork,
Regional variations of barbecue,
Ribs,
Ribs,
Travel