Blake eats the best of France.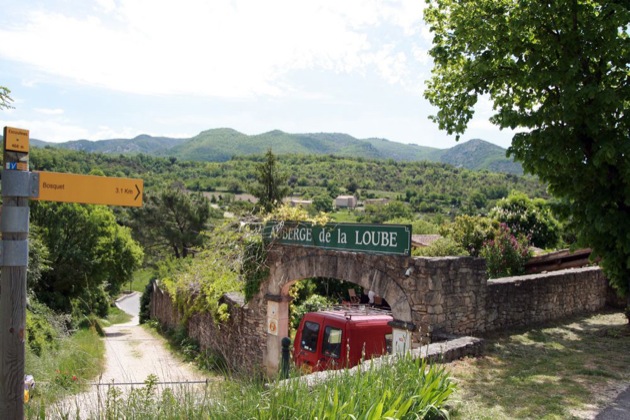 After we spent our Saturday morning at the sprawling market in Apt, sampling cheese and charcuterie, the only task ahead of us was to find a tiny hillside town called Buoux by lunchtime.  Exploring a mountainous countryside of hamlets and hairpin turns was all that awaited us. By the time we'd arrived a few hours later, the sun was falling lazily on a descent toward dusk; the air was fragrant with grass; and a sumptuous meal awaited us.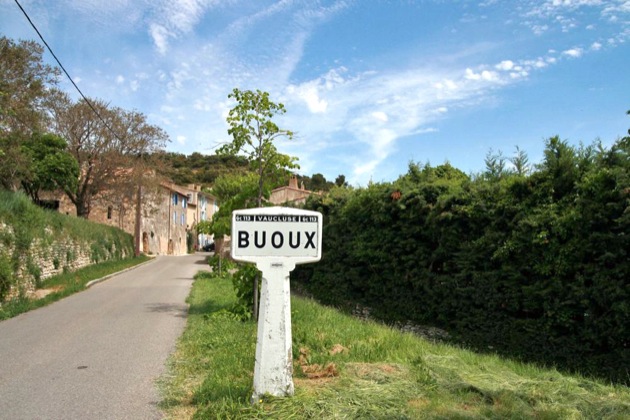 Eating lunch at Auberge de la Loube is a pretty straightforward affair: you submit to the chef's whims and order a wicker tray sagging with tiny plates of local Provencal fare, then eat cheese, then dessert.  For the hungrier, there is also a second course of meat that can fit between the little appetizers and the cheese.  The menu and other things on it can be ordered a la carte, but why demand a choice when it's unecessary?  One of the things I miss most about childhood is the lack of choices.  It was a luxury.  Having full control of one's destiny--at least in some situations, especially food--is overrated.  I always jump at the chance to put myself in a chef's hands.
And so we opted from the Provencal plates, cheese, and dessert, called for a pitcher of water, and sat back to enjoy the languorous afternoon.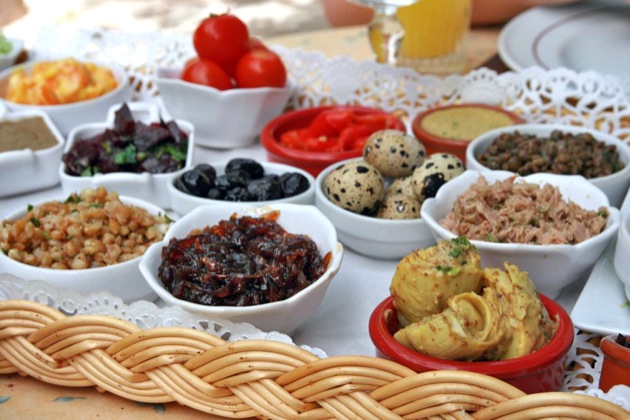 Our tray came out within just a few minutes: served at room temperature, most of the food was already prepared.  A basket of superb crusty bread was set down next to it, and we spent the next 5 minutes wondering where in the world to begin with the 17 or so dishes in front of us.  I guess there were some choices to be made after all.  But they were choices without consequences.  Should I eat the braised artichokes first?  Or maybe the marinated mushrooms?  Whichever. Eventually I'm going to have everything I want.
Immediately I was reminded of a meal I ate in Buenos Aires at a place called La Cabrera , where my bloody rare ribeye was accompanied by sundry little ramekins of delicious food such as lentils, marinated wild mushrooms, and quail eggs.  There was actually some overlap in the preparations (here I was on the other side of the world), which was interesting.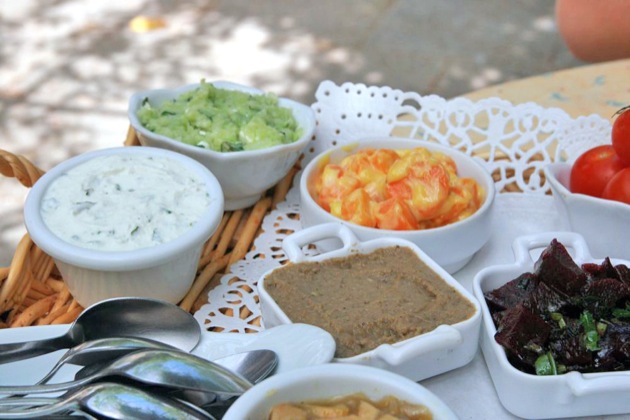 In front of us were the following: onions caramelized until sweeter than candy; flaked seasoned tuna; lentil salad; braised artichokes smeared in mustardy aioli, smooth hummus; quail eggs; marinated red peppers; tiny potent black olives; barley salad with parsley; roasted beets; whole cherry tomatoes; carrots in a garlicky mayonnaise; an eggplant puree; a cucumber and chive salad; fresh herbs stirred into creme fraiche.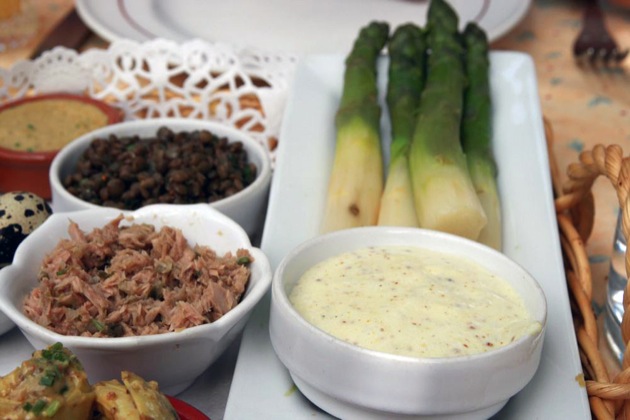 Yet the most enticing of all was off to the side, 4 epic asparagus next to a foamy aioli speckled with crushed mustard seeds.  My first bite was asparagus--and after we'd feasted on the rest, it was also my last.
It took us a long time to make our way through everything, and in the meantime the chef wandered out and chatted up everyone one by one.  Clearly, with everyone perfectly content ordering room temperature food that was prepared that morning, he didn't have much to do in the kitchen.  A group of retired Americans sitting off to one side yacked the guy up forever, talking about how they'd visited a long time ago and DIDN'T HE REMEMBER and what wonderful food.  Elin and I switched to Estonian so we could go quasi-incongnito.  This also limited our conversation severely by the limits of my vocabulary.  The chef came by and gestured wildly about things we could somewhat understand, a charming older gentleman who really seemed to care about the food.  Elin carried on with him as best as she could with limited French.  I smiled dumbly, my mouth full of asparagus.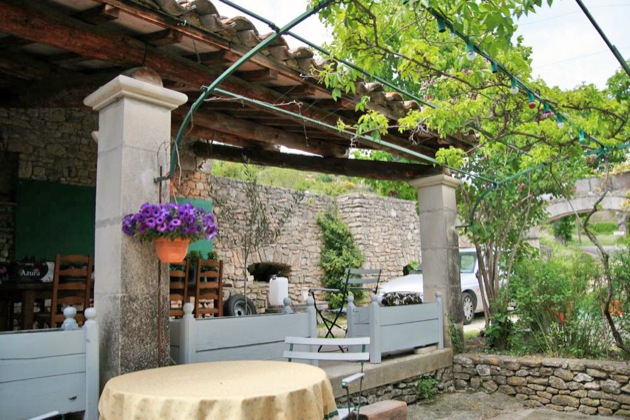 We'd eaten ourselves silly by the time it was time for cheese, but we made room anyway, for an aged half-wheel of goat served next to a bitter salad, probably the Banon variety.  It was creamy yet firm, relatively mild.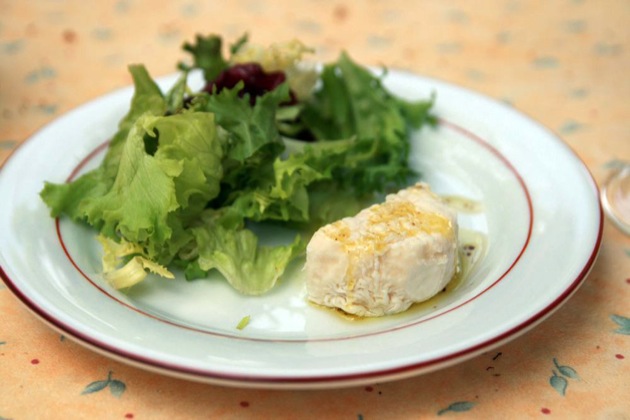 The desert was a pear tart, served with custardy vanilla ice cream, slivers of dark chocolate, and candied citrus peel popular in the area.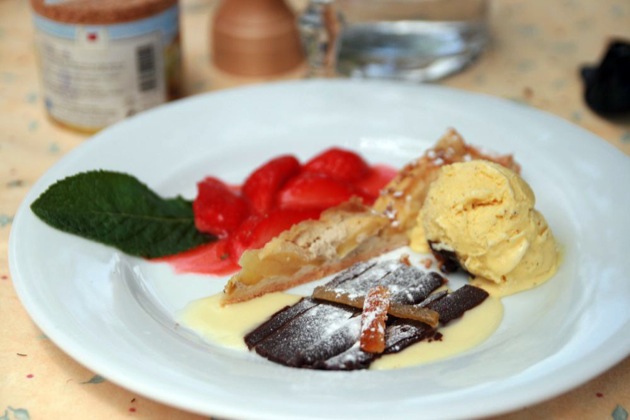 In many ways it was our most enjoyable meal in France.  It was insistently unpretentious, which put us at ease.  We ate on a beautiful patio tucked under a trellis.  We met the chef and got a sense of his personality.  We didn't have to make any decisions.  The food was delicious, clearly local, and simple.  And the landscape, classic Provence, charmed us completely as we sat on the outskirts of a cluster of stone buildings hardly numerous enough to call a village.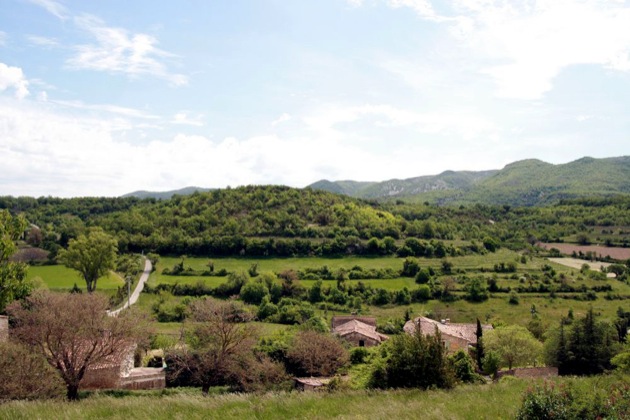 Eating in France, especially after a meal like this, I think I've come over to the idea that lunch is the best meal of the day to eat out when traveling.  Dinner is so hyped up; for lunch the restaurant's guard is down.  To eat lunch is to eat a meal that's less expensive, more casual, more enjoyable. And it leaves nights open to wandering, eating brie and baguettes on the curb, exploring a town on foot, going out for drinks, or settling in for a book and an early night at the hotel.
Travel,
Asparagus,
Cheese,
Chef,
food,
Food and drink,
France,
France,
France,
Lunch,
Meal,
pitcher,
Provence,
Restaurants