Blake finds hidden gems in France.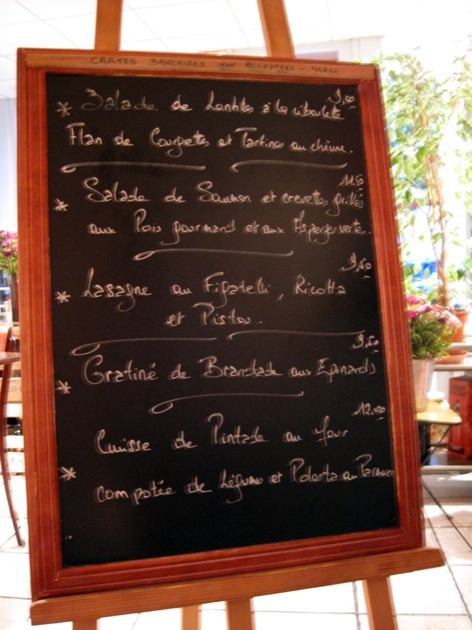 Our goal for eating in France, as our budget was limited, was to find simple and unpretentious food.  And though we hit the ground running with a list of online recommendations culled from a number of sources--an article in Travel + Leisure , searches on Chowhound and eGullet, guidebooks galore--some of our best and most memorable meals came from eclectic little spots that nobody had written about.  One was hidden on a side street in Cavaillon called La Régalade; the other was a sandwich shop in Arles called Cuisine de Comptoir.  Nobody had written about either in magazines or newspapers.  They were just neighborhood spots, without websites.
La Régalade was actually our very first meal in France.  Our plane landed in Nice from Tallinn, Estonia via connection in Riga, Latvia, a flight full of pale northern Europeans who looked longingly out the window as we flew over Poland, Germany, then Switzerland's snowy Alps, until suddenly glitzy Monaco came into view, refracting and reflecting the sun.  Sunny France.  The warm air embraced us as we rented our car and tore into the countryside headed for the mountainous region of France called the Luberon.
Our destination was Mas Pomona Bed and Breakfast , a restored farmhouse tucked into a beautiful hillside, covered in crawling ivy, cool and stoney.  The beds, walls, everything in our room was pure white, as if we'd arrived in heaven.  The place is run by a lovely British/Swedish couple named Marianne and David, and the breakfast we had the next three mornings was top-notch: thick Greek yogurt with marinated strawberries, warm croissants, baguettes with butter and jam, good tea.
Worn out from the drive, we dozed and sucked in the Provence air.  I read a few wry, sublime stories by Garrison Keilor from a book called Happy to Be Here I found in the library, then we got hungry.  Marianne and David recommended La Régalade, so we set off for Cavaillon, ten minutes drive from Cheval Blanc.  We parked and found a cozy, chattering restaurant spilling out into the street with a menu written on a chalkboard: 4 options, the most expensive 12 euros.  Near the door was a little charcuterie counter, which gave the restaurant that wonderful cured-meat funk the moment we walked in.
To begin we asked for a sampler plate, which turned out to be a platter of prosciutto-wrapped goat cheese, marinated mushrooms, sun-dried tomatoes, artichokes, and the like.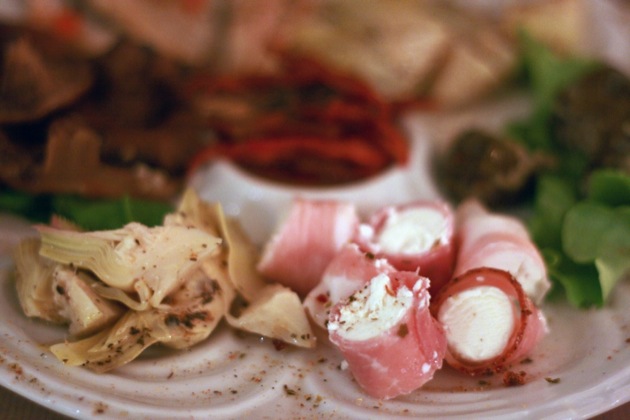 For dinner I opted for the Brandade Gratine, a salt cod, milk, and spinach concoction baked and broiled.  I've long wanted to experiment with salt cod, and this might be a good place to start when I'm back to having a proper kitchen.  Elin chose the roasted guinea fowl with Parmesan Polenta.  A carafe of local white wine (I failed to get the name down) was a few euros; water was free.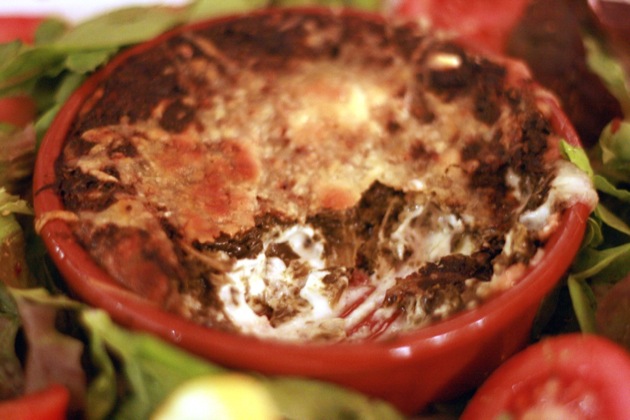 My gratin was wonderful: perfectly seasoned, hearty, creamy and thick.  Elin's polenta was the highlight, though, much different from the polenta we had in Florence--while that was wet and grainy, slicked with olive oil, this was creamy and dryer.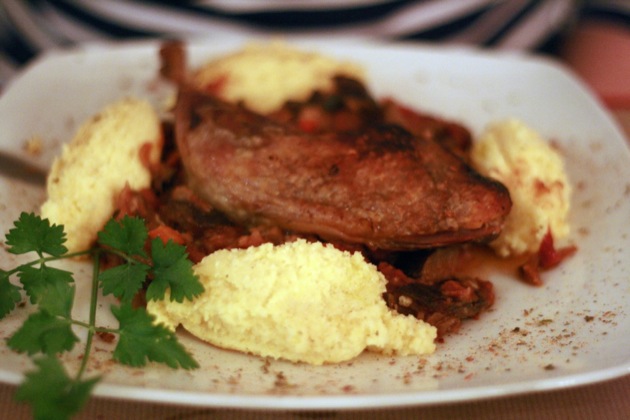 The food was just, simply, wonderful.  For dessert we ended up with an apple and rhubarb crumble served with a shot of cream on the side.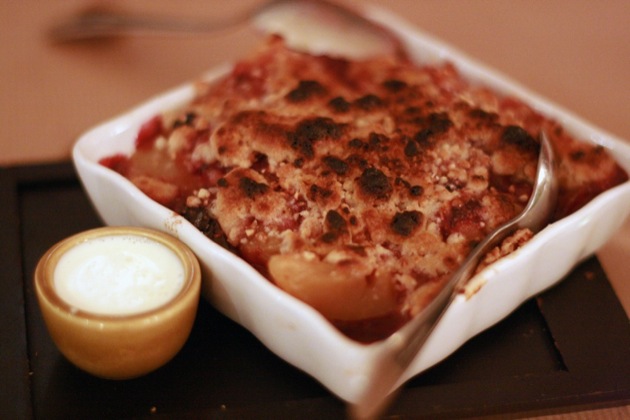 The restaurant was run completely by two people, a man taking orders and a woman running the kitchen.  Judging from their prices, they're in it for the love of food, not necessarily for the profit.  Towards the end of the night our chef came outside for a cigarette, and asked earnestly how everything was.  Delicious, we told her.
We ate at fancier spots in the next few days with a lot more pretensions.  But a simple meal like we had at La Régalade--proper, simple cooking at good prices--is the kind that sticks with me.  I'll take good cooking over pretensions any day.
Cuisine de Comtoir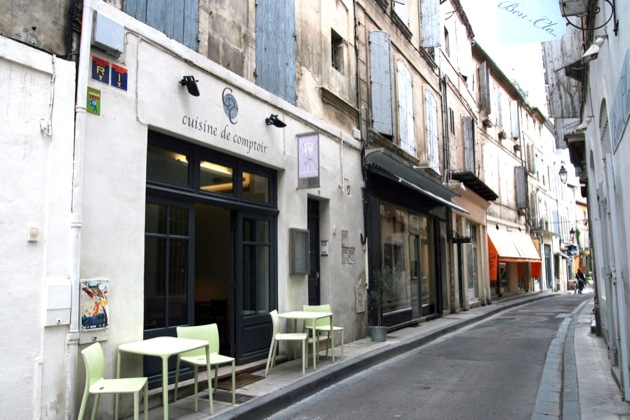 One of our biggest disappointments of the trip was arriving in Arles with expectations to eat at La Charcuterie, which an article in Travel & Leisure described as a former charcuterie shop turned into "a winsome bistro ... Inspired by the tradition of the bouchons lyonnais —tiny bistros with hearty, sausage-based cuisine."  When we arrived at 1:15 for lunch, however, they were done serving altogether, and turned us away.  Totally unaware of this timing restriction, I pass it along to you if you happen to be eating in France sometime soon for lunch, make sure to check their serving hours.
Still, not to be dejected, we headed off the main square and stumbled upon Cuisine de Comtoir, a little spot with a simple menu of open-faced sandwiches, which included soup or salad.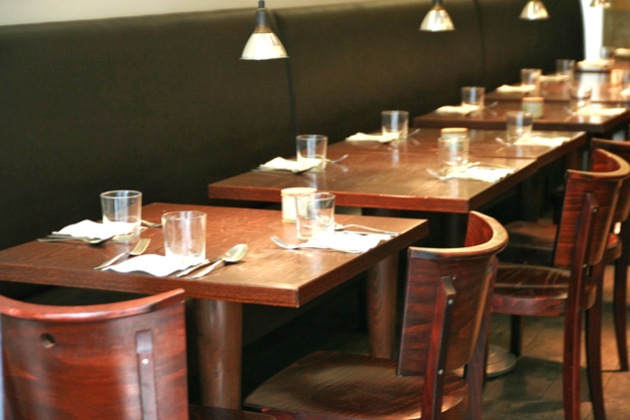 Each table had a small jar of local sea salt from the Camargue sea salt flats. Elin ordered a tuna with celery, and I opted for the foie gras with confited onions; to start I had gazpacho and she had the salad.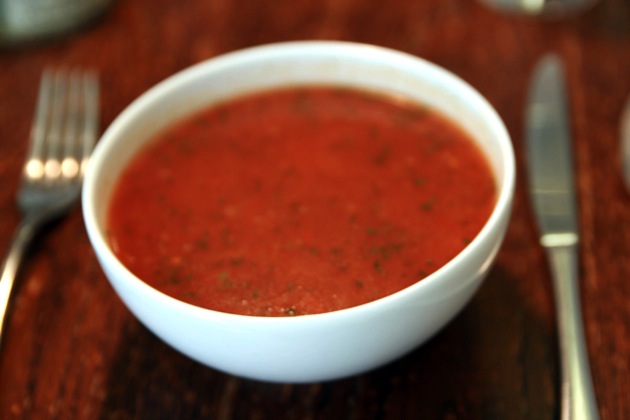 The soup was herby and fresh, notably absent of any harsh acidity.  Elin dug into her salad like a rabbit before roughage (a well-dressed salad is a hard thing to find in Estonia; they tend toward sauerkraut for their "vegetable").
Both sandwiches were served on great center-cut silces of sourdough boule loafs, which had been toasted.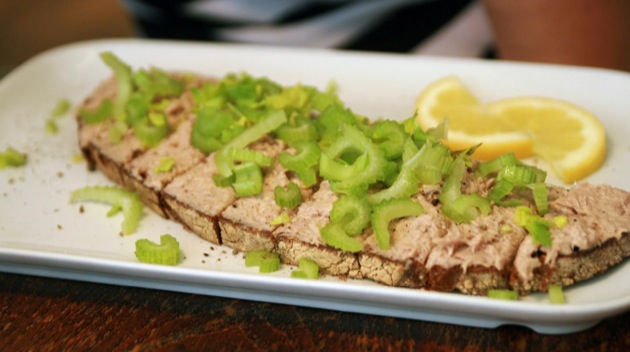 Slightly sour, charred, perfectly crusty.  It was a superb especially with the deep sweetness and creamy texture of the onions and foie gras.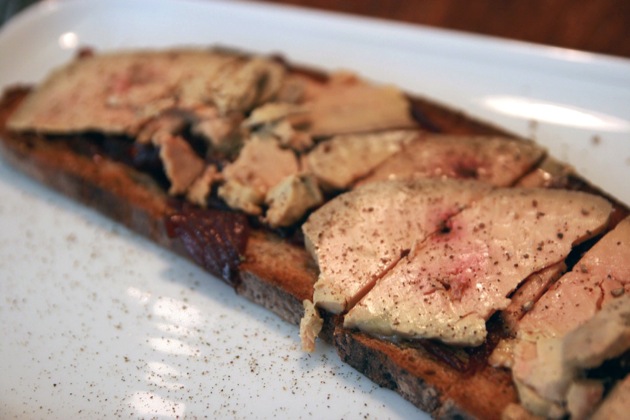 Above all, the meal was a real deal at 8 euros and 12 euros for the tuna and foie gras respectively.
Neither of these two meals were the best we ate (that's for a France post to follow), but they were the best value and are the kind of happenstance situation that's highly possible in a place like France--food and good cooking is enough a part of the culture that you can stumble into a place and be totally surprised by how good the food is.  It happened to us more than once in Italy -- I especially remember a place near the airport we tried that I've lost the name of. It was lit with garish fluorescent lights, decorated with chintzy fixtures, and filled with the sound of a blaring television.  But the squid-ink pasta I ate and the spicy spaghetti arrabiata that Elin had was quietly among the best I've ever had.
Travel,
Alps,
Animal rights,
Celery,
Charcuterie,
David,
Estonia,
European cuisine,
Foie gras,
food,
Food and drink,
France,
France,
France,
French words and phrases,
Garrison Keilor,
Germany,
Italian cuisine,
Latvia,
Marianne ,
Meat,
Monaco,
Offal,
Polenta,
Provence,
Restaurants,
Riga,
Spreads,
Tallinn,
Technology,
The restaurant,
Travel + Leisure