Crawling the streets in search of ham and beer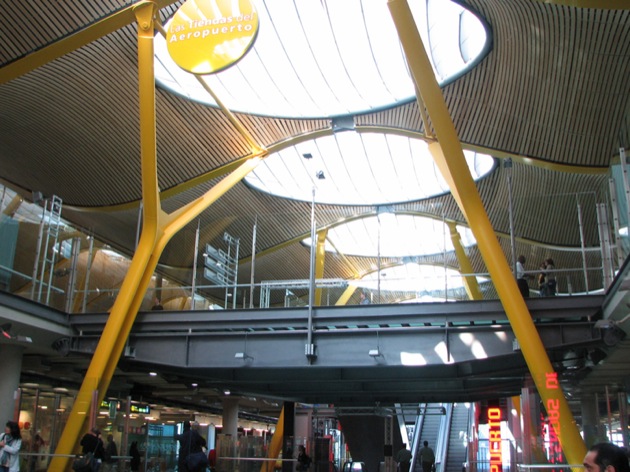 We arrived at the ultra-modern Madrid airport terminal half-asleep, legs in need of a stretch, eager for what we imagined might be a giant, country-wide cocktail party.  The Spanish tradition of tapas awaited (or, as we would later call them in San Sebastian, pintxos , our American tongues unsure how a "t" can be pronounced before an "x," the result a squished noise that sounds like "chah"), in which every dimly lit bar would flow 1 Euro beers (the small " caña ") and a plateful of hors d'oeuvres.
Not, of course, your neon orange cheese cubes and microwaved pastry crust, or even labored-over high-French morsels.  The flavors at this party were rich, salty, and shot through with innovation: we would eventually become accustomed to risottos of wild mushrooms, towering piles of seared squid with herb purees, sculptures of garlic foam, and jamon (ham) legs hanging from every ceiling, sliced to order and put inside crusty bread--what is called a bocadillo .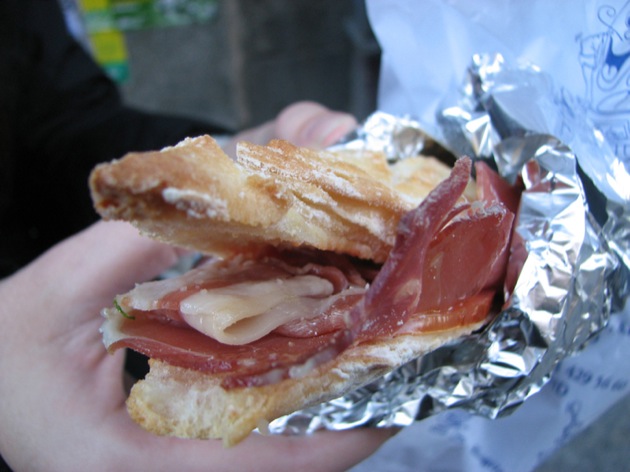 Our first day, after our red-eye flight, was a blur: we visited the Museo Thyssen Bornemisza, a private collection, had our first Cafe con Leche (milky and rich, bitter and chocolatey), and eventually collapsed with jet lag after a late-night snack at a tiny storefront around the corner from our hostal .  We were the last 2 people to fit inside, reaching capacity at 8; it was full of smoke and conversation.  Our first caña , a small beer that is a standard to order, came first.  Then a bocadillo with cured chorizo (a pork sausage with paprika), and a plate of papas fritas (French fries).  It was a big enough meal to send us sailing into dreamland.
We woke the next morning with a sudden, what-did-I-just-sleep-through sort of feeling--our room's window had one of those sliding grates you find on an urban storefront, allowing us to remain in darkness until well after noon.  Next door, through the thin wall, someone had begun playing a piano, probably three feet away.  They weren't very good--they played the same notes, up and down the piano, two octaves apart, at the same time--but it was strangely comforting.  It was a private moment that quickly made Madrid feel real, full of real people practicing piano, not just turistas and jamon and hostals .
We had one plan: to meet our friend Jorge, our old friend The Spanish Man from one of this blog's first posts .  He is from Madrid, and would take us to Sunday's El Rastro , the largest flea market in Europe.  "After," he said, "we'll all meet up and start drinking."  It sounded like a good plan to us.
On the way, we stopped by a famous, traditional pastry shop called Horno de Santisguesa where my rusty Spanish emerged.  Funny, I can point and ask questions, feeling like a local, but I can't understand an answer.  I just hope it's a not something requiring an response, so I smile and nod and mutter indecipherable Spanish words and pretend that I've just emerged from my tourist-shell.  No matter, when the pastries are this good.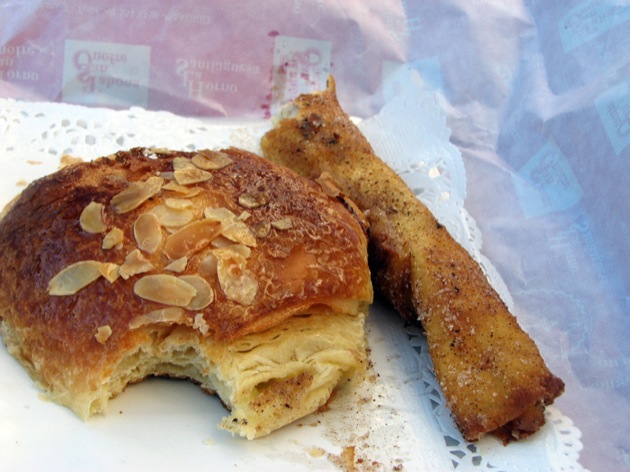 Above, a croissant filled with almond paste, and a rolled-up cinnamon-sugar dough fried and filled with a rich custard.  The Spanish, it seems, always paint their croissants with sugar, making them sweeter, crispy on top, and slightly sticky.  We would notice this throughout the trip.
Jorge led us through the packed market full of ill-fitting clothes, old piles of heavy door hardware, and pantyhose displayed on mannequin legs.
It was a slow shuffle through cart after cart of explicit t-shirts, scarves, old books, and a slew of other fascinations.  Eventually we found our way out and into a bar called El Bonanno .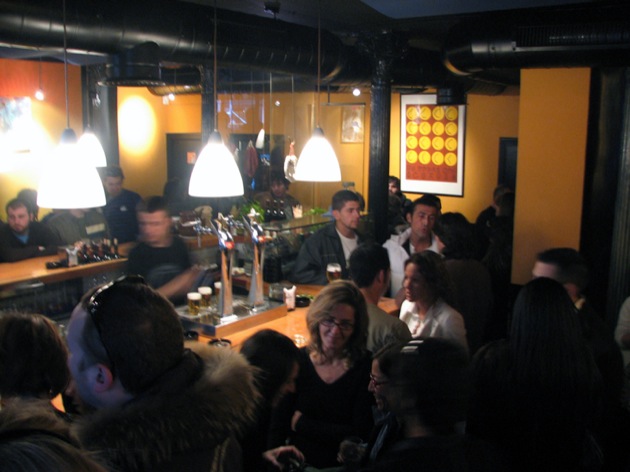 Down the steps into its half-basement space, we found a whole crowd of Jorge's friends who began handing us cañas and dishes of pickled peppers, goat cheese marinated in olive oil (the bar's specialty), and aceitunas , a word for olives (the other is " olivas ").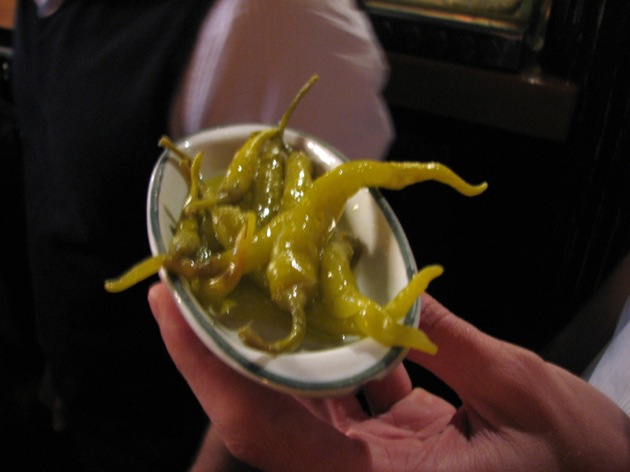 Something I noticed quite quickly was the way Madrid residents gather--by intuition.  It's almost as if Jorge and his friends were operating in a world before cell phones, where you just ran into people, and there was still a concept of serendipity.  When we asked Jorge how he knew his friends would be here, he just shrugged.  "On Sundays it happens." We stopped asking questions when he bought us two
cañas and more friends came bursting into the bar with exclamations of greeting.
Before we knew it, we were off to eat more food at another bar--I think it was called Mulata --where we ordered a heap of tapas and a dry white wine.  Curried meatballs, empanadas with corn, and plates of
strong cheese, including a mouth-drying blue cheese from Northern Spain called Cabrales , which we'd find at many other bars.
Bemused, getting tipsy (it was probably about 3 in the afternoon), we tried our best to understand as plate after plate arrived and Jorge did his best, kindly, to speak English with us, and explain to his
friends why I was taking pictures of the food.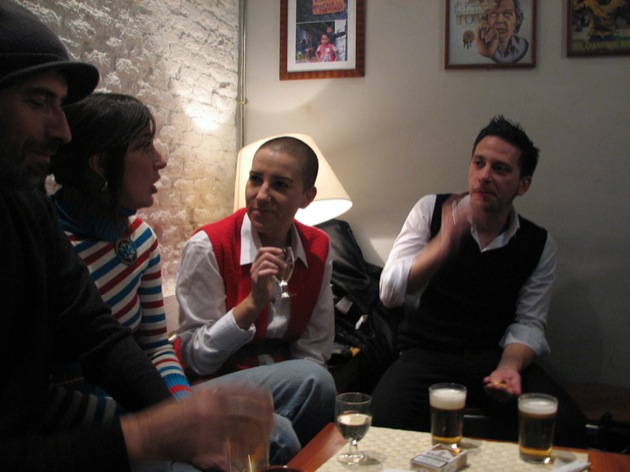 Otherwise, it was incessant, impassioned conversation, photographs, voracious eating, beer, wine--the character of these Madrilenos was infectious.  At some point I handed over a handful of cash and we
were out in the street again, kissing and receiving kisses, smiling, laughing, then suddenly we'd said goodbye and Jorge was walking ahead of us, urging us to follow.
A generous tour guide, he took us to the the viaducts of Madrid, then to the point in the center of Plaza Sol where you can put your foot on the very center of Spain itself, then to the touristy, but delicious San Ginés Chocolateria where we feasted on mugs of thick chocolate so rich it tasted boozy, into which we dunked sugar-coated rods of fried dough-- churros .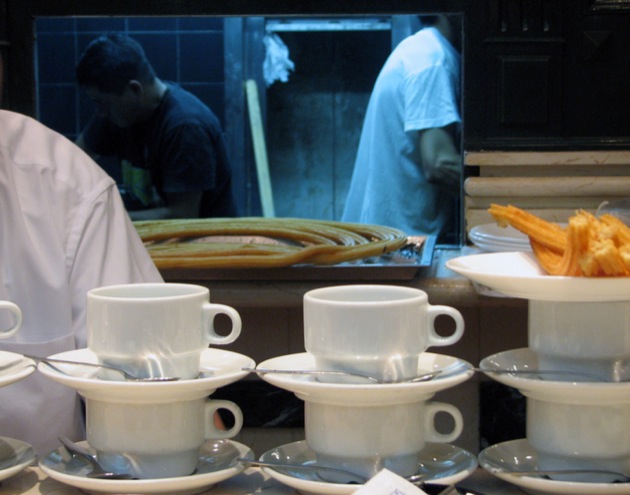 Waiters dressed in all white ferried trays throughout the densely packed room of tourists, though when you listened closely you couldtell that many of the patrons were locals speaking Spanish.  At least in November, Madrid was not the most touristy of cities; often you couldn't get by with the phrase "Habla Ingles?"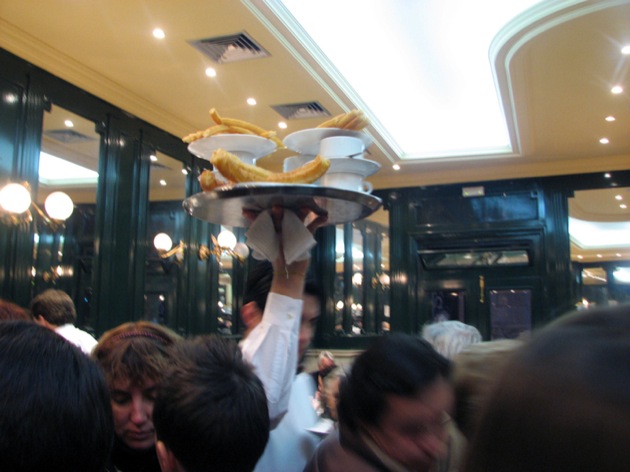 It didn't take long for us to need fresh air.  "Follow me," Jorge said, the words made enticing by his seductively accented English.
We were beginning to realize how walkable Madrid was as a city--you get a sense of the center quickly, even as the endless plazas and squares blend together.  Which leaves the rest of the time to, well,
drink and eat.  And talk at full volume.
As the sun was setting, it was getting dark and harder to follow Jorge down the cramped, winding streets.  Madrid is certainly a European city--most calles are barely one lane wide, and there
seems to be no grid.  It's like being in an old, vibrant, louder version of Greenwich Village.
Abruptly, Jorge stopped at a nondescript storefront--it looked like an office--and rang a buzzer, number 6.  A tiny sign read "Casa de Granada."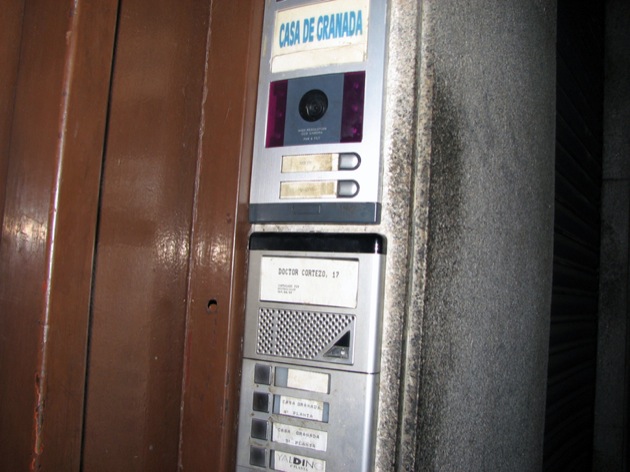 After a few seconds the door rang open, and we got into an elevator to the 6th floor, creaked our way up, walked down a strange hallway, and exited onto a balcony.  Before us, suddenly, was a stunning,
somehow secret view of Madrid at sunset.  We sat on its corner and relaxed with tall glasses of piping hot chamomile tea.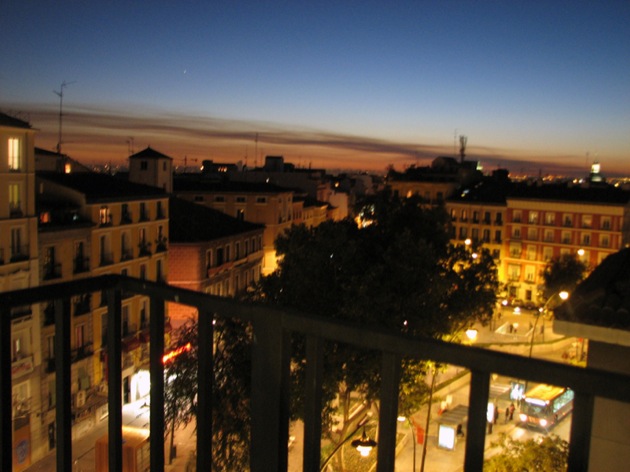 After the calmness, we retired to the bar Jorge works in, called Bulevar , a cozy neighborhood spot on a corner near the Alonso Martinez metro stop.  It has a local feel, very low key, and they serve up a few simple, classic tapas.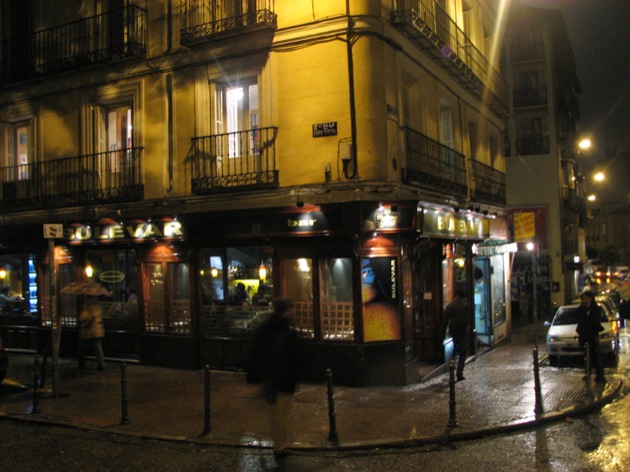 We dined on little pickled fish (they tasted like herring) with the most sublime green olives we ate in Madrid--unlike every other green olive I've eaten, the flesh slipped off the pit easily and silkily.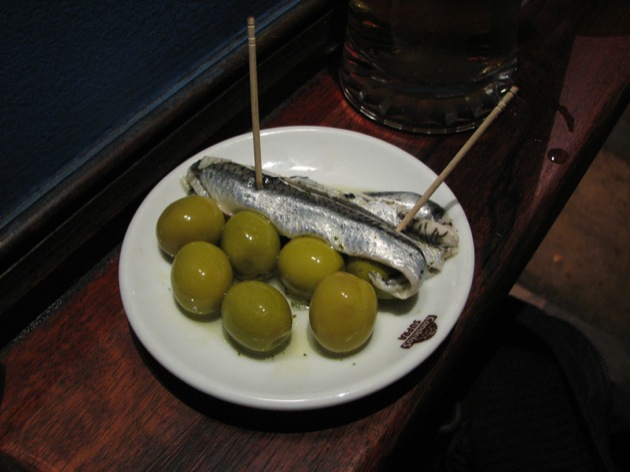 We had Manchego cheese just like we'd eaten in Jorge's Spanish Harlem apartment almost 2 years before (longtime readers might remember ), with a pile of Marcona almonds in the center, doused with a
splash of olive oil.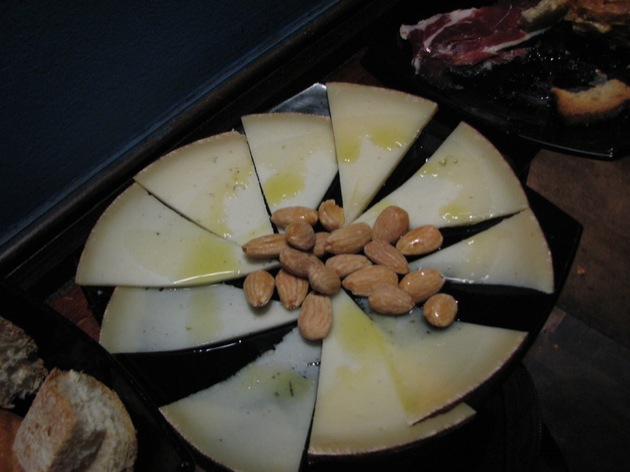 "It's not the best ham," Jorge said, as he ferried out crusty bread drooped in a spicy olive oil, topped by fatty, savory Serrano ham, a pile of peeled Marcon almonds in a corner.  Not the best ham?  If this
was bad ham, I didn't know what to think.  I was literally afraid for what was to come.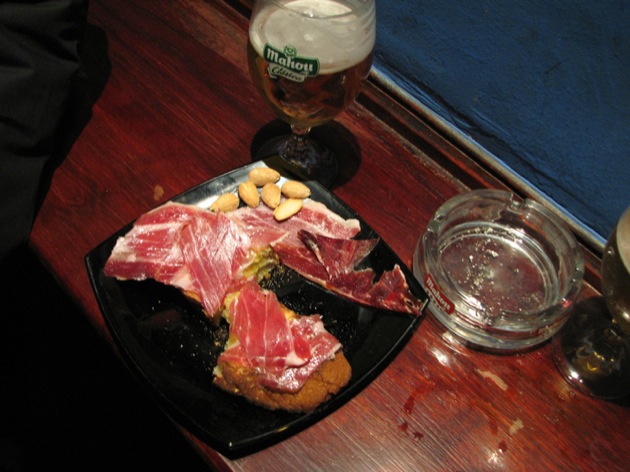 Travel,
Andalusian cuisine,
Appetizers,
bar Jorge,
Europe,
Food and drink,
Ham,
Madrid,
Madrid,
Madrid airport,
Meals,
oil,
paint,
Pork,
Spain,
Spain,
Spanish cuisine,
Tapas,
Tapas,
Technology,
Travel