As I mentioned, Madrid is a city easily covered by foot (at least, the city center is--I'm sure the outer boroughs, so to speak, are worth exploring), which leaves a visitor quickly able to see the Prado, Plaza del Sol, and any other major tourist destinations in an afternoon.  What's left is to submit yourself to the ebb and flow of Madrid's infectious lifestyle: eating, drinking, and never sleeping.
What follows are my three favorite tapas bars where we ate--we visited many more, but three left a lasting impression.
Taberna El Tempranillo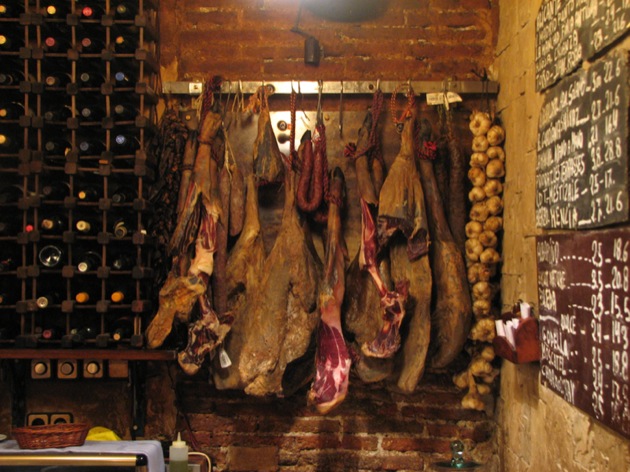 Calle Cava Baja 38
Phone: +34 91 36 41 532
They had me at the counter-to-ceiling wine rack.  But just to cinch the deal, they lit the place with a warm, orange glow, scrawled the wine selections on a chalk board, let the place get artfully dusty, and put a shrine to jamon in the corner, hung like so many earthy lobes of imminent deliciousness.  There was really no hope for my resistance.
Tempranillo is the neighborhood bar you wish was on your corner, a place that has what E.B. White called "the golden companionship of the tavern."  Here was a Spain-a-fied version of that ideal: a deep, well-chosen selection of wine only from the native country, a lively-yet-tempered crowd, and some well-made tapas to round out the picture (and eventually, your stomach).
Cava Baja, on which this particular tavern is located, is one of the city's best destinations for tapas .  Of the few that we visited in this area, this was by far our favorite, and the place I will come straight back the next time I'm in Madrid, if only to explore the very affordable wine list (most glasses went for 2 or 3 Euros).
We opted for a couple panecillo , or crostini-style snacks.  One was topped with salchichon (salami) made from iberico pig; the other had a fresh farmer's cheese with salt-cured anchovies on top.  As always, the whole thing was doused with a gently spicy olive oil.  We were also given complimentary
little bites of that highly sharp Cabrales blue cheese I mentioned before .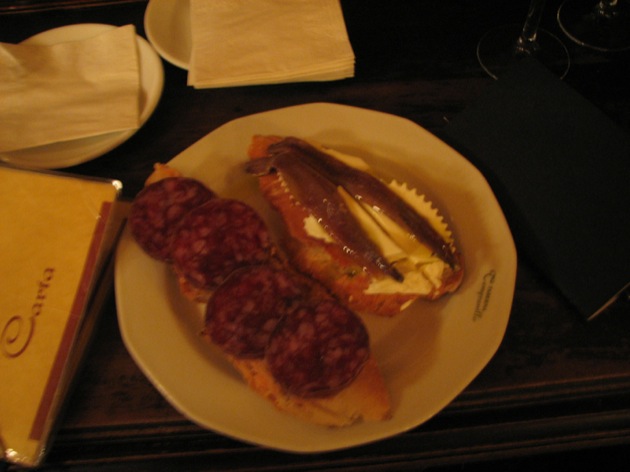 Txirimiri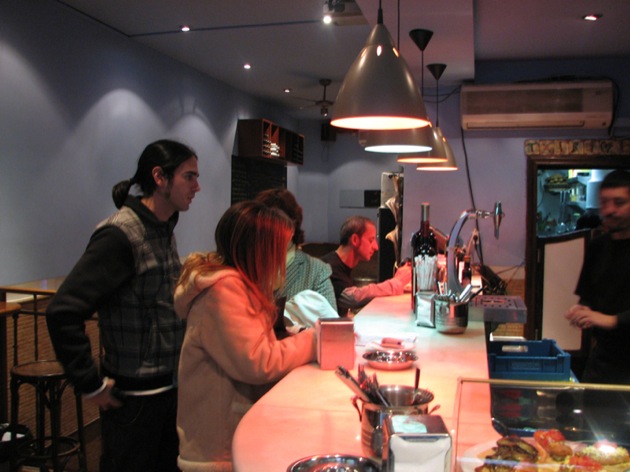 Calle General Díaz Porlier 91
Phone: +34 913 641 196
One of our days in Madrid was spent in the Salamanca neighborhood (not Salamanca the city), a posh enclave near the city center known for its shopping.  With the dollar sliding as it has been , shopping wasn't exactly high on our list, and we knew of a tapas bar with especially ambitious cooking (even for Spain) that was nearby.  It turned out to be a twenty minute walk (in the rain, no less--it rained 3 out of 4 days in Madrid), but once inside we were wonover by some very enticing smells coming out of the practically Lilliputian kitchen.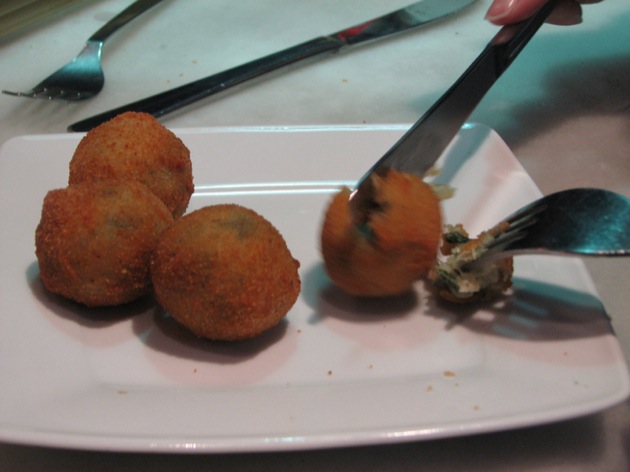 The menu is very Basque-influenced.  We opted for a Risotto de Caz a (which was wild mushroom), croquetas with spinach and salt cod, and a thick slab of country bread with chunks of uncured iberico pork, possibly from the shoulder, roasted with red peppers and cebollas dulces (highly caramelized onions).  Some kind of fruity reduction was drizzled.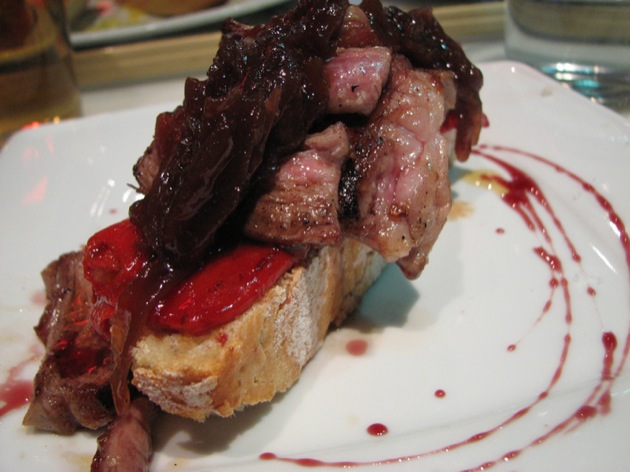 The croquetas were astoundingly good--creamy concoctions of bechamel sauce, tender spinach, and the saline fishiness of salt cod blended throughout.  The pork was equally impressive, and perhaps the first time I've had pork cooked so rare.  There was a delicate balance of savory and sweet in the dish, beginning with the fruity reduction, bridging to the onions, into the subtlety sweet-and-roasted peppers,
and to the rich, salty pork.  The bread was there to mediate and make sure no flavor started any fights with another flavor.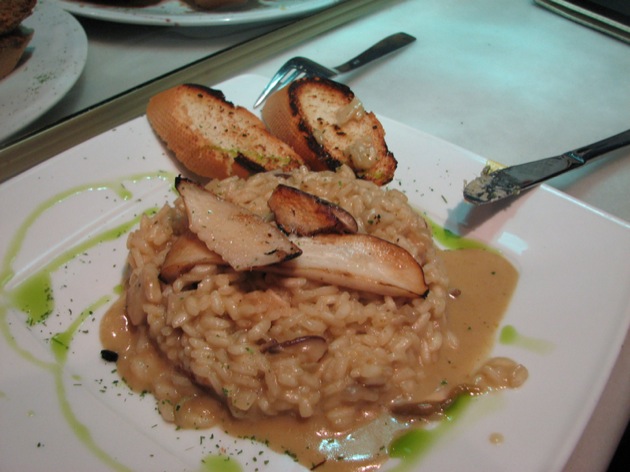 The risotto was more straightforward, though well-made.  It didn't pop as much, but was hearty and satisfying.
La Taberna Del Norte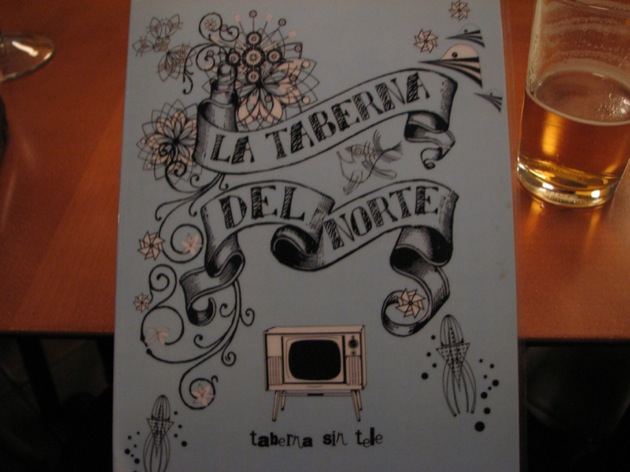 (Taberna sin Tele, "Taven Without Television")
Calle de Bernardo López García 11
+34 915 418 816
Taberna del Norte is a neighborhood spot owned by a couple of friends of Jorge, full disclosure.  We spent an evening there eating Jorge's favorites off the menu, and it was a wonderful chance for us to try
many different dishes, some of them classics.  We also got to see the kitchen and get behind the scenes a little bit.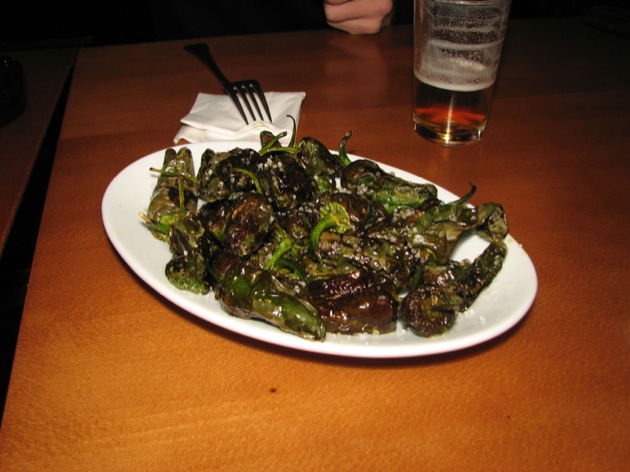 We began with Pimientos de Padron , which we later discovered had been dunked in the deep fryer (with no breading) to give them a very unique charred, roasted flavor.  Doused in sea salt, I could eat these all day.  Every tenth pepper or so is extremely spicy, quite humbling actually, and you never know which it will be.  The motto goes "Some are spicy, some are not." Eat at your own risk.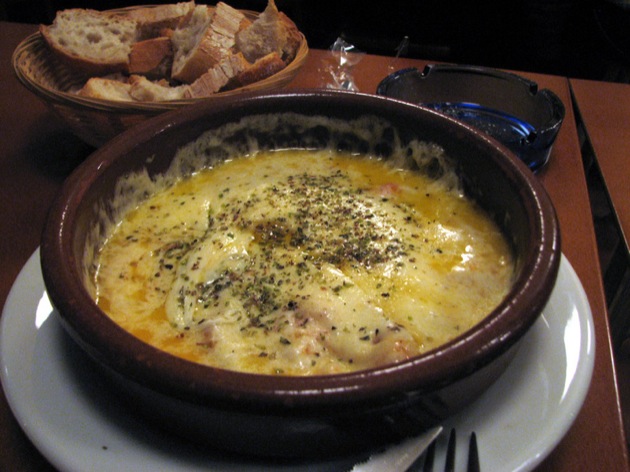 Next we had a baked cheese and tomato dish, a cheese similar in taste to mild mozzarella.  Quite good.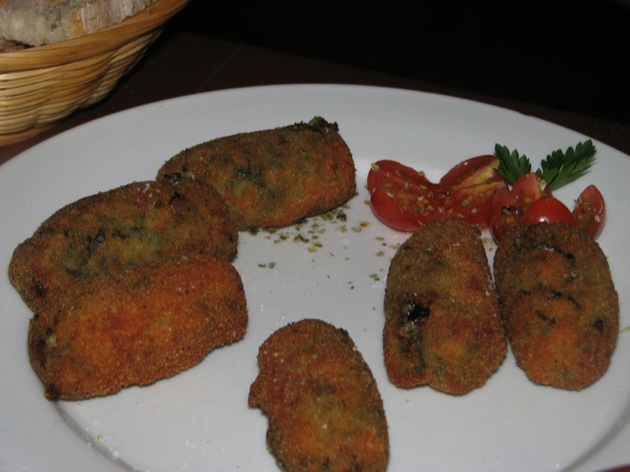 The croquetas are excellent: just the right size and filled with spinach.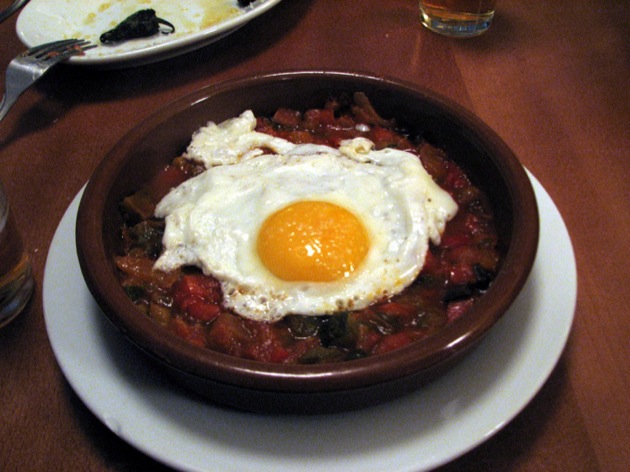 Our favorite dish was this egg on tomato sauce dish, which I also failed to write down the name of.  Basically a rich marinara tomato sauce with peppers and onions, served hot topped with a fried egg.  Once it reaches the table, the yolk is mixed into the dish and everyone scoops it out onto bread.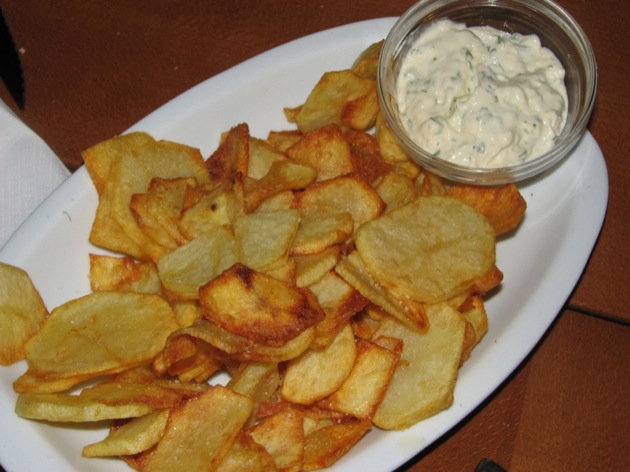 To fill in the corners, we ordered Patatas Bravas , which usually come with a spicy paprika sauce, but this time were served with garlicky mayonnaise.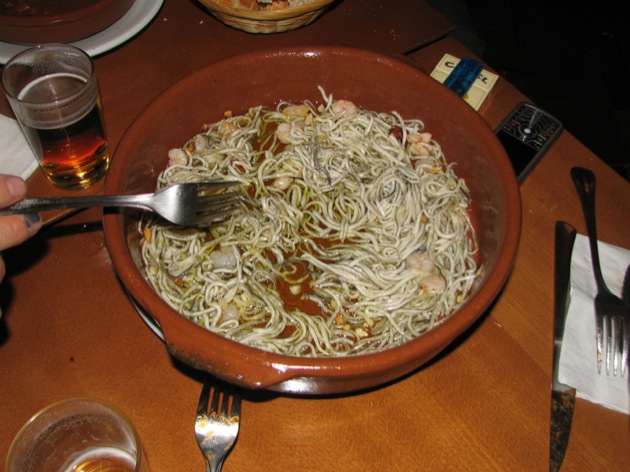 Our final dish was a giant platter, still steaming, of sauteed shrimp and imitation angulas .  Imitation, because angulas are extremely expensive baby eels, going for hundreds of Euros/pound.  This was the next best thing.
Ham,
Madrid,
Pork,
Spain,
Tapas,
Travel