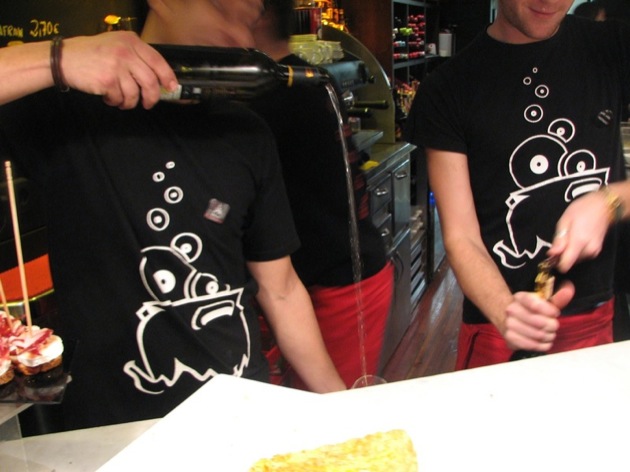 We were in a tiny silver Citroen, maps strewn all over the dashboard, Elin in the passenger seat, me driving us in circles (literally, around the roundabout over and over) trying to get us to the correct highway and out of Madrid.  Elin was reading Bill Bryson's Notes From a Small Island during our trip--and while overall she couldn't help but write him off as a mostly unfunny curmudgeon, one of the best lines goes like this: "My experience with rental cars is that generally they won't let you leave a city until they have had a chance to say goodbye to most of it."  We found this to be hilariously true.  Though at the time, it wasn't so much hilarious as maddening.  We reached intersection after intersection made only of one-way roads leading in the opposite direction we needed to go.
Yet as we escaped the gnarled, urban density of Madrid, we also seemed to be driving right out of the clouds, and all the rainy weather that had been with us all four of our days there. As our elevation increased so did the amount of sunshine, and the feeling of zipping through European mountains in a tiny car was exhilarating: "that giddying sense of unbounded possibility that comes when I find myself in charge of two tons of unfamiliar metal." The car was so small we would lean with the turns as if we were riding a motorcycle.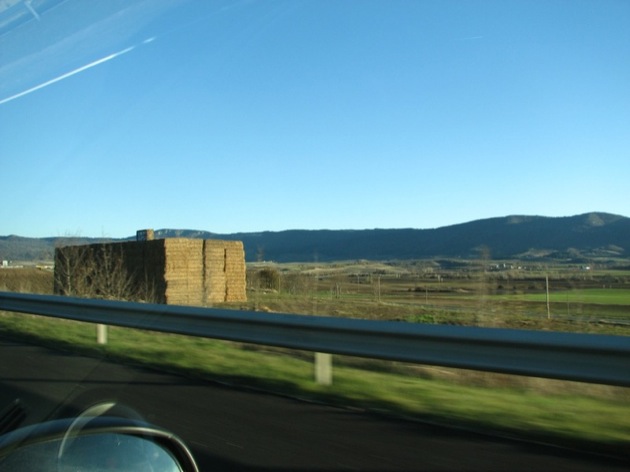 It took about 5 leisurely hours to reach San Sebastian.  The town itself turned out to be the perfect respite: the streets were quaint and peaceful, you could smell the ocean, and our pension (kind of a half hotel/half hostel) in the Parte Vieja was English-speaking, clean, and immensely calm (Actually, you should stay there: it was called Pension Amaiur . We couldn't recommend it more highly, and very cheap.)  We were quite suddenly in a different world, away from the stress of Madrid (however invigorating it had been), and promptly we took a nap.  At nightfall, we set out to investigate the neighborhood's pintxos , the Basque word for tapas .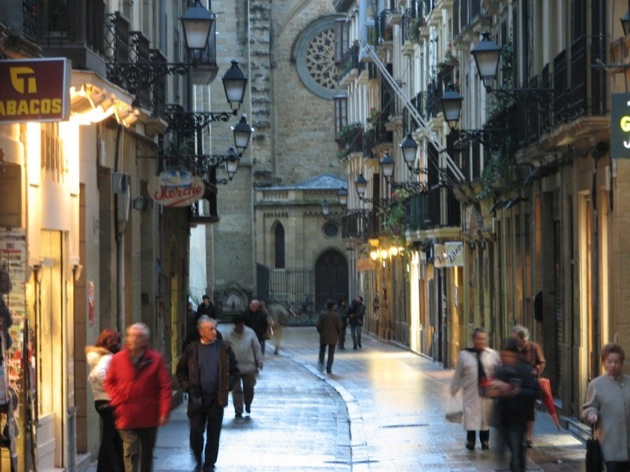 A Fuego Negro
Our first stop was, quite literally, across the street.  Everyone seemed to be walking toward this bar as we stepped outside.  We recognized the name as a place that had been recommended by a friend, though we'd heard that perhaps the food could use "more soul."  Inside, the lighting was dim but shot through with bright colors, the chatter loud, the vibe young.
We'd already decided the first thing to order: two glasses of Txakoli , a clean, lightly spritzy local white that goes for just over 1 Euro a glass.  It's not going to inspire any long bouts of poeticism on its complex qualities, but it's very drinkable, refreshing, and cheap. Plus, as you can see in the first photograph of this post, they pour it from dangerous heights, supposedly to aerate it.  True or not, it's a wonderful, theatrical display that speaks to the spirit of the place.
The food, we soon discovered, trends toward the current pursuit of molecular gastronomy. There are giant flavors, lots of foams, ingredients like "paprika air."
Our favorite two dishes were this, a slice of iberico pork belly slow-cooked and accompanied by garlic foam and quince paste...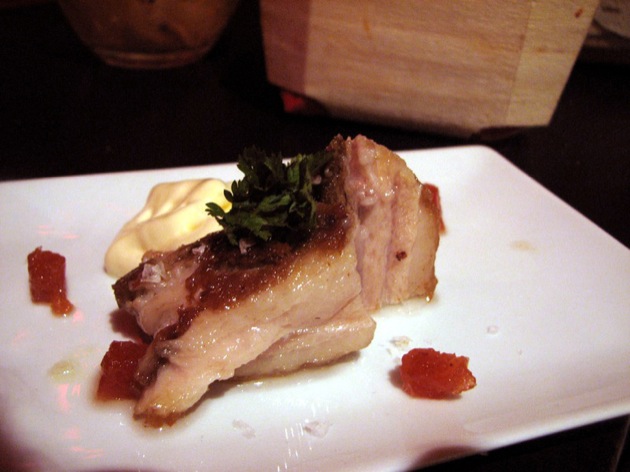 ...and this, pulpo (octopus) with paprika air, green apple, on a bed of purple potatoes.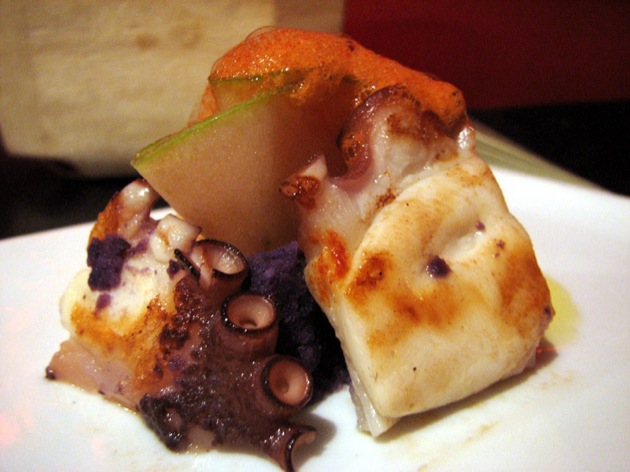 We left Fuego Negro with a list of classic places to try: Ganbara (for pulpo de gallega and hongos a la plancha ), Goiz Argi (for brochettas de gambas , and balon de carne ), Txepetxa (where they specialize in anchovies; the con crema de changurro was recommended).  We eagerly navigated the pedestrian streets, squinting to find street signs and dodge rowdy revelers who brought the lively spirit (and their drinks) out into the street, making the whole old town neighborhood seem like one big party.
But to our dismay, we went to four different places on our list, and all were closed for vacation, for two weeks, at the same time.  It seems that, though the off-season traveling is good for discounts, there is an unexpected snag that the proprietors themselves are taking the same advantage.
No matter: San Sebastian isn't proclaimed one of the most exciting places to eat in the world for no reason. There were plenty more places to try.
La Cepa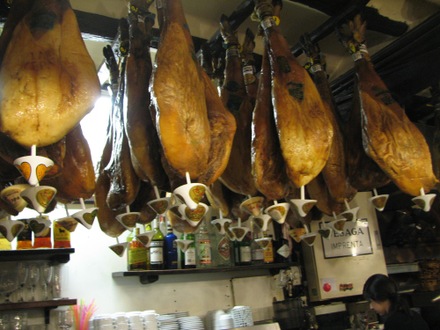 Next, we opted for an older, traditional spot as a counterpoint to trendy Fuego Negro.  Inside, the crowd was more varied, the decor mustier, the spirit no less excited.  It felt less full of itself, more of a take-it-or-leave-it attitude.
We sidled up to the bar under some hanging hams, and flagged one of the waiters who were dashing back and forth, cutting bread, slicing ham, pouring canas , and taking orders.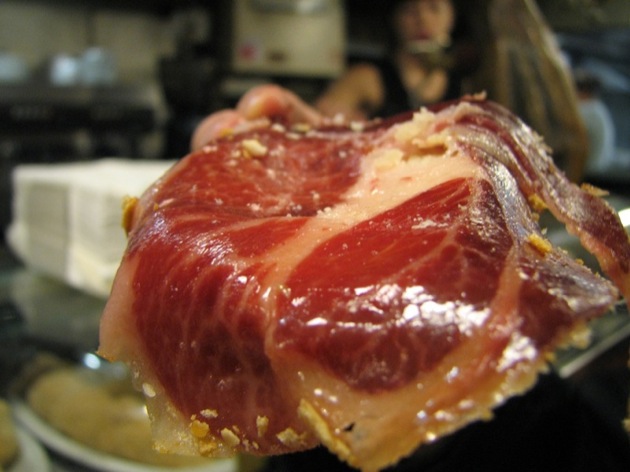 We managed to ordered a chorizo bocadillo , the restaurant's special jamon on bread, and some mushrooms marinated and cooked in a rich broth.
Bar Astelena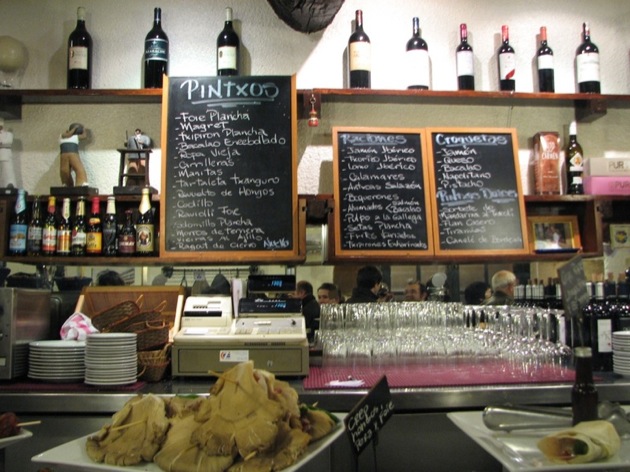 In the center of Parte Vieja is a Venice-like square lined with bars and shops; off one corner lies Bar Astelena.  We walked into a room so full you had to suck your stomach in to fit.  "Foie!" was constantly
being yelled by the bartenders, who were ferrying out plate after plate of the liver specialty to hungry drinkers.  It was apparently a popular dish.
For some reason we weren't in the mood, so we asked for other recommendations. Txipirón Plancha (Grilled Squid) came with roasted peppers, an herbed olive oil, crispy rice cracker concoctions, and
balsamic vinegar.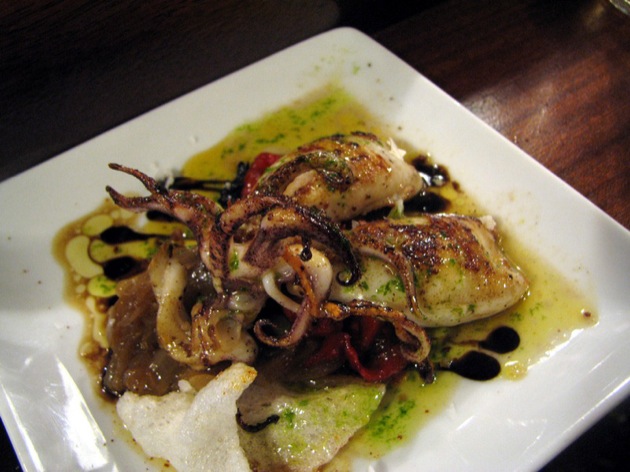 Carilleras (Beef Cheeks) were braised to a meaty, tender perfection next to a slice of grilled pineapple round, crispy rice noodles, and more of the herbed olive oil.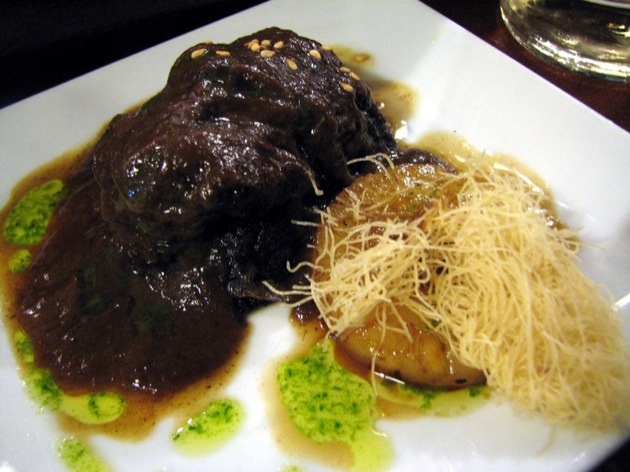 We had room for one more Txakoli , so we stopped off at Fuego Negro once more, and ended up with a salad of marinated red onions, arugula, and crumbled feta cheese.  Then we walked ten steps home, and fell asleep.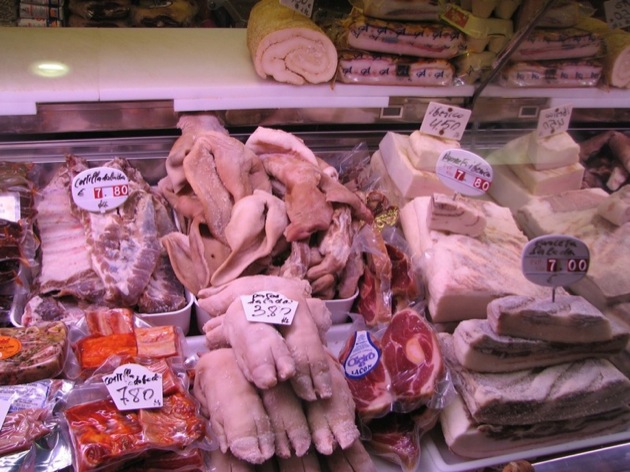 The next morning we woke up in utter anticipation: we were heading to our most exciting dining destinations yet that day and the next. Out in the countryside in tiny towns, these were legendary spots we'd heard would be culinary mountaintops.  We spent the day seeing San Sebastian's underground market, and having a picnic on the chilly winter beach, bereft of sunbathers.  As the sun began to set, we
climbed into the car and set off on our first of the culinary adventures.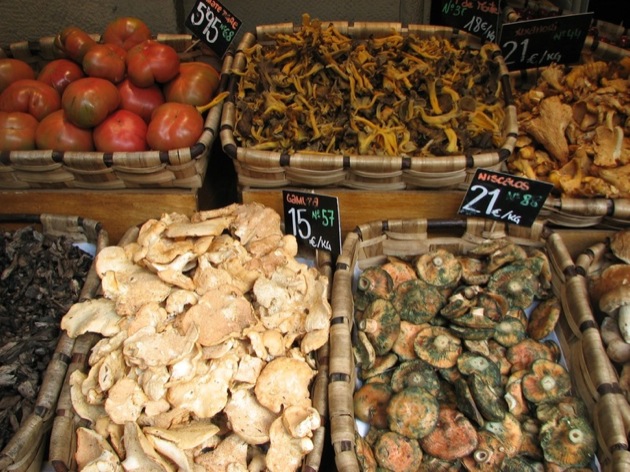 See also: Three Tapas Bars in Madrid
A Fuego Negro
C/ Treinta Y Uno De Agosto 31
La Cepa
C/ Treinta Y Uno De Agosto 7
Bar Astelena
C/ Iñigo 1
San Sebastian,
Spain,
Tapas,
Travel