Saving andouille from the supermarket.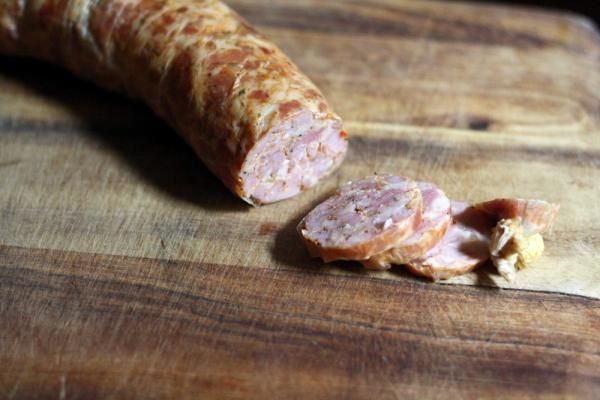 This didn't start off as a gumbo mission, though I did end up there (more to come on that front soon.) No, the saga began simply: about three weeks ago I needed andouille for a Dinner Tonight . All I could find at the grocery store was a product that claimed to be the right stuff, but had all the character of cheap bologna and about as much spice as, well, cheap bologna. I was angry.
Then I drank too much whiskey and started to dream about New Orleans. I read John Besh's My New Orleans cover to cover in one night. Plans were made, again, to visit. As this dream clouded my brain, I read the following passage.
There's a lot of baloney out there that is not andouille...Cajun andouille is made from a diced lean cut of pork -- the shoulder, butter, or shank -- mixed with a little pork fat and generously seasoned with garlic, salt, and black and often red pepper.
There was only one recourse: I had to make my own. What else could I do? One of the fiercest sausages in America had been tamed by the corporate monster. I had to do something.
Convinced I had to correct the matter but without any actionable plan, I went out to the Green City Market to score some pork. Luckily, chef Jared Van Camp, maker of some of the best charcuterie in Chicago at Old Town Social , happened to be setting up for a demo. He'd obviously know what to do. "So, Jared Van Camp, how does one make andouille?"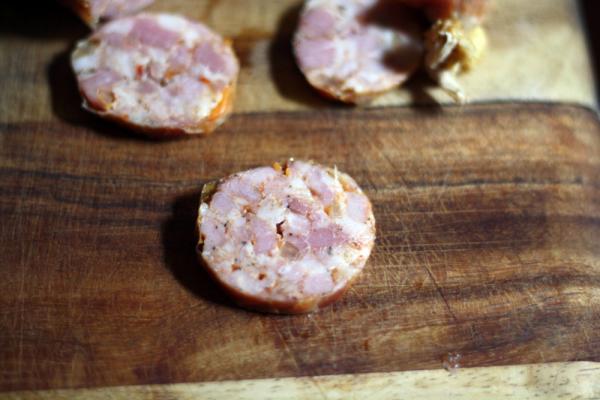 I don't remember the exact exchange verbatim, but here are the important facts, which seemed to be completely in line with Besh: Chop the pork instead of grinding it; use red pepper flakes; beef casings are a must. I can't thank him enough for the advice, and he even let me use some of Old Town Social's own properly cleaned beef casings. (Which are awesome, by the way. Bigger than hog casings--I could easily stuff the sausages by hand.)
But I still needed an exact recipe. Besh makes most of his own sausage but not his andouille, claiming that two places in LaPlace, Louisiana make superior versions. Next, I checked with Michael Ruhlman's Charcuterie . He had a recipe, and most of it looked great; but, it also used ground pork, which was whipped until emulsified. So, I also consulted Nola Cuisine — one of the best sources online for Cajun-Creole recipes. That's when I hit open a nice compromise. Nola advised using a combination of chopped and ground pork, so you'd get the right texture, but it'd still hold together like a sausage should.
Everything else is easy: Chop half the pork; grind the other half; mix in the spices; stuff into casings; smoke until cooked. Some recommend dry curing the sausages after that, but I decided to stop there. It's so good; Smoky, bold, and peppery — this is sausage with passion.
Okay, if you need a little bit more help, check out the step by step instructions.
Homemade Andouille Sausage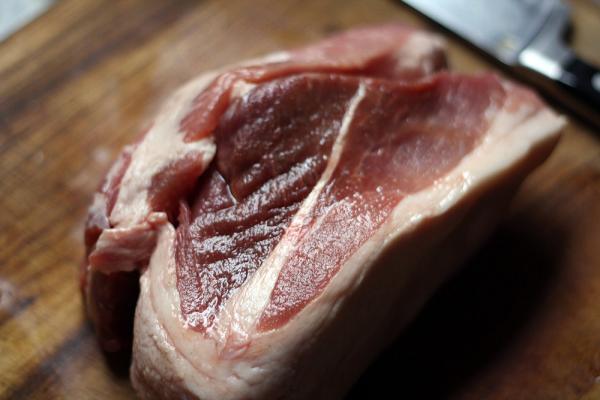 5 pounds pork shoulder
2 teaspoons cayenne
1 tablespoon paprika
¼ cup chopped fresh garlic
1 cup diced onion
2 tablespoons black pepper, ground
3 tablespoons kosher salt
1 teaspoon dried thyme
1 teaspoon crushed red pepper
1 teaspoon pink salt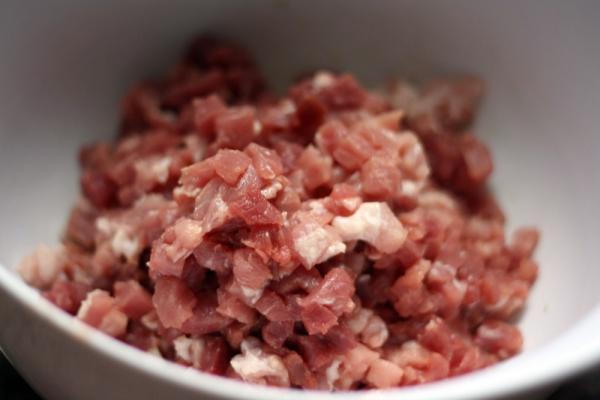 Chop half of the pork into ¼-inch pieces. Chop the other half into 2-inch hunks. Place both in the fridge to chill for at least 15 minutes.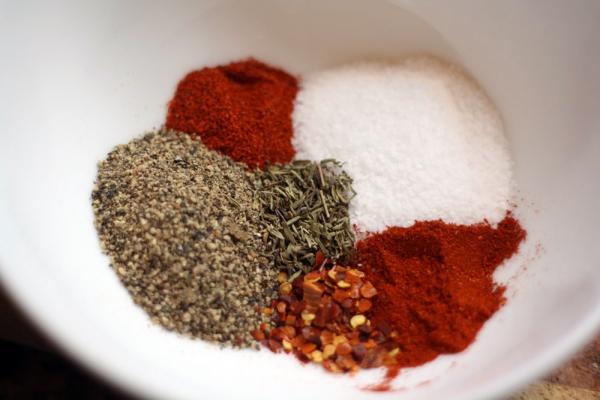 Meanwhile, mix together the rest of the ingredients in a bowl.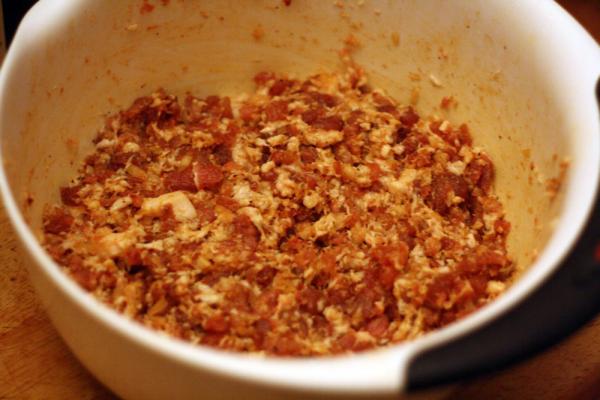 Grind the 2-inch chunks through the small die. Transfer to a large bowl along with the ¼-inch diced pork. Add the seasonings and mix well. Cover and place in the fridge until you're ready to stuff the sausages.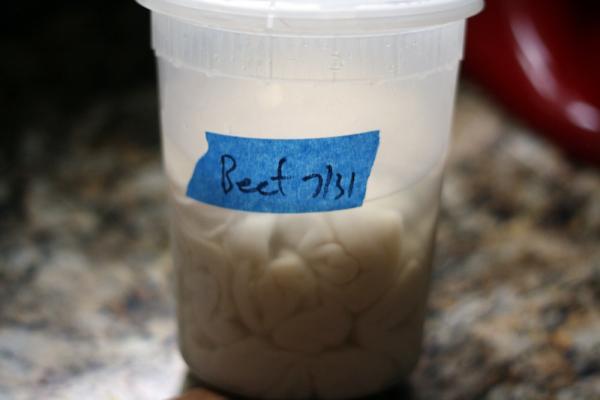 Rinse about 10 feet of beef middle casings, and let soak for 30 minutes. (Just so you know, I halved this recipe, so the sausage is smaller than it would actually be if you made the whole recipe.)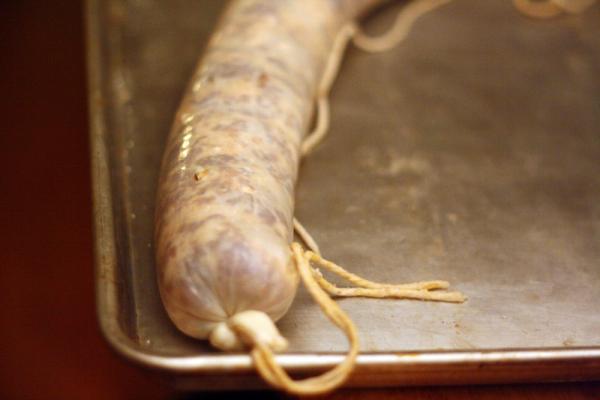 Stuff the casings with the sausage mixture. This is spectacularly easy if you have a sausage stuffing machine; it is less so if you're using the Kitchen Aid attachment. Luckily, the beef casings are so wide, you honestly stuff it by hand. A wide funnel would also work.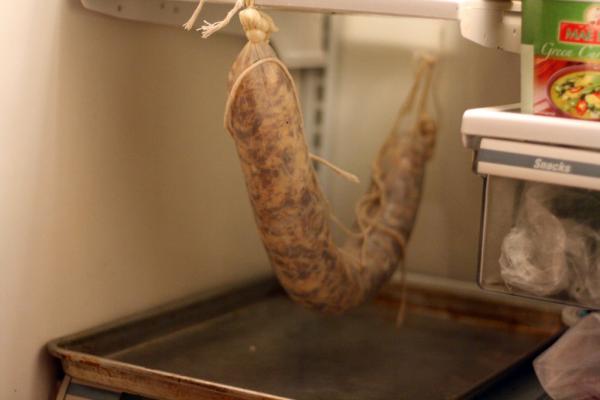 Tie off both ends, and hang the sausage in the fridge overnight. Didn't I make this process look really easy?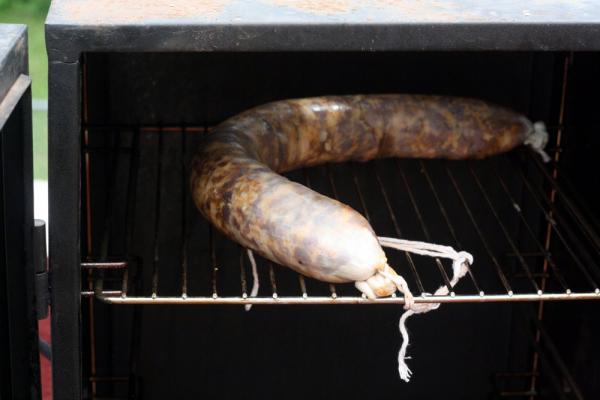 The next day, set up a smoker to about 180 degrees. Add the sausage and cook until it reaches an internal temperature of 150 degrees.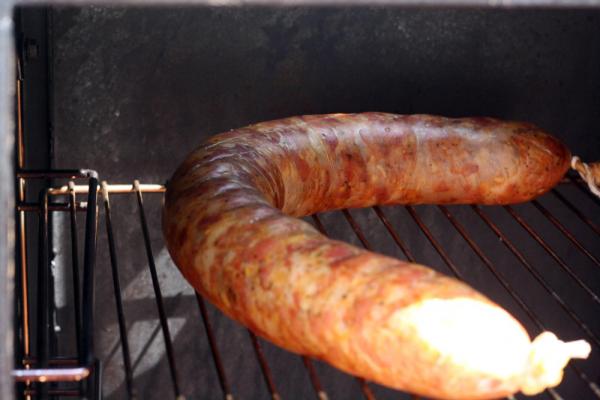 Almost done.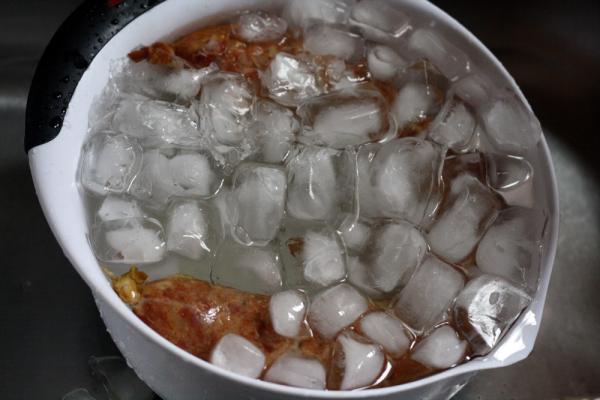 When done, immediately transfer it to an ice bath, and let it cool completely. Stash in the fridge until ready to use.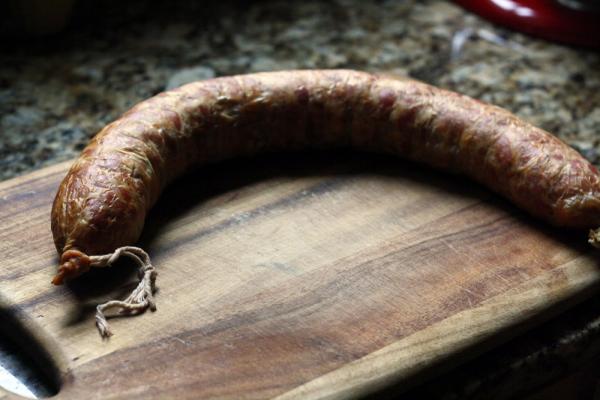 Food,
Main Course,
America,
Andouille,
Andouille,
Bologna sausage,
Cajun-Creole,
Charcuterie,
Chef,
Chicago,
Cold cut,
Dried meat,
Food and drink,
Garde manger,
Gumbo,
Jared Van Camp,
John Besh,
John Besh,
Meat,
New Orleans,
New Orleans,
Old Town,
Pork,
Pork,
Sausage,
Sausage,
Smoking