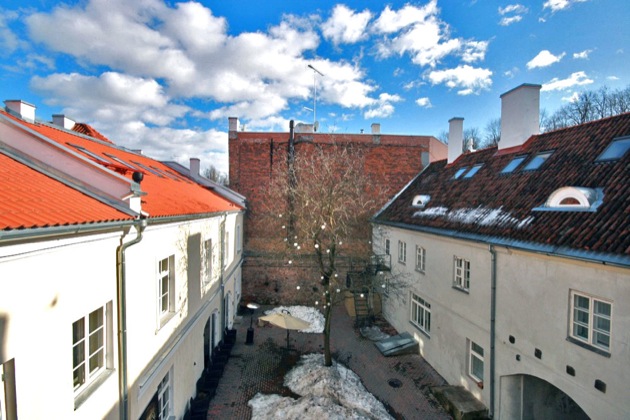 Over the weekend, Elin and I moved into a new apartment in a different part of Tartu.  Our previous digs belong to her relatives, who only live in Estonia for the better half of the year, when the sun shines and the days are long.  Last week they came back to Estonia to claim their apartment, leaving us to find somewhere else to live for the remaining few months of our time here.
To say the least, we lucked out.  Though it was an increase in rent, we are now living in a beautifully restored building right on the Raekoja Plats , or town hall square.  The old medieval city is all around us now, as well as many of Tartu University's buildings.  The university and the old town seem almost coterminous, sharing the town's heart which imbues Tartu itself with a great intellectual spirit and cafe culture.  The sun is now shining, and with daylight savings time it's out until almost 8pm (by mid-summer, Estonia won't even have a true night, just a 3 or 4 hour dusky period around 2 or 3am).  People are even eating outside, bravely.  When we walk out our front door the first thing we see is the town's famous statue of two kissing students under an umbrella.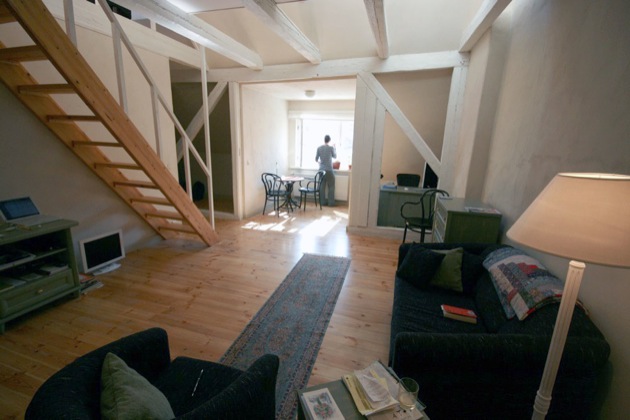 The apartment is a lofty, light-filled duplex on the top floor of the building.  We look out over a courtyard and below us is a wine bar.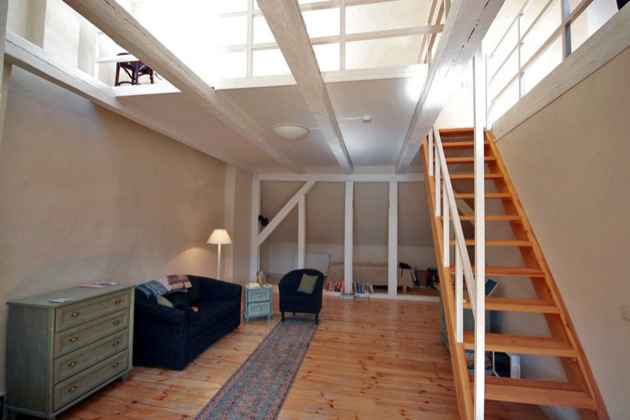 We also have two skylights, and under one has got to be the greatest reading nook of all time.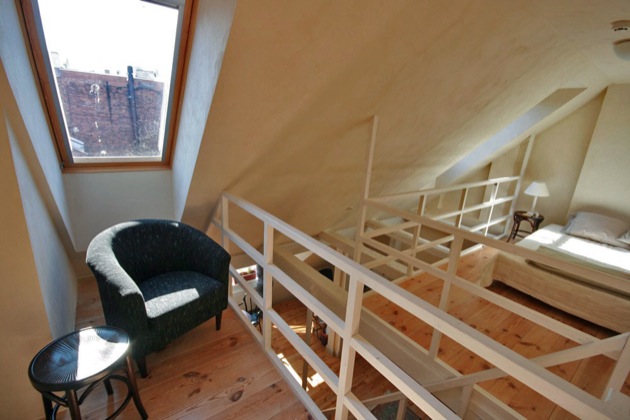 There is the slightly trying process of living with someone in a place with no walls ("I want to read."  "And I want to watch TV."  [Arms crossing; a typical impasse]), but otherwise this place is awesome.  It's going to be a great two months.
Except.  Well, there's one little thing--which, in my world, is a big thing.  The kitchen? Is hardly more than an afterthought.  Immediate problems that presented themselves: the stove is a two-burner electric surface...and there's no oven.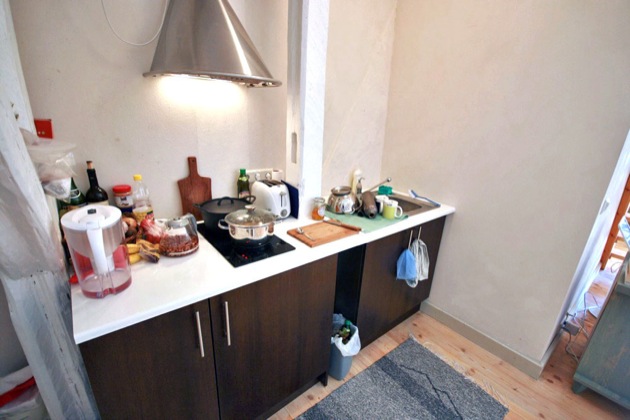 With cooking experiments to carry out and the Dinner Tonight column to write, it's going to get very interesting.  Yesterday, for example, I tried to simmer some dried beans for a couple hours, and had a monster of a time trying to do it.
My stove acted like that clumsy bus driver who pumps the gas pedal then slams the brakes, constantly overcompensating and apparently unable to maintain an even speed.  You know, the ones you make you fall over and bump into everyone?  That was my electric stove. The beans would boil, then nothing, then boil hard, then nothing, on, off, on, off.  All the while my dial never changed.  I suppose if you took the average temperature you'd end up with about what I aimed to cook them at -- but gimme a break.
But the electric stove I can deal with.  It's the no oven that gets me: no more homemade focaccia , no roasting, no broiling pizza .
Still, cooking with limited tools is a great test, and blaming them is the easy way out.  I'm looking forward to the challenge.  I'm sure some of you out there have this problem all the time--so who am I to complain?
Plus, it's spring, and the produce is getting increasingly better, which means you have to try a lot less hard to make great food.  The Tartu market should be coming alive again.
You'll find me in the kitchen fighting with my testy stovetop.
Apartment,
Estonia,
Estonia,
Tartu