Nick learns from his mistakes and makes a good deep-dish pie at home.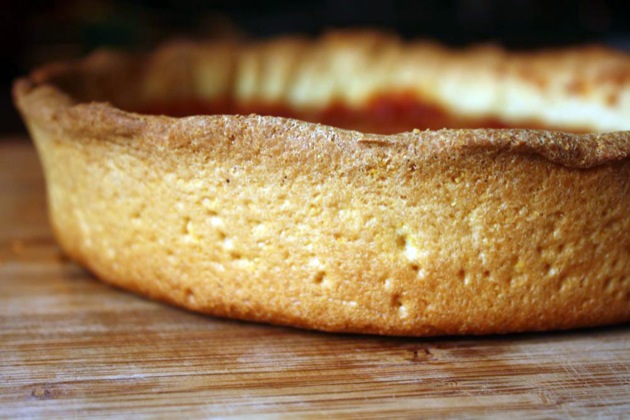 I was determined not to fail this time.  My last attempt at deep-dish wasn't an absolute failure, but it was close.  It was too soggy and messy , and had none of the glorious qualities that my favorite Chicago pizzeria, Pequods , displayed.  I theorized about all kinds reasons for the failure, thinking it had something to do with the crust.  Then I just gave up and asked you all to help me.  Ended up I was way off.  As a commenter rightly pointed out, Pequods isn't actually deep-dish:  "Pequod's is really more of a pan pizza (thick crust on the bottom) with the ingredients in reverse on top like a deep dish."  Say what?
Then came this video starring Hillary from Chew On That .  She interviewed a very large gentlemen at Lou Malnati's where he says "Actually deep-dish pizza has a fairly thin bottom, it's just a high crust."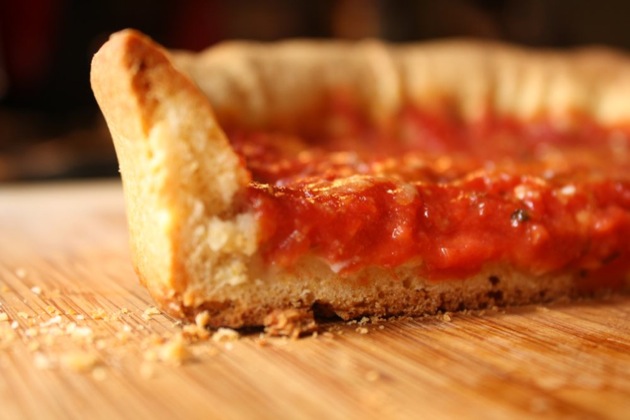 After I realized my mistake things started to make sense.  While I had been searching after a flaky and relatively thick crust, deep dish should actually have a thin and sturdy bottom so it can hold up all those ingredients.  So it was back to zero and determined to figure out what exactly deep-dish should be.  It was kind of sad, because I had to let Pequods go.  I will return, oh yes I will.  But for now I turned my sights to this Chicago classic to see if I could at least nail this one down.
I don't love deep-dish with anywhere near the same kind of fervor as New York style, but I am fascinated by it.  While New York style needs a mad hot industrial oven to attain perfection, deep-dish just needs a standard one.  I've found ways to cheat to get New York style, but I should be able to make a deep-dish pie at home that could equal or surpass anything I find in a restaurant.
All I needed was a recipe.  Luckily, commenters recommended one person over and over again. Peter Reinhart wrote a book called American Pie and had a very detailed recipe for deep-dish and it seemed to address many of the issues I had with it.
Of course, I was wrong about the dough.  It was basically the same as the kind I used last time.  How I used the dough, however, did change.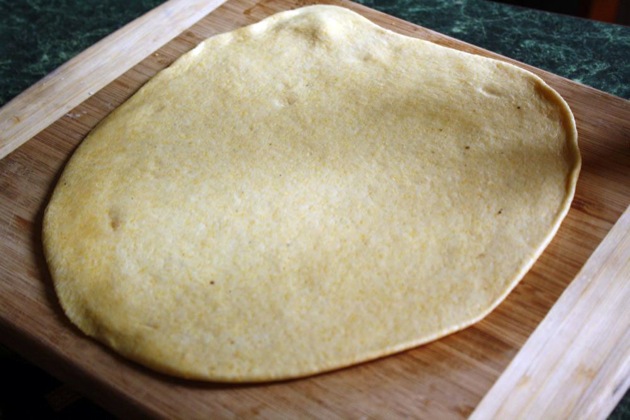 The dough is rolled out until it is very thin.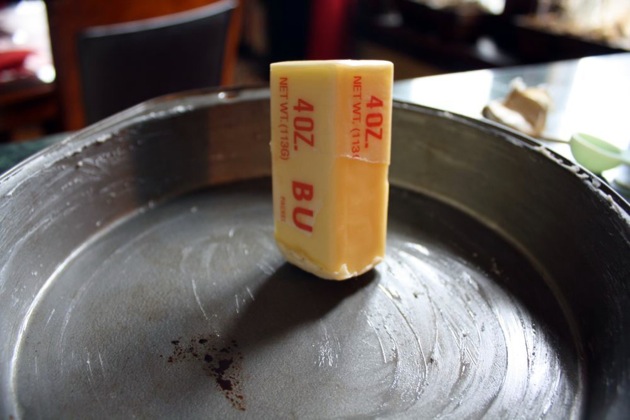 Instead of using a cast iron skillet, he recommended a cake pan, which I found completely ludicrous at first.  It was much smaller than my cast iron skillet, at about 8 1/12 inches wide.  But Abby said that cake pans tend to all be the same.  So I guess this makes sense.  It certainly works and I think it conducts heat faster, allowing for a better, crispier crust.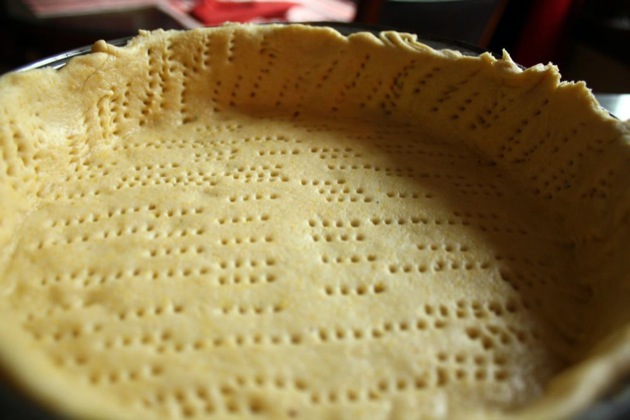 Once the dough is dropped on top, it is pricked with a fork all over, much like a pie.  And then the crust is par-baked for about five minutes until set.  Only then is the cheese and sauce added.  This would hopefully address my issue of the droopy pizza.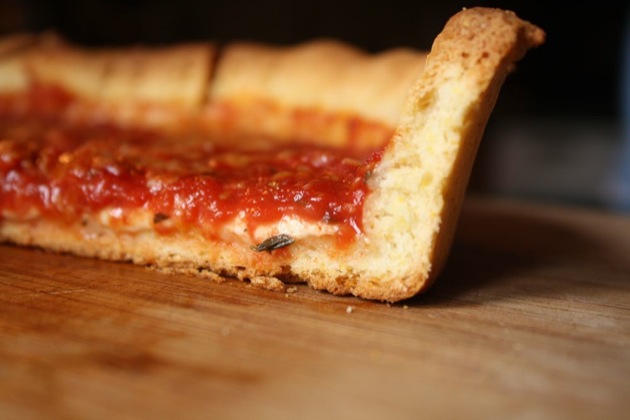 The last thing you can say about this pizza is that it is droppy.  It was firm and crunchy and remarkably good.  I wish it had a little more give, and I probably didn't put near enough ingredients on.  But, in the end, I have to say I was really impressed with this.
This recipe will actually be enough for two 8 1/2 inch pizzas.  So I took that as an excuse to experiment and try two different kinds of cheese.  One had generic dry mozzarella and one had fresh.  I was worried about the wet mozzarella leaking out all over the place and destroying the pizza.  But the kind I made with dry was really bad.  It had absolutely no flavor.  I'm sure there are really good dry mozzarellas out there that would work but I just loved the fresh mozzarella, and will definitely use it again next time.
And I think I will definitely make this again.  it's a lot easier than the broiler method, and produced a really delicious pizza.  Next time I'd love to experiment with different topping.  Surely my homemade Italian sausage would be a good place to start.  I've also been thinking a lot of this spinach and broccoli pie at had at Uno's a while back.
I didn't quite reach the perfection that I had hoped for, but I think that was too much to ask.  Chicago deep-dish is all about comfort and this certainly fit the bill.
Deep-Dish Pizza

Adapted from Peter Reinhart's American Pie
And from When Harry Met Salad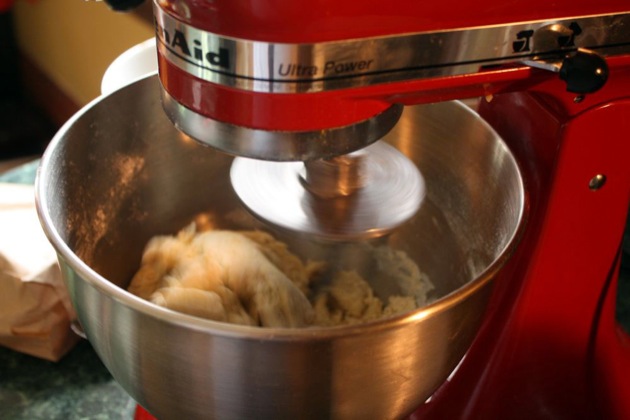 2 cups all purpose flour
1/3 cup yellow corn meal
1 tablespoon sugar
1 1/4 teaspoons kosher salt
1 1/8 teaspoons instant yeast
2 1/2 tablespoons Canola oil
3/4 cups lukewarm water
Pour the water into a small bowl.  Add the yeast and stir until dissolved.  Let hang out for a few minutes.  Meanwhile, dump the flour, corn meal, sugar, and salt into a Kitchen Aid.  Attach the dough hook and mix until just combined.  Then add the oil and the water and yeast.  Mix on low for 4 minutes until the dough forms into a ball.  You might need to use a spatula to mix in any flour that attaches to the side of the bowl.  Let the dough rest for 15 minutes.  Then mix on low speed for another 3 minutes until the ball is smooth.
Take a large bowl and pour about a tablespoon of oil.  Add the ball and coat the ball in the oil.  Cover with plastic wrap and set aside for 2 hours.
Tomato Sauce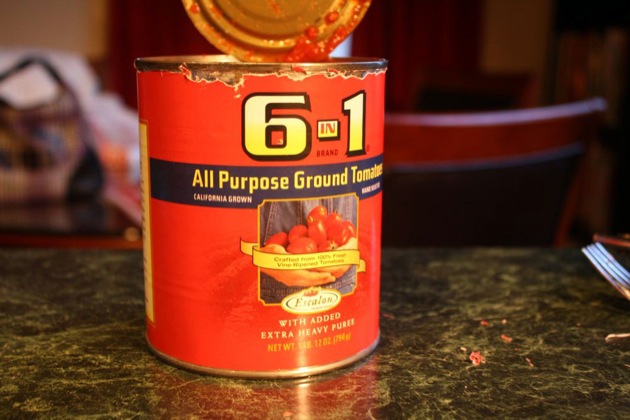 One 14-ounce can crushed tomatoes (6 in 1 is what I used)
3 cloves garlic, minced
1/4 teaspoon freshly ground black pepper
1/2 teaspoon dried basil
1/2 teaspoon dried oregano
1 tablespoon red wine vinegar
1/2 teaspoon salt, or to taste
Mix everything together in a large bowl.  That's it.
Construction: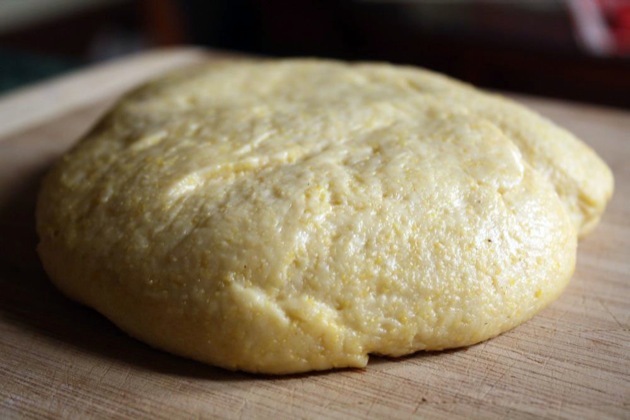 dough
fresh mozzarella cheese, thinly sliced
1/4 cup Parmigiano-Reggiano, grated
2 8-1/2-inch cake pans
butter
Preheat the oven to 400 degrees.  Place a baking stone on the middle rack.  Divide the dough into two balls.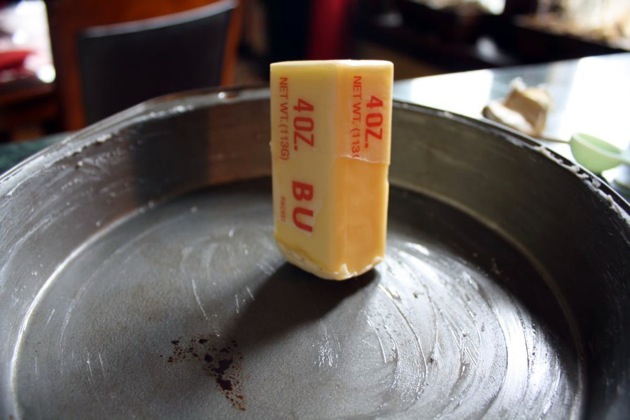 Rub the cake pans with butter.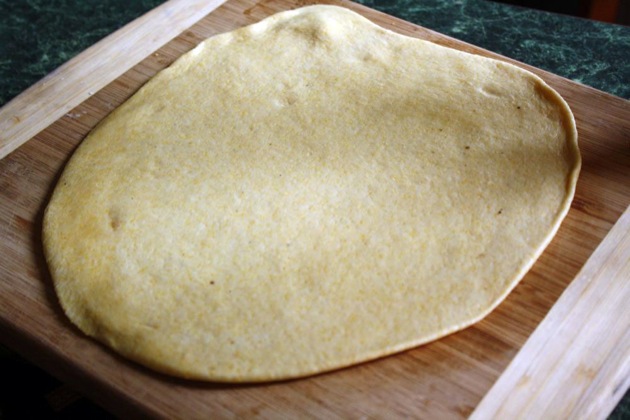 Roll dough until it is about an inch wider than the cake pan.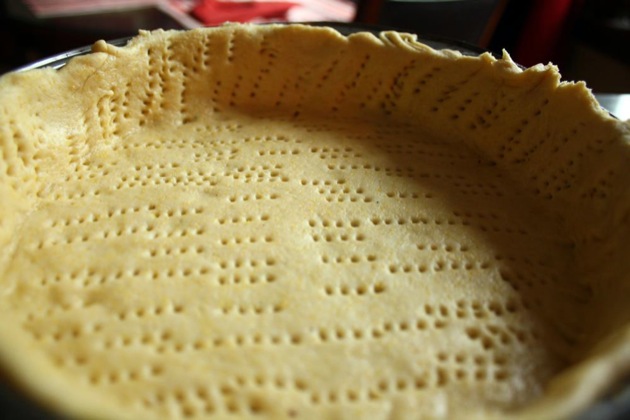 Place the dough on top of the cake pan.  Press the dough into the corners and form some durable sides.  Prick the dough with a fork all over the bottom and also on the sides.  Place in the oven for 4 minutes.  If it bubbles up in the middle, that's okay.  Just poke again with a fork to get rid of the bubble.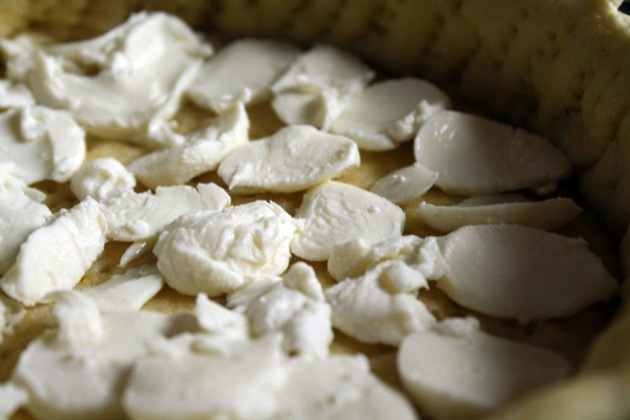 Add the cheese.  I'm not exactly sure about the amounts.  With dry mozzarella you want to completely cover the bottom.  But because fresh melts so much, you just want it to just about cover the whole bottom.  Covering it completely would be nearily impossible.  Place in the oven for 3 minutes.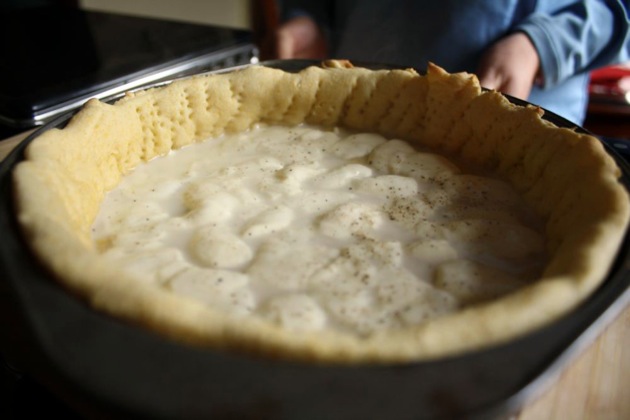 Take the pie out and try to mop up some of the water with a paper towel.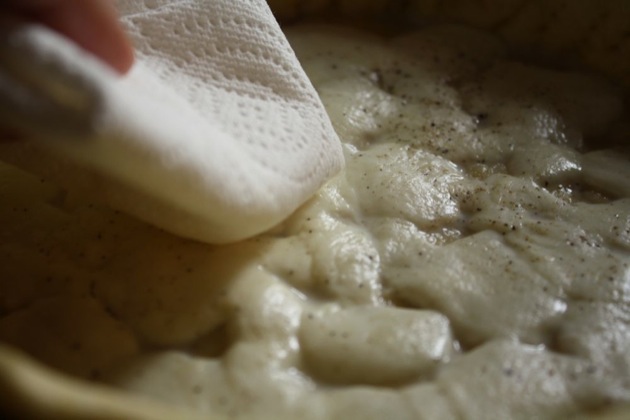 It works surprisingly well.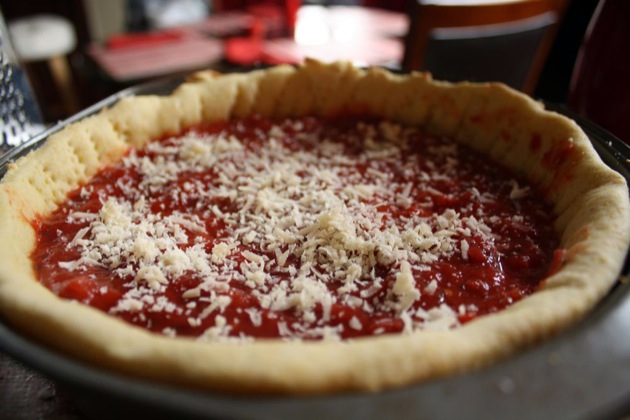 Pour in half of the sauce and add a great big sprinkling of parmesan.  Place back in the oven for about 15 minutes.  Rotate the pan 180 degrees, and cook for another 20-25 minutes.  The crust should be browned, but not black.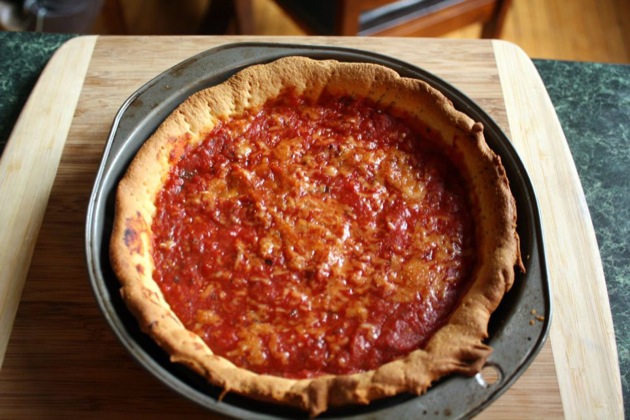 Remove the pizza and let rest for about 5 minutes.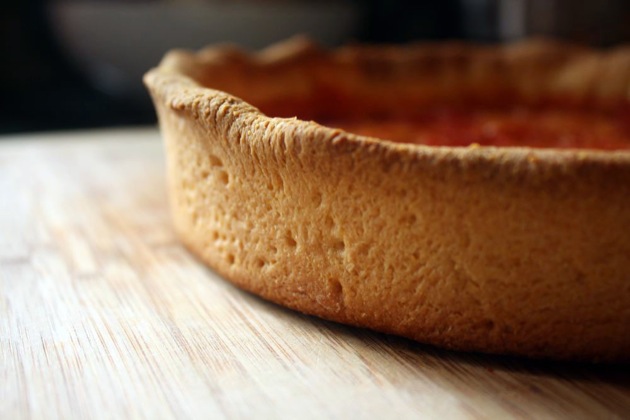 Use a fork to carefully pry the pizza out of the pan.  Set on a cutting board.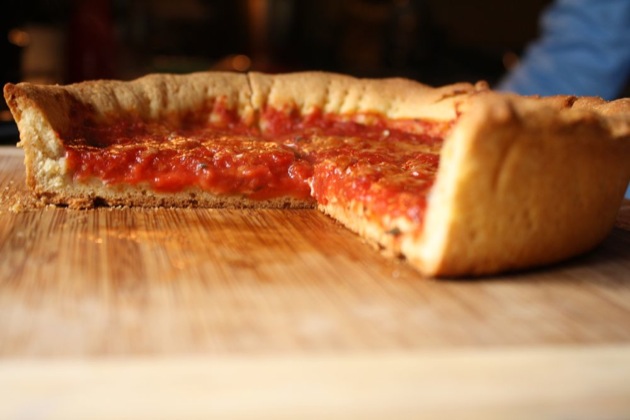 Cut the pizza into slice and serve.
Food,
Main Course,
American,
American cuisine,
Bread,
Cheese,
Chicago,
Chicago,
Chicago-style pizza,
Cornmeal,
Cuisine,
Cuisine of the Midwestern United States,
Deep-Dish,
Dough,
Grains,
Human Interest,
Italian cuisine,
Mediterranean cuisine,
Mozzarella,
New York,
oil,
Parmesan,
Peter Reinhart,
Pizza,
Pizza,
Pizza in the United States,
Tomatoes