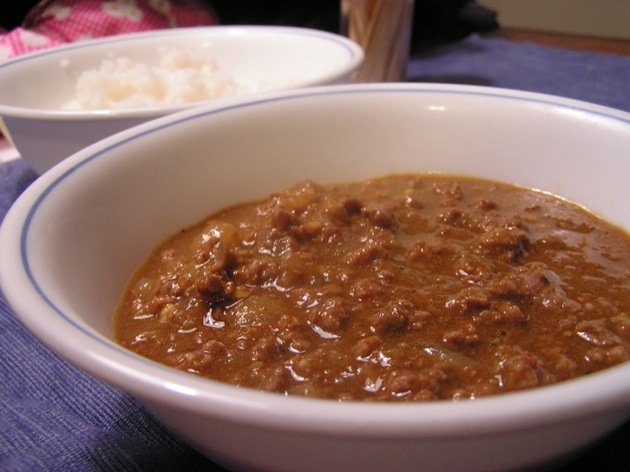 I torture myself with spicy food.  This can take form in many various cuisines and dishes, but they all have one thing in common: unbearable heat.  It's not that Abby doesn't like food with spice in it, it's just that I usually push things way too far.  Like I imagine people do with certain dangerous drugs, I plan an evening when I'm home alone with nothing to do and nowhere to go.  I eat a lot of absurdly spicy food and then spend the rest of the night marveling at how wonderful it tasted and how bad I feel.  It's disgusting.
Anyway, with her away, I decided to make some real Texas chili.  I'm a Midwesterner, which means chili can have just about anything hanging around the kitchen as long tomatoes and hamburger are tossed in.  I've got nothing against this style.  I even like a bowl or two of Cincinnati Chili every now and again.
But as my good friend Austin quietly explained to me during college, there are some rules for Texas chili.  If followed strictly, realms of chili pleasure that I couldn't even imagine would present themselves.  This required no beans, no pasta, and enough spice to makes it fiery as all hell.  He adored it.  And one fine day I was able to sit down with his family and sweat through a meal of pure Texas joy.  It changed my life.
I make a variation of Austin's recipe from time to time, but as I kept searching through recipes I found one minor strand that insisted that pure Texas chili didn't even have tomatoes in it.  This seemed absurd.  Disgarding beans seemed fine, but tomatoes are integral to the dish.  How could that even be called chili?  But one positive of this subtraction method of chili, is that it made finding all the ingredients during my semi-local month a little more reasonable.  I decided to take the plunge, even if I wasn't sure I wanted to go.
I don't much like ground beef except in hamburgers, and eating a wholebowl of nothing but that stuff mixed with some chilies soundeddisgusting.  But if was going to try it, it was going to be now, and
even in the midst of a semi-local month, I decided to see what I could find.
After reading various blogs and such about what kind of meat to use, I quickly discarded ground chuck.  This pleased me immensely.  This fatty cut is great for hamburgers, but would have been way too much for a soup.  Unfortunately, I thought this would be the last word on ground beef in general, and that I'd have to go with chunks, even though most recipes wanted ground.
Then I realized I could grind my own at home, somewhat haphazardly, in the food processor.  This meant that I could pick out whatever cut I wanted.  After much more searching I decided on the tri-tip.  It's full
flavor would be perfect.
Then came the problems of the chilies.  The varieties used to make chili don't grow here.  Using fresh or dried chilies couldn't logistically work without breaking the code of honor.  Luckily I found a loop hole.  CaJohns Fiery Foods makes a CaBoom Chili Powder and it's made right here in Columbus, Ohio.  That was good enough for me.
Then came the heat, which I decided to load on with all the fury I could imagine.  And that meant one thing: habaneros.  These absurdly spicy little orange peppers seemed like the perfect addition.  I wanted
to torture my body, and here was my perfect weapon.
What a mistake!  Spice on that level doesn't really increase the flavor.  Capsaicin, the chemical that
produces that hot sensation, has no flavor.  Instead, I just got pain.  Habaneros definitely have a place, but not in a juvenile way like this.
I am mad because everything else came out perfectly.  The beef was full flavored but not greasy.  The chili powder was developed and interesting.  And I didn't miss those tomatoes at all.  But that habanero kick couldn't be stopped.  I downed glasses of milk, tried to smother it with white rice.  I got real sick.  I spent all night at home licking my lips with flavor, and cursing my bellow for the fire. I guess that's what I deserved.
Because of my limitations, this can't be called authentic.  My use of chili powder is inexcusable to some, as is the use of flour instead of corn masa to thicken the dish (of course the flour isn't even local).  Anyway, I tried my best.  And to make an amazing dish like this in the last throes of an Ohio October is kind remarkable.  It can be done.
No Beans, No Tomatoes, Ohio-Local Chili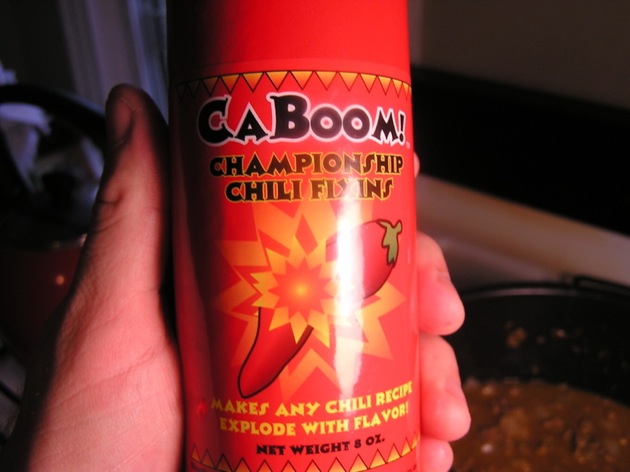 2 pounds tri-tip beef
1 onion, chopped
4 tablespoon chili powder
3 cups water
2 Serrano peppers
2 Habanero peppers
3 cloves garlic
2 tablespoons honey
2 1/2 tablespoons flour
salt and pepper
Serves a lot of people.
Kind of adapted from here .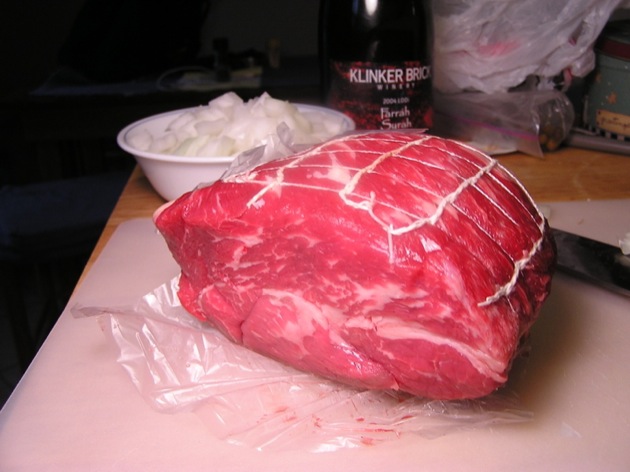 Cut the large hunk of tri-tip beef into small chunks.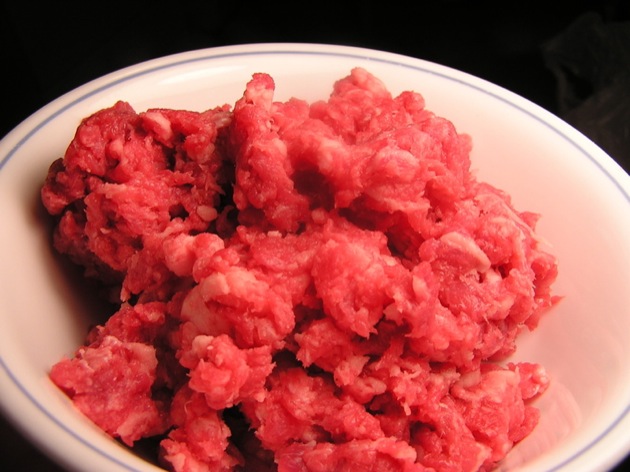 Toss just enough to fill the food processor by half, and the process into it looks like ground beef.  Repeat until all the meat is done.
Dump the meat and chopped onions into a large pot.  Turn the heat to medium low and cook until the meat is no longer red.  This will take a long time, and stir as often as you can so that the beef doesn't
brown.  The idea is not to saute it, like you would for hamburger.  It should be absurdly tender this way.
Clean out the food processor and add the chili powder, flour, garlic, and the peppers.  You should leave out the habaneros--as I realized after the fact.  But if you're a suicidal maniac like me, then go for it.  Add about half a cup of the water, and process into it's a smooth paste.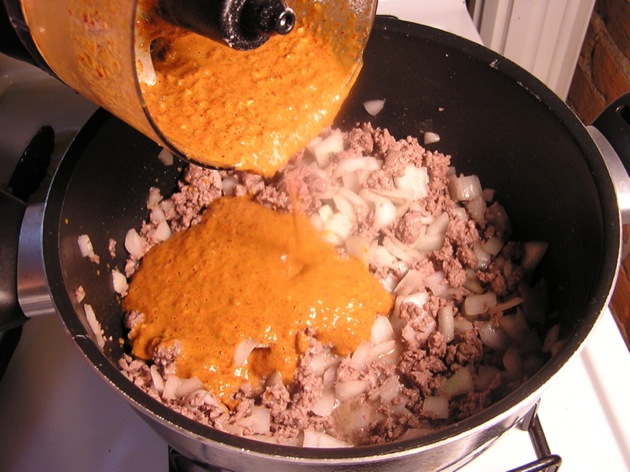 Pour the paste into the pot, turn the heat up to medium high, and let the mixture bubble and cook for a few minutes.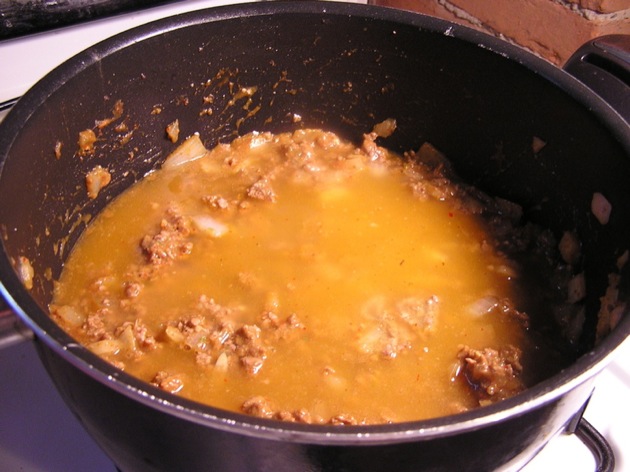 Then add the rest of the water.  Let it come to a boil, then turn the heat down to a simmer.  Let it cook for an hour and half.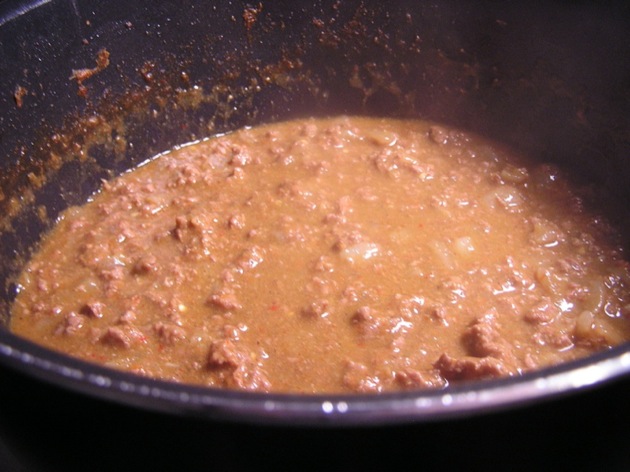 Add the honey at the last minute.  You might need to season it with salt and pepper, but it all depends on the chili powder.  Most have a lot of salt already added.
Otherwise, serve up however you like it.  I prefer a steaming bowl of white rice to stop the pain.  But that's just me.
Beef,
Beef,
Chili,
Chilis,
Honey