"The bacon of fish" elevates this simple pasta to transcendence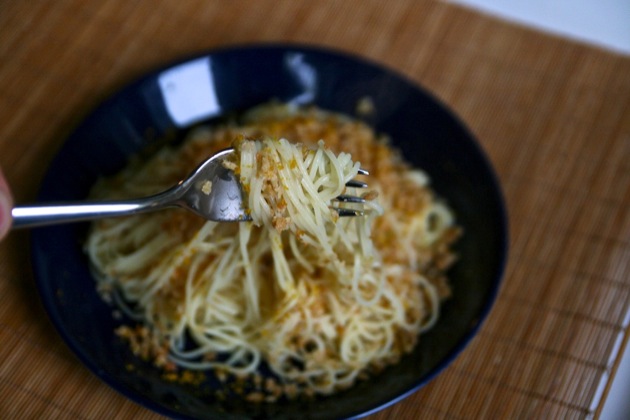 You may remember awhile back my lamenting post about a favorite ingredient I couldn't find in Chicago. The ingredient that Claudia at Cook Eat Fret christened " the bacon of fish ." Something relatively undiscovered and very difficult to find in the U.S. A secret ingredient, you might say. Well, I'm done lamenting. Because I have found bottarga, the cured roe sack that's pressed and dried to become the density of hard cheese.
Now. Doesn't that sound delicious? It has been found, thank heavens, at a little place called J.P. Graziano's which has fast become a favorite haunt of Nick and mine for top-quality Italian ingredients and one of the best sandwiches Chicago has to offer . The Graziano family somehow ended up with bottarga in their well-curated walk-in refrigerator (take a gander in there sometime, you have no idea what you might emerge with, though I can guess it will be the best olives you've eaten in months), though they admittedly had never heard of the stuff. Sometime recently, a mysterious shopper (who was not me) asked if they carried it. Lobes of bottarga fetch ridiculous prices online , which probably keeps most people from ordering it. It's a shame. Good-hearted man that Jim Graziano is, he is selling it for a reasonable price in his shop, about what I used to pay at Buon Italia in New York. It's still not a cheap product by any means, but it goes a long way in the kitchen.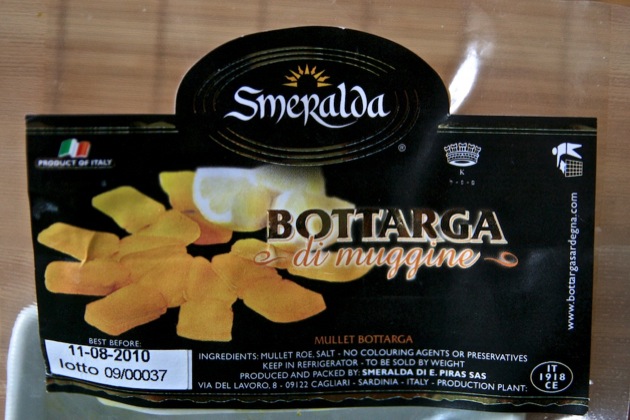 To celebrate the find, I've turned to the dish that turned me on to this ingredient in the first place, at one of my favorite restaurants in New York, called Franny's. Elin and I used to live in the neighborhood and racked up massive credit card bills eating their glorious pizza, house-cured salumi, and pastas to rival the best in New York. The dish at hand was Chitarra with Butter and Bottarga, which even made it into Frank Bruni's rave New York Times review of the restaurant.
Chitarra pasta translates as "guitar" pasta, referring to the way it's made using a tool of stretched wires that cuts the pasta into square spaghetti. But the real story is the bottarga, and how the richness of the butter gives the nutty, ocean-like taste a creamy home. A sprinkle of breadcrumbs add a bit of texture and crunch to the proceedings. And there you have a simple, beautiful plate of pasta.
Chicagoans, head on down to J.P. Graziano's for bottarga (call first to make sure they haven't run out), or even just to say hello and patronize a truly outstanding shop. New Yorkers, Buon Italia in the Chelsea market will sell it to you (as well as outstanding, inexpensive pasta called Setaro, including the chitarra cut which I wrote about here ). Otherwise, I'll have to rely on any commenters to clue us in. If you're feeling flush, you can always order it online .
J P Graziano Grocery
901 West Randolph Street
Chicago, IL 60607-2290
(312) 666-4587
Pasta with Bottarga and Butter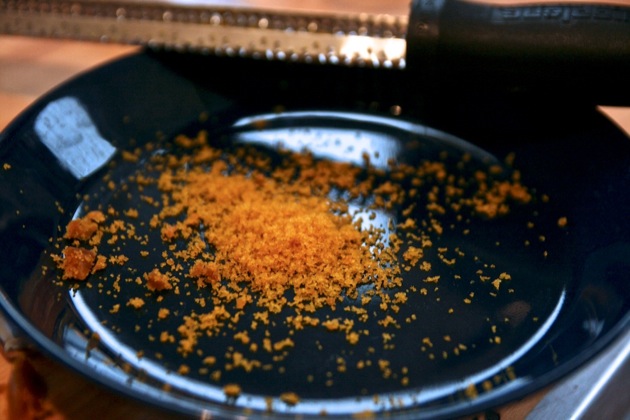 Adapted from Franny's
3 ounces long pasta, such as linguine, chitarra, spaghetti, etc.
3 tablespoon butter
2 tablespoons panko breadcrumbs
1 teaspoon grated bottarga di muggine
Bring a pot of salted water to boil and cook the pasta until al dente.
In the meantime, heat 1 tablespoon of the butter in a small skillet over medium heat, then add the breadcrumbs. Toast until golden and crunchy.
Drain the pasta, reserving some of the cooking water, and add it back to the pan with another tablespoon of butter and a pinch of the grated bottarga. Toss to combine, adding pasta water if necessary to achieve a clingy, buttery sauce. Transfer to a bowl or plate and top with the last tablespoon of butter (the fresh butter is important, and yes, this is not diet food). Top with the remaining bottarga and breadcrumbs and serve immediately.
Food,
Main Course,
Bottarga,
Chicago,
Food and drink,
Italian,
Italian cuisine,
Italian language,
J.P. Graziano,
Jim Graziano,
Languages of Italy,
Linguine,
Mediterranean cuisine,
New York,
Pasta,
Pasta,
Pasta,
Pasta,
Spaghetti,
United States