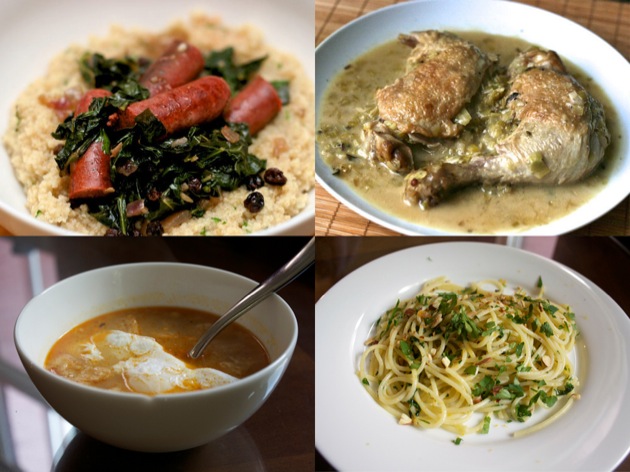 Our weekly roundup of what the two of us have written over on Serious Eats.
"Dinner Tonight" Column
QUICK MEALS TO YOUR TABLE FIVE DAYS A WEEK.
Dinner Tonight: Spaghetti with Bottarga and Almonds
Bottarga is the secret ingredient for this incredibly simple pasta.
Merguez Sausage with Collards and Couscous
This is definitely not your usual Southern version of collard greens. Here the hearty vegetable is paired with a North African lamb sausage.
Sopa de Ajo (Garlic Soup)
Garlic soup can take many forms, but here hot pimenton helps give the easy soup a rounded depth and smokiness.
Braised Chicken with Leeks and Cream
Though most braised dishes take hours, this chicken dish can be completed in under an hour.
Chinese Steamed Trout With Fermented Black Beans
Fermented black beans are a little difficult to find, but they provide a meaty boost to this classic steamed dish.
braised,
Chicken,
Pasta,
Serious Eats Roundup,
Serious Eats Roundup,
Soup,
spaghetti