A Thai salad meaty and acidic, packed with cilantro and mint, served with crisp cabbage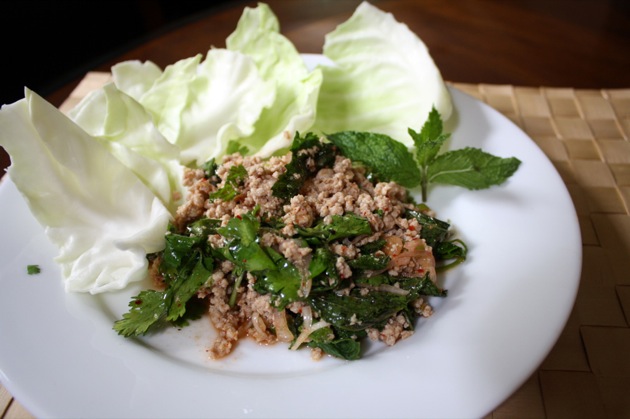 The only time in the past two years that my wife and I have ordered takeout was this New Years, when, after cleaning up our place from our annual carnitas feast and trying to kick a massive hangover, we basically camped out in the living room on a trundle bed and ate Thai food in our pajamas. Surely, this is why takeout was invented. The idea of doing anything but drinking loads of water and watching a funny movie was out of line. The only problem: The food sucked. Even in my fragile state, it pissed me off.
Everything I described in my last post about what I didn't like about Thai food was exemplified in the box of gluey sugary noodles. The experience scared me further away from both takeout and Thai food. Well, I have an answer for the Thai food, which I also think could help me from ever having to cave in and order takeout again.
Pork Larb is a Thai salad, a shocking, acidic dish packed with cilantro and mint, served with crisp cabbage. It's a perfect summer dish, and about as complicated as tossing a regular salad. It starts with pork marinated in lime juice for a few minutes. It is sautéed quickly and then tossed with more lime juice, shallot, fish sauce, chili powder, and something called toasted rice powder. It really is that easy, and yet it completely blows away much of the Thai food I've ever had before.
My only worry when I first began the search was how to find toasted rice powder, an ingredient I'd never heard of before.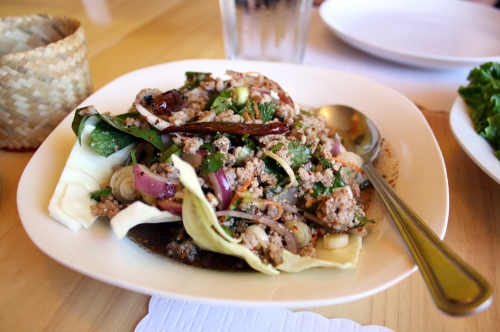 Sticky Rice's Pork Larb
I recognized it immediately on the dish when I first tried the dish at Sticky Rice . Hundreds of little white flecks could be seen around the dish. They added this unmistakable toasted aroma, and also helped thicken the sauce. Without them, the dish just isn't the same. I worried that I'd have to go on some epic grocery hunt to find it, but turns out it is even easier to make at home than the salad is. Just sauté some rice in a non-stick skillet until browned, and then grind. That's it.
It's not often that an authentic dish like this one is so easy to make, so cheap, and quick.
Toasted Rice Powder
2 tablespoons jasmine rice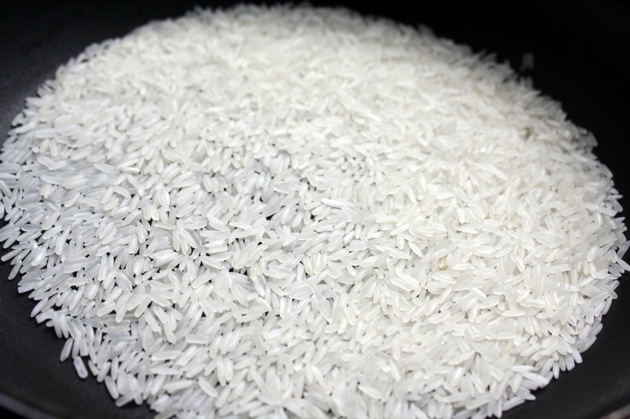 Pour the rice into a large skillet set over medium heat. Stir often and cook until lightly browned.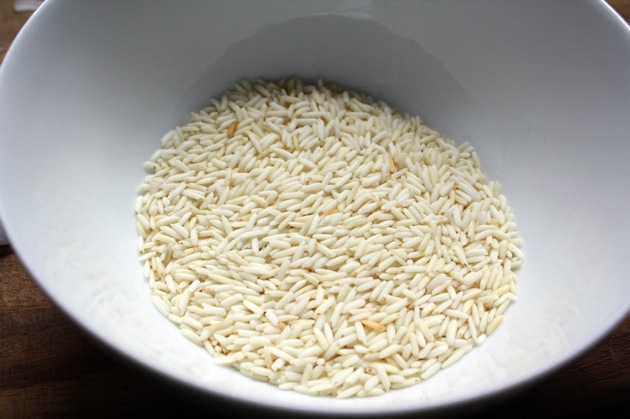 Transfer to a bowl and let cool. I probably should have let this get a little more browned. Oh well.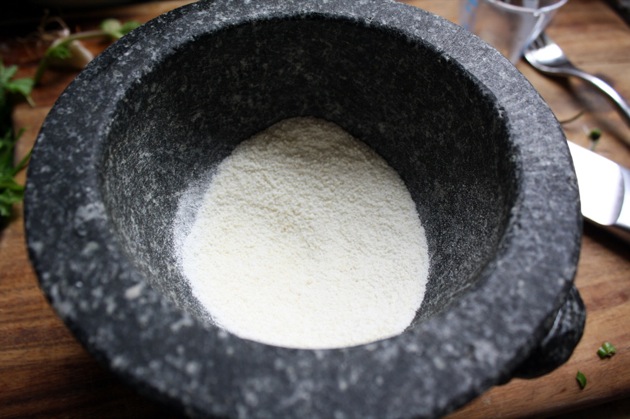 Grind in a mortar and pestle.
Pork Larb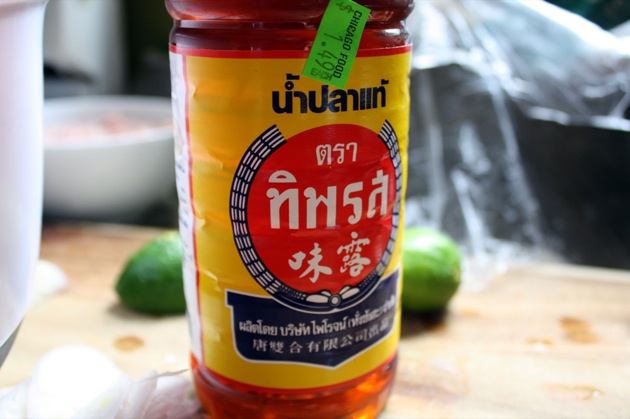 juice of 3 limes
16 ounces ground pork
1 bunch scallions, green and white parts separated, thinly sliced
1 tablespoon toasted rice powder, plus more to garnish
1 shallot, thinly sliced
1/2 tablespoon ground chili or 1 tablespoon sriracha
3 tablespoons Thai fish sauce
1/2 teaspoon ground black pepper
1 handful cilantro
1 handful mint
cabbage leaves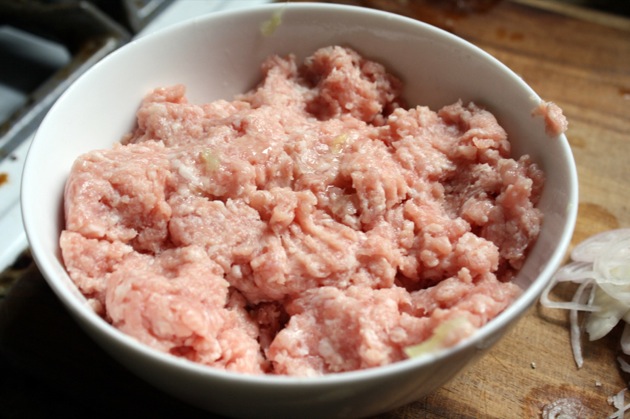 Combine the juice of one of the limes with the ground pork. Toss well, and let hang out for a few minutes.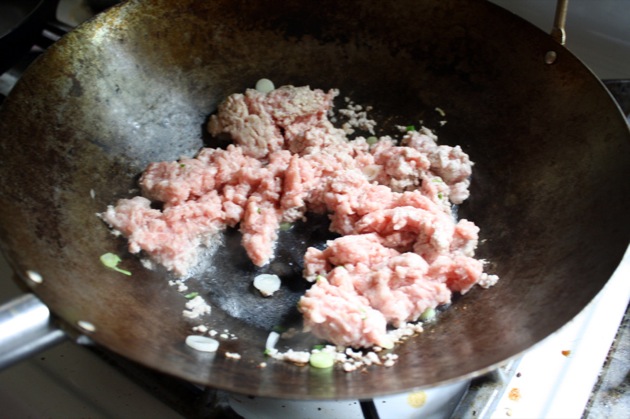 Place a work over high heat. Pour two tablespoon of water in, and then toss in the pork and the scallion whites. Stir well, and cook until the pork is cooked but not browned. Transfer the pork to a bowl and set aside.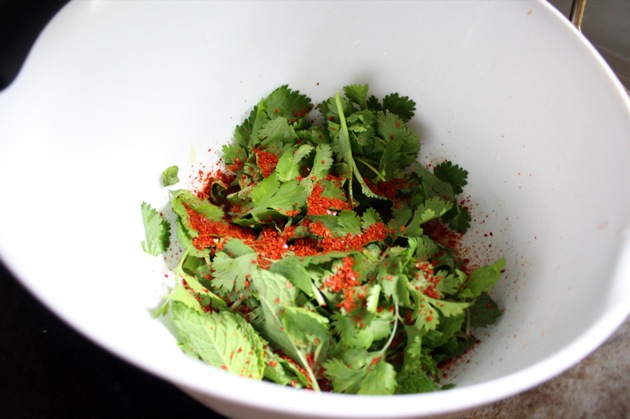 Combine the fish sauce, green parts of the scallions, shallot, cilantro, rest of the lime juice, chili pepper, cilantro, mint, and most of the toasted rice powder.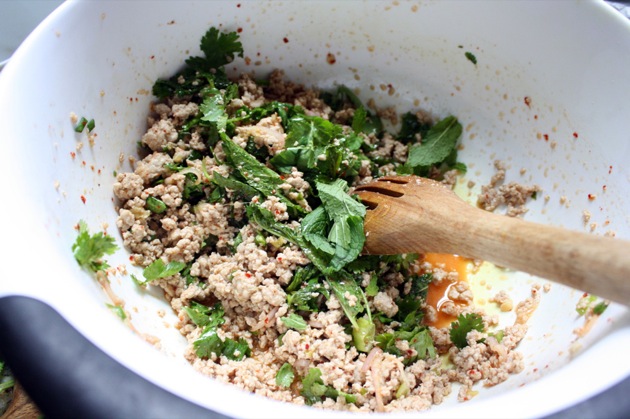 Stir well, and then add the pork.
Transfer the pork to a platter and garnish with the rest of the toasted rice powder and more chili powder to taste.
Food,
Salad,
Asian cuisine,
Cuisine,
food,
Food and drink,
Glutinous rice,
Lao cuisine,
Larb,
Meat,
Pork,
Pork,
Pork,
pork larb,
Salads,
Salads,
Salads,
Social Issues,
Thai,
Thai,
Thai cuisine,
Thai Salads