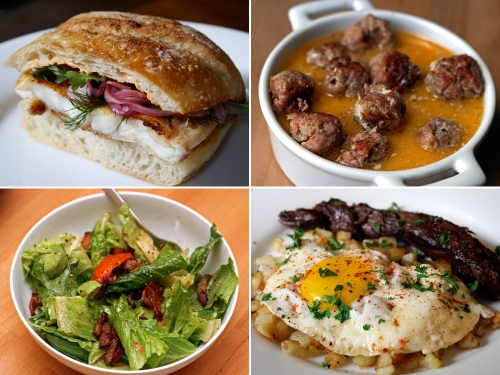 Our weekly roundup of what the two of us have written over on Serious Eats.
"Dinner Tonight" Column
QUICK MEALS TO YOUR TABLE FIVE DAYS A WEEK.
Steak and Eggs with Smoked Paprika
A sprinkle of smoked paprika helps wake up this breakfast classic.
Bacon, Lettuce, and Tomato Salad with Aioli Dressing
This dish reinterprets the ingredients of a BLT as a refreshing summer salad.
Flounder Sandwich Marinated in Fish Sauce, with Sriracha Mayonnaise and Pickled Red Onions
This complex fish sandwich was picked up from Top Chef .
Meatballs with Ricotta in Milk
This seemingly odd dish replaces tomato sauce with a luxurious combination milk and chicken broth.
Beef,
Flounder,
Meatballs,
Salad,
Sandwich,
Serious Eats Roundup,
Steak