Blake visits the Eternal City for one night only.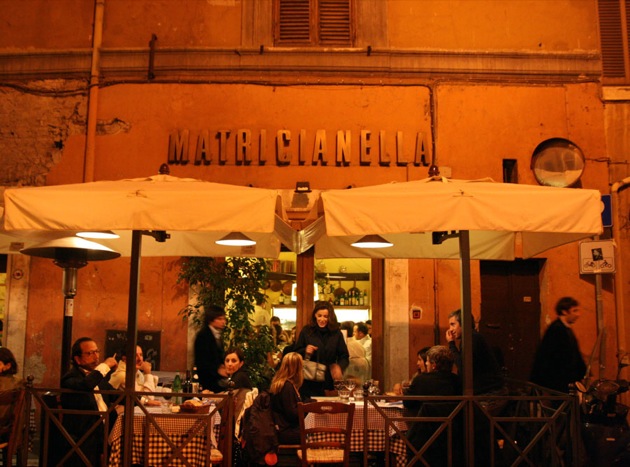 We only had one night in Rome to eat. So where would we choose?  We had no idea where to begin.
My friend Mitchell Davis came to the rescue when I emailed him to ask for help.  One night in Rome?  "I'd try Matricianella, I think, if I had one night. All the classics, well prepared, great wine list, not pricey."  Indeed, classics were what I wanted: specifically, a giant creamy steaming bowl of Spaghetti alla Carbonara, the glorious dish I'd have a monogomous relationship with if I had to pick just one.  I adore it, cook it often , and never tire of its porcine charm.
After mangling a phone call to the restaurant (they picked up and it sounded like the man on the other end of the line was in a small bathroom with twenty or thirty other people yelling and banging silverware against the fixtures--"Non parlo Italiano! Prenotazione per due!  Prenotazione per due!"), we crossed our fingers that the restaurant indeed knew we were coming for an 8pm reservation.
They did.  And they had a lovely table outside for us where we caught the cool Roman breeze and fended off three rounds of traveling rose salesmen.
Our white wine was, for this unexperienced wine drinker, an absolute knockout at 17 euros: just barely more dry than sweet, fruity, and crisp as anything.  We asked for their help in choosing the Ribolla Gialla after their bible-sized wine list (below) scared us silly (it is a famous list, apparently full of great wines at bargain prices).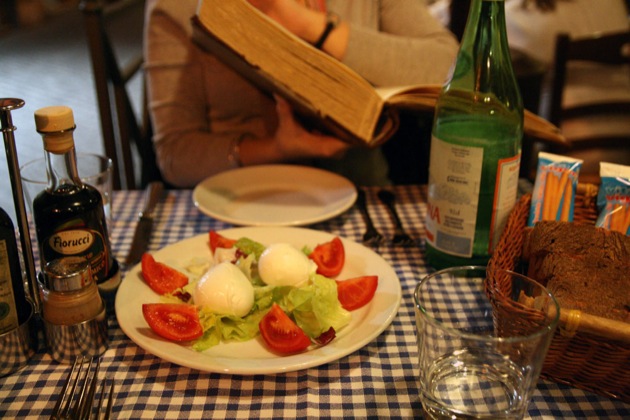 We began with a simple buffalo mozzarella salad.
And for the pasta course Elin opted for a simple tomato sauce with rigatoni ("Measure a restaurant by its execution of the basics," she says).  It was lovely: rich yet light, perfectly balanced; a first-rate simple tomato sauce.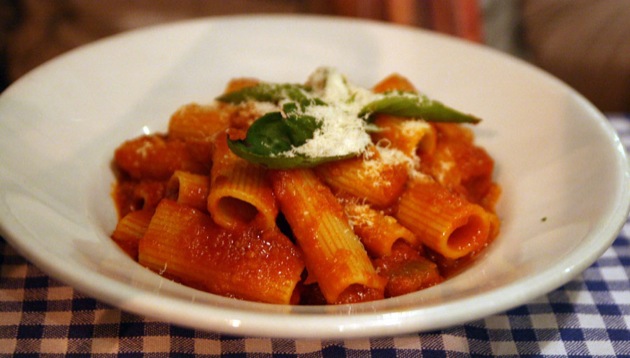 Mine?  Carbonara, naturally.
It was terrific.  The bacon ( guanciale made from the jowl, which I've had some experience with in my living room ) was cooked until generously browned, just shy of burning, which gave it a crumbly, extra-crispy-bacon sort of texture.  The pasta was velvety and soft as a contrast, the creamless sauce made (I'm guessing) from the egg white whipped together with pasta cooking water, rendered guanciale fat, and Parmesan cheese, with a raw egg yolk stirred in at the end.  I liked the way they used the egg white to give the sauce lightness and air.  "Holy cow," I said.  And after a pause, we both corrected my statement in chorus: "Holy pig."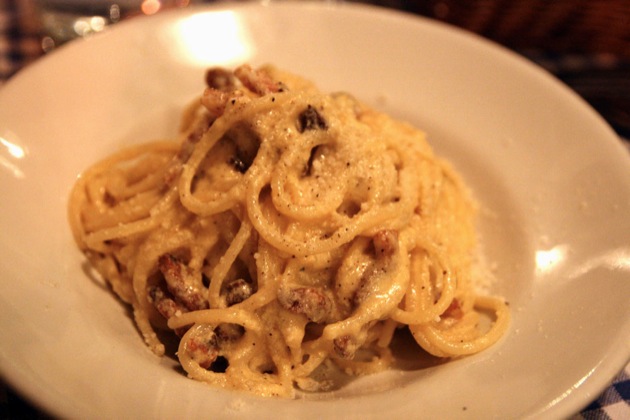 I was also surprised at the portion size of each: quite large, and enough for a whole meal, despite the Italian way of ordering both a pasta and a main course.  With the buffalo mozzarella behind us and my inability to not not finish the glorious pasta in front of me, I was wondering where the roast lamb I'd ordered was supposed to fit.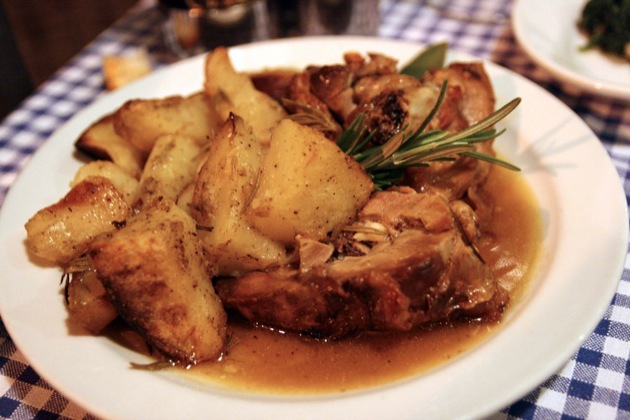 It came shortly there afterward, and was portioned for a crowd.  Great mountains of creamy roasted potatoes surrounded in shatteringly crisp brown outsides (the best roast potatoes I've ever eaten in my life, in fact), and a couple giant pieces of succulent roast suckling lamb, all perfumed with herbs.  I quickly realized the idiocy of ordering not only three courses (the cheese, pasta, and now this), but a side dish as well . Our Spinach alla Romana came out simultaneosly, a mound of tender earthy greens studded with sweet raisins, garlic, and almonds.  This is a classic dish and I would have been happy parked in front of it with nothing else to eat.
Elin's whole roasted sea bass arrived for viewing, then was whisked away to be filleted, returning as such.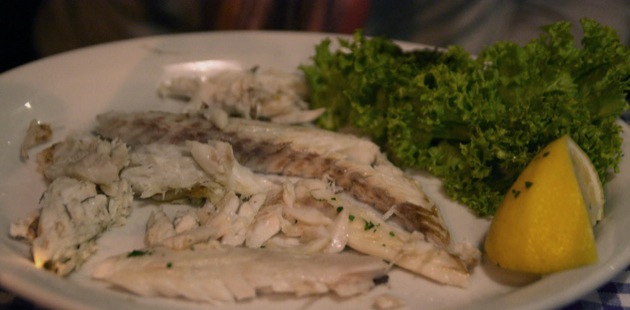 It was lovely, tender, light, etc.
Halfway through, struggling to eat everything, we realized we still had most of the wine to drink.  This is not normal behavior for us.  It's either testament to the restaurants ability to time every dish in a relentless march towards gluttonous ecstasy--leaving no time for drinking--or it's because the food was so good we could hardly be bothered to look up, much less consider anything so distracting as sipping our wine.
Ristorante Matricianella indeed delivered, as their website claims, "Cucina tipica Romana," and felt like a true Roman Trattoria.  Everything was unpretentious, affordable, and the food was perfectly executed.
Ristorante Matricianella
Via del Leone 4
Rome, Italy
Travel,
Carbonara,
Food and drink,
Guanciale,
Italy,
Italy,
Matricianella,
Mitchell Davis,
Pasta,
Roman Trattoria,
Rome,
Rome,
Sauce,
Spaghetti,
Technology,
Tomato sauce,
Travel