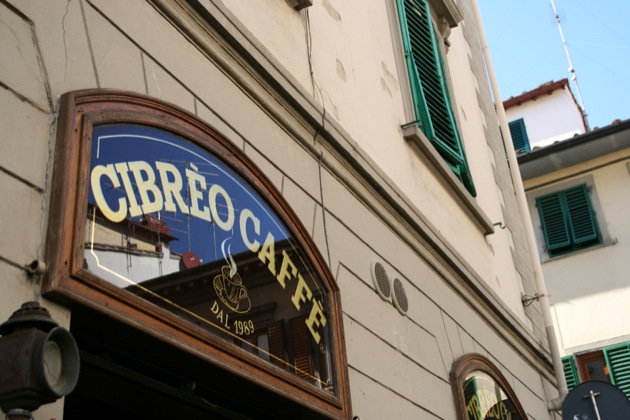 It came in tin foil, a particularly unfancy receptacle for what was inside.  Our waiter, who had just dropped off plates of sea bass carpaccio and a veal meatloaf stuffed into chicken neck (including the head), put the foil on a plate and began unceremoniously unfolding its crinkled, crimped top.  It opened in a steamy, meaty rush, and none of us could do much but stare.  As Hamid, our host in Florence who Elin met in grad school (he's studying painting there) took a bite, all we could think was well, there's no disguising what that is .  And also, what does it taste like?
"Well," Hamid began, reading our minds.  "Imagine crème caramel...."
Wait.  When a description of something that's not a dessert begins with "crème caramel," you know you're in for something new--and possibly frightening.  The thing that lay inside Hamid's tin foil was pale, slightly bloody, and sitting in a pool of liquefied butter.  As he swallowed the first bite and offered a spoon to me, my overriding concern was that he wasn't saying anything--good or bad.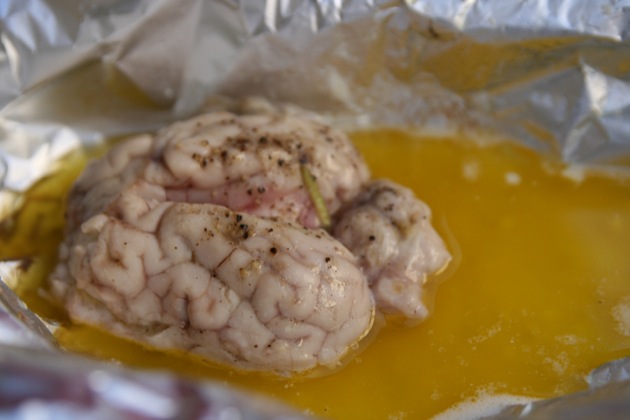 If you haven't guessed what it was, you know now.  Butter-poached lamb's brain.  The dish is a signature at Cibrèo, an elegant, highly-regarded, and expensive Florence restaurant with white linen tablecloths--though we were eating at the Caffè, the cheaper no-frills offshoot of Cibrèo proper.  At Cibrèo Caffè the vibe is relaxed, the service erratic, and there are no reservations.  But the food comes from the same kitchen, and is supposedly nearly as good.
But I've gotten ahead of myself.  I'll get back to the brain, which, indeed, was a kind of meat crème caramel with a texture to send you over the moon or into queasy uneasiness, depending on your disposition, and whether your eyes were closed.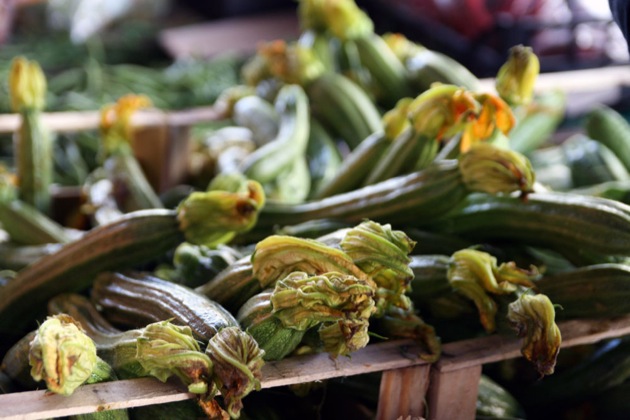 The restaurant is just off the Sant Ambrogio market.  Sant Ambrogio was our first stop in Florence because, just as we encountered in Rome , Italian markets close very early in the day.  So after dropping our bags we headed to the partly-outdoors, partly-indoors market where we admired piles of vegetables, hand-sliced charcuterie, and an indoor market selling meat, seafood, cheese, and dried goods.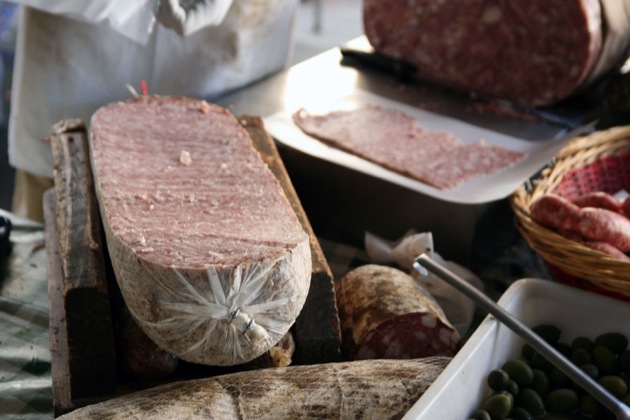 Hamid's Italian came in handy as we walked away with 2 kilos of arborio rice and the same of hard cheeses (a massive slice of a Parmigiano-Reggiano wheel and half a pecorino).  The market offerings were stunning and jealousy-inducing.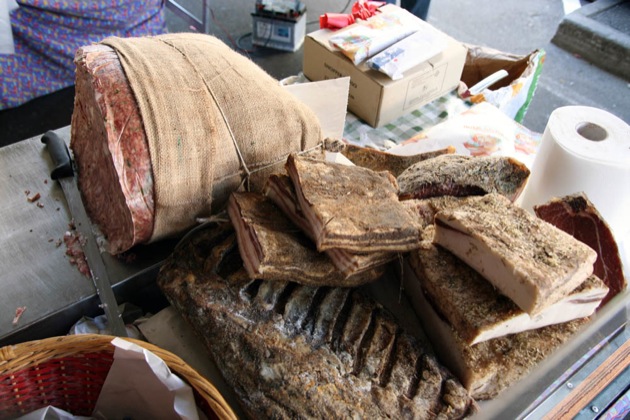 Stepping into an Italian market is like entering a high-contrast, technicolored version of real life: the produce is three hues deeper, the chickens yellow and purple-veined instead of white and pink, the rabbits a rich, wild red instead of pale and farmed like the U.S..  The bacon's white is purer, its red richer.
Still, this girl was highly unimpressed.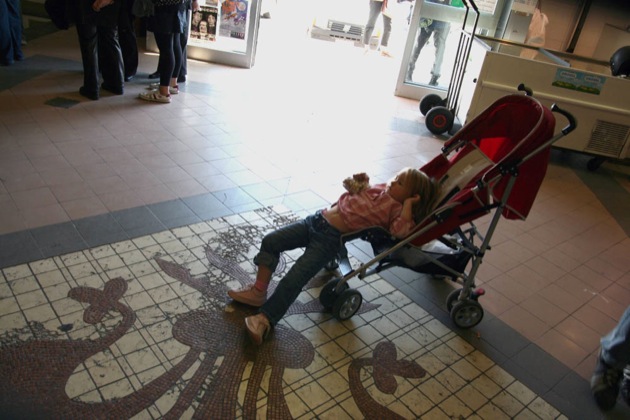 Seeing all the glistening food made us hungry, quickly, which brings us back to the tin-foiled encased brain.
The meal began with the Florentine sun shining and a gentle breeze.  We were lucky to land a table outside, though it was a tiny one for three people.  Nearby a couple families were eating, and a puppy was running around with a small child trying to get into trouble.  People came and went, and many seemed to know each other.  Our waiter was very tall and very harried, and gave us the menu verbally.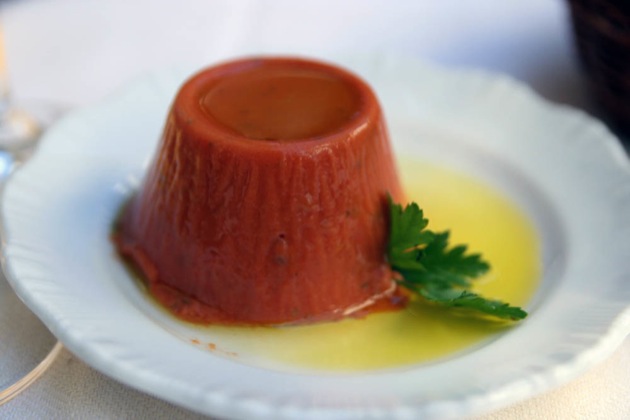 The first thing to come out was a compliments-of-the-chef course for the table, a gorgeous tomato and herb mold, chilled and doused with fruity olive oil.  We spread it on the house bread and it was marvelous.  I don't know what they used to set it into its mold, but the flavor was sweet and subtle.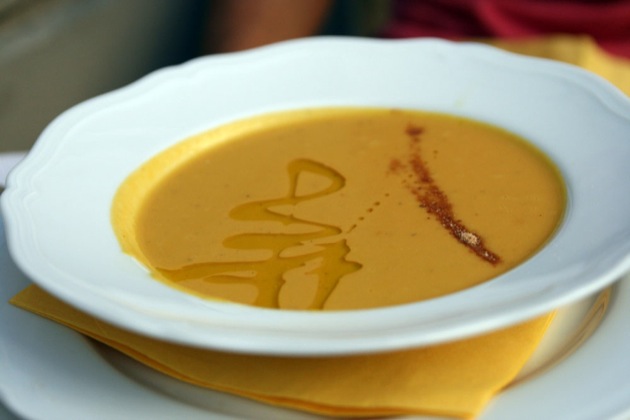 Our first course was a pureed pumpkin soup, polenta with Parmigiano-Reggiano and olive oil, and a spicy fish soup.  The pumpkin soup was smooth and stunning, imbued with nutmeg and possibly cardamom.  The fish soup was even better, thick and rich with a gentle spiciness.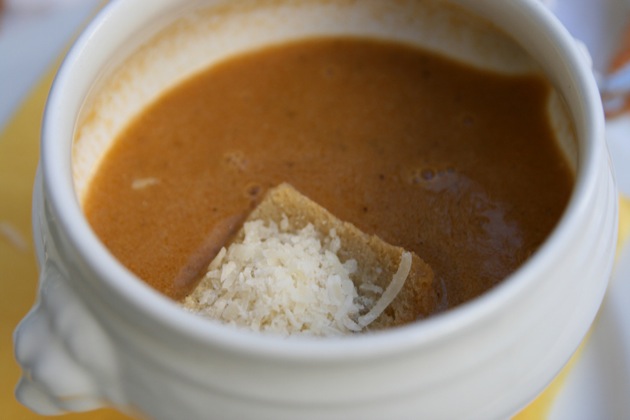 It had a lot of body to it, though no discernably fish or shellfish meat--the thickness might have come from pureed bones; hard to say.  A crisp crouton showered with Parmigiano-Reggiano floated on top.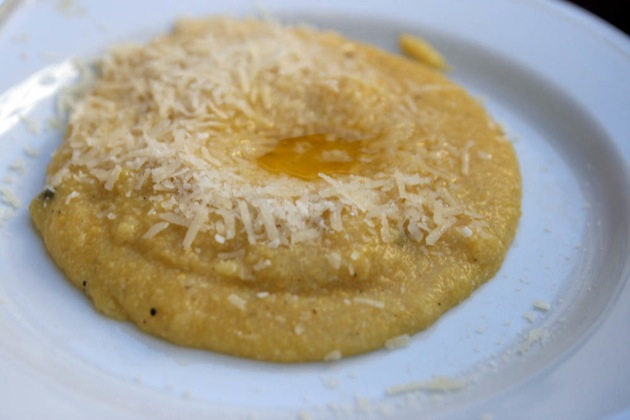 The polenta was my first taste of real Italian polenta, and I loved it.  I've made polenta before and waxed poetic about it, but I've dreamed of trying the real thing in Italy since reading Bill Buford describe it in his book Heat --"each grain swollen from the slow simmering and yet still rough, even gravelly, against the roof of the mouth."  This was the real thing.
Our second course was where things got interesting.  There was the aforementioned brain.  Elin had a glistening plate of sea bass carpaccio, which was glossed with olive oil and a kind of celery puree.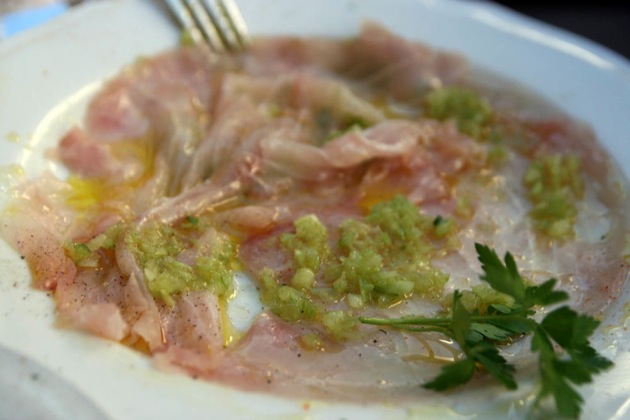 My dish was a stuffed chicken neck, hollowed out and filled with a mixture of veal and breadcrumbs, a kind of meatloaf.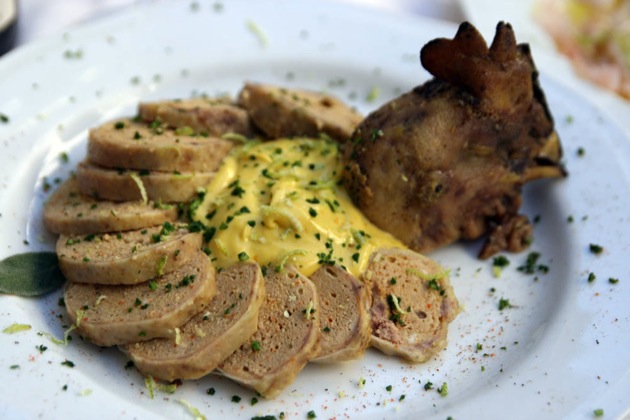 In the center of the plate was a very sharp mayonnaise, which was made with a very spicy olive oil, making it both creamy and bitter.  Lime zest, rather than mayonnaise's traditional lemon juice, was scattered over everything.  This was probably my least favorite dish -- the stuffing was dry, the skin was a bit rubbery, and the mayonnaise was too bitter.  Still, I loved the gutsy presentation.
Yet what I loved about the meal was its matter-of-factness.  To be sure, Cibrèo is not a traditional Florentine or necessarily Italian restaurant, not in the way we tend to understand it; there is no pasta to be seen and the flavors weren't strictly Italian.  But the combination of highly unusual and ambitious cooking with the sitting-around-casually ambience was enormously appealing, and to my mind, Italian. Sure, we eat this well all the time , the patrons seemed to say, as if bored, then went back to their cigarettes.  Nobody was fawning over anything while a butter-poached brain was unwrapped from tin foil .  Not china or fancy glass-- tin foil .  The lack of ceremony was totally refreshing, and made this among my favorite meals in Italy.
Florence,
Italy,
Lamb,
Markets,
Restaurants,
Travel