The German way with round.
Sauerbraten is a national dish of Germany, and there are many variations in its preparation, all hailing from different regions.  However, I didn't have to look much further than Alton Brown for a good recipe--the reviews on the recipe's page at Food Network are almost exclusively raving.  A combination of cider and red wine vinegar provide the recipe's twang, and all the traditional notes for the marinade are hit (juniper berries, cloves, bay leaf) plus the welcome addition of mustard seeds.
While the meat was cooking, I shredded some savoy cabbage, which would be simply braised with white wine and a handful of juniper berries for about a half hour until tender.  For the potatoes, I resisted my urge to roast them (it's by far my favorite way to prepare new potatoes) and followed the more traditional German way of boiling them .  With the strong caramelized flavors of the meat and the pungency  of the sauce, the creamy mildness of boiled potatoes ended up being a superior pairing.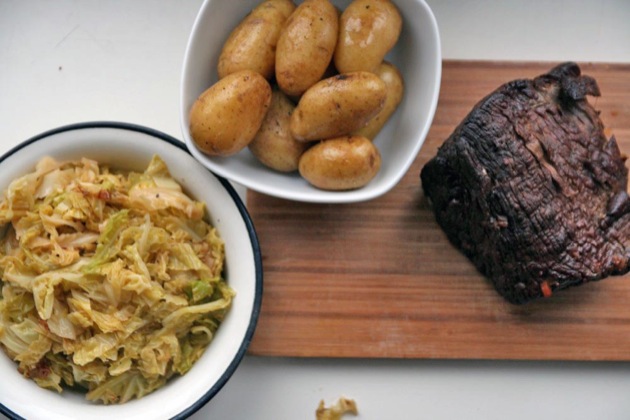 Elin and I devoured this roast on Sunday with the late afternoon light waning.  I could see why the tradition of an afternoon Sunday roast is popular in Europe: polishing off the last few bite, a carefully orchestrated combination of potatoes, meat, and cabbage, so the seductive combination of those tastes would linger--I felt full and lazy, reminiscing on a long, relaxing evening stretching out before me before Monday came 'round.
Sauerbraten
Adapted from Alton Brown
2 cups water
1 cup cider vinegar
1 cup red wine vinegar
1 medium onion, chopped
1 large carrot, chopped
1 tablespoon plus 1 teaspoon kosher salt, additional for seasoning meat
1/2 teaspoon freshly ground black pepper
2 bay leaves
6 whole cloves
12 juniper berries
1 teaspoon mustard seeds
1 (3 1/2 to 4-pound) bottom round
1 tablespoon vegetable oil
1/3 cup sugar
18 dark old-fashioned gingersnaps (about 5 ounces), crushed
1/2 cup seedless raisins, optional
Combine the water, vinegars, onion, carrot, salt, pepper, bay leaves, cloves, juniper berries, and mustard seeds in a saucepan.  Bring to a boil, then simmer for ten minutes.  Remove from heat and allow it to cool.
In the meantime, heat the vegetable oil in a large skillet over medium-high heat.  Sear the beef round heavily on all sides until very well browned.  I seared mine for probably ten minutes, until no pink was left and there was tons of caramelization.  This step is essential to creating flavor, and brown is flavor.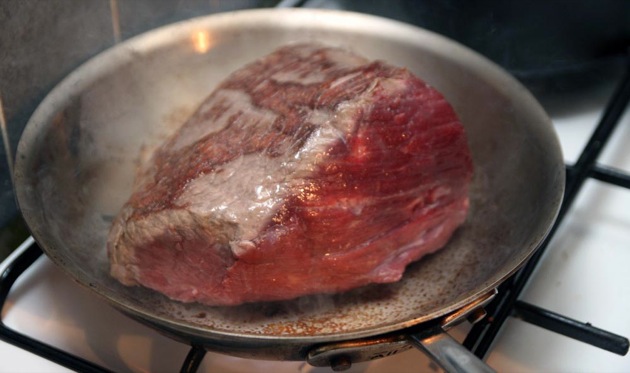 Allow the meat to cool somewhat, then transfer to a large freezer bag.  Pour in the vinegar marinade and remove as much air from the bag as possible.  Seal and refrigerate for three days, turning once a day to redistribute the mixture.
When the meat is done marinating and you're ready to cook, preheat the oven to 300F. Remove the meat from the bag and set aside, then pour the marinade into a large dutch oven or other braising vessel that can be covered.  Add the sugar and heat gently to dissolve.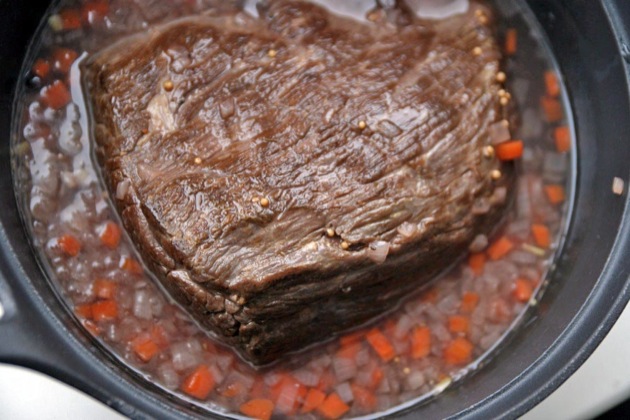 Add the meat, cover tightly, and place in the middle rack of the oven.  Cook for 3-4 hours, until very tender.  Keep an occasional eye on the liquid levels to make sure there's ample moisture to avoid burning, adding a little water if needed.  The meat doesn't need to be submerged, there just needs to be some liquid. The marinade will reduce considerably, and become thick and rich.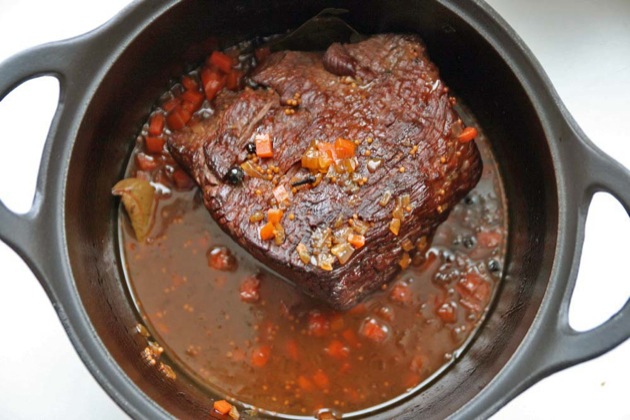 When the meat is done, remove it from the liquid and keep warm.  Pour the sauce through a strainer to remove the solids, then return to the braising dish and stir in the crushed gingersnaps.  Heat gently until thickened (it didn't take long for mine to thicken, about a minute).  Alton calls for straining the sauce again, but I liked thickness of it so I skipped that step.  Stir in the raisins.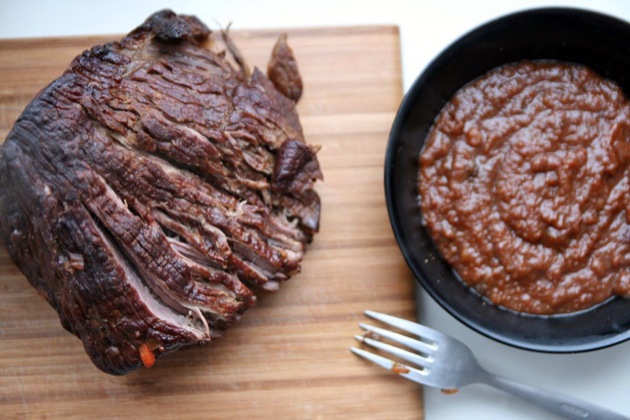 Pull away slices of meat and serve with the sauce.  If it has turned out a little too tough (possibly the temperature was too high or it cooked too long), slice the meat perpendicular to its natural separations.  It won't look as pretty on the plate, but will immensely help the tenderness.
And that is my new favorite way to create something delicious out of beef round.
Related: Homemade Italian Beef
Food,
Soup-Stew,
Alton Brown,
American cuisine,
Barbecue,
Beef,
Beef,
Beef,
Braising,
Condiments,
Cooking,
Europe,
Food and drink,
German,
German cuisine,
Germany,
Marination,
Meat,
Mustard,
oil,
Pickling,
Round,
Sauerbraten,
Sauerbraten,
Vinegar