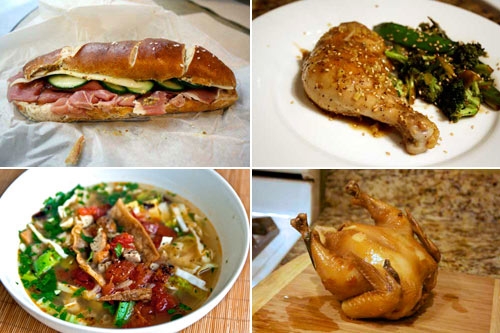 Our weekly roundup of what the two of us have written over on Serious Eats.
"Dinner Tonight" Column
Quick meals to your table five days a week.
Spicy Black Bean Cakes
Though suspiciously close to a veggie burger, this meal made from pantry staples is moist and flavorful.
Tomato Sauce with Mushrooms and Anchovy
Adding two known "umami-bombs" to a simple tomato sauce elevates this dish from your ordinary pasta sauce.
Velvet Chicken
A whole bird simmered in a fragrant soy sauce broth infused with Chinese spices, it emerges perfectly cooked, tender, and aromatic
Tortilla Soup
A golden chicken soup made special with its garnishes--creamy avocado, fresh cilantro, and strips of crisp-yet-softening tortilla.
Jacques Pépin's Spicy Ginger and Lemon Chicken
Jacques strikes again with a fragrant chicken dish full of citrus and minced ginger.
Standing Room Only
A column about the best of Chicago's restaurants--with no seats.
Hannah's Bretzel
Nick overcomes his suspicions of a place whose "slogan is "Über Sandwich Makers" and discovers a superb Chicago Loop lunch, Black Forest ham with swiss Gruyère on the "breztel" baguette.
Serious Eats Roundup