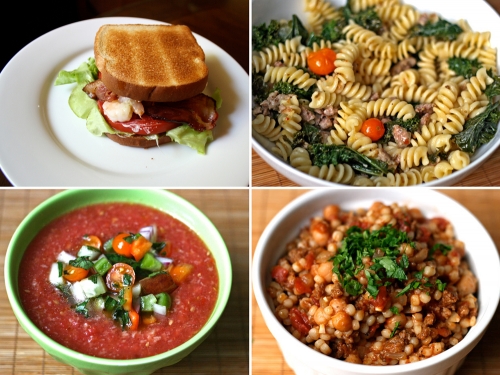 Our weekly roundup of what the two of us have written over on Serious Eats.
"Dinner Tonight" Column
QUICK MEALS TO YOUR TABLE FIVE DAYS A WEEK.
Chickpeas and Chorizo
The result is satisfying, flavorful, easy to prepare, and very economical. And makes great leftovers.
Alice Waters' Gazpacho
The bread thickens the soup and makes use of what would otherwise be stale. The rest of the soup is pretty much summer incarnate--what Waters calls "a liquid salad."
BLT with Avocado and Shrimp
This is no replacement for the classic BLT, but if you're like us and have basically been living on these sandwiches while tomatoes are in season, then this is a great variation.
Fusilli with Sausage, Kale, and Sungold Tomatoes
The sweet, intensely bright flavor of tomatoes are the perfect acidic foil for this traditional winter dish.
Pork Chops with Mint Julep Glaze
The mint julep name is sort of a misnomer. Sure it contains bourbon and mint, but the beef broth adds some meatiness and a sprinkle of allspice on the chops helps balance the sweetness.
Serious Eats Roundup