2 weeks in Oaxaca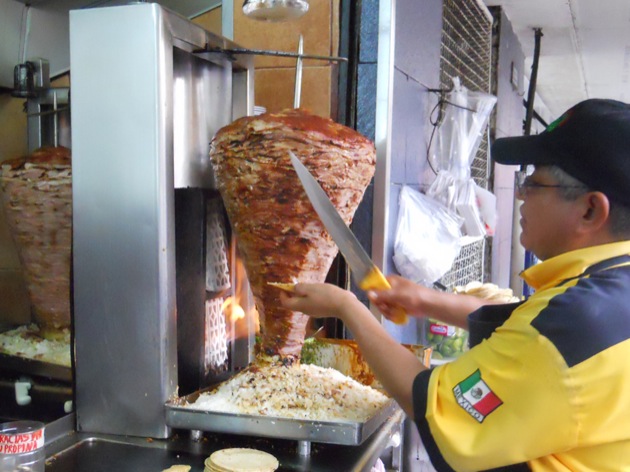 The Al Pastor was way better...
We travel to be surprised, right? While picking my favorite five dishes took some deliberation, coming up with five different foods or dishes that surprised me on a trip to Mexico should have taken me all of five minutes. But for some reason I wasn't expecting this. I have a vertiable library of Mexican cuisine in my condo courtesy of Rick Bayless, Diana Kennedy, and Susana Trilling, and have researched and cooked as many authentic dishes as I possibly could in the past three years. So how come I was wrong about so many things? Almost everywhere I turned in Mexico I was bewildered by some detail I'd never thought about, and which shattered my expectations. Luckily, they all turned out to be those good kind of surprises--cases where my preconceived notions actually hid something more intriguing and delicious.
1. The Tacos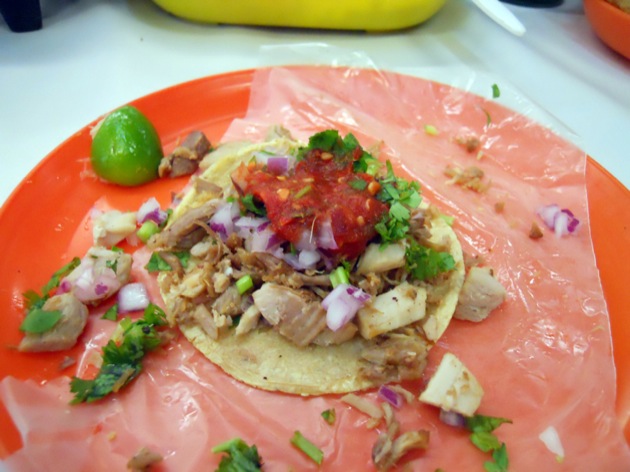 Carnita Tacos at Mi Mercado in Coyoacan
I expected to find some kind of insight about the taco during my two weeks in Mexico. By seeing it in its homeland, I'd formulate some kind of hypothesis on the correct proportion, contents, and preparation to create some kind of Grand Taco Manifesto. But I can't. While I ate tacos nearly every single day on my two week trip through Mexico City and Oaxaca, I left more confused than when I came.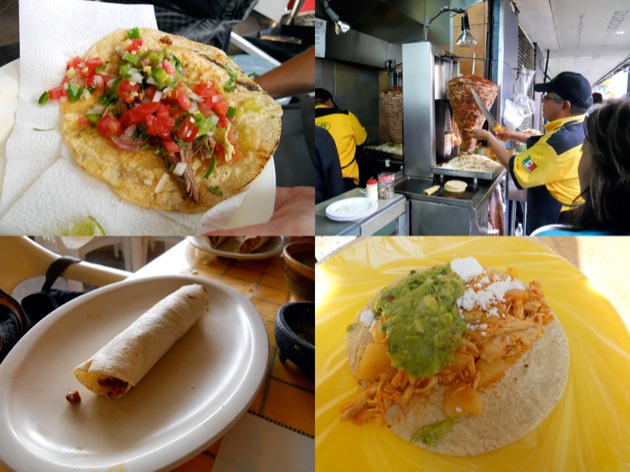 Goat, Al Pastor, Chorizo and Potato, and Chicken Tinga Tacos
I found them tiny and rolled, like the petite little al pastor tacos found at El Huequito . But I also encountered huge, generously filled ones from Tacos Gus in Condesa, where dozens of great cazuelas of stewing meats and vegetables were open for examination. Some were fried like taquitos, and others were housed in unnaturally soft and pillowy corn tortillas.
The fillings were just as diverse. I ate thinly shaved versions of Al Pastor, juicy hunks of carnitas, and tongue so tender it nearly disintegrated in my mouth. But I also ate rajas with queso, mushroom with crema, and vegetable guisados stuffed with squash and corn. The possibilities for tacos are endless.
2. No Chips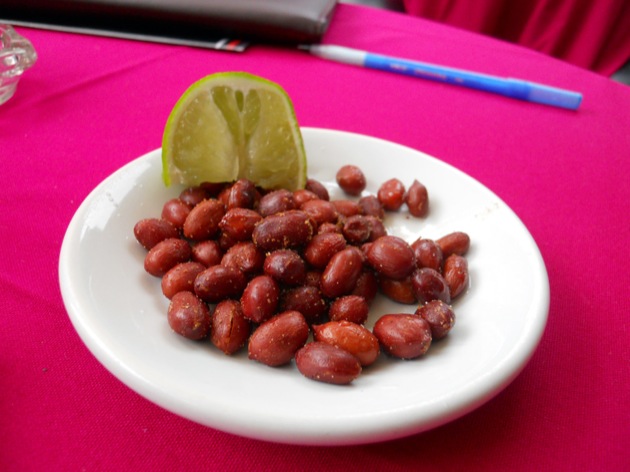 Taking a homework break with bar peanuts...
With maybe one exception, I never snacked on fried tortilla chips. Because there were no chips, there were no bowls of dippable salsa. Sure, there were always salsas (everywhere), but for the most part they were wickedly hot and meant to be drizzled sparingly atop a main dish, not to be shoveled into your mouth with a chip.
What kinds of snacks did I see? Well, I'm not as sure about Mexico City, but in Oaxaca we encountered either peanuts, pineapple, or jicama which were covered in lime, chile, and salt. Perhaps I was in the wrong region, or not familiar with the proper procedure of ordering, but it was honestly a revelation not to start off a meal with dozens fried chips. It meant I could eat more tacos....
3. The Guacamole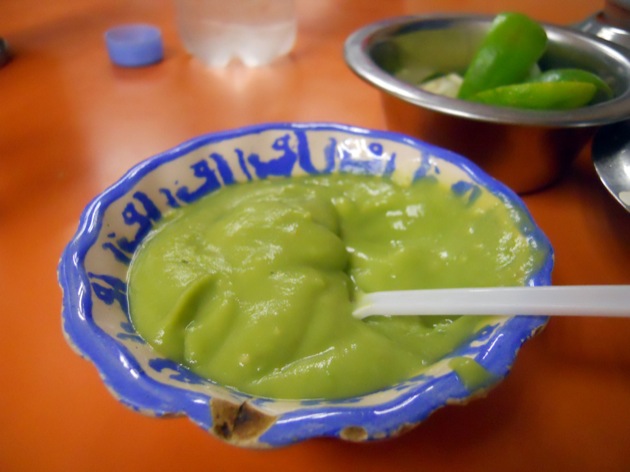 Looks more like an avocado sauce, right?
Because there were no chips, there wasn't a whole lot of what we'd all recognize as guacamole. There was some to be sure (like at Taco Gus), but most of the time when guacamole hit the table it was a creamy and smooth sauce meant for spooning over other things, not the chunky dip I was used to. Like the salsa, is meant to add another dimension to a taco. In this case, the creamy sauce helped balance the fierce spice of the salsas.
Though I'll never give up the chunkier guac, this did work better for tacos.
4. Meet the Tlayuda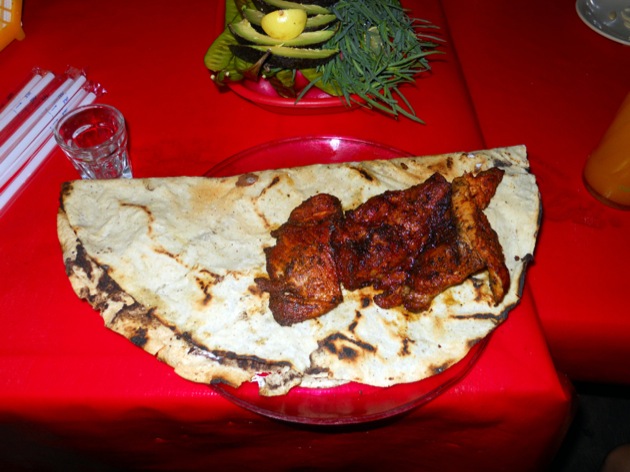 Bigger than my head.
Of all the dishes I encountered, none surprised me more than this one. I'd never heard of this thing before, and yet everywhere I turned in Oaxaca they were there. When I asked people in what to eat in the city they told me about tlayudas. When a teacher at the language immersion program took us to eat, he took us to a tlayuda place.
So what is a tlayuda? They are described often as a Oaxacan pizza, but they more resemble an over-sized quesadilla. Instead of just cheese, they are stuffed with creamy black beans, various herbs, and fresh quesillo cheese. Often they are cooked directly on the coals of a fire , which lends them a distinct smokey note.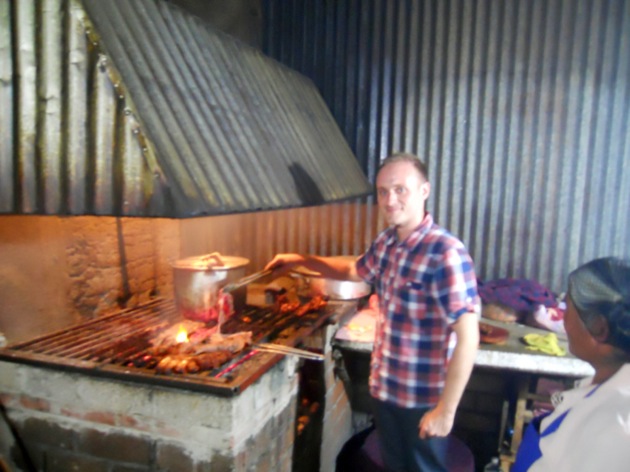 I'm probably screwing something up.
Freshly grilled meat is placed directly on top, making for one hell of a feast. You'd have to be incredibly hungry to finish one of these.
There is absolutely no reason why these aren't taking over the world. They make burritos look positively wimpy. If anyone knows where to find a tlayuda  in Chicago, please let me know. Otherwise, I'll be looking for a recipe to make these at home soon.
5. The Chocolate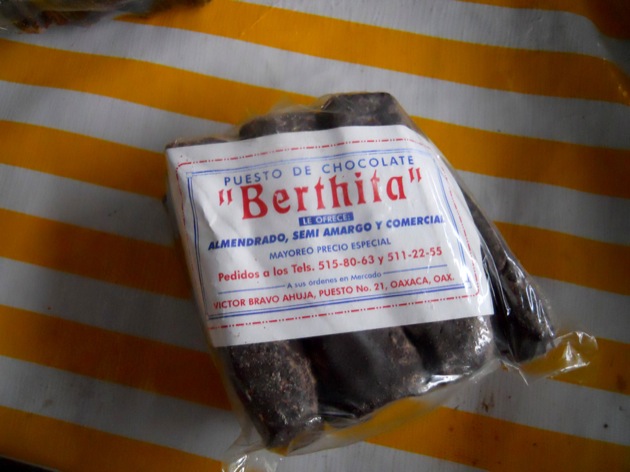 The best chocolate in the world.
For years I assumed the best chocolate in the world came from somewhere in Europe. Whether it was from Belgium or Switzerland, it really didn't matter. Give me a fine bar of dark chocolate and I'll be fine. But eating chocolate in the place where it has actually been growing for a thousand years has changed me. The chocolate isn't as processed, and it has an aggressive bite which wraps around your tongue and never lets go. It has a bit of cinnamon mixed in.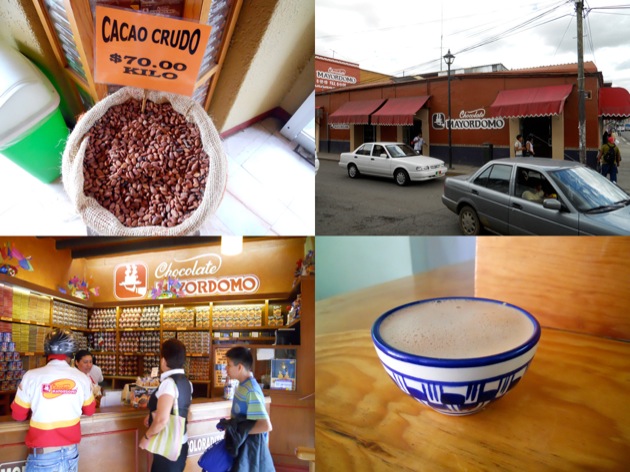 Once I discovered the hot chocolate at Mayordomo , I went back seven days in a row. Only after I found an even more rustic brand in the markets did my allegiance change. Regardless, when I flew back home my luggage was five pounds over the recommended limit, and I bet that was mostly due to the vast hoard of chocolate I brought back.
Travel,
Al pastor,
Al Pastor,
Avocado,
Burrito,
Chocolate,
Cuisine,
Cuisine of the Southwestern United States,
Cuisine of the Western United States,
Diana Kennedy,
Food and drink,
Guacamole,
Mexican cuisine,
Mexico,
Mexico,
Mexico,
Mexico City,
Oaxaca,
Oaxaca,
Quesadilla,
Rick Bayless,
Susana Trilling,
Taco,
Taquito,
Tex-Mex cuisine,
Tlayudas,
Tortilla chip,
Travel