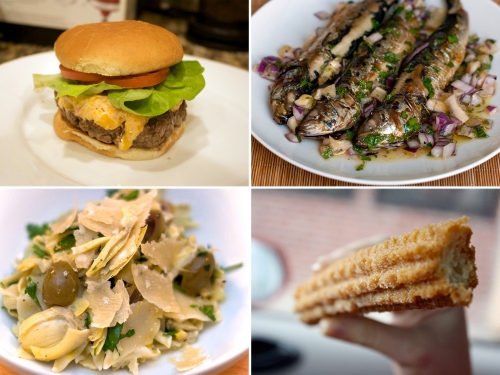 Our weekly roundup of what the two of us have written over on Serious Eats.
"Dinner Tonight" Column
QUICK MEALS TO YOUR TABLE FIVE DAYS A WEEK.
Pimento Cheese Burger
Who needs ketchup, when you've got this incredible southern spread as a condiment?
Sardines with Lemon and Mint Salsa
Blake finds an salsa with "cutting brightness and acidity" to dress up these fresh sardines.
Chicken Parmesan
Cooks Illustrated transforms this tired classic into something lean and simple.
Artichoke, Olive, and Lemon Pasta
Pasta salad is not usually one of Blake's favorite foods, but this recipe from Nigel Slater might change his mind.
Bay Scallops
Nick's first foray into cooking these tiny little scallops yields a decent soup. He'll take any other suggestions for recipes for bay scallops he can get.
Standing Room Only
A COLUMN ABOUT THE BEST OF CHICAGO'S RESTAURANTS--WITH NO SEATS.
To get some of the best churros in Chicago, you need to go to the factory where they are created. These are cheap, crunchy, and delicious.
Burgers,
churros,
Pasta,
Sardines,
Serious Eats Roundup