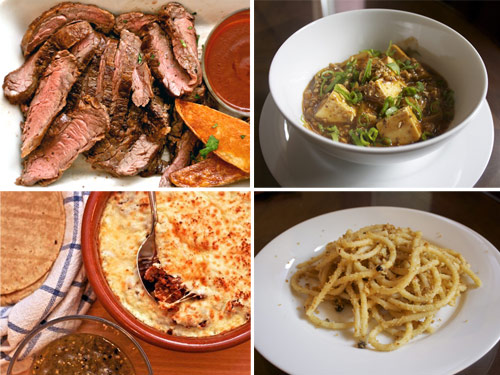 Our weekly roundup of what the two of us have written over on Serious Eats.
"Dinner Tonight" Column
QUICK MEALS TO YOUR TABLE FIVE DAYS A WEEK.
Fish Fragrant Eggplant
Your house won't start reeking of seafood when this dish is done. But honestly, there's a faint fishy flavor in the air. It's kind of miraculous. How could a dish were no fish products get close, smell of it?
Skirt Steak with Homemade Steak Sauce
To some a steak sauce is a crime, but this homemade recipe is round and rich, sweet and tangy, and quite balanced.
Mapo Tofu
Perfectly sums up what's to love about Sichuan cuisine: a feisty and slightly out of control dish that still feels homey and relaxed.
Mexican 'Fondue' with Chorizo and Tomatillo Salsa
The combination of mild Monterey Jack with the salty tang of crumbly Mexican cotija, baked in the oven for 15 minutes with chorizo? Completely addictive.
St. Joseph's Sawdust with Pasta
The"sawdust" bread crumbs soak up whatever is tossed on them—in this recipe pine nuts, Parmesan, dried currents, cinnamon, crushed red pepper flakes, and oregano—making for a cheap and tasty meal.
Serious Eats Roundup