The original celebrity chef helps us out with this French classic.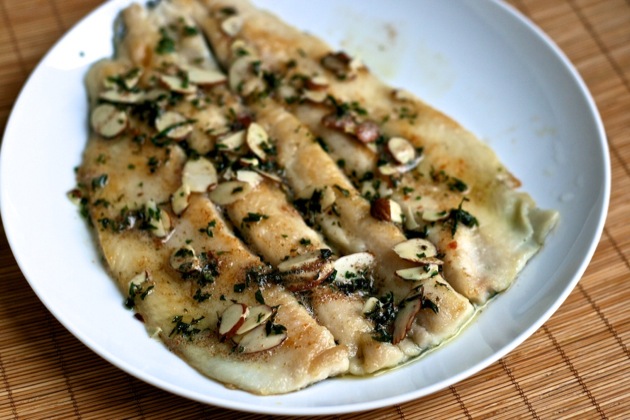 A variation on meunière sauce with almonds
In one of the opening scenes of My Life in France , Julia Child experiences an early meal in France with her husband, Paul, a lunch at La Couronne, a medieval house turned restaurant built in 1345. After oysters, she goes on to describe an early culinary epiphany, apart of what would become "the most exciting meal of my life."
Paul had decided to order sole meunière. It arrive whole: a large, flat Dover sole that was perfectly browned in a sputtering butter sauce with a sprinkling of chopped parsley on top...I closed my eyes and inhaled the rising perfume. Then I lifted a forkful of fish to my mouth, took a bite, and chewed slowly. The flesh of the sole was delicate, with a light but distinct taste of the ocean that blended marvelously with the browned butter. I chewed slowly and swallowed. It was a morsel of perfection...At La Couronne I experienced fish, and a dining experience, of a higher order than any I'd ever had before.
If you've seen Julie & Julia , you might also remember this scene, which happens near the beginning: the waiter glides to the table ferrying a whole fish still in its oblong copper pan, sizzling with obscene amounts of golden brown butter. (It was Nora Ephron's favorite food moment in the film.) All Julia and Paul can do is mutter and mumble in pleasure as they consume the flaky fish.
In culinary school, we've been going over core techniques like Poaching, Steaming, Sauteing and Braising, and in the process have learned a couple classic recipes that I will remember for a lifetime. One of them is the preparation that so impressed Julia Child: a la Meunière, and its variation, Amandine.
In school, we used small butterflied river trout, which have a clean, freshwater taste that pairs beautifully with the sauce, and are much cheaper and easier to find than real Dover sole.
In and amongst the chaos of a culinary school class, next to raging burners, cold stainless steel and piles of dirty skillets, I had a culinary epiphany of my own.
The preparation is simple, but every detail matters to get it right: a golden, crisp crust on the fish without overcooking the flesh; just the right color of brown on the butter so that it is nutty and rich without becoming bitter in the slightest from overcooking; adding the parsley so that it sizzles in the butter, and using the lemon juice to halt the sauce at the right moment.
Brown butter, parsley, and lemon can be used not just with fish, but vegetables, too. The sauce itself also has some variations--you can add capers or sliced almonds, for example. Green beans that have been boiled until just tender, shocked in ice water to set their color, then finished in the skillet with brown butter, lemon, and sliced almonds is an outstanding way to use this sauce, and another classic French dish.
River trout are sustainable and easy to find. Buy them whole, then remove the head and the pointy "collarbone" at the top. Remove the spine and adjacent bones, doing your best to leave the skin intact to hold the two fillets together in one piece. Or, ask the fishmonger to do all that for you. Butterflied or pan-dressed is the terminology to use.
Trout Meunière / Amandine
-serves 1-
1 small river trout, butterflied or pan-dressed
flour for dredging
salt and pepper
2 tablespoon neutral oil with a high smoke point, such as grapeseed
4 tablespoons butter
1 tablespoon fresh-squeeze lemon juice
small handful finely chopped parsley
1/4 cup sliced almonds (optional)
Most sole sold in this country is not the real Dover fish, and so replacing it with trout--which is what they do in Creole cuisine down south--is acceptable.
Meunière means "Miller's Wife" and there are a number of theories to the origin of this name for flour-dredged fish. My favorite is that the miller's wife, preparing lunch, had so much flour on her hands from the mill that it transferred to the fish. Turns out, flour does wonderful things for the crust of the fish
Rinse and dry the fish thoroughly. It needs to be as dry as possible to that you can brown it well in the pan. Liberally sprinkle both sides with salt and pepper and dry again.
Put some flour in a shallow bowl and dredge the fish in all sides so that it's completely coated, then shake off any excess.
Put a skillet with room for the whole fish to lay flat over high heat. Add the oil and heat until the pan is absolutely smoking hot, the oil is shimmering, and the fans are on. This is a quick cooking process and it needs to be raging hot. Home stoves are never as hot as in a restaurant.
Tilt the skillet away from you so that the oil doesn't splatter, and lay the fish, flesh-side down, in the skillet. Cook over high heat until a golden crust has developed on the flesh side, about 3 minutes, then carefully flip and cook for another minute skin-side down. Most of the cooking will happen on the flesh side to develop that crust.
Carefully remove the fish to a plate and tent with foil, or place in a low oven. Pour out the hot oil and allow the pan to cool down for at least a minute--if not, the butter will burn.
Add the butter to the pan over medium heat and allow it to melt, swirling it around often. Add the almonds, if using, and cook until the milk solids in the butter begin to turn golden and then brown. It should smell nutty and delicious, but be careful, as they will go from deep brown to black when you're not looking, and then you have to start over.
When the butter is close, add the parlsey, which will sizzle and sputter. To stop the butter from browning further, add the lemon juice and take off the heat. Transfer the fish to a plate and spoon the sauce over it.
Devour immediately.
Food,
Main Course,
Bread,
brown butter,
Butter,
Cooking,
Cuisine,
Dover,
Family Relation,
Fish,
Food and drink,
France,
French,
Julia Child,
Julia Child,
Meuniere sauce,
oil,
Paul,
Person Relation,
Sauces,
Sautéing,
Seafood,
trout,
waiter