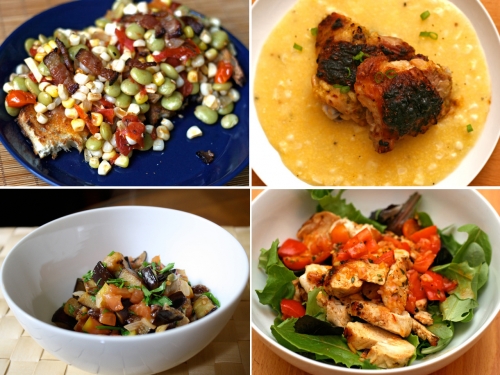 Our weekly roundup of what the two of us have written over on Serious Eats.
"Dinner Tonight" Column
QUICK MEALS TO YOUR TABLE FIVE DAYS A WEEK.
Chicken with Tomato-Saffron Vinaigrette with Mixed Greens
Paprika and saffron help give a vivid orange-red tinge and a round, mellow flavor to this simple summer salad.
Summer Succotash with Bacon
Lovely, lovely bacon fat and a shot of sherry vinegar help wake up this classic dish.
Eggplant Caponata
This is essentially an Italian variation of ratatouille, but with briny capers and golden raisins to give it a little kick.
Grilled Mustard Chicken with Fresh Corn Polenta
The sharp taste of the mustard is muted, leaving just a trace of its fragrance and a wonderful crust on the chicken. It's pretty much guaranteed to be among the most flavorful chicken off your grill with summer.
Sizzling Spicy Rib Eye Steaks
Usually we just opt for a simple coating of salt and pepper for our ribeyes, but after finding a good deal on these, we wanted to see if a dry rub would help add dimensions of flavor and actually improve the taste of the great cut of meat.
Bacon,
Beef,
Chicken,
Eggplant,
Serious Eats Roundup,
Steak,
Succotash