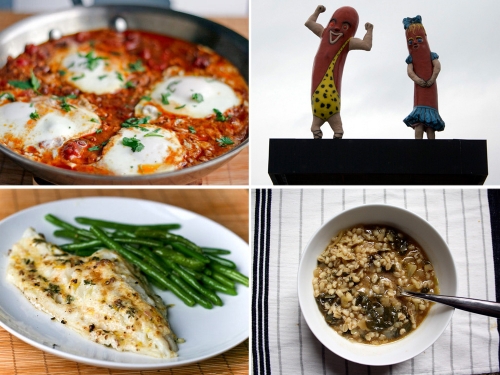 Our weekly roundup of what the two of us have written over on Serious Eats.
"Dinner Tonight" Column
QUICK MEALS TO YOUR TABLE FIVE DAYS A WEEK.
Pasta Carbonara with Leeks
This take on pasta carbonara adds some caramelized leeks to lend a slight sweetness.
Moroccan Ragout with Poached Eggs
Some spicy lamb sausage called merguez helps transform this Moroccan version of eggs in purgatory.
Roasted Carrots and Beets with Pork Chops
The carrots and beets get treated with extreme love and care in this recipe, but it's the double thick pork chops that steal the show.
Broiled Cod with Lemon and Thyme
This old recipe from Gourmet, comes together quickly with a simple mayonnaise, lemon, and thyme sauce.
Barley Soup al Verde
Most barley soups have a heavy helping of beef, but this light version from the Silver Spoon uses spinach and cabbage for some heft.
Standing Room Only
A COLUMN ABOUT THE BEST OF CHICAGO'S RESTAURANTS--WITH NO SEATS.
Superdawg
Superdawg is a fast-food fantasy land unlike anything else in Chicago. It's an honest-to-goodness drive-in with car hops, neon lights, and mascots. They also have, despite some honest flaws, one of the best Chicago dogs in the city.
Serious Eats Roundup