Which Italian deli in Chicago makes the best subs?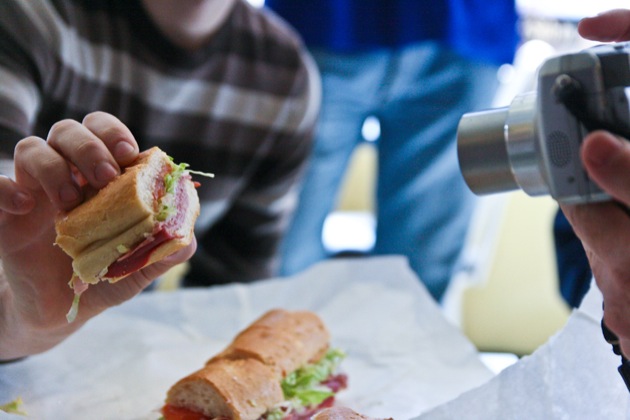 We assembled at 11 a.m., seven hungry men, at J. P. Graziano's. This unadorned storefront in the restaurant supply district of Chicago's West Loop seemed like an odd place to begin a journey to find the best Italian sub in Chicago. The shop's exterior had no tell-tale signals that it made sandwiches--just a sign stating their business as wholesale importers. The interior contained no vine covered trellises or nostalgic pictures of the Tuscan country side. All we saw were barren wooden floors and enormous barrels of spices. But we had reason to believe that they served one delicious sub.
Indeed, the Grazianos' sub was a wonder. A slightly crackly exterior to the bread gave way to a pillowy, tender interior. The meats were the highest quality--Hot Capicola, Volpi Salame, Genoa salame, and mortadella--an intense, salty punch of porky goodness. The lettuce was tossed with the dressing in a bowl, and then added to the sandwich so each bite was flavorful with its sweet-tart crunch. And a final flourish of tangy, gently spicy giardiniera gave it a pickled punch that elevated it to greatness.
It was a triumphant beginning to our day, the first stop on a mad tour of the Chicago's Italian delis, 6 in all, to find who was still keeping the Italian sub alive in the city.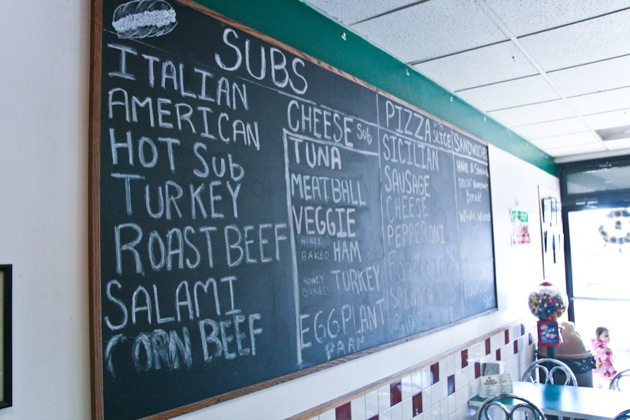 Why Italian subs? Variations of the "Submarine Sandwich" can be found in nearly every large city in the country, known variously as a hero, hoagie, grinder, blimpie, or torpedo (it has unwittingly spawned some sinister imitations from chains like Jimmy Johns and Subway). But they all owe their provenance to the Italian sub, a simple oblong sandwich that inspired them all.
In its authentic Chicago rendition, the Italian sub is about 9 inches long and filled with dry-cured Italian meats like salami, capicola, soppresetta, or proscuitto; mortadella is often added to contribute a bologna-like creaminess. It's topped with provolone to help give it some salty bite; a little oil and vinegar for some tang; and giardiniera , that Italian pickled vegetable concoction that's found it's true home here, for a nice kick. It's blessedly simple and straightforward, a shockingly cheap workman's lunch wrapped in paper and slid across the counter to take on the road. And yet it is a culinary achievement, a mouthful of contrasting flavors and textures. When done right, it's about as close to sandwich perfection as one can get.
Our ringleader for this event was fellow Serious Eats writer Daniel Zemans , who drafted the list of the six Italian delis we'd visit, from famous locations in the West Loop to a simple sandwich shops in the western suburb of Melrose Park. Over the course of five hours we consumed breakfast, lunch, and dinner in the form of Italian Submarine Sandwiches (plus an Italian beef for good measure, two cups of gelato, pepperoni bread, fried rice balls known as arancini, and a few slices of superb Neopolitan pizza) and arrived at some conclusions. It's not so easy to make a good Italian sub well. Certain things must be present, and certain other things should never be. Despite, and perhaps because of its simplicity, the Italian Sub is difficult to master.
Our results shed some light on where Chicago's greatest renditions of the sandwich are served today. Here is our guide to the best.
J. P. Graziano's
901 West Randolph Street
Chicago, IL 60607-2290
(312) 666-4587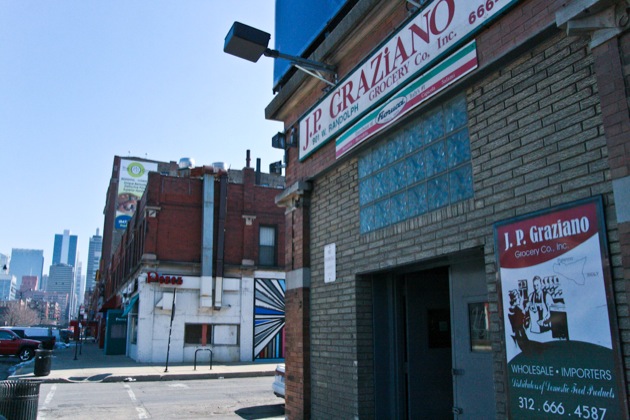 $5.25 for 9"
Bread: Crusty Roll from D'Amato's
Meats: Hot Capicola, Volpi Salame, genoa salame, mortadella
Our first stop was at J. P. Grazianos, a Italian goods wholesaler in the West Loop. It's a bare storefront, but pleasant in a minimal way. Their business seems to be mostly wholesale, though the public can come in anytime and have their way (the olives were some of the best we've tasted anywhere, and very cheap). Mostly they sell in bulk, and their sub making operations seems to be simply another way to showcase their fine products, an insider's secret if you know it's there. They clearly take it very seriously, even obsessively, and use the finest ingredients.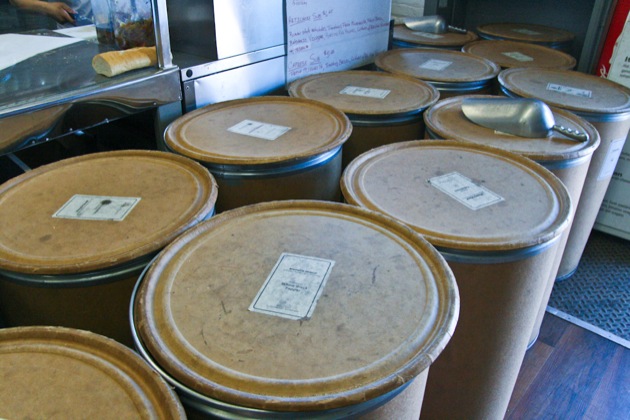 That's our good luck. Because it's hard to find any fault with this sandwich. If you're looking for a perfect encapsalation of what makes a great Chicago Italian sub, then this is your place. The care is extraordinary. Success lies firstly with the bread, which comes from D'Amato's bakery on Grand. It's crisp on the outside and perfectly tender on the inside. The meat is sliced to order. The giardiniera was tasty, and not overly hot. All our subsequent subs were judged--and overshadowed--by this high standard.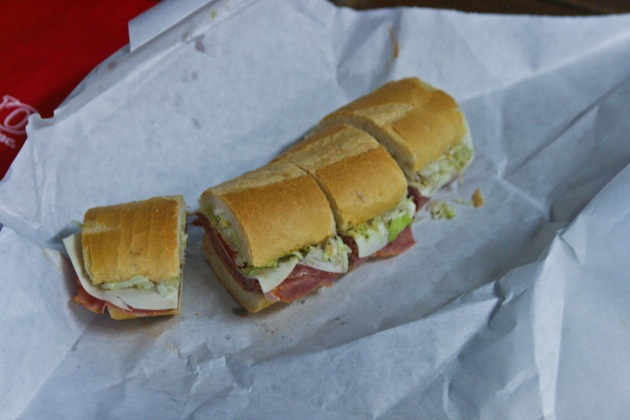 Conte di Savoia
1438 West Taylor Street
Chicago, IL 60607-4623
(312) 666-3471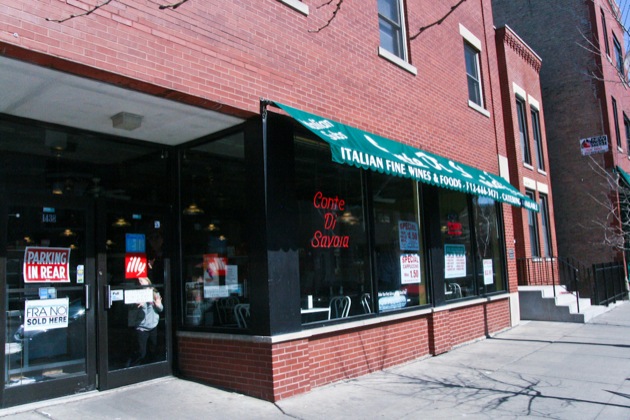 $4.75 for 8"
Bread: Soft roll from Turano
Meats: Ham, Salami, Cappocollo
After our first bite, we all knew something was different. We knew first that Conte di Savoia used the slightly softer Turano bread, instead of D'amato's, which lacks the pleasantly crackery outside. Turano is not bad bread by any means, but it is much softer and chewier. This means that each bite is harder to wrestle away from the sandwich, and can sometimes squeeze out the insides.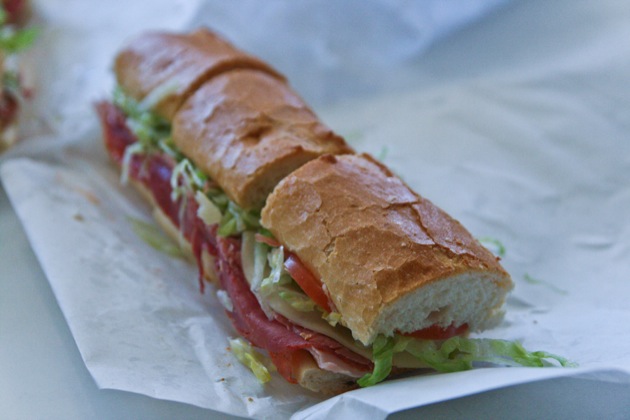 But the real issue was with the addition of basic deli ham. Not a  dry-cured ham such as prosciutto, deli ham is milder in flavor and sometimes has water added to it. It toned down the flavor of the salami, and diluted the quality of the other meats. A good Italian sub, we learned, depends on that concentration of salty cured meats. Mr. Zemans declared it "like a Subway sandwich on good bread." While this is a solid rendition--and certainly an impressive bargain--it's probably not worth making a trek for. This finally came in at fifth place.
Freddy's
1600 South 61st Avenue
Cicero, IL 60804-1641
(708) 863-9289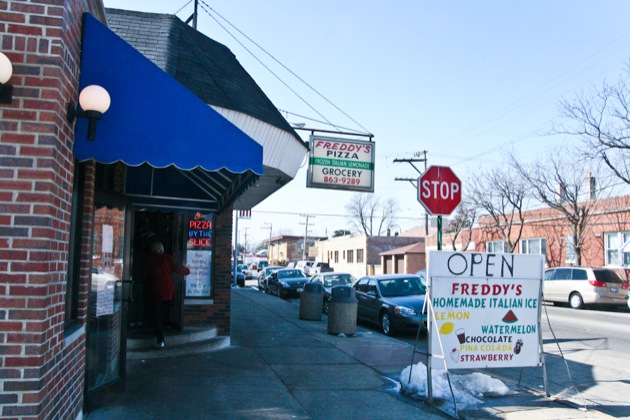 $4.50 for 9"
Bread: Soft roll
Meats: mortadella, capicola, salami
Next stop was outside city limits, our first stop in the suburbs. Freddy's was the oddball of the bunch. It's part deli, part Italian-American restaurant with an extensive menu and some of the most colorful characters we met all day. They do much more than a basic sub.  Upon arriving, we entered into a circular line that took us past a compact, well-curated selection of Italian pantry items, then along two counters piled with breads, prepared foods, and pungent salamis hanging from the ceiling. Everyone was happy and the place was bustling.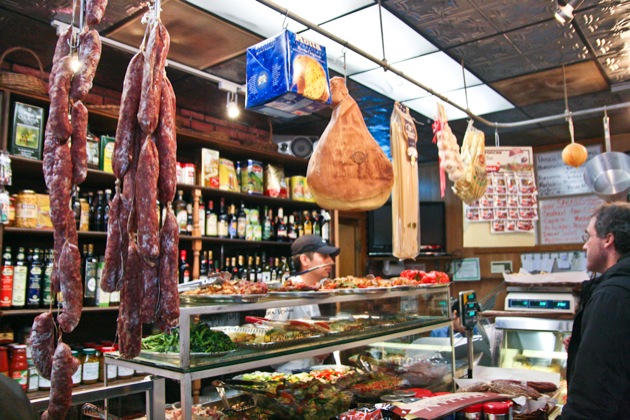 Apparently we were a rather charming bunch, because along with our Italian subs, we managed to procure all manner of complimentary items. The Italian grandmother all of us wish we had began shuttling out all kinds of samples, beginning with a superb piece of Margherita pizza that was honestly some of the best we've sampled in the Chicago region. Italian ice and a sample of gelato followed, all of which was truly outstanding.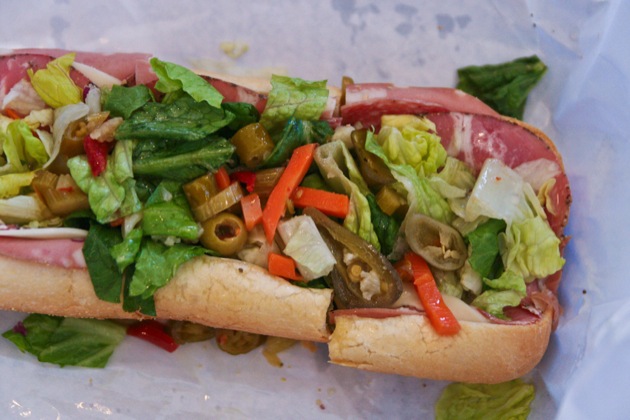 But what about the sub? It was a brash, in-your-face event. The meat was spot on, and it was constructed in an ingenious way to make it not self destruct upon a bite, with the meat being laid on first and the ingredients stuffed in between the meat. But instead of the normal oil and vinegar dressing, the lettuce was tossed with what tasted like an old-school bottled Italian dressing. It was sweet and heavy with dried herbs, and spilling out of the bread. The bread was chewy and somewhat drenched. Comparing this sandwich to what we'd eaten at Graziano's was almost impossible.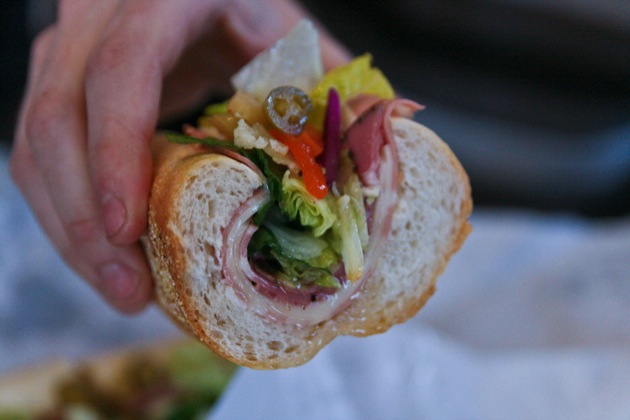 Freddy's makes a very good Italian sub, but it seems kind of beside the point at this Italian-American wonderland. There are too many other delicious foods there to justify the calories on the sub. Unfortunately, that's what drops this sub into third place.
Scudiero's
2113 West Lake Street
Melrose Park, IL 60160-3618
(708) 343-2976
Bread: Soft roll
Meats: ham, mortadella
Of all the places we visited, Scudiero's was the least welcoming. It's basically just a sandwich shop, without aisles of Italian foodstuffs or any attempt at decor. That'd all be fine if the sandwich had something going for it, and might even add to the charm. But this turned out to be our only real disappointment of the day.  We even forgot to take a proper close-up photograph.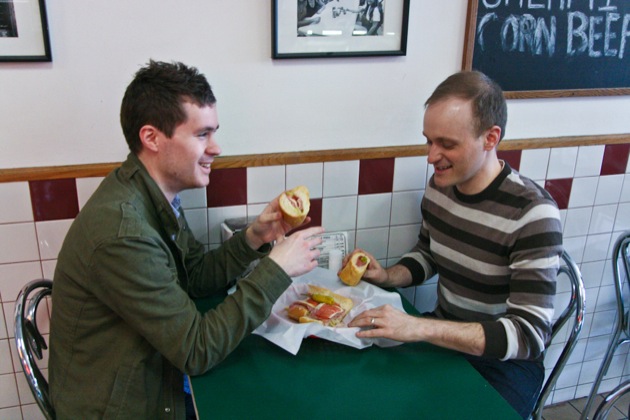 Sadly, deli ham made its second appearance of the day, which mucked up the flavor of the cured meats (see above, Conte di Savoia) and made the sandwich seem almost watery. The bread was too soft, and slightly stale.
The one interesting twist was the perplexing replacement of giardiniera with a large pepperoncini. It actually kind of worked, giving the sandwich a different kind of heat that was an interesting variation in the day. But it was not enough to make up for other failings in comparison to our earlier stops. Still, put all this in context: it's a delicious sandwich that would kick Subway's ass any day, even if it was our last-place finisher.
Riviera Italian Imported Foods
3220 North Harlem Avenue
Chicago, IL 60634-4501
(773) 637-4252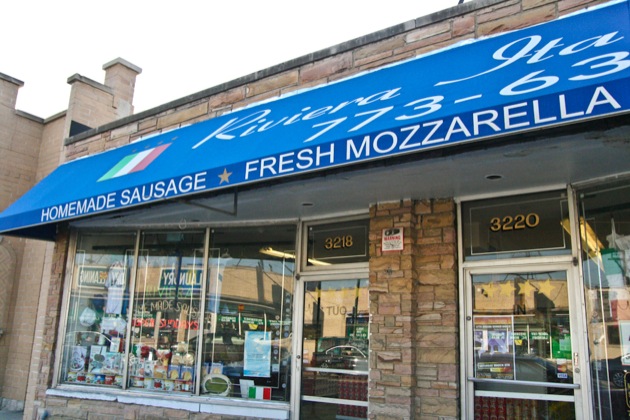 $3.50 for 9 inches
Bread: Soft roll
Meats: Ham, salami, capicolla, mortadella,
Our first order of business at Riviera was to try not an Italian sub, but another sandwich they have become famous for: the "Will's Special." This wondrous creation was coined by, well, a man named Will, who was just a regular customer with a great idea.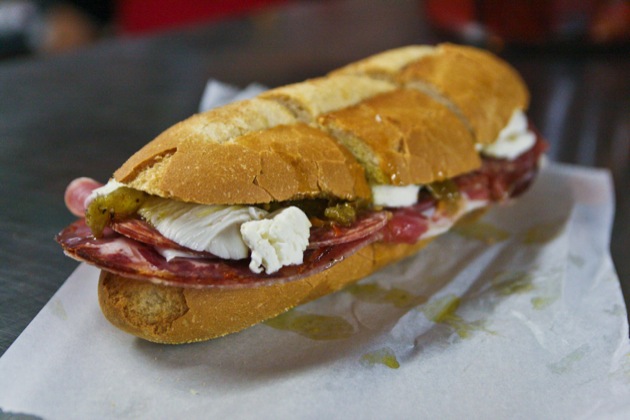 The combination is a mix hot sopressata, hot cappicola, prosciutto, fresh mozzarella, and hot giardiniera. It was easily the spiciest sandwich of the day, and yet the smooth, creamy fresh mozzarella calmed our tongues. It was a nice kick after the relative disappointment of Scudiero's.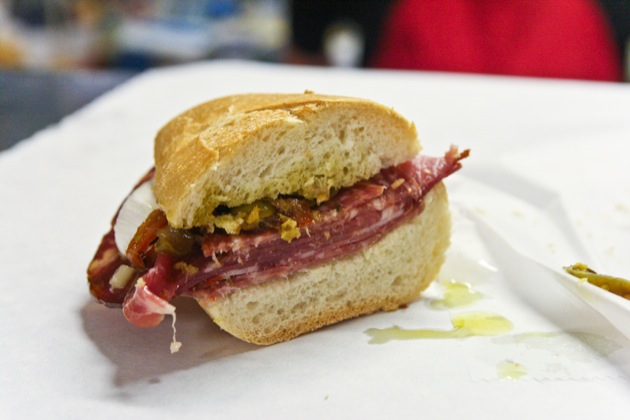 We probably should have eaten the Italian sub first. We knew it. Because playing second fiddle to the Will's Special isn't easy, and it didn't help that Riviera's Italian sub contained ham, which for the third time this day, spoiled the sandwich. Or at least, sent it to fourth place.
Will's special is a contender for best sandwich in Chicago, but their Italian sub needs some work.
Bari Foods
1120 W Grand Ave
Chicago, IL 60622
(312) 666-0730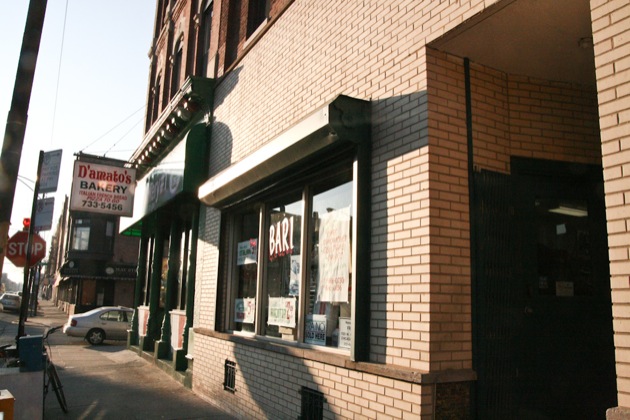 $4.75 for 9"
Bread: Crusty Roll from D'Amato's
Meats: capicolla, Genova salami, mortadella,
To say we were full by the time we arrived at Bari is an understatement. By this time we had eaten for five hours. Yet we had to try it, because it was also the one sub both of us had eaten before. According to our own experience and reports we've read around, Bari can be quite inconsistent with their execution. We were both not expecting too much.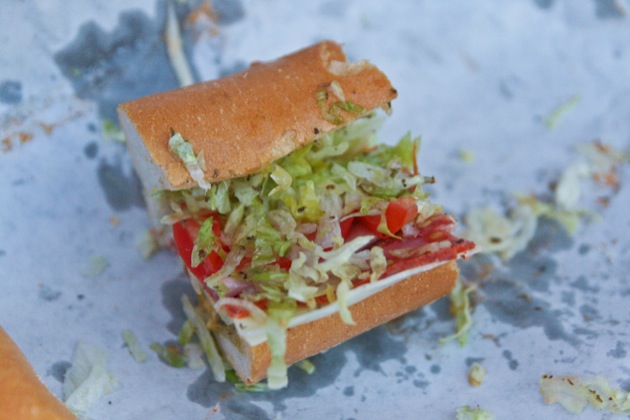 But that familiar crunch of D'amato's bread (whose storefront is next door), was as welcoming as the first sub we had at J. P. Graziano's. The bread was back. And it showed: this was a nearly perfect sandwich. Perhaps the lettuce was a little oily and could have used an extra splash of vinegar, but that's nitpicking, and really beside the point. Bari came through as one of the best Italian subs in Chicago, earning a solid second place finish after Graziano's.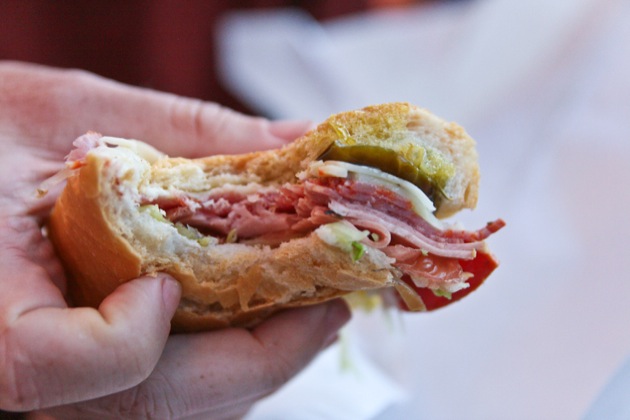 Honestly, there wasn't a horrible sub all day, just some that were remarkably better than others. We realized we had a strong preference for subs made on D'Amato's bread. We also noticed a disturbing trend with ham. It seemed to suck flavor away. At places like Riviera, we'd be keen to just tell them to leave it off. That would have solved a lot of problems.
Mostly, we realized that going on an Italian sub tour of Chicago is just as much about visiting these old school delis as it is about the subs. These places are a treasure in this city. Their commitment to honest ingredients and doing things the slow way should be admired. Now if you'll excuse us, we are getting hungry again.
Travel,
American,
Chicago,
Chicago,
Daniel Zemans,
Delicatessen,
Dried meat,
Food and drink,
Giardiniera,
Illinois,
Italian beef,
Italian cuisine,
Italian Sub,
Italian-American cuisine,
Jimmy Johns,
Meat,
Melrose Park,
oil,
Person Career,
Pork,
Prosciutto,
Salami,
Salami,
Salumi,
Sandwich,
Sandwiches,
Serious Eats,
Submarine sandwich,
Subway,
workman,
writer