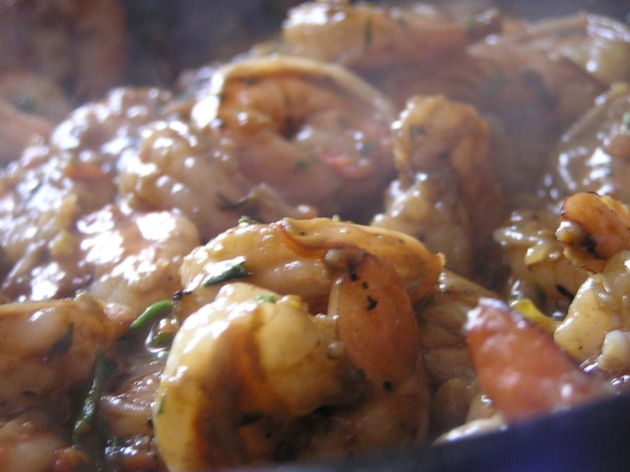 I just watched Emeril make shrimp etouffee in about 10 minutes.  I'm sure some of that time was saved thanks to the precut vegetables, pre-made stock, and carefully placed commercial breaks.  But it was still a little disconcerting to see him whip up a slow moving dish with such manic energy.  He made it look quick and easy, which can't be said about this one.  Not only does this version have lots of ingredients, it also takes an inordinate amount of time.  Thanks to the stock, this little preparation took about 2-3 hours, all with constant watching.  I enjoyed every second of it.
There is something to be said about intensely enjoying a process, and none tends to make me as happy as slowly piling on the flavors for shrimp etouffee.  Each step ups the flavor profile by what seems like an insurmountable amount, before it's done again.  And with the time to actually watch all this go down, it can be a feast to the senses before it ever hits the plate.  In fact, it feels less like recipe and more like a relaxation process.
If this sounds an awful lot like barbecuing, that's because it does.  Both offer an escape from other responsibilities while they are occurring--you can't very well clean while a fire is roaring--, and both usually necessitate something cold in hand.  The most crucial difference is that this one is done indoors, and with a lot more control.
Perhaps my sense of this dish would change if I could pull this together as quickly as Emeril.  Watching every stage proceed at a snails' pace adds to the enjoyment of the dish as I can see regular items turn into an extraordinary whole.  And while this does take time, if probably planned out it doesn't feel like a laborous process.  It, actually, is one of my favorite recipes, and one that only pull out occasionally when I have the time to dedicate.  This just happens to be the first time I remembered to take pictures of it.
I definitely won't be jumping into the waters of authenticity here.  Lots of people have opinoins.  Should I have added tomatoes?  Should I make the roux first?  Beats me.  Like all Cajun and Creole cooking done
on this page, I stole this from Nola Cuisine .  You should, too.
Oh, and a side of rice would be a perfect accompaniment.
Part 1: Shrimp Stock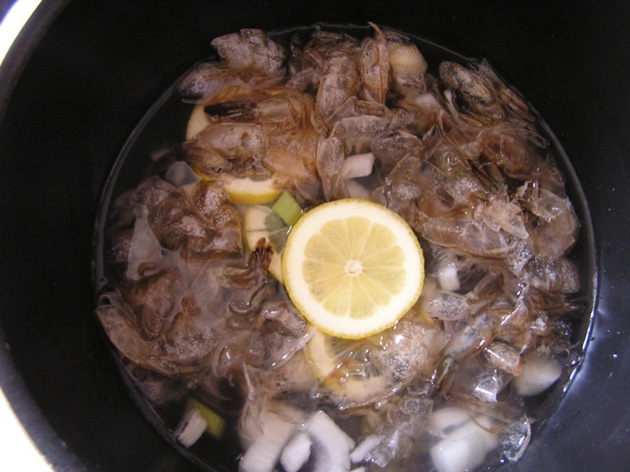 the shells of shrimp 1 pound of shrimp
1/2 a medium onion, chopped
1/2 a stalk of celery, chopped
1 garlic clove, minced
1/2 lemon, sliced
1 bay leaf
a few sprigs fresh thyme
1/2 teaspoon black pepper corns
Dump the shrimp shells, onion, celery, garlic, lemon, bay leaf, and black pepper corns into a large pot.  Add enough cool, cold water to cover the shells and bring to a boil.  Reduce to a simmer and grab hold
of a beer.  Let it sit there for a nice 45 minutes.  That should leave plenty of time to cut up all the vegetables and mix the seasonings.
Part 2: Creole Seasoning
---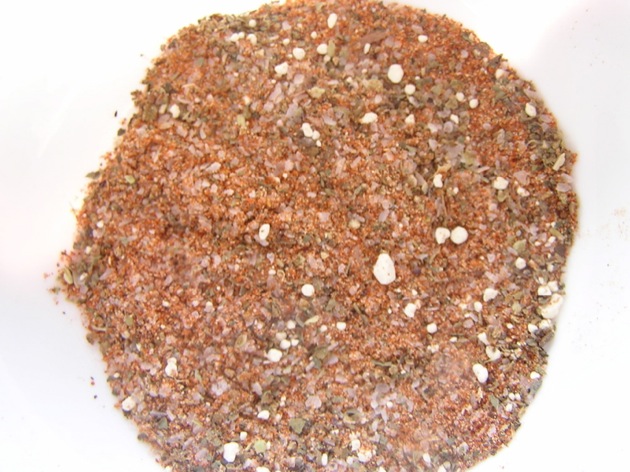 1/2 tablespoon salt
1/3 tablespoon paprkia
1/4 tablespoon garlic powder
1/3 tablespoon black pepper
2 teaspoons onion powder
1 teaspoon cayenne pepper
1 teaspoon dried thyme
1 teaspoon dried basil
1/2 teaspoon dried oregano
Mix everything together.  That's it.
Part 3: Shrimp Etouffee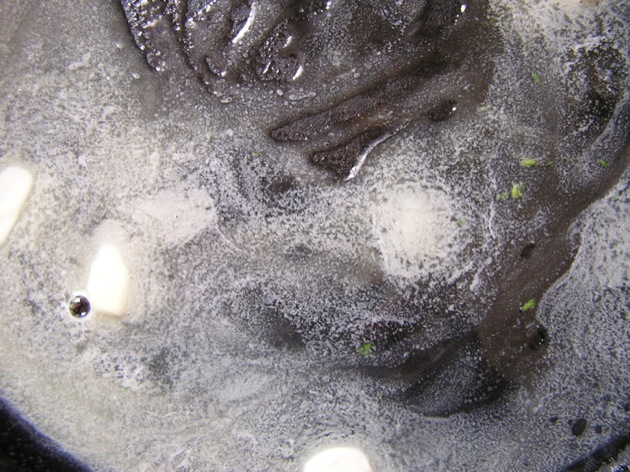 1 tablespoon creole seasoning
3 1/2 tablespoons butter
1/2 medium onion, finely chopped
1/2 stalk of celery, finely chopped
1/2 bell pepper, finely chopped
1/8 cup flour
3/4 cup shrimp stock
1 medium tomato, chopped
1 clove garlic
fresh thyme
1 teaspoon worcestershire sauce
1/2 teaspoon hot sauce
1/4 cup green onion
1 1/2 parsley
1 pound shrimp
Melt 2 tablespoons of the butter in a big iron skillet over medium heat.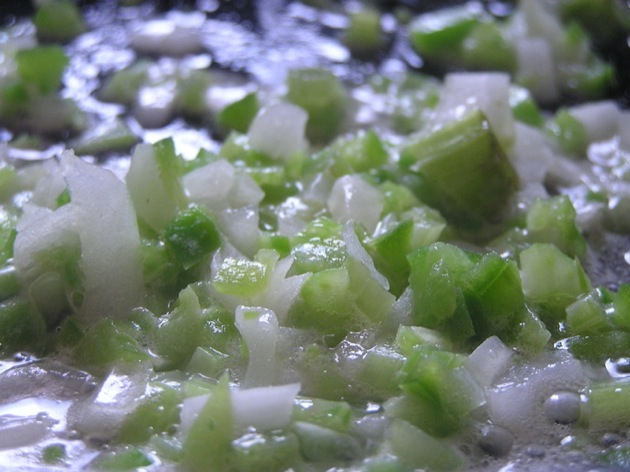 Toss in the chopped onion, bell pepper, and celery (holy trinity!).  Saute until they have softened and turned a little translucent.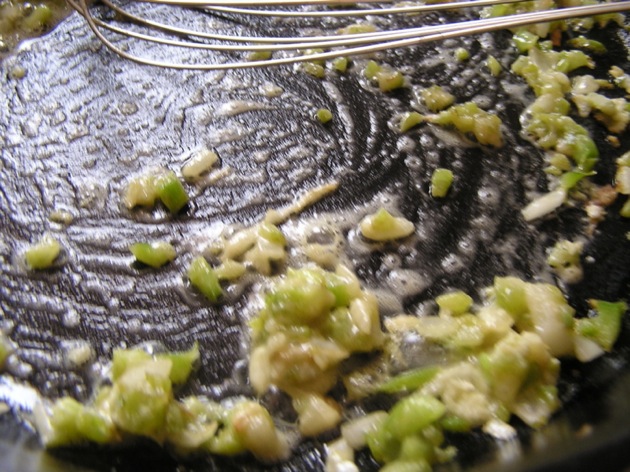 Add the flour slowly, whisking constantly, and cook for 3-5 minutes.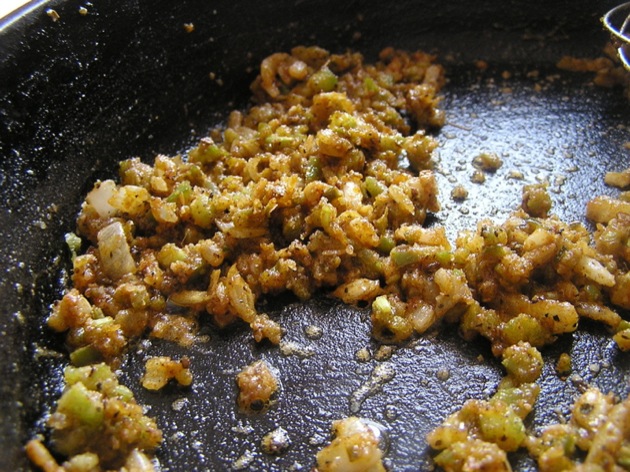 Sprinkle on the creole seasoning, and mix together.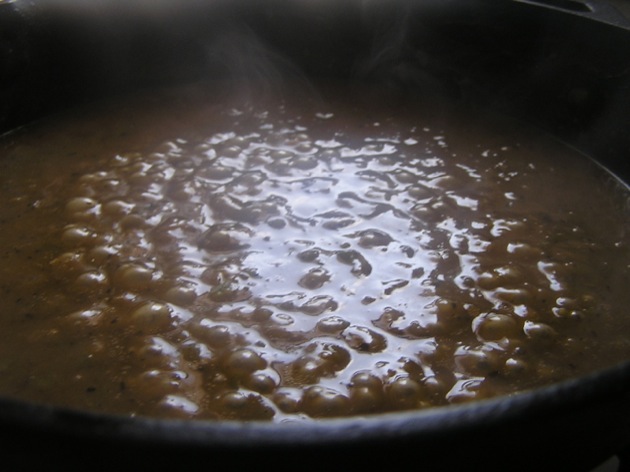 Pour in a little of the shrimp stock, and stir into a paste.  Then slowly whisk in the rest of the stock.  Bring to a boil, then cut the heat to low.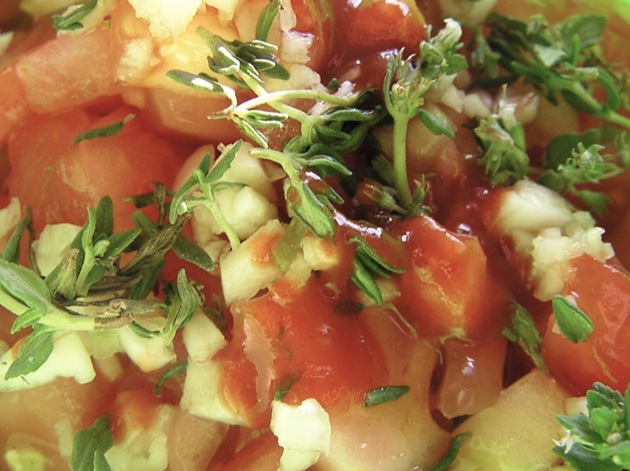 Toss in the tomatoes, garlic, thyme, hot sauce, worcestershire sauce, and a pinch of salt and pepper.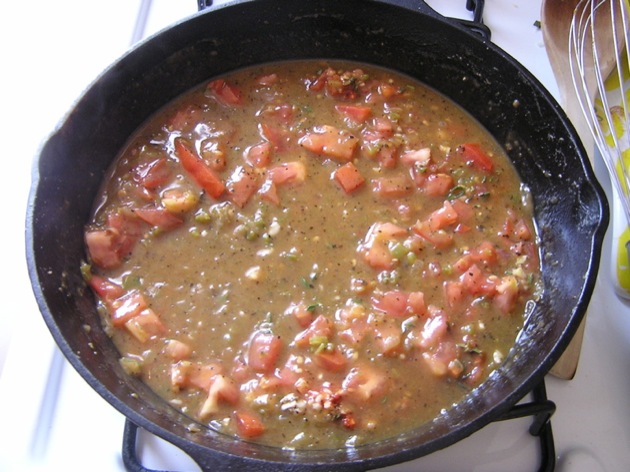 Let this simmer for 30 minutes.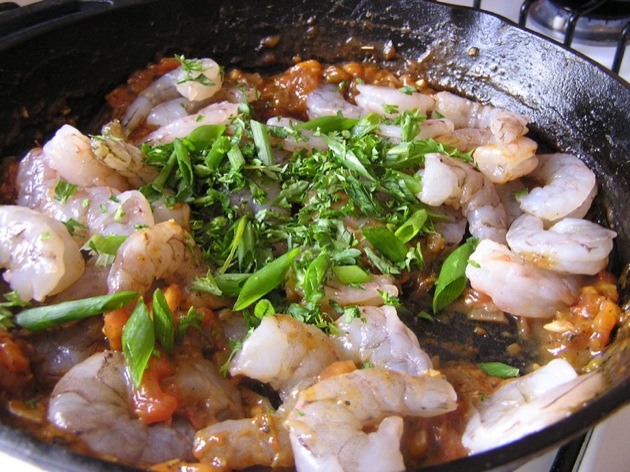 Dump in the peeled shrimp, green onions, and parsley.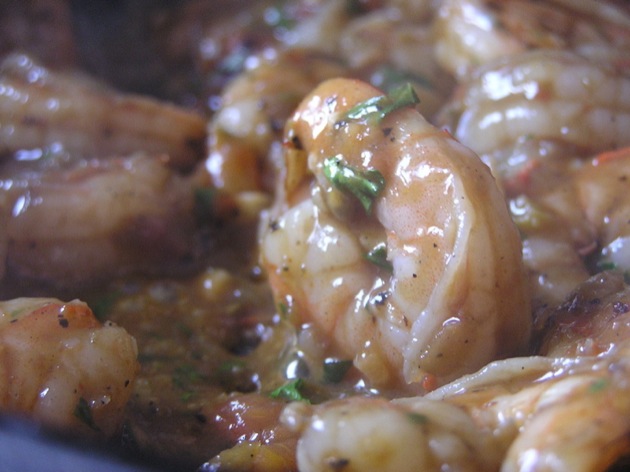 Cook until the shrimp has turned pink, about 5-10 minutes.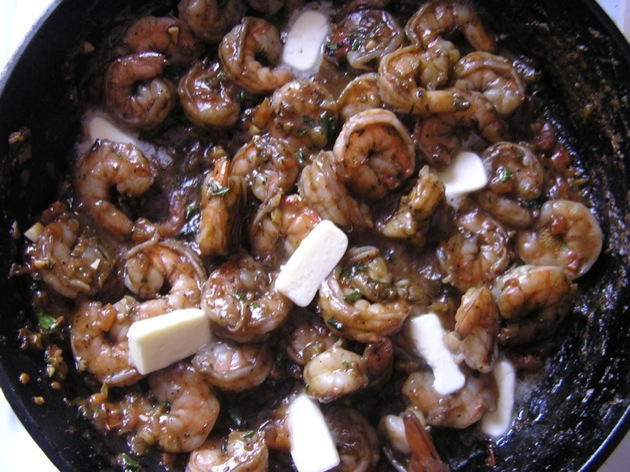 Stir in the last of the butter, and finally plate.
Creole,
Etouffee,
New Orleans,
Roux,
Seafood,
Shrimp