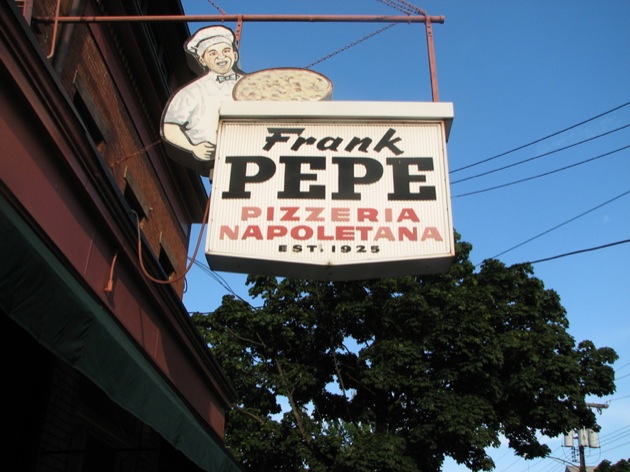 Ever since writing about New York pizza and our travels from borough to borough on an insistent quest for the best possible pie, a steady minority of nagging naysayers have quietly made their case in a different direction.   No matter how many subways, buses, or ferries one takes, they say, you'll never find the best pizza in New York.  That's because it's in New Haven, CT.
I resist, because it doesn't fit the story.  You know, the romance of an old New York pizzeria and a long tradition.  The way New York is a convenient setting for just about any tale, making it larger and brasher and famous.  Who wants to believe that the best pizza in America is way up in Connecticut?
But Lombardi's is arguably the most famous of New York pizzerias--the center of this New York pizza story--and it doesn't have the best pizza in our opinion .  Once that Little Italy myth crumbles, the title is open again.  For some time I've considered Brooklyn the home to America's best pizza.  But I was ready for something new to try.
So this past weekend Elin and I took the train up to New Haven and managed to eat at three places in a 24 hour period (plus a fantastic breakfast place I'll post later on).  The most famous pair of pizzerias, Pepe's and Sally's , were our first priority.  In fact, the debate between which is better rages on to this day--they're located a couple blocks apart.  Thankfully, when we drove down famed Wooster street we found Sally's to be closed for a month, making the choice quite easy.  We had also heard of a place called Modern that garnered high praise on Chowhound and elsewhere.  And finally we visited BAR , a more contemporary spot close to the Yale campus.
Despite its fame as a New Haven specialty, we didn't order any clam pies because I wanted as a direct a comparison to my New York experiences as possible.  Often we ordered a simple tomato, basil, and mozzarella pie, sometimes with sausage or pepperoni.
Pepe's
At six o'clock we joined the line outside.  Our wait turned out to be just over an hour.  Once we got in we were promptly told a table number, 26, and were left to find it ourselves.   The table had no menu, water, or napkins, but we were surrounded by bustle and  chatter and huge round pizzas on metal sheet
pans loaded with ingredients.  The decor is minimal and tired.  We eventually found the menu on the wall and put in our order.
[I managed to forget my camera the night we went to Pepe's, so I went back the next day and grabbed the above picture of the outside and of the oven, below.  When we got home I reheated the leftover slices on a pizza stone so there'd be some visual evidence. The pictures of slices below were taken then.]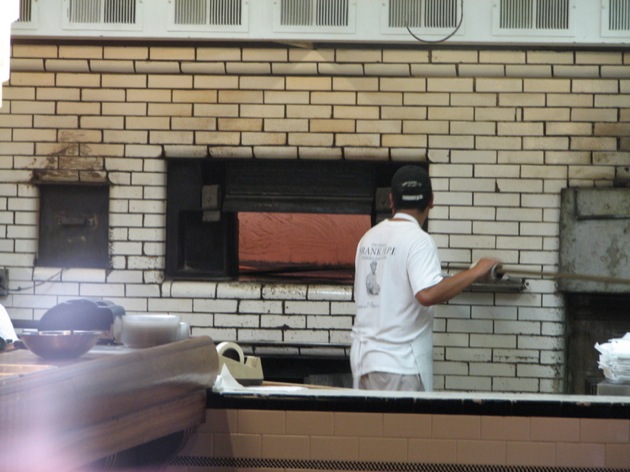 Ten minutes later it came out of the giant Pepe's oven, steaming on a sheet of parchment paper laid inside a sheet pan (which turned out to be a popular New Haven style of serving).  Right away, I was worried: some of the disappointing pies that have come out of DiFara and my beloved Lucali's ovens
arrive with a too much of that molten, liquid center--a mix of melted cheese, pooled olive oil, and blazing hot tomato sauce.  Often when you pick a slice up it bends too easily, toppings slide off, and has a
soggy quality.
When our Pepe's pizza arrived it looked just like it would have that problem.  Half of our pie had what New Haven calls white sauce, which is the trio of mozzarella, garlic, and olive oil that becomes a "sauce"
as it melts in the oven.  On top of that side was fresh chunks of bright red summer tomatoes, slivers of basil leaf, and fresh garlic. Our other side was a more straightforward sausage pie with tomato sauce.  Both sides used aged rather than fresh mozzarella, which always feels to me less traditional Italian and more American-style.
Clearly, the lush fresh tomatoes had leaked some of their juices and, along with olive oil and cheese, had that dreaded sloshy center. We waited for a minute, an agonizing minute, hoping the cheese would
cool down and firm up.  Eventually, I pulled one of the slices away.
The crust.  The wonderful, salty, chewy yet crisp-as-a-cracker crust.  It showed no signs of succumbing to the heavy burden of drooping toppings above it, though it was thin as ever.  The edges of the pie were thicker and substantial, but showed no signs of tasting doughy--just a little springier and chewy.  It's some of the best pizza crust I've ever eaten--with apologies to Denino's of Staten Island.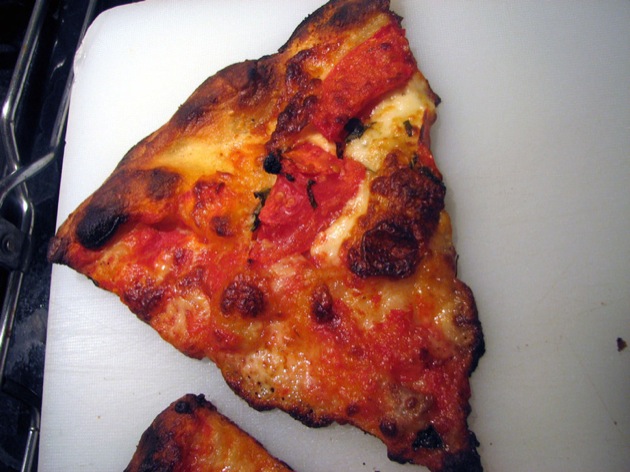 What more to say?  The tomatoes were perfectly singed and full of summer flavor.  The garlic was just right.  The basil offered earthiness and a fresh bite.  As promised by the New Haven "white sauce", the pie was based by a harmony of olive oil, garlic, and melted cheese.  As a whole, the entire pizza felt melded together, as if crust, cheese, and sauce were one element.  In this sense it did remind me of DeNino's .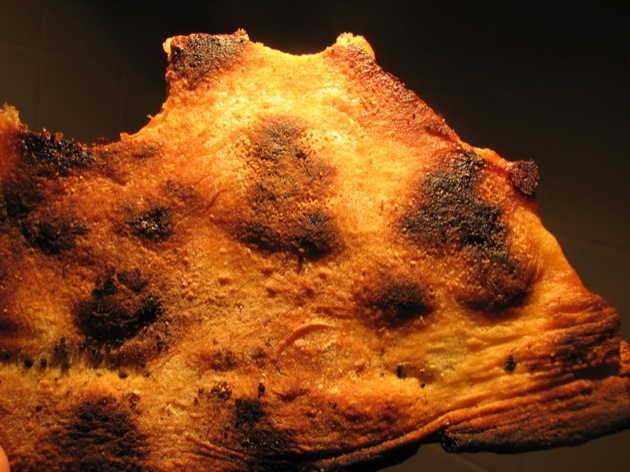 Our other half, the straightforward sausage, was also great--the crust was again the star.  I loved that I'd found a pie with aged, not fresh, mozzarella.  It felt more more American and like the pizza I grew up eating.   Having become a fairly unwavering disciple of DiFara's style--fresh mozzarella, olive oil and tomato sauce, with a post-oven finish of Parmesan and herbs--this was an equally ambitious and delicious way of making pizza that is as wonderful.
Modern Apizza
Our next trip was to Modern, a slightly nicer place that uses the New Havenism "Apizza", which I still can't discover the etymology of.  It is ranked highly among New Haven pizzerias; apparently the pies are
"Sally's-esque" so it would be a nice point of comparison since the original Sally's was closed during our visit.  Many people love Modern because it's very good and you don't have to wait around for ages with the other tourists to sit down.  In fact, we walked right in and got a table.
We again went with a half white sauce and fresh tomatoes, half red sauce with meat (this time pepperoni).  The entire experience was really pleasant compared to Pepe's: waiter was attentive, atmosphere calmer, and totally devoid of pretension.  But we only really cared about the pizza.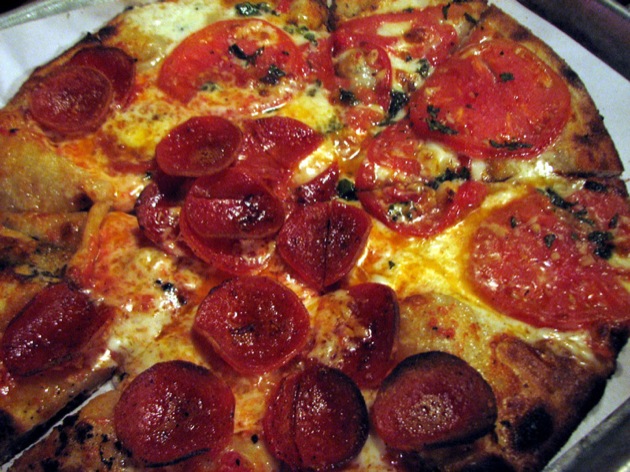 It came out pretty quickly, steaming and fragrant.  I noticed right away that the crust was thin and covered with cheese right up to the edges, leaving very little rim.  The crust was impeccable.  Thin, crisp, flavorful.  Everything was well-balanced and carefully prepared.  Just overall an expertly made pizza.  Probably not the Event that a Pepe's pie is, but if I had this place on my corner I'd go every chance I had.
BAR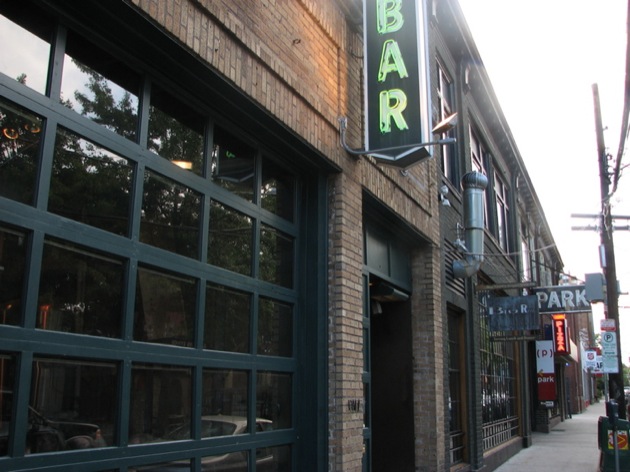 We went to Bar on a whim because we drove by it accidentally.  With a train to catch and needing still to pack, we nonetheless found ourselves running in to order a small pizza to go (white sauce, tomatoes,
basil).  In the meantime we raced to the grocery store to buy flowers for our friends who lent us their apartment, and then raced back to pick up the pizza.  With blinkers flashing, blocking a lane, we tossed the pizza on the hood of the car and started to snap pictures.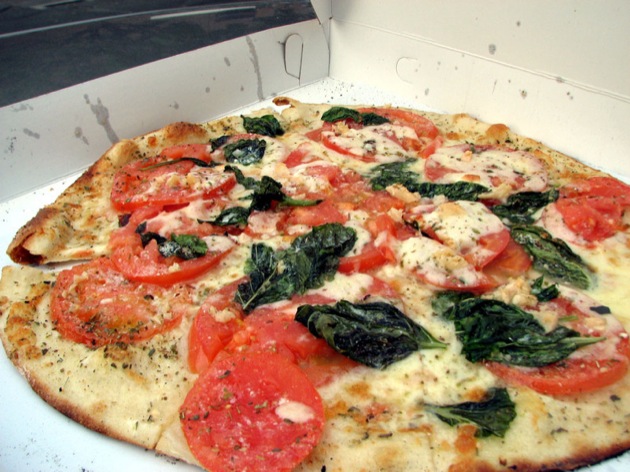 It looked promising--nice and light with a decent brownness on the crust.  But unfortunately, this was one very average pizza.  Nothing on its own seemed off per se, but nothing was exemplary.  The crust,
especially, lacked flavor.  The tomatoes didn't have a great late summer flavor.  The whole basil leaves were overkill.  It probably could have used another couple minutes in the oven to deepen the flavor.  Just one of those things that you think, while chewing, "this isn't worth it."
No matter.  The joys of Pepe's and Modern were enough to make the whole trip worth it.  I have a newfound respect for New Haven pizza, and heartily recommend it to pizza hounds--worth the trip.
On the train home, our conductor punched our tickets then paused.  He looked over at our pizza box with leftover Pepe's on the seat.  "Oh," he grunted.  We thought he was going to tell us our pizza box didn't pay for a ticket. "Save me some," he said instead.  Then he walked ruefully down the aisle.
New Haven,
Pizza,
Pizza,
Travel,
Travel