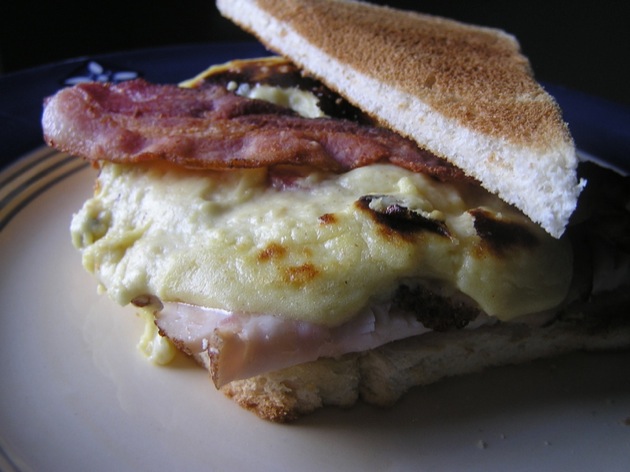 I've been gathering cook books by whatever method I can...and beggers usually can't be choosers.  I borrow nearly anything I can lay my hands on.  I owe lots of money to the library.  And whenever I get to head home I usually make it out with an armful books my mom hoarded over the years ( I promise I'll return them!).  One of those was The Louisville Courier-Journal Cookbook.  By all stereotypes, it should be a disaster of country-fried, grease-laden curiosities, made by grandmas with lots of packaged ingredients, and wistful anecdotes about how great things used to me.  But it's not.
Published in 1985, it contains a recipe for Osso Buco and Steak Tartare.  Sure, there are dips and a few cheap oriental touches, but most of the book is made of solid foodie dreams, including a few particularly local dishes one could only wish were normal.  That includes something called Kentucky Burgoo, Backlajannaya Ickra, and the most famous of Kentucky dishes, the Hot Brown .
Supposedly created at the Brown Hotel in the 1920's after a long night of partying, it seems like a glorified Croque Monsieur , only open-faced, loaded with bacon, and--in my humble opinion--better.  The cookbook certainly realizes the sandwiche's importance and gives two different versions. The simple one is called the Louisville Hot Brown, and is just a cheese sauce covering turkey, a slice of tomato, and mushrooms.
The second recipe, dubbed the C-J Hot Brown, is ridiculous.  Never have I worked so hard for a sandwich, and never have I been so rewarded.  I should have known something was up when they told me to cook onions over low heat for 20 minutes.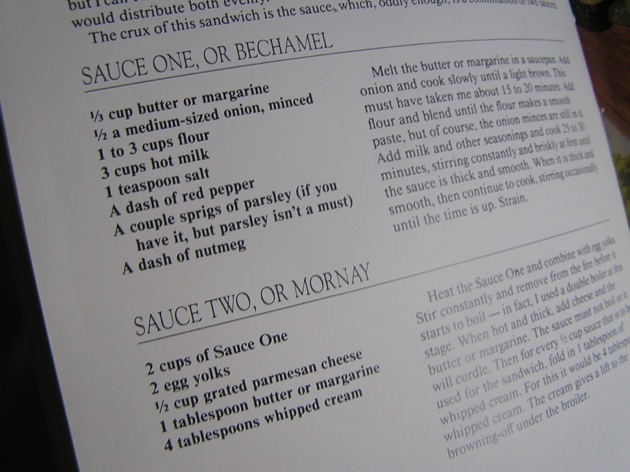 But the real reason this recipe is so ridiculous is the sauce...or I should say sauces.  They recommend a combination of two sauces, a Bechamel which is cooked, strained, and then added as the base for a
Mornay.  It takes a long time.  I think it took me a total of an hour and a half to finish this thing, and that didn't even include the construction of the sandwich, which I completely forgot about.  I was sweating, running around like a lunatic, and trying to get this mammoth meal done.
According to the book it's fine to use turkey or chicken as the base, something I'd never heard before.  They also left out any mention of tomatoes, something I quickly corrected.  I hope the purists out there will let me know what else I did wrong.  But it tastes legit to me.
The C-J Hot Brown Sandwich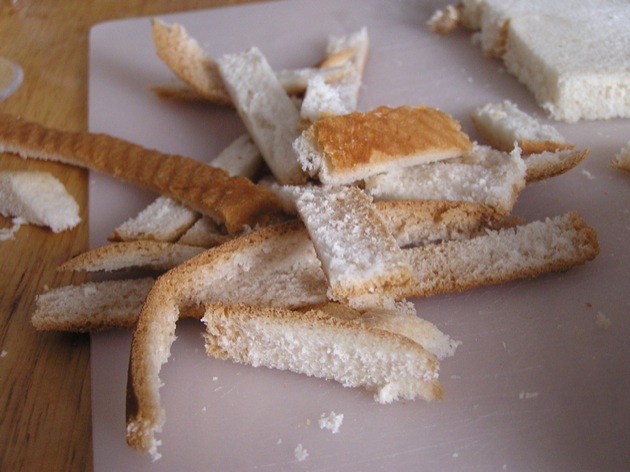 Sauce 1
1/3 cup butter
1/2 onion, minced
1 1/2 cups flour
3 cups hot milk
1 teaspoon salt
dash red pepper flakes
a couple sprigs parsley, minced
dash of nutmeg
Melt the butter over low heat in a skillet.  Add the minced onions and cook until they turn slightly brown.  For some reason they want you to do this over low heat.  It will take 20 minutes.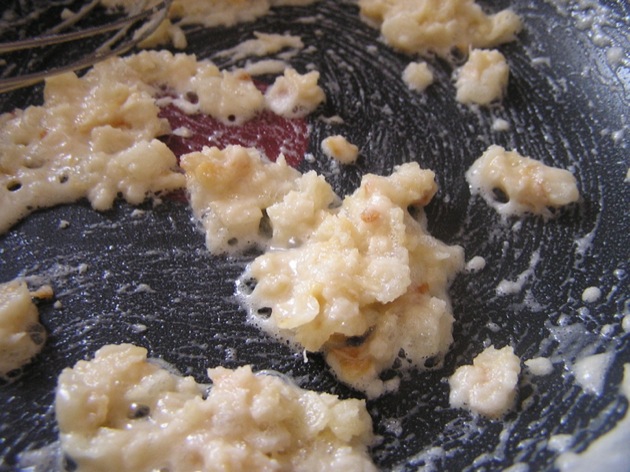 Toss in the flour and cook until flour is combined.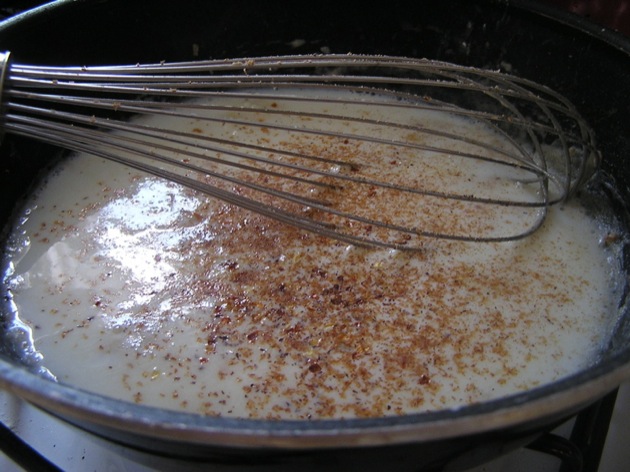 Then add everything else.  Cook for 30 minutes, until it is thick and smooth.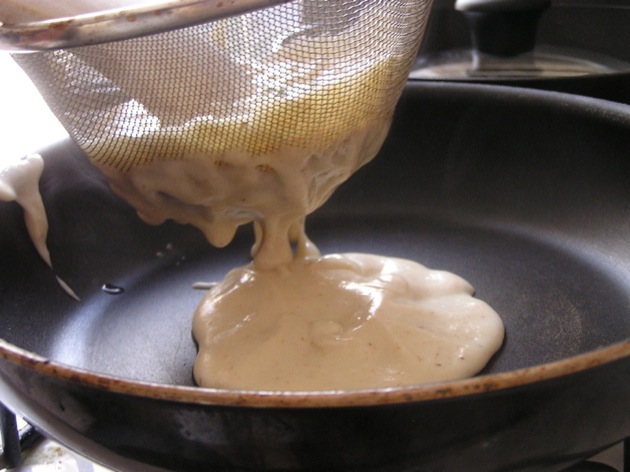 Strain the sauce into another sauce pan.

Sauce 2
2 cups of Sauce 1
2 egg yolks
1/2 cup grated parmesan cheese
1 tablespoon butter
4 tablespoons whipped cream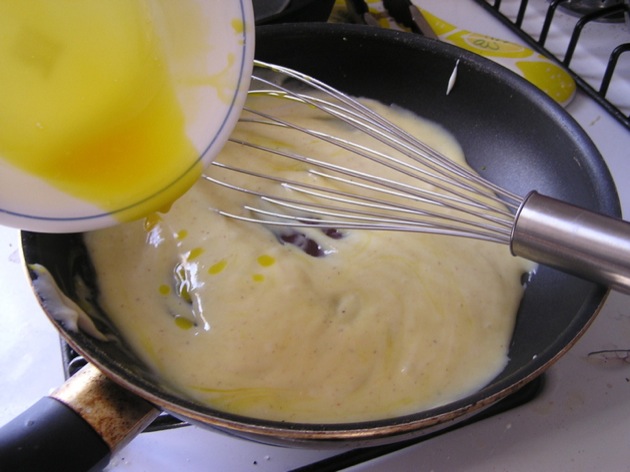 Heat Sauce 1 in a skillet over low heat, and slowly whisk in the egg yolks.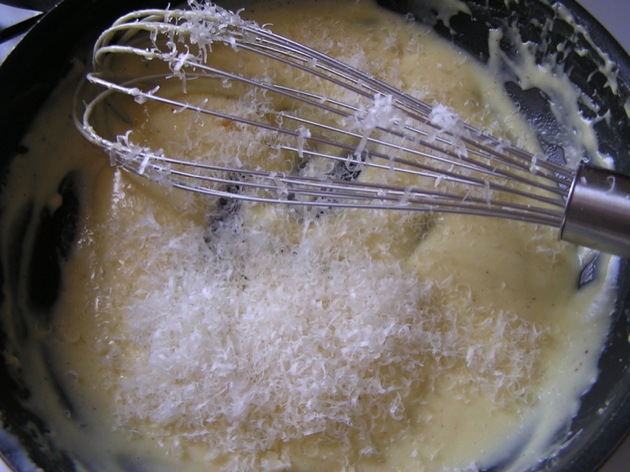 When combined, add the cheese and butter.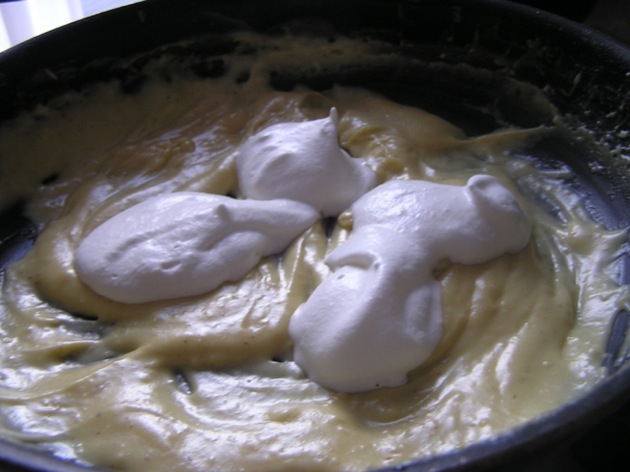 Turn off the heat, and fold in the whipped cream.
Hot Brown
Sauce 2
8 slices of bread
4 strips of cooked bacon
1 tomato, thinly sliced
thick slices of turkey or chicken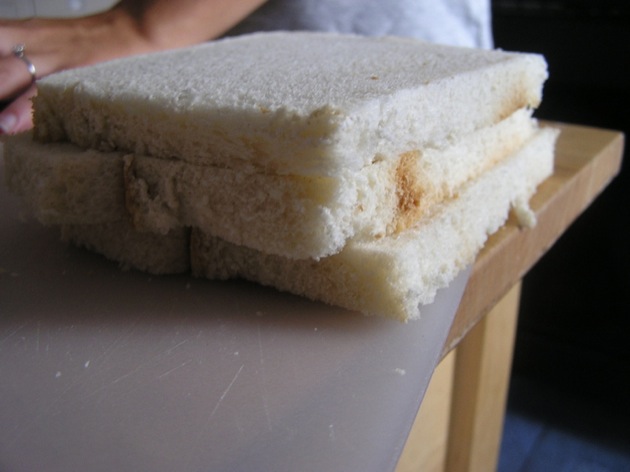 Preheat the broiler.  Remove the crusts from the bread and then toast the pieces.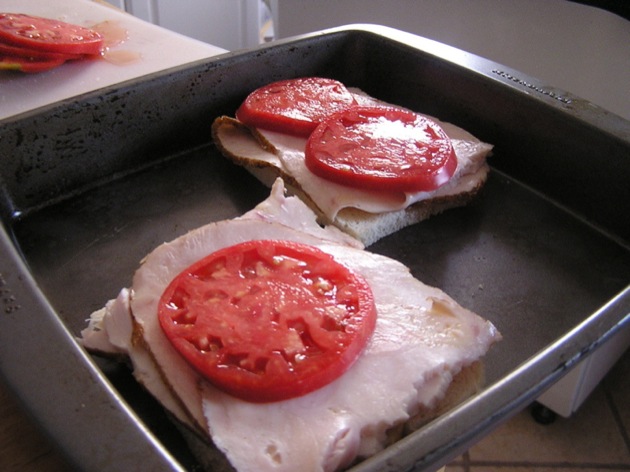 Place a few slices of chicken or turkey on the bread, and lay a tomato on top.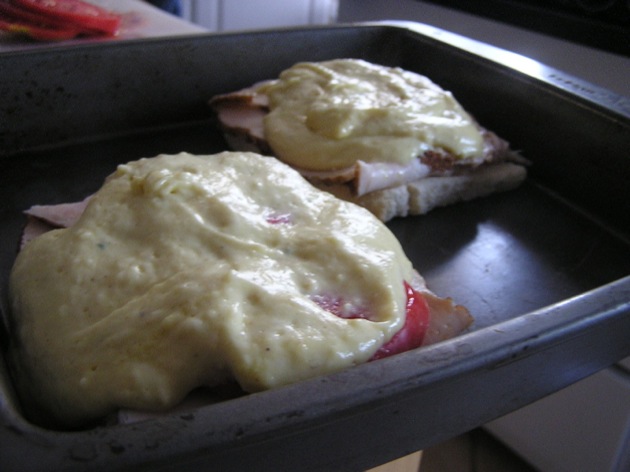 Pour the sauce on top, and then slide under the broiler.  Cook until the cheese has turned golden brown.  Top with the cooked bacon and another slice of bread.  Devour!
Bacon,
Bread,
Cheese,
Chicken,
Chicken,
Eggs,
Kentucky,
Louisville,
Milk,
Parmesan,
Pork,
Sandwich,
Sandwiches,
Tomatoes,
Turkey