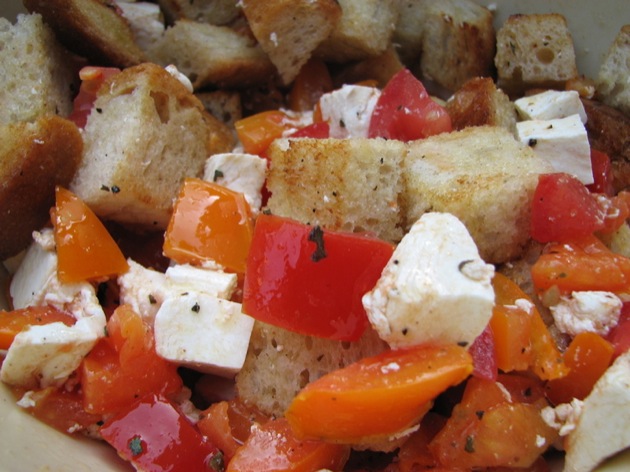 I don't think I can ever tire of the holy trinity comprised of tomatoes, basil, and carbohydrates.  Whether it's a straightforward pasta of raw tomatoes in olive oil with basil tossed with spaghetti, a bruschetta on grilled bread, or with fresh mozzarella and some balsamic or red wine vinegar—it always tastes fresh, simple, and surprisingly hearty.
Sometimes around the end of summer, or the end of a late summer day, you can do pretty well at a farmer's market as far as tomatoes are concerned.  There's also a chance for heirloom varieties of many colors, which gives the salad more color.
With a bulging carton of fragrant cherry tomatoes ready to burst, I didn't have any stale bread, giving me two options: grilling it or toasting it.  It's important that the bread has some sort of crustiness to it, otherwise it's prone to go soggy in the tomato juices.  A very easy way to do this is to cut the bread into chunks and put them in a single layer in a large skillet that's been rubbed with garlic and a thin layer of olive oil.  Over very low heat, they just need a toss periodically as they brown and crisp into croutons.  In the meantime, you can chop the tomatoes and whatever else is going into the salad.
And it doesn't really matter.  You need tomatoes, olive oil and either citrus or good vinegar. Otherwise, you can consider adding red onion, shallots, fresh mozzarella, garlic, fresh basil, or parsley.  Or, take it in a Greek direction with feta cheese and cucumbers and a little dill.  You can also bulk it up mesclun greens and a hard-boiled egg. You could also crumble some ricotta salata , a crumbly, salty version of soft ricotta.  Or throw in bell peppers.  Or olives or capers for something a little brinier.  Or minced anchovies to deepen the flavor. Or Dijon mustard to spice it up.
A thrifty meal, even if you're buying fresh bread and making it stale yourself.
Toasted Bread Salad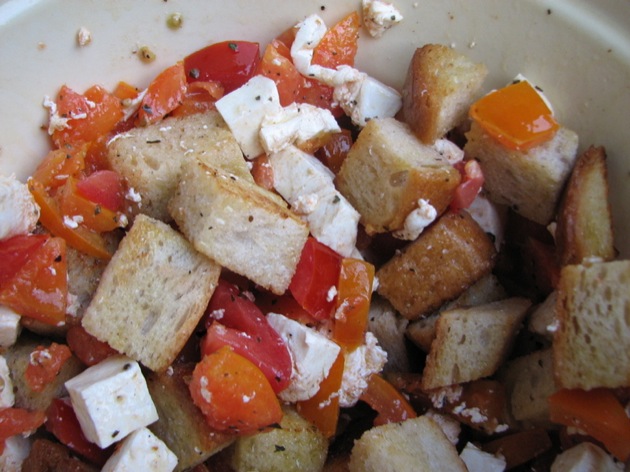 Crusty white bread, ideally a baguette, cut into chunks
Tomatoes, chopped
Olive Oil
Lemon juice, red wine vinegar, or balsamic vinegar
herbs (fresh basil, parsley, dill, etc., or even dried herbs if you have extra time)
fresh mozzarella or feta (optional)
garlic, minced
red onion, chopped (optional)
shallots, chopped (optional)
cucumber, chopped (optional)
You'll notice that no quantities are provided.  I think with something like this, you really must wing it.  Some tomatoes will be juicer than others, some vinegars stronger, some bread more absorbent, etc.  Just go with your feeling on this.
The first order of business is making sure your bread is stale or toasted enough so that it doesn't go too soggy in the salad.  My favorite easy method for toasting bread chunks is as follows (if you have a grill available, the charred flavor can also add a great spin to the flavors).
With a paper towel, coat the entire inside of a large skillet with olive oil.  The bread should be able to fit in one layer.  Slice a clove of garlic in half and rub the cut all over.  Turn the heat to low and toss the bread chunks into the skillet.  They should take 10-15 minutes to toast into something like large croûtons.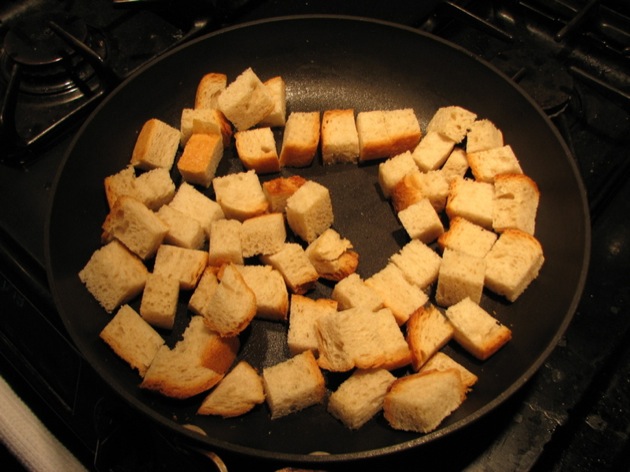 In the meantime, chop your tomatoes and add to a large bowl.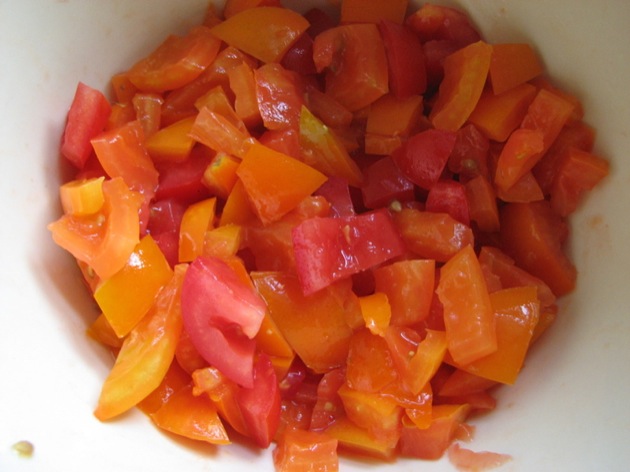 Cover with 2 parts oil to 1 part vinegar.  If you're using dried herbs in a pinch, put them into the resulting dressing as soon as possible to they can infuse it with their flavor. Add any other vegetables and season to taste with salt and pepper.  Let the whole thing stew at room temperature to develop the flavors while the bread finishes.  There should be a generous amount of liquid because the bread will double the salad's bulk once it's added in.
One the bread is toasted, add fresh cheese if using and then the bread.  Toss well. Adjust the liquid by adding more oil, vinegar, or water as needed to taste.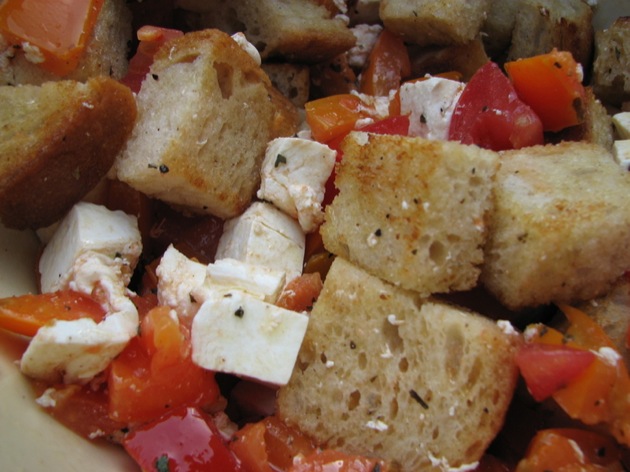 Makes a great lunch or a light dinner.
Bread,
Bread,
Cheese,
Cheese,
Mozzarella,
Salad,
Salads,
Tomatoes