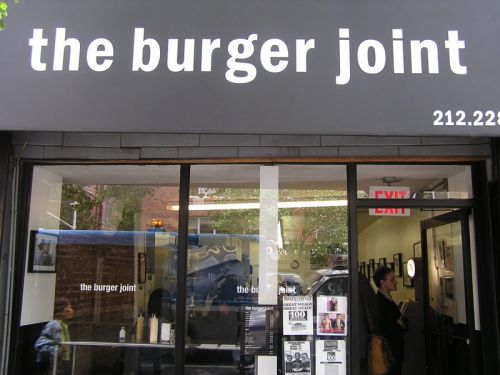 The Burger Joint
241 Third Ave.
Distance from Shake Shack: 0.33 miles
Travel Time: 11 minutes
of People in Line: 4
Not to be confused with its definite-article-less famous namesake, Burger Joint , which is famously "hidden" in the Le Parker Meridien, this joint is just a short jaunt over from Madison Square Park on 3rd Avenue and 20th Street and is home to some serious sliders. For those who didn't grow up with the wonderful world of tiny burgers (my first time was with Hinkles ), sliders don't look pretty, nor do they do pretty things to you.  But they are packed with the pure essence of the glorious onion, which is grilled in grease and served atop the burgers.  Less pungent than White Castle, the Burger Joint's are still small and inhaleable, and can be devoured in seconds flat. Three to four are needed for a proper meal, though fries and a shake can scale it back to an acceptable two.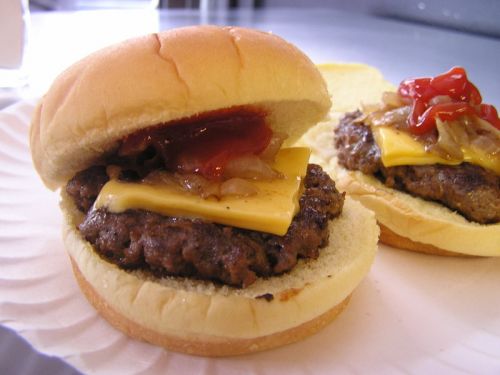 It's definitely a joint, and the big man behind the counter runs the show here.  He lays down major sass, keeps his employees in line, and makes sure all the burgers come out properly.  He fills your drink without even asking, gets the fries out immediately after ordering, and gets mad if you don't promptedly raise your hand if he calls your name, so don't try any funny business.
Sitting in front of the grill allows for front line view of the madness that goes into turning out some 900-1200 burgers a day (a stat the manager blurted out one time we were both there).  But like all front row experiences, you'll carry a little of the action away with you.  No matter what you try to do, you'll have a hard time shaking the aromatic wonderfulness of the grease off your jacket, or your hair for that matter.  Which makes the Burger Joint a little more manly and blue collar of a place than the stately Shake Shack.  It's less a true alternative, and more expereince all itself.  Like a pleasurable slumming experience with just a tinge of guilt that follows you around.  Luckily that keeps the place filled but not packed, ensuring a place at the counter for the adventurous.
A part of Beating the Waiting Game: Alternatives to Shake Shack
Beating the Waiting Game,
Burger,
New York,
Restaurants