The brief, wondrous history of a Chicago sandwich.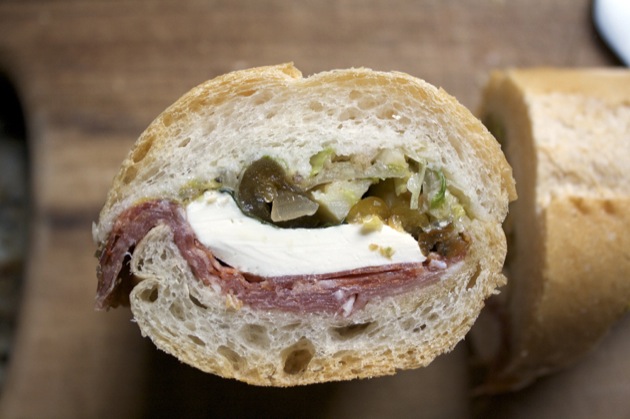 A few weeks ago, a mad group of seven men took part in the great Chicago Italian Sub Tour of 2010 . We visited six places, ate way more than we should have, and came away with the pretty definite conclusion that J.P. Graziano served the best Italian sub of the day. They used the best bread, and paid the most attention to each individual element of the sandwich. Oddly though, mixed in with all the Italian subs was one oddball sandwich that we felt we needed to sample while on the tour. It was a fiery sub that we had at Riviera Italian and American Food, and it cast shadow over the whole day.
The sandwich is known as the Will's special , and it was created by a real man named Will who obviously had something devious in mind. A combination of hot sopressata, hot cappicola, salami de prosciutto, prosciutto ham, fresh mozzarella, and hot giardinera, it is fierce and funky. It could have just been that the sheer brute force of the spicy meat awakened us after six hours of eating, but it's a sandwich we couldn't stop thinking about.
As we ended our day, one man named Joe jokingly pondered what would happen if J.P. Graziano made a version of the Will's special. This would bring their perfect, crackly bread--from D'Amato bakery on Grand Street--and their admirable attention to detail they pay to every sandwich. See, while the original Will's special was delicious, the bread was too soft and the sandwich was a little unbalanced with too much meat.
We all nodded in a approval, and then just as quickly forgot all about it. That is, until last week when Joe finally got back to us with the news. Not only did Graziano now have a version, they had actually improved the sandwich.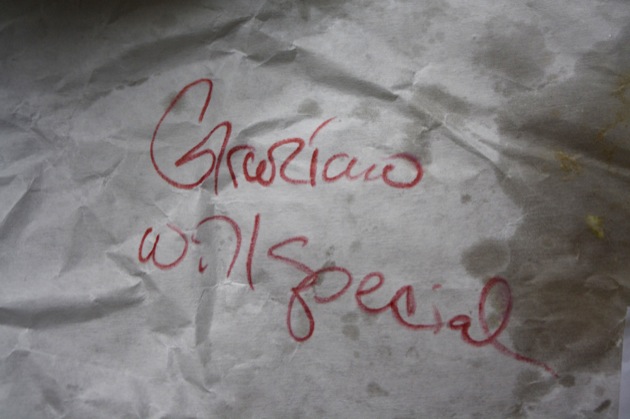 Joe's adventure is complex and lengthy, and if you're a food dork or love read a Jeffrey-Steingarten-style food adventure, you ought to read it in full on his blog .
What I find most interesting about this whole thing is that Joe is not the first person to think of having a Will's special at another shop. A lot of brave people have gone before him, including Cathy2 on LTHForum , who spent an afternoon driving around Highwood buying versions of the sandwich from every shop she could think of.
What's different is that Joe found a partner in a crime. Jim Graziano took Joe's challenge, and when his first attempt didn't quite work, he drove out to Riviera just to sample its sandwich for research. Joe's quest had become the quest of J.P. Graziano itself. It needed to be more balanced; he added some ingredients and took some away. What was left is a play on Will's Special. It has evolved.
The final sandwich features hot sopressata, prosciuto, fresh mozzarella, basil, a house slaw, and a final topping of hot giardiniera. What Jim created is leaner and more balanced. It's still a fighting sandwich, but it's not a gut-busting experience any more. You could have one on a Tuesday and not hate yourself for the rest of the week.
I'll just end with a round of applause for Joe and Jim, whose quest for a recreation of Will's Special ended with yet another fantastic sandwich in Chicago's stuffed scene.
J.P. Graziano Grocery Co., Inc.
901 W. Randolph Street
312.666.4587
Food,
Amato bakery,
American,
CDATA,
Chicago,
Chicago,
Cuisine,
Dried meat,
European cuisine,
Italian cuisine,
Italian Subs,
Italian-American cuisine,
J.P. Graziano,
J.P. Graziano,
Jim Graziano,
Joe,
LTHForum,
Pork,
Prosciutto,
Salumi,
Sandwich,
Sandwiches,
Sopressata,
Submarine sandwich,
Will's Special