A fool-proof method discovered.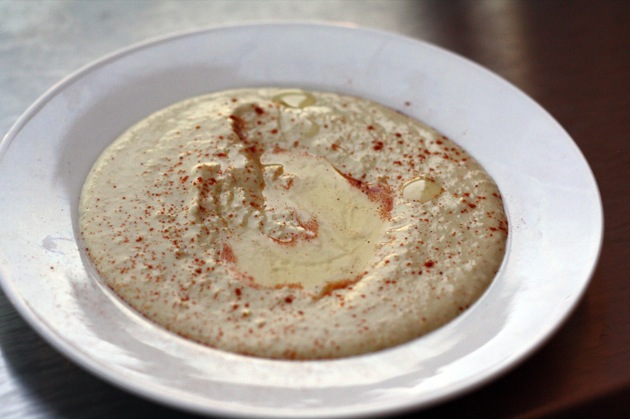 If you don't want to go to all the bother of soaking and cooking them, canned chickpeas work extraordinarily well
- James Beard, Beard on Food
I wanted to go to all the bother of cooking dried chickpeas from scratch. Why? Well, because I never had cooked dried chickpeas before, and I really wanted to see whether taking the time to cook them from scratch would make for a more delicious and cheaper hummus. I had already toyed with the idea of making my own tahini ; I figured I should see whether this was worth it.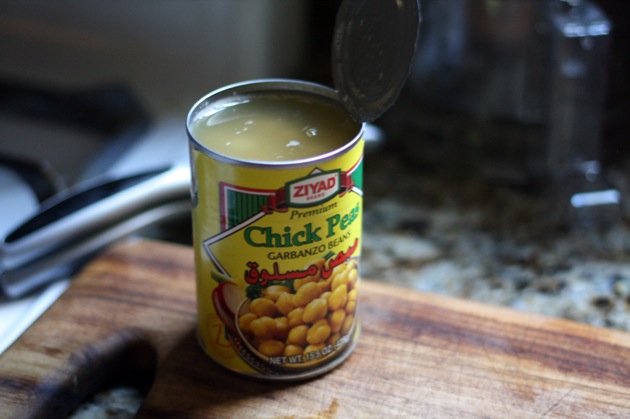 Are you okay?
So why does nearly every source declare that canned chickpeas are not just permissible, but actually okay? I've come to the point where canned black beans just can't compare to the long simmered batch spiked with epazote , but for some reason I've trained myself into believing that chickpeas aren't worth the effort. That's mainly because so many sources advocate for just taking the easy route and going for that can.
This was all tinged by the very real knowledge that I've failed before. Considering chickpeas are dried legumes but not actually beans, it should come as no surprise that they don't work with the 90-minute no soak bean method , but I was still bummed. My one attempt came out dry and tough. No good.

Soaked chickpeas puff up considerably.
But I wondered what a nice, long soak would do for them. Every single source I checked claimed that it had to be done this way. A few sources also called for using a pinch of baking soda. The thought was that it would both help the beans cook faster, and also help soften the chickpea's tough skins. I decided to try both, and compare them to the canned variety, by doing a hummus taste test.
For each I'd follow the same recipe from James Beard, using garlic, lemon, tahini (store bought this time), and salt.
The results were hardly scientific, but they were unanimous.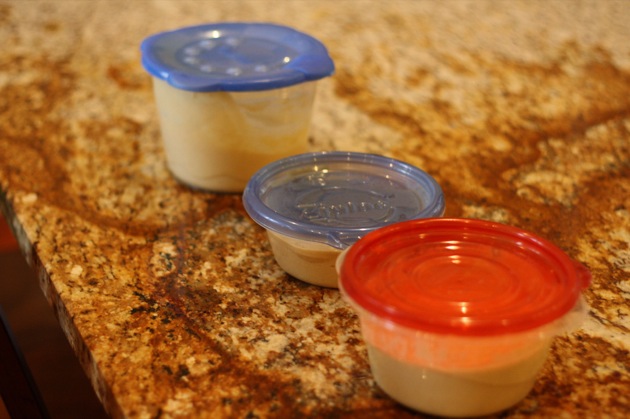 Fit to go.
The batch using canned chickpeas tasted perfectly normal. This is the kind of hummus that you'd buy at the store, and which most consider to be the standard. It's not the most thrilling dip in the world, but it's solid and fine for a party.
The soaked and simmered chickpeas , on the other hand, had a grittiness which prevented them from completely working. I could have cooked them for longer, I suppose, but I'm not sure if they ever would have gotten as tender as I would have liked them. The hummus was still good, but not quite worth the number of hours spent soaking and simmering them. The canned chickpeas looked awfully good at this point.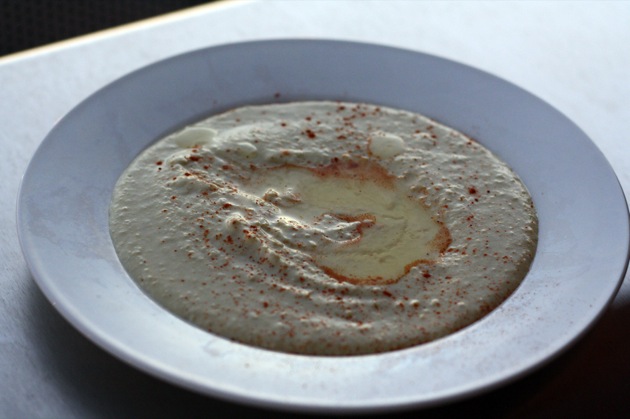 That was until I checked out the batch that had been soaked and simmered with a pinch of baking soda . This hummus was smoother, and more luxurious. It tasted like the hummus that's dished out the better Mediterranean restaurants. You know, the kind that's drizzled with rich, fruity olive oil, and — with the help of some pita — just seems to disappear before your eyes in seconds. Though I spent a lot of extra time on this batch, it was definitely worth the effort.
The best part? While James Beard may have advocated the use of canned chickpeas, he also supplied the winning recipe.
Homemade Chickpeas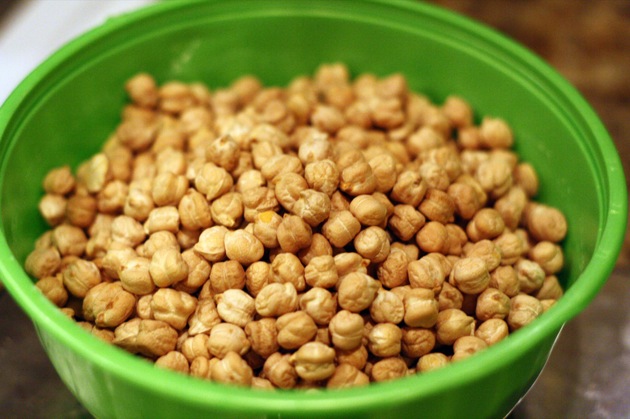 Let's begin.
1 pound dried chickpeas
2 garlic cloves, skin removed
1 sprig thyme
salt
1 teaspoon baking soda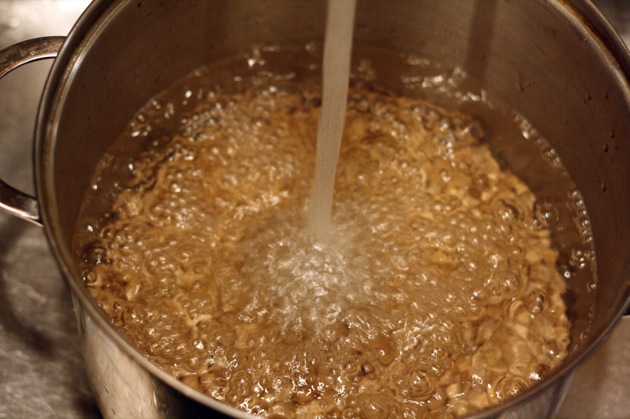 Place the chickpeas in a large pot and cover them with lots of water. Cover the pot and set aside for at least 12 hours.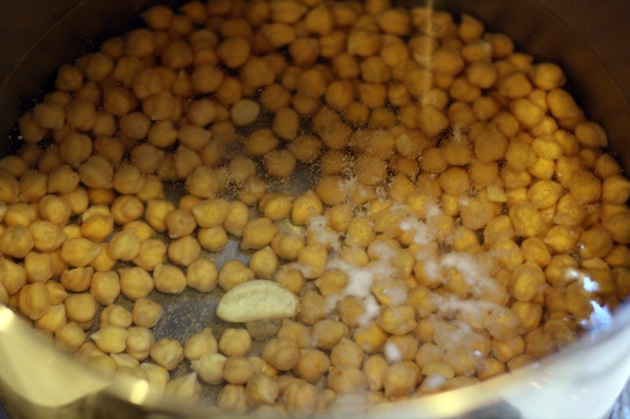 I added the thyme sprig after the photo. Promise.
Drain the chickpeas. Rinse the pot out, and then return the chickpeas along with the garlic, thyme, a pinch of salt, and the baking soda.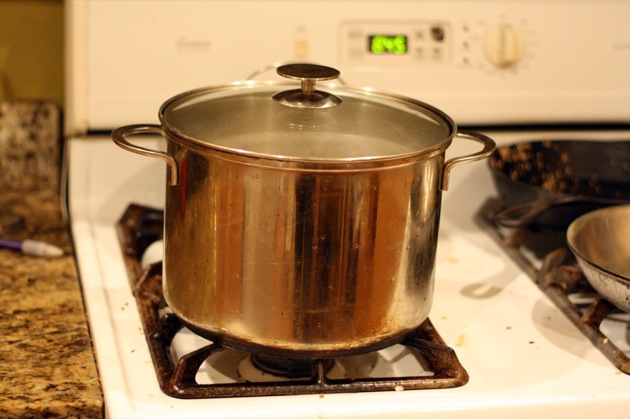 Time to wait.
Bring the pot to a boil over high heat, and then reduce heat to low, cover, and cook at a simmer until the chickpeas are tender. This should take about 2 to 3 hours, though it might take a little more.
Homemade Hummus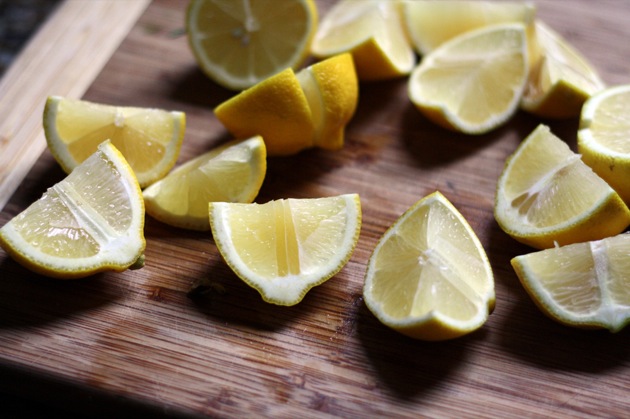 Might have gone a little overboard here.
cooked chickpeas from above, reserve 1/2 cup of the cooking liquid, and drain
1/2 cup lemon juice (from about 2 lemons)
2 garlic cloves, chopped
1 teaspoon salt
1/2 cup tahini
olive oil
paprika
Add the chickpeas, cooking liquid, and lemon juice to a food processor. Process until smooth.

Beat that garlic.
Smash the garlic and salt until it forms a paste. A mortar and pestle works great for this. Add to the processor along with the tahini. Process again until this has the consistency of mayonnaise. Thin with water if needed.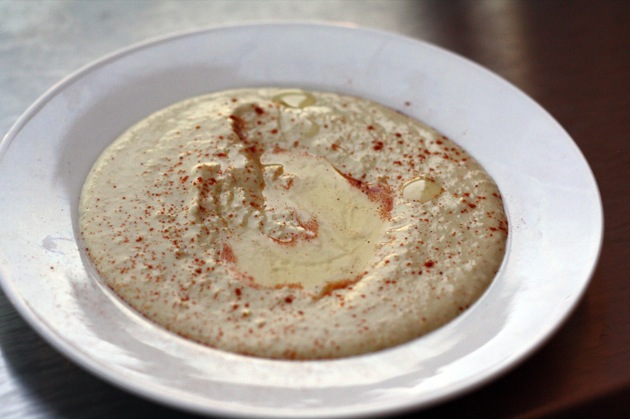 Serve with a glug of olive oil and a sprinkle of paprika.
Food,
Vegetarian,
DIY,
Appetizer,
Side dish,
Beans,
chickpeas,
hummus,
Lemons,
Middle Eastern,
tahini,
Vegetables