Ditch the roast turkey this Thanksgiving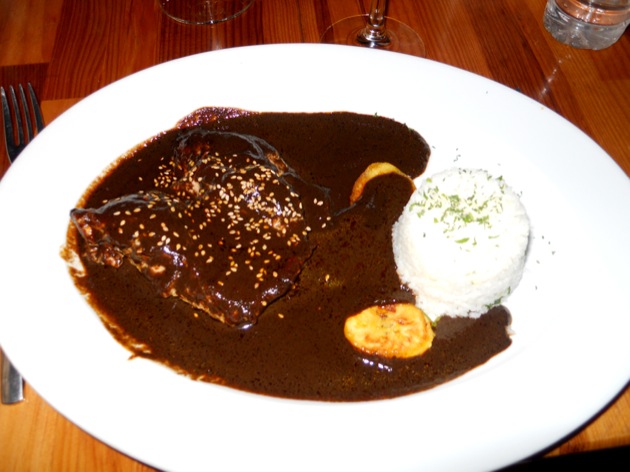 How turkey should taste.
Question: What iconic Thanksgiving food would you get rid of?
Answer: Twenty percent of chefs would prefer to get rid of the turkey altogether.
- GQ's The Great Eat Like a Man Thanksgiving Chef Survey
Here's the question: Why is everyone working so hard to not screw something up when Mexican cuisine has figured how to make one of the greatest dishes in the world?
The turkey is the bird of the New World, so it makes total and complete sense that we would cook it for Thanksgiving. What just doesn't make sense is how we cook it. To be sure, I have fond memories of picking crispy skin off the finished bird, and also slicing off the greasy dark meat portions for sandwiches the next day. But I'm getting a little tired of everyone freaking out about how to cook the thing. Every year there is a new technique that will make the big bird taste better, all because we've been convinced that it is a nearly impossible to roast a perfect turkey. How else to explain why there are recipes for brining, salting, covering it with cheesecloth, cooking it in a bag, or even frying it.
But when I sit down and consider the best turkey I've ever eaten, it has to be turkey with mole negro from Casa Oaxaca , which I had on my recent trip in Mexico . The turkey was simmered gently, not roasted, and came out perfectly tender, luscious, and covered with a stunningly complex sauce. It easily ranks as one of the best things I've ever eaten in my life. Sure, mole takes a long, long time to make, but so do all the dishes that go along with Thanksgiving, right? In fact, is there a better time all year than right now?
Just an opinion. And here's a recipe if you're interested . Now, I'm going to go eat a roasted turkey, because that's what my family grew up doing. And to be honest, I'll probably relish every bite. But it won't be better than those bites in Mexico.